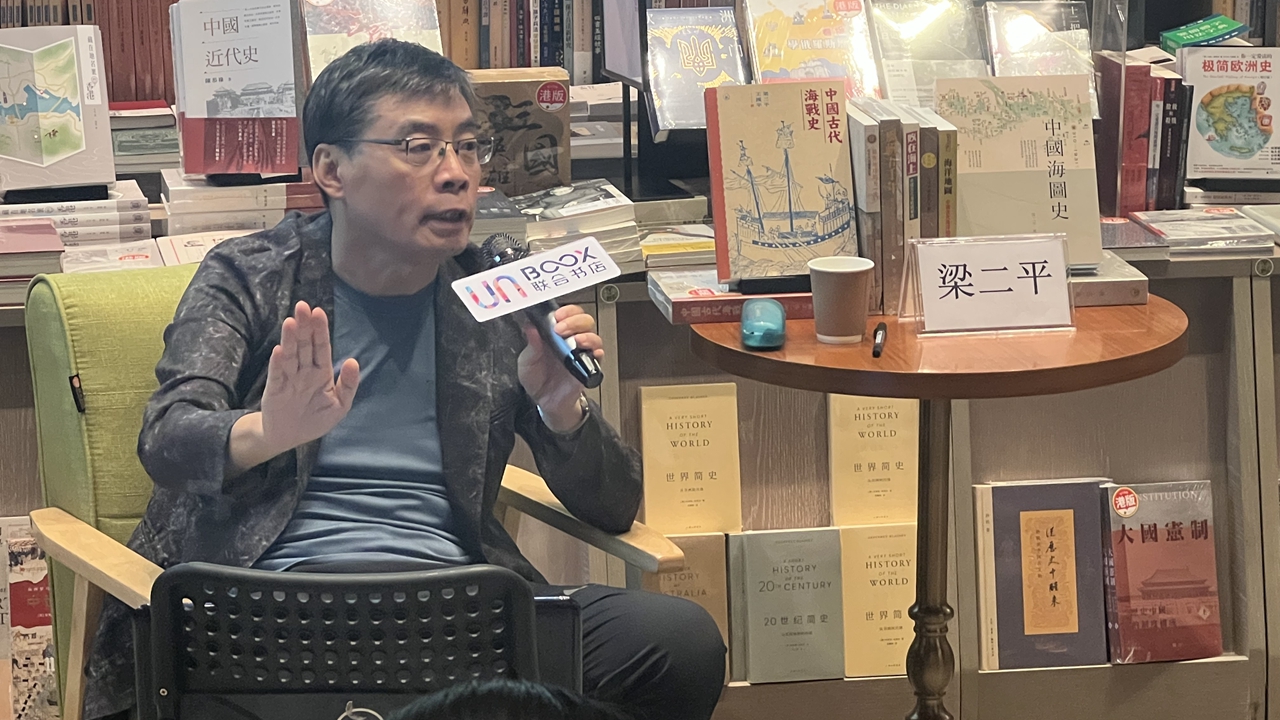 Liang Erping at his book event at UN Boox in UpperHills in Futian District on June 19. Lin Songtao
After five years of effort, Shenzhen marine culture scholar Liang Erping's new book "A History of Sea Wars in Ancient China" has been published by Joint Publishing (H.K.).

"It can be said to be the first book in China that focuses on Chinese sea war history," Liang told Shenzhen Daily. The book narrates the history from the Spring and Autumn Period and the Warring States Period (770-221 B.C.) to the Qing Dynasty (1644-1911).
It includes lesser-known facts and details, such as the Tang Dynasty (618-907) eastern expedition to Goguryeo, a Korean kingdom located in the northern and central parts of the Korean Peninsula and the southern and central parts of ancient Northeast China.
As the former deputy editor-in-chief of Shenzhen Evening News, Liang retired in 2018. He had previously published some books about the sea.
"In 2014, 'Interpretation of Ancient China Sea Wars Pictures' was published by Joint Publishing (H.K.) and was also published by a publishing institution in Taiwan and Joint Publishing (Beijing) in 2015 and 2016. The book has gained some popularity among readers," he said.
In 2017, a publishing group wanted Liang to write a complete history of ancient China sea wars, since "Interpretation of Ancient China Sea Wars Pictures" was mainly about the history during the Ming Dynasty (1368-1644) and the Qing Dynasty.
"Then I invited my friend Wang Guoping, a navy history researcher, to write the book together," he mentioned.
Liang applies a lot of historical pictures on the book "A History of Sea Wars in Ancient China." "I've been doing research on ancient maps for many years. I'm good at searching for this kind of information."
In addition, he was able to find old paintings and inscriptions. "I've been to dozens of museums in Europe and Japan. I bought some maps in the British Museum and got some book-lending cards in Japan. The map room in the National Diet Library in Japan is large enough for readers to check oversized maps. Precious documents in the French National Library have been replicated as electronic versions and can be downloaded freely," he recalled.
Talking about what messages Liang wanted to convey to readers, he said, "The one who is more constrained by outdated knowledge, consciousness and thinking will lose the dominant power of the history and take on a passive role. This is probably one of the biggest lessons I surmised from the Chinese sea war history."
"I wrote this 'book of memories' to motivate more people to have concern for this topic. It's my honor if someone finds errors or has negative comments on this new book. In a sense, it's also my initial purpose to write it," Liang said.
In addition to ordering online, readers can buy the book at UN Boox (本来书店艺文馆) in UpperHills (深业上城) in Futian District.