Sunwoda, a world leader in the lithium-ion battery industry, received a Tier One electric vehicle (EV) battery cell manufacturer status from Benchmark's Lithiumion Battery Megafactory Assessment earlier this month.
It became the fourth global Tier One electric vehicle battery cell manufacturer from China and one of the nine Tier One suppliers worldwide.
Tier One-standard suppliers must be qualified to supply more than one multinational OEM (original equipment manufacturer)/EV producer outside China and must be a major supplier to the domestic Chinese EV market with an annual cumulative capacity of 5 GWh.
Sunwoda, founded in Shenzhen in 1997, is listed on the Shenzhen Stock Exchange with a market value of 50.96 billion yuan (US$7.6 billion), with its batteries for mobile phones now accounting for 30% of the global market share. Sunwoda began its EV battery business in 2008 and has formed six major industrial clusters, including 3C batteries, smart hardware, EV batteries, energy service, intelligent manufacturing, industrial internet and testing services.
The Shenzhen-based company also serves worldwide, with 11 manufacturing bases in China and established technical and customer services centers in Los Angeles, Tel Aviv and Hamburg.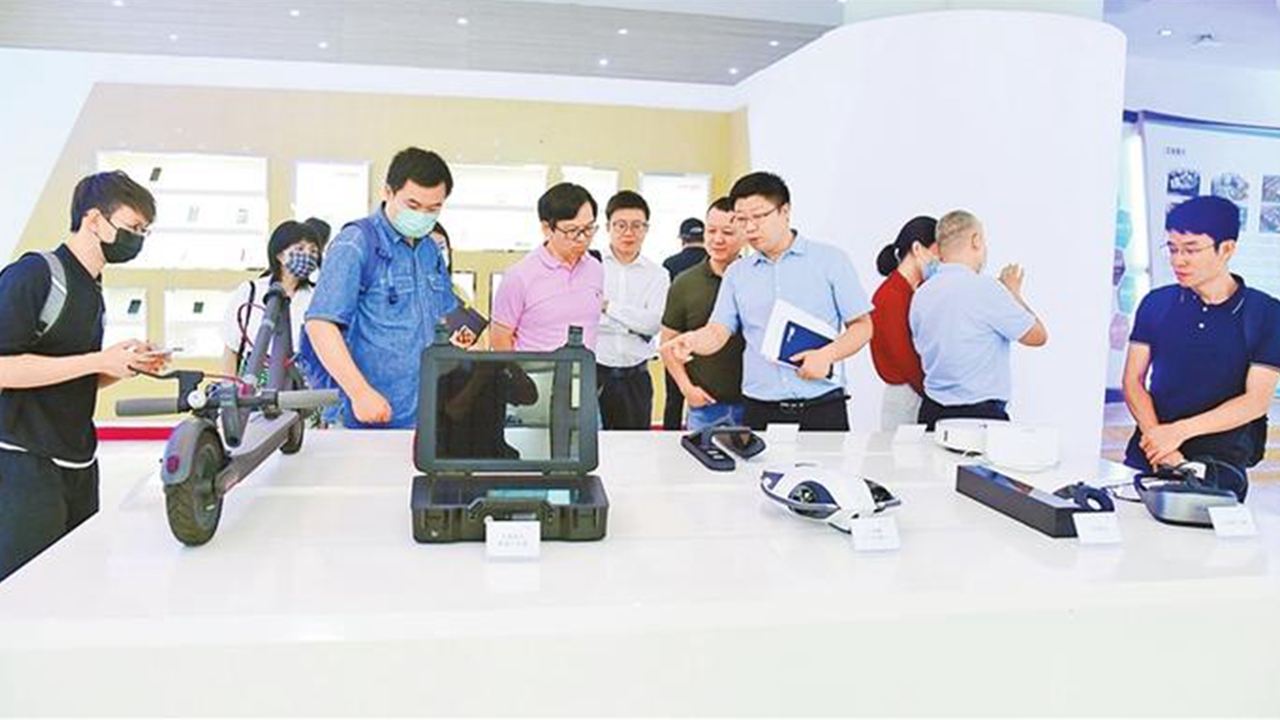 A media group takes a look at Sunwoda's products in the company in Bao'an District. Han Mo

"Our company's vision is to be a respected world-leading enterprise in the new energy industry. Sunwoda has taken the opportunities brought about by the country's development in various stages such as the development of information technologies represented by the demand for electronic products and the development of new energy vehicles since 2009, which was subsidized by the government," said Liang Rui, vice president of Sunwoda Electronic Co. Ltd., at an interview last week.
Sunwoda supplies domestic automakers such as Dongfeng, Geely and BAIC Motor, as well as two major foreign automakers.
In February, Sunwoda Electric Vehicle Battery Co. Ltd., established in 2014 specifically for the EV industry, raised 2.43 billion yuan from 19 investors led by EV startup Li Auto Inc. and State-owned automakers Guangzhou Automobile Group Co. and SAIC Motor Corp.
"The secret of Sunwoda winning the favor of investors lies in its competitiveness, which focuses on research and innovation, and offers high-quality and reliable products," Liang said, adding that the company's R&D investments in 2021 reached 2.3 billion yuan, up by 28% year on year, taking up 6% of its revenue.
Liang also attributed its success to its capabilities to quickly respond to customers' demand to design and build production lines that meet their requirements, and strict quality controls over the batteries for global phone makers.
The lithium-ion battery industry is facing unprecedented opportunities with the development of new energy vehicles. For Sunwoda, its competitiveness doesn't lie simply in its products, but also in its overall solution that is high performance, reliable and safe, as well as friendly customer service.
The industry needs huge investments and sustained R&D investment, where an enterprise can establish market presence and gain its competitive edge when it reaches sufficient production capabilities. Between January and April, Sunwoda ranked ninth in power battery installation capacity, with its income reaching 2.93 billion yuan in 2021, 5.8 times over that of 2020. Its EV battery income accounted for 7.85% of its total income.
Due to the pandemic and price hike for raw materials, Sunwoda faced difficulties. However, in the first quarter (Q1) of 2022, its sales reached 10.6 billion yuan, up by 35% year on year. The company grew through its preparedness, government policy supports, incentives for the development of industrial internet, and measures in land use, talent service and logistics.
"The government policies for the development of industrial clusters in 20 strategic and emerging industries, and eight future industries will be helpful for enterprises upgrading to high-end manufacturing. Sunwoda will keep its headquarters and R&D base in Shenzhen, and we hope to get government support in building a zero carbon industrial park," Liang said.
The company is now facing its third opportunity, according to Liang. The Central Government's policies to achieve carbon peak and neutrality goals will further optimize industrial and energy structures and stimulate the development of new energy vehicles.