The "Ping An Auto Owner" app, "Pocket Bank," artificial intelligence customer services, and other cutting-edge fintech attracted reporters' attention during a research tour at the headquarters of Ping An Insurance (Group) Company of China, Ltd. in Futian District on June 23.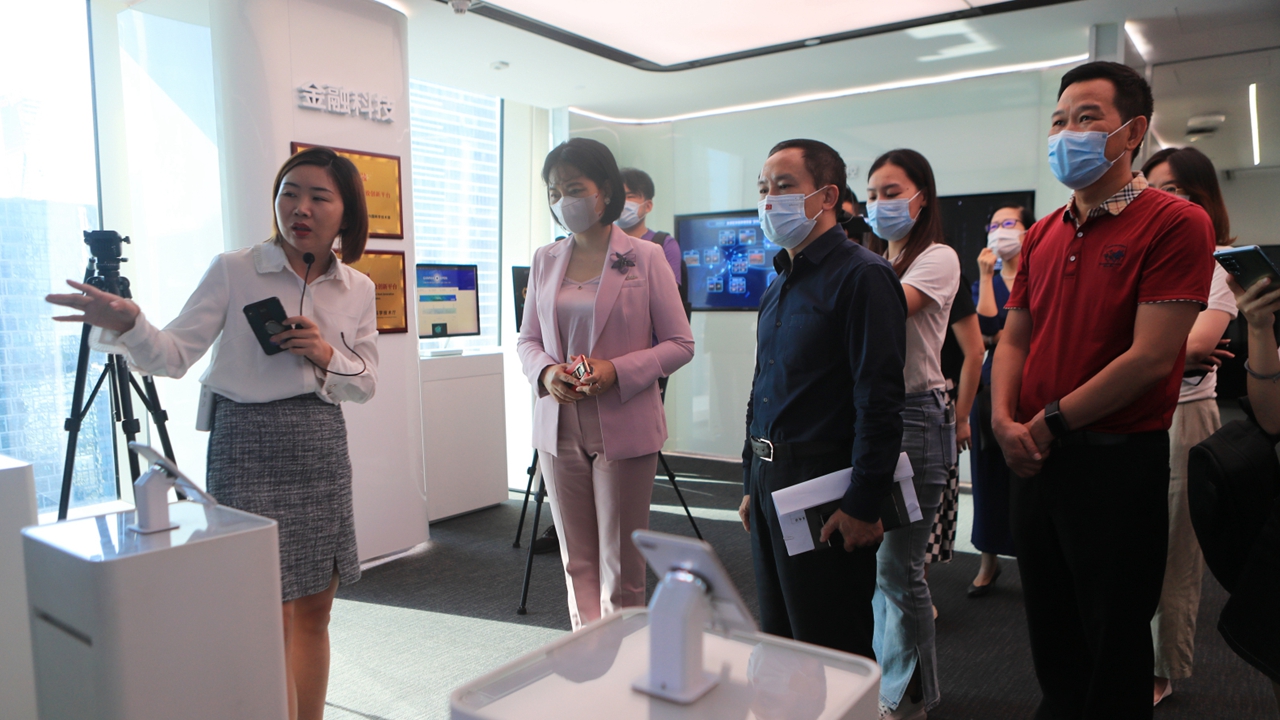 A research tour at the headquarters of Ping An Insurance (Group) Company of China, Ltd. in Futian District. Sun Yuchen
At the group's technology exhibition hall, a docent said that even if an auto accident occurs downtown during peak hours, Ping An's claim investigator can reach the scene within five to 10 minutes after the customer files the claim via "Ping An Auto Owner," the largest automobile service app in China.
The app's speedy response is calculated using car accident big data, such as the time, location and frequency of crashes.
"Building on these data points, Ping An organized a city map into sections using a grid and arranged an appropriate number of investigators in each grid, which improves service efficiency and has won over 150 million users," the docent explained.
The app is part of the company's technology-empowered financial services in a wide range of areas, including insurance, banking, health care, auto services and smart city ecosystems. Other companies in the industry have adopted a lot of these services.
"To adhere to people-centric and customer-oriented philosophy, Ping An has been strengthening its business through reform and making finance simpler through technology," Sheng Ruisheng, Ping An's secretary of board of directors and brand director, said in an interview.
Since its establishment in 1988, Ping An has kept strengthening its core technological capabilities, with its patent applications hitting 40,468 as of this March. It is also leading globally with the number of fintech, digital health care and AI patent applications.
Similarly, the group is advancing its green finance initiative to support sustainable development. Its smart agri-tech instrument connected with the satellite "Ping An-1" provides around-the-clock monitoring of soil microelements, air and water quality, and helps increase agricultural production efficiency.
Ping An's smart city business had leveraged technologies to cumulatively serve 165 cities, 1.74 million enterprises and 140 million citizens as of Dec. 31, 2021.
Ping An was established as China's first joint-stock insurance company and has been moving forward steadily to become a world-leading retail financial services group over the past three decades.
"In the first decade, we built a modern insurance platform. In the second decade, we focused on the insurance business and integrated financial models. In the third decade, we have started to explore 'finance + technology,'" Sheng said.
Currently, the group is advancing the "integrated finance + health care" strategic upgrade and building the "integrated finance + HMO (health maintenance organization) managed care" service system through digital empowerment and innovation.
In 2021, the fintech giant moved up to 16th place in the Fortune Global 500 list while becoming second among global financial services companies. It also rose to sixth place in the Forbes Global 2000 list.
"We actively respond to the State's strategic call by strengthening financial support to key sectors, projects and infrastructure, and safeguarding the steady development of the real economy," Sheng said.
By the end of last year, Ping An had invested over 5.9 trillion yuan (US$880.5 billion) to serve the real economy, invested and financed over 340 billion yuan in Belt and Road projects, and insured over 500 billion yuan for key projects in the Guangdong-Hong Kong-Macao Greater Bay Area.
To ease burdens caused by the pandemic on small and micro enterprises, Ping An has provided inclusive financial services targeting private enterprises as well as small and micro enterprises, agricultural workers and other groups with special needs.
In 2021, over 70% of the group's new enterprise loan customers were private businesses, according to Zou Yue, assistant to the president of the Shenzhen branch of Ping An Bank, a subsidiary of the group.