With share prices of Chinese electric vehicle manufacturer BYD Co. on the rise, the company's total market value exceeded 1 trillion yuan (US$149 billion) June 10, marking the first time for a Chinese auto company to be ranked among the top three global auto firms in terms of market value, Shenzhen Special Zone Daily reported.
In addition, BYD became the first Chinese brand to enter the "million car club" of new energy vehicles in 2021. BYD's monthly production and sales of new energy vehicles reached 100,000 units for several consecutive months this year, leading the automobile industry.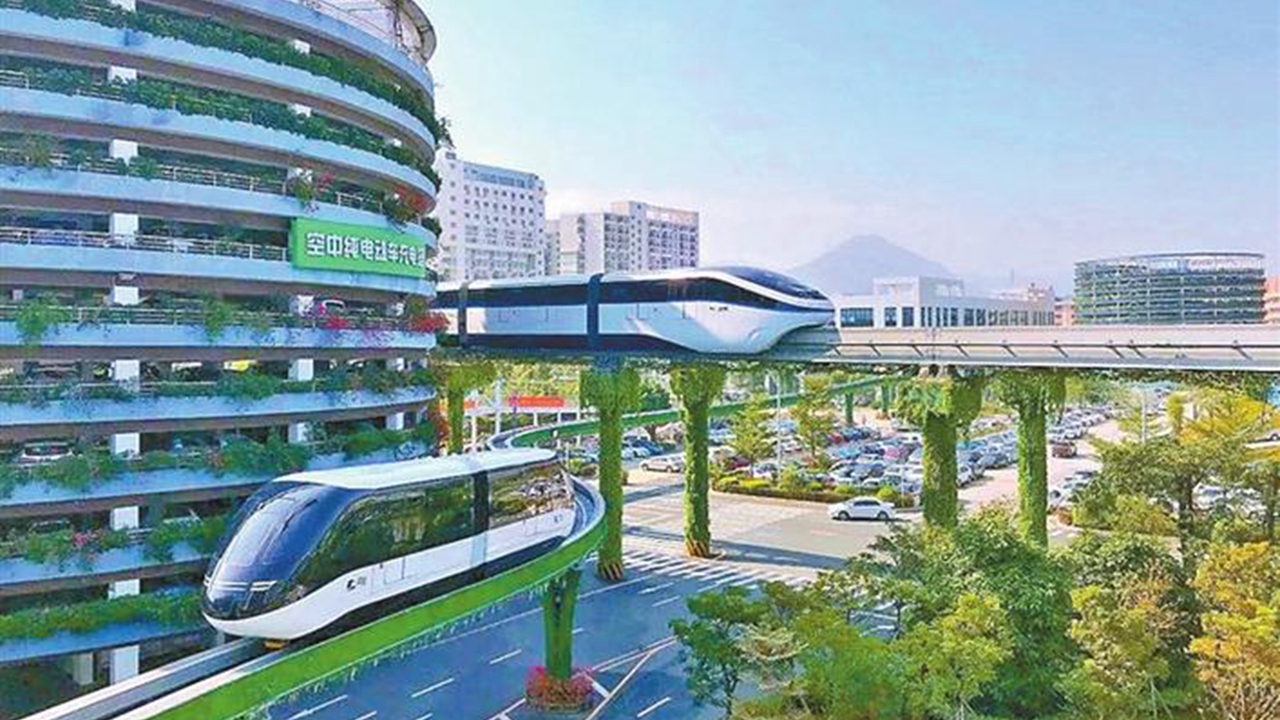 BYD's SkyShuttle (L) and SkyRail are seen in the company's headquarters in Pingshan District. Qi Jieshuang
Over the past 27 years, BYD has grown from a workshop to the leader of China's new energy automobile industry. The secret of BYD's success lies in its industrial chain, core technology and open cooperation.
BYD is not simply a carmaker, but has been seeking opportunities in the lithium-ion battery industry, as well as the semiconductor, automobile, electronics and urban rail transit industries. All these formed BYD's own industrial chain.
At present, BYD has four core business segments in automobiles, rail transit, new energy and electronics that develop in a coordinated manner with a 55% compound annual growth rate.
It is worth noting that in the overall development process of BYD's new energy vehicle business, from battery supply, chip research and development, to the vehicles' production, manufacturing and parts supply, the company has always guaranteed a controllable whole industrial chain.
Now, BYD is the world's only auto company that has mastered the core technologies of the whole new energy vehicle industrial chain such as batteries, motors, electronic controls and vehicle scale semiconductors, which make BYD great.
Adhering to technological innovation and independent research is the core driving force behind BYD's development. The company firmly believes that during the industry's the stable period, management is the first driving factor. However, when the industry changes, technology will play a decisive role.
In order to quickly meet the market needs, BYD has created a special "technical fishpond" that contains various technologies. BYD's five core technologies out of this "fishpond" are blade battery, IGBT chip, DM-i hybrid technology, Innovative e-Platform 3.0 and the just released CTB battery integration technology.
Gao Jinmin, a member from the Shenzhen Municipal Committee of the Chinese People's Political Consultative Conference, the local political advisory body, said that "BYD spent 13 years achieving its goal of selling 1 million vehicles, and less than one year selling the second 1 million vehicles. This is a result of giving priority to technological research and development."
In 2018, BYD held its first global developer conference, the first in the 132-year history of the automotive industry. This conference also means that BYD has been starting from conservative to open, and from self-sufficiency to win-win cooperation.
BYD new energy commercial vehicles have been sold to over 400 cities in over 70 countries and regions worldwide. It is the only Chinese automobile brand covering developed automobile markets such as Europe, the U.S., Japan and South Korea.
"Without Shenzhen, there would be no BYD. BYD will help Shenzhen seize the first opportunity in the global industrial chain and supply chain layout through self-controllable key, core technologies," Du Guozhong, vice president of BYD brand public relations department, said at a recent interview with the media research group tour for the city's high-quality development.
BYD has 400,000 employees worldwide, with over 100,000 employees in its Shenzhen headquarters. It also has four industrial parks built, and among them, the park in Pingshan District is the company's global automotive headquarters, the park in Longgang District is the global precision manufacturing base, the park in Dapeng New Area is for promoting traditional manufacturing to high-end manufacturing transformation, and the park in Shenshan Special Cooperation Zone is the core undertaking base of the new energy automobile parts industry.