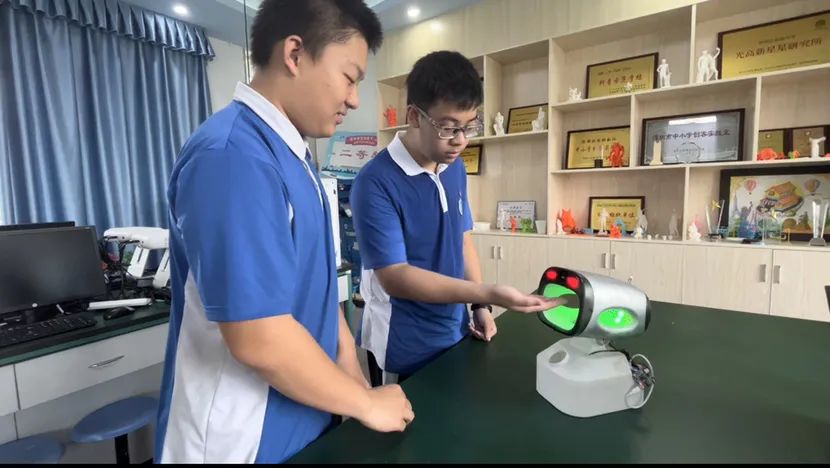 Two students of Guangming District High School demonstrate how to use the intelligent hand disinfection device. Zhou Hongbo
A GROUP of secondary school students from Guangming District High School has invented an intelligent device that takes only three seconds to complete contactless hand disinfection, Shenzhen Special Zone Daily reported yesterday.
Ni Weihao and Zhan Kaijun, two students who participated in the invention, told the Daily that the portable instrument uses atomized disinfectant and UVC radiation for disinfection, and adds gesture recognition and laser distance sensing technology to realize efficient hand disinfection.
The instrument also connects to "Baidu AI" through the Internet of Things technology and realizes intelligent voice control, further reducing the possibility of viral transmission.
The invention was inspired by a student's observation of the hands of nucleic acid samplers during the COVID-19 pandemic. One of the students, Zheng Chenqi, has a relative engaged in nucleic acid sampling and has bruises on the hands because of long-time disinfectant use.
Zheng and other students then came up with an idea: "Can we make a contactless sterilizer?" Therefore, 15 students formed a team. The first version of the hand disinfection device was launched in October 2021, but the product still had many flaws.
The team thus asked teachers for help and made a second-generation product under teachers' guidance. They later optimized the device's size based on the second version and eventually rolled out the third-generation hand disinfection instrument.
Chen Junxin, one of the school's teachers, said that the team will take the invention to an innovation competition. Meanwhile, the product is currently applying for patents and will be incubated as soon as possible.