Visitors hold the exhibition leaflets in front of Maurizio Cattelan's "Comedian" at the exhibition at SWCAC. Photos courtesy of UCCA and SWCAC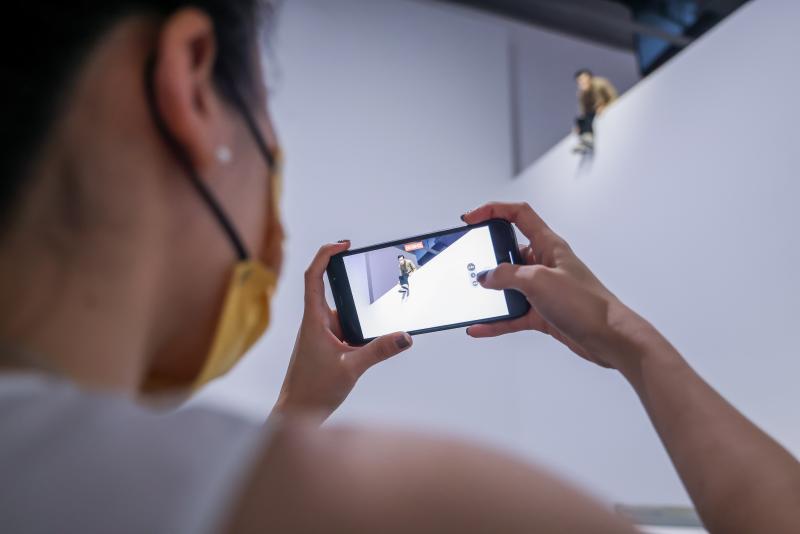 A visitor takes photos of Maurizio Cattelan's "Mini-Me."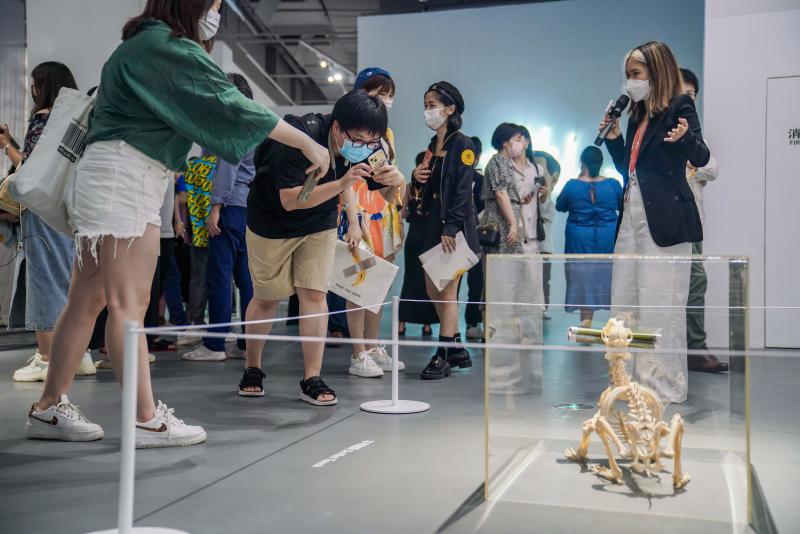 Visitors take photos of Maurizio Cattelan's "Untitled."
From now through Oct. 16, the Ullens Center for Contemporary Art (UCCA) presents "Maurizio Cattelan: Wish You Were Here" in collaboration with Shenzhen's Sea World Culture and Arts Center (SWCAC).
This exhibition by Italian artist Maurizio Cattelan continues his journey through China begun by his first solo exhibition in the country, "The Last Judgment," which opened at UCCA Beijing last year.
Building off of the Beijing exhibition, "Wish You Were Here" has been specifically tailored for the new context of Shenzhen. Cattelan presents more than 20 artworks, including sculptures, murals and a performance.
The exhibition also features site-specific installations, including a new work and a reimagining of a classic interactive installation by the artist. In Cattelan's trademark playful and thought-provoking manner, these inspiring artworks further extend his explorations into human desire and longing.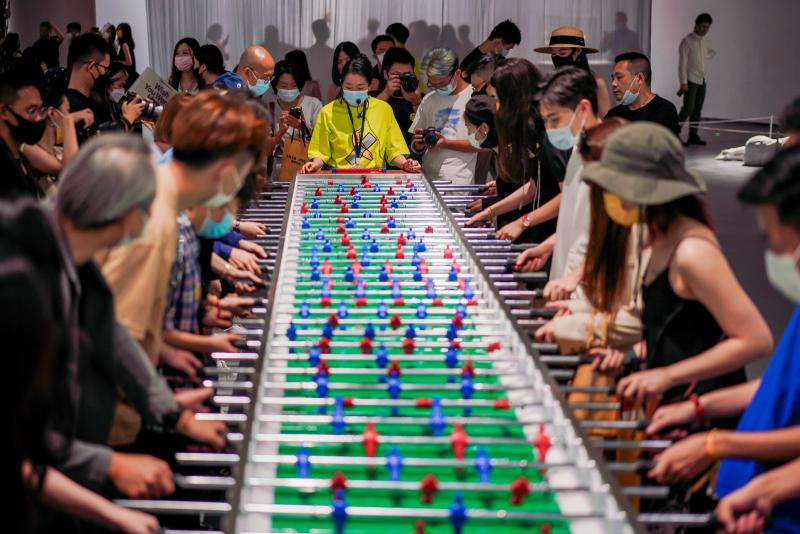 Visitors interact with Maurizio Cattelan's "Stadium."
As the entire world faces trying times and many of us are separated, unable to travel and meet as we once did, this theme has become more urgent than ever before. With this in mind, Cattelan selected the postcard slogan "Wish You Were Here" as the exhibition title.
Cattelan's artistic practice is rooted in his own life experiences as well as his keen observation of society, specifically how we as individuals relate to others. His provocative, often mocking and prank-like artworks can be as shocking as they are heartfelt and touching.
The artist is particularly adept at using the relationship between an artwork and its surrounding environment — whether its physical location or social context — to generate spectacle, stimulate interactions between art and audience, build emotional resonance, and encourage viewers' further reflection. Cattelan's works are all about human connection, how we as individuals may reach out and bond with those around us.
The exhibition is curated by Francesco Bonami, organized by the UCCA exhibitions team and co-presented by the UCCA and SWCAC.
Dates: Until Oct.16
Tickets: 128 yuan per person; 198 yuan for two persons
Venue: Sea World Culture and Arts Center, Nanshan District (南山区海上世界文化艺术中心)
Metro: Line 2 to Sea World Station (海上世界站), Exit A