'Super Rita' turns Shekou into home away from.mp4
On the night of May 20, Yang Yan, head of the Shekou Management and Service Center for Expats (Shekou MSCE), was waiting at the center's gate to receive expats attending a Chinese language class.

"Welcome back!" she waved at every participant enthusiastically, as the activity had been suspended since last December due to the pandemic.
"Hi Rita! We are very happy that now it has restarted!" greeted Sanjeev Gupta, an Indian businessman who is living in Shekou and has known Yang for four years.
In Shekou's expat community, Yang is more affectionately called Rita Yang and widely known as Super Rita. She leads a team of 12 international social workers in Shekou and they work together to turn the area into a second home for nearly 8,000 expats from over 100 countries.
Yang Yan helps an expat during the Learn Chinese Through Movies class organized by the Shekou Management and Service Center for Expats in this May 20 photo. Lin Jianping

For her, the endearment of Super Rita is recognition for her good work, but also that of the whole team.
"In fact, nobody is a superhero. We put ourselves in foreigners' shoes to learn about their challenges of living and working abroad due to the language barrier," Yang told Shenzhen Daily.
The center is playing a role as a bridge connecting foreign residents and the government. They are fully mobilizing their connections with government departments and the advantages of having no language barrier to provide legal consulting, mediation, notary service, visa and tax consulting for expats.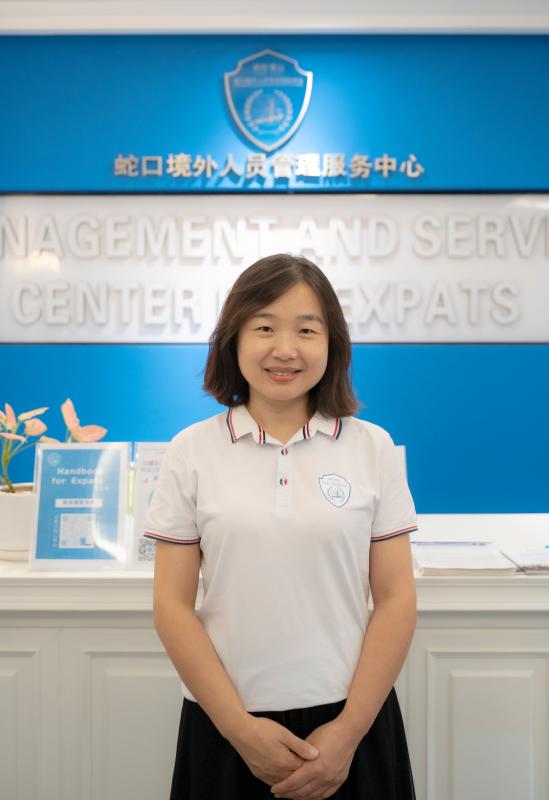 Yang Yan in the Shekou Management and Service Center for Expats. Lin Jianping

Yang has also added hundreds of expats on WeChat to learn more about their needs and offer personalized services.
British expat Carol Quinn is one of those who have been enjoying Super Rita's "VIP services." "We can send messages to Rita any time; it doesn't matter night or day. Rita is always service-minded and quick to respond. If she doesn't have an answer, she'll try to find it or connect you with somebody who can help," she said during an interview after attending the Chinese class.
Shenzhen's recent COVID flare-ups were a struggle for Chinese nationals, let alone international residents. The center opened a service hotline to address expats' inquiries about pandemic prevention and control measures, and to help relieve their stress triggered by the situation.
According to Yang, many expats in Shenzhen found no vaccination or nucleic acid testing records on their 粤康码 app due to them changing passport numbers or inaccurately inputting information in the system. These problems had restricted their travel.
"As foreigners didn't fully understand the pandemic situation, or had fears about the uncertainty of the future, we believed it was necessary to open a service hotline. If they had any questions, we would always be there for them," she said.
Since the hotline was set up, it has received many inquiries about sampling methods and temporary lockdown measures on residential buildings, among others.
"A common question expats ask is about the venue code for entry into public areas and transport," Yang said. Foreigners are unable to use the code because they don't have Chinese IDs.
Rita's team made foreigners' voices heard by reporting the issue to the city's foreign affairs office, pandemic prevention headquarters and transport bureau. With their joint efforts, an alternative health code was made available for expats as access to public venues.