Technologies empower GBA logistics.mp4
科技赋能物流:湾区出发,通达全球

For Katy Lian, export logistics is becoming increasingly accommodating nowadays.
"Unlike domestic logistics that began to offer users traceability service many years ago, international freight transportation didn't catch up until recently," said Lian, business and supply chain manager of Samanni, a furniture exporter based in Houjie Township in the city of Dongguan, Guangdong Province. "And it is not just about traceability. The whole process is much smarter."
位于东莞厚街镇的萨玛尼家具有限公司是一家外贸企业,谈起国际物流行业的新发展,作为该企业业务与供应链管理部门经理的连红文津津乐道。"国内物流很多年前就有可追踪服务,而国际货运近几年才实现。现在不光可追踪,整个国际物流都越来越智能了,"连红文一边向记者展示她电脑上的云端全球贸易操作系统,一边说道。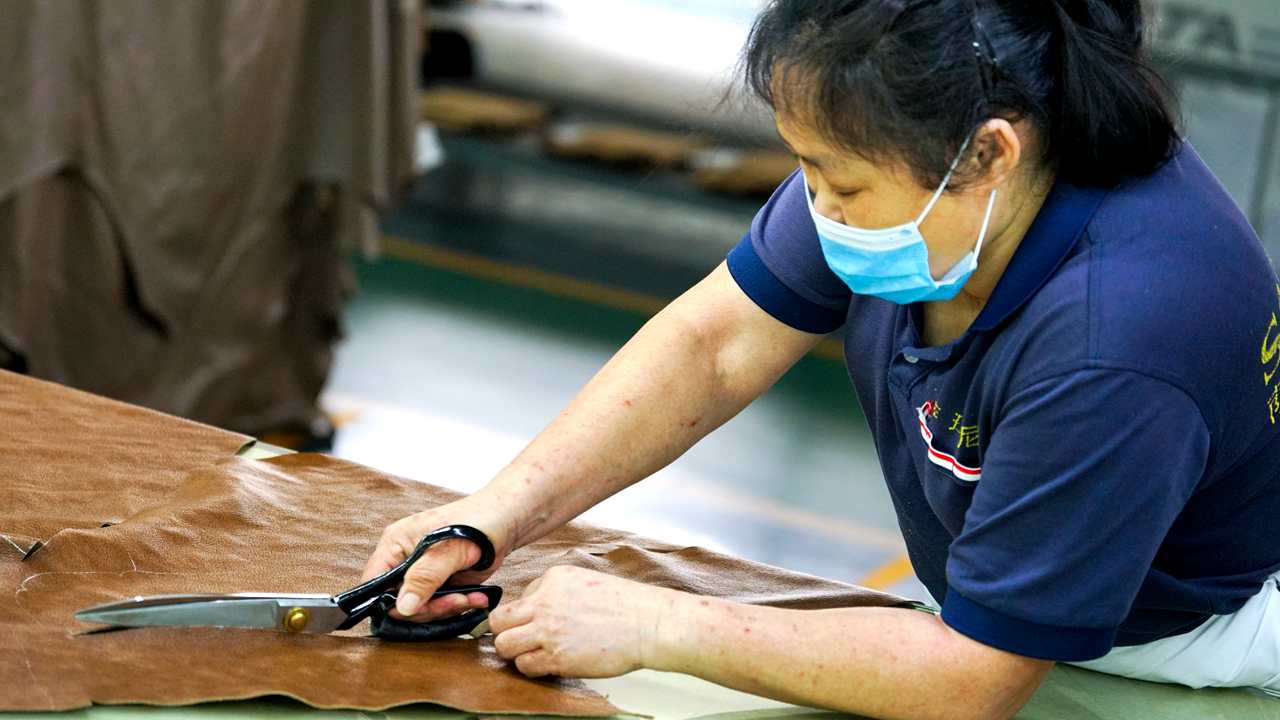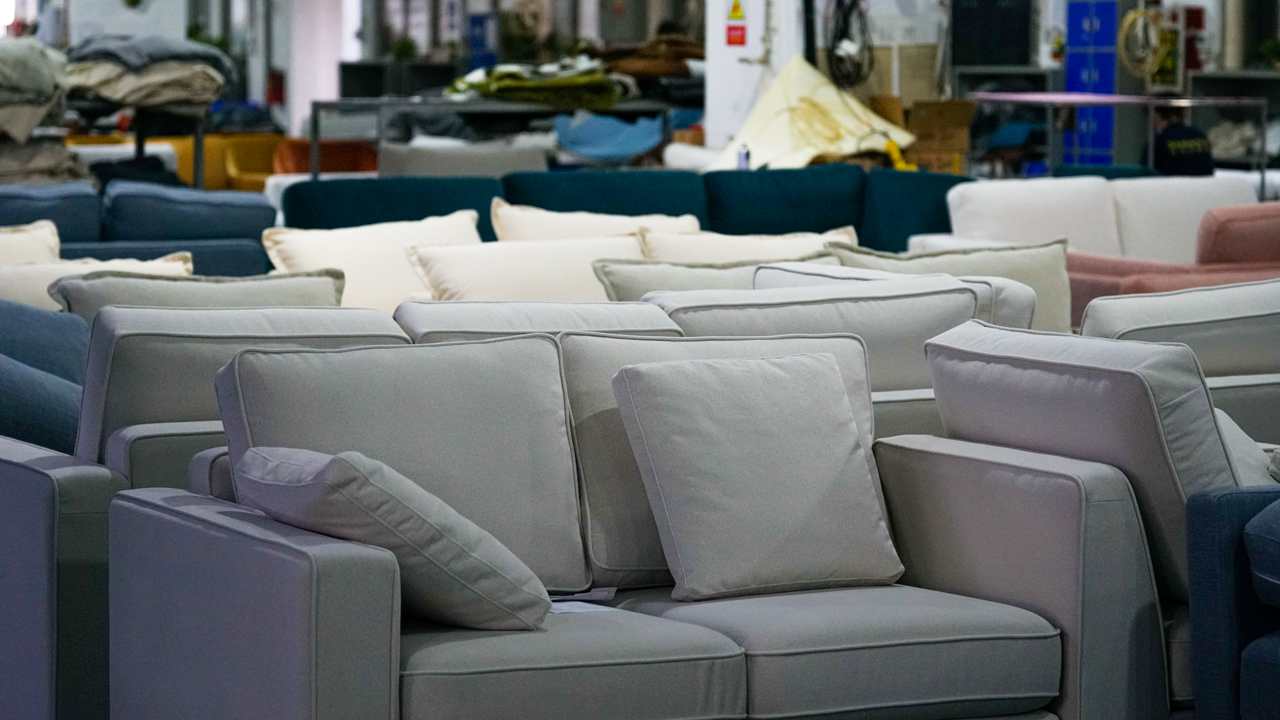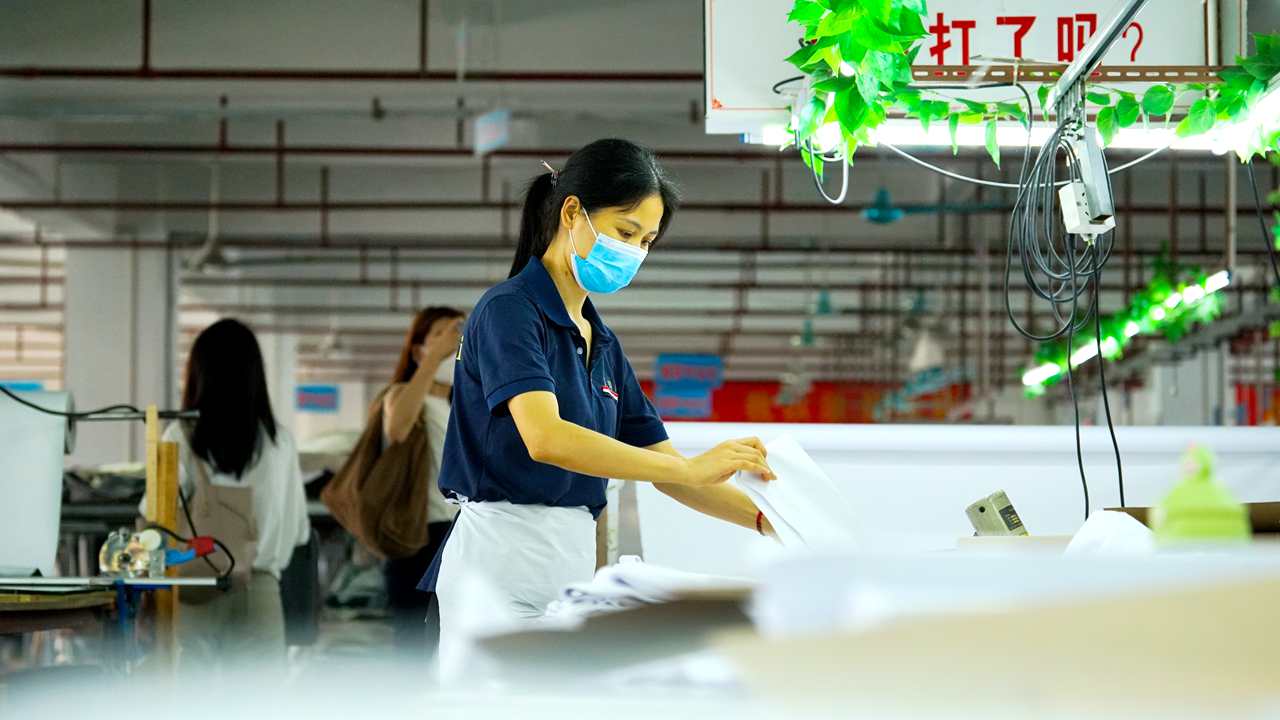 Scenes at the furniture factory of Samanni in Houjie Township in the city of Dongguan, Guangdong Province. Photos by Wang Haolan except otherwise stated

Prior to shipping the company's goods internationally, Lian can easily learn the best routes available based on real-time data provided by a cloud-based global trade platform. After the items have been shipped, she can access data collected during transportation, which will in turn help her with her future decisions for the company's supply chain management. Even the calculations on carbon emissions generated by different forms of transportation are just a click away.

通过这个系统,连红文可以在发货前根据系统实时采集的数据,获得最优的运输方案;在运输完成后,她可以利用运输过程中收集到的数据,为公司未来供应链管理决策提供依据。就连采用不同运输方式所产生的碳排放量,在系统上也一目了然。
Katy Lian (R) tracks goods on a cloud-based trade platform with the help of a staffer from Flexport.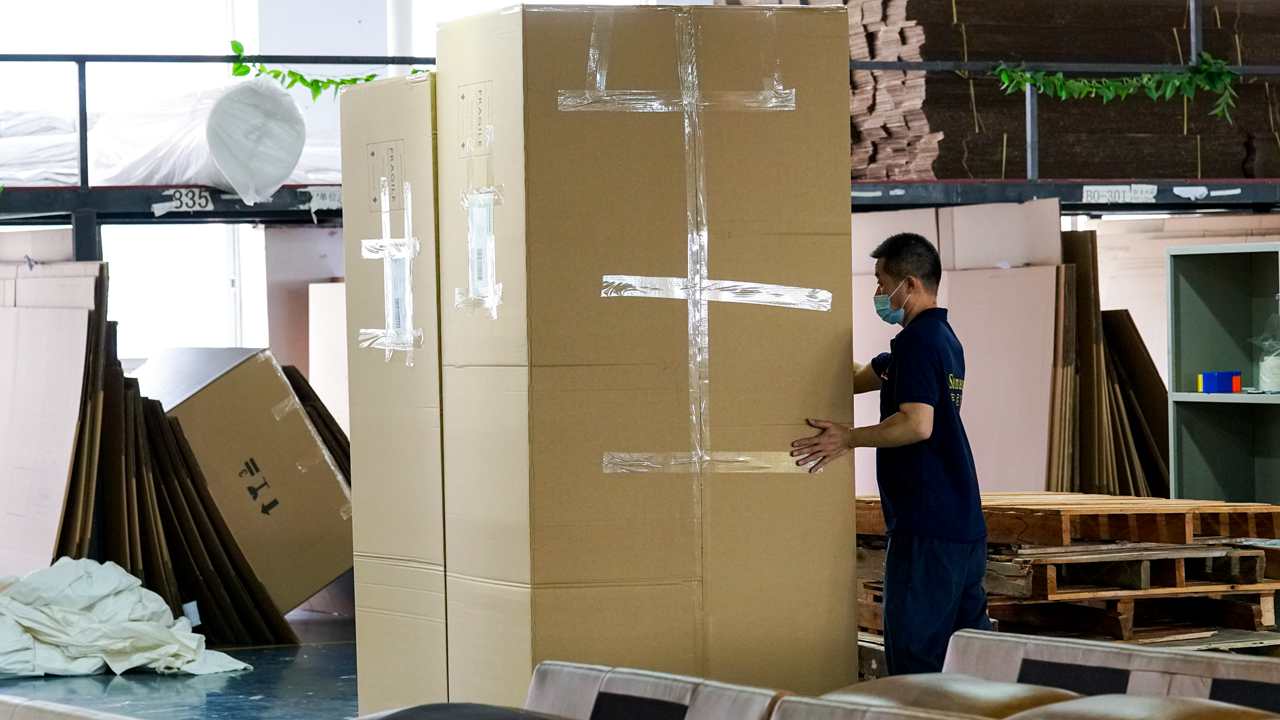 A staffer with Samanni packs some of their goods, which will be shipped overseas.

In an age where new technologies such as artificial intelligence, big data and cloud technology are evolving rapidly, the international shipping industry, which remained more or less the same for decades, is transforming itself, Henry Ko, managing director of Flexport Asia, told Shenzhen Daily.
在人工智能、大数据、云技术等高新科技飞速发展的互联网时代,曾经维持着几十年如一日运作模式的传统航运业,也正经历着新技术的洗礼,飞协博亚洲董事总经理高学亨告诉记者。
Henry Ko, managing director of Flexport Asia, has an exclusive interview with Shenzhen Daily.

Flexport, founded in 2013, is a U.S. Silicon Valley-based freight logistics company, which aims to modernize the industry. In 2021, the digitally enabled unicorn moved nearly US$19 billion worth of merchandise across 112 countries and regions, with 80% of them coming from China. It branched out in Shenzhen in 2016 and the Shenzhen office currently employs roughly 300 people, the largest headcount among all Flexport offices apart from its San Francisco headquarters. It has opened its first warehouse on the Chinese mainland at the Yantian Port area and its largest research and development (R&D) center in Asia in Nanshan District.

成立于2013年的飞协博是一家总部位于美国硅谷的货运代理公司,致力于推动传统货运行业的现代化转型。作为一家科技型独角兽企业,飞协博去年在全球112个国家与地区之间为超过1万家企业运送了总价值近190亿美元的商品,其中80%来自中国。飞协博于六年前设立深圳办公室,目前有约300名员工,是除了旧金山总部外员工人数最多的一个办公室。飞协博在盐田港区附近开设了中国内地市场首个线下仓库,并在南山区建立了其亚洲最大的研发中心。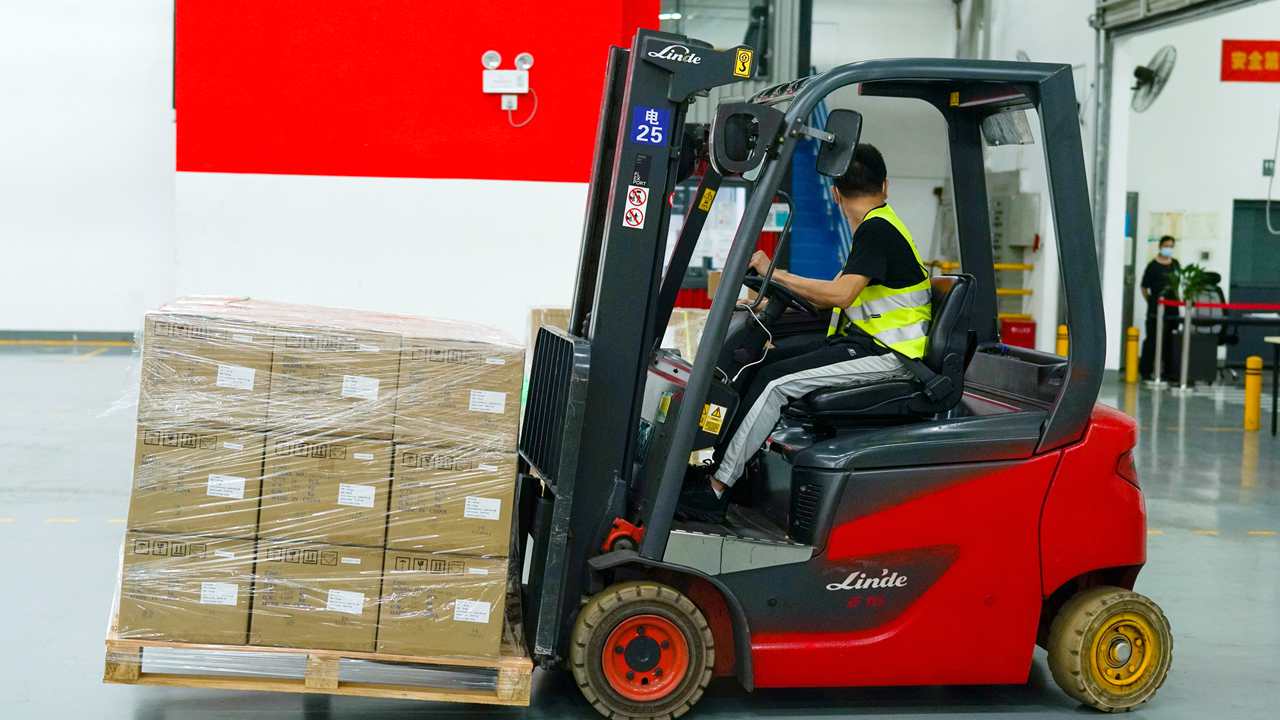 scenes at Flexport's warehouse at the Yantian Port area.

"As entrepreneurs, we find rewarding that Shenzhen has attracted different types of talents, including technology talents, [traditional] foreign trade talents as well as cross-border e-commerce talents," Ko said. He has previously held several senior positions at multinational logistics companies including DHL and SF Express and has accumulated extensive experience in the global supply chain industry.
"A convergence of all these types of talents is very good for our business development."
"作为企业家,我们看到深圳聚焦了不同的人才,包括科技人才、(传统)外贸人才以及跨境电商人才,"高学亨说。他曾在DHL和顺丰速运等跨国物流公司担任过多个高级职位,积累了丰富的全球供应链行业经验。"所有这些类型的人才聚集在一起,对我们的业务发展是一个非常利好的因素。"
With its strength in research as well as technology use, Flexport is known for its high growth as well as resilience in the face of the pandemic. It has been Silicon Valley's No. 1 in terms of growth for three consecutive years, public data show. The company's Shenzhen warehouse saw cargo volume increase by 200% since the warehouse opened in April 2018, according to DP Dang, Flexport Asia's senior network design manager. "Despite the pandemic in the last two years, our overall business has maintained its momentum," Dang said.
凭借其出色的研究能力以及技术优势,即便在疫情之下,飞协博仍成为全球数字货运代理领域增长最快的公司,并连续三年成为硅谷业绩增长排名第一的企业。飞协博亚洲仓储运输高级经理党鹏表示,该公司的深圳仓库自2018年4月开仓以来,货量已经实现了200%的增长。"虽然受到过去两年新冠疫情的影响,但是我们整体的业务趋势还是呈一个正向发展的良好态势,"党鹏说道。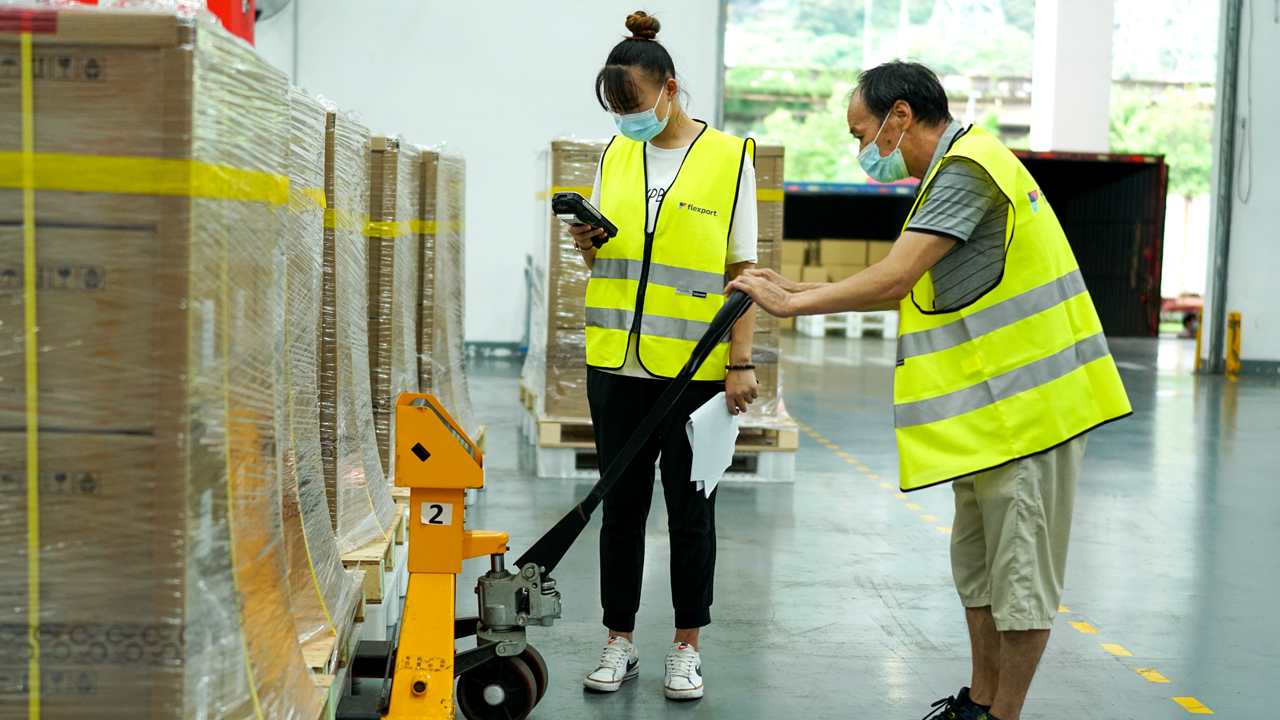 Flexport staffers weigh a batch of goods at the Yantian warehouse.

Firms like Flexport, which promote smart logistics as a solution to logistics woes due to the pandemic, have been growing rapidly in Shenzhen and surrounding areas in the Guangdong-Hong Kong-Macao Greater Bay Area (GBA). Smart logistics features new technologies like big data, artificial intelligence and 5G, which has opened up a new space for the development of the logistics industry.

疫情之下,像飞协博这样以大数据、人工智能、5G等新技术为核心的智慧物流在深圳及粤港澳大湾区纷纷涌现,打开了物流业发展的新空间。
YH Global, headquartered in Qianhai, is also a unicorn in the logistics supply chain industry and the first RCEP (Regional Comprehensive Economic Partnership)-approved exporter in Shenzhen. It currently employs over 2,000 people and has pioneered the "integrated supply chain" model that involves technologies like automation and the cloud.
总部位于前海综合保税区的深圳越海全球供应链股份有限公司也是一家物流供应链行业的独角兽企业,是深圳首家RCEP经核准出口商企业。越海全球供应链首创了集多种技术应用为一体的"一体化供应链"模式,目前员工超过2000名。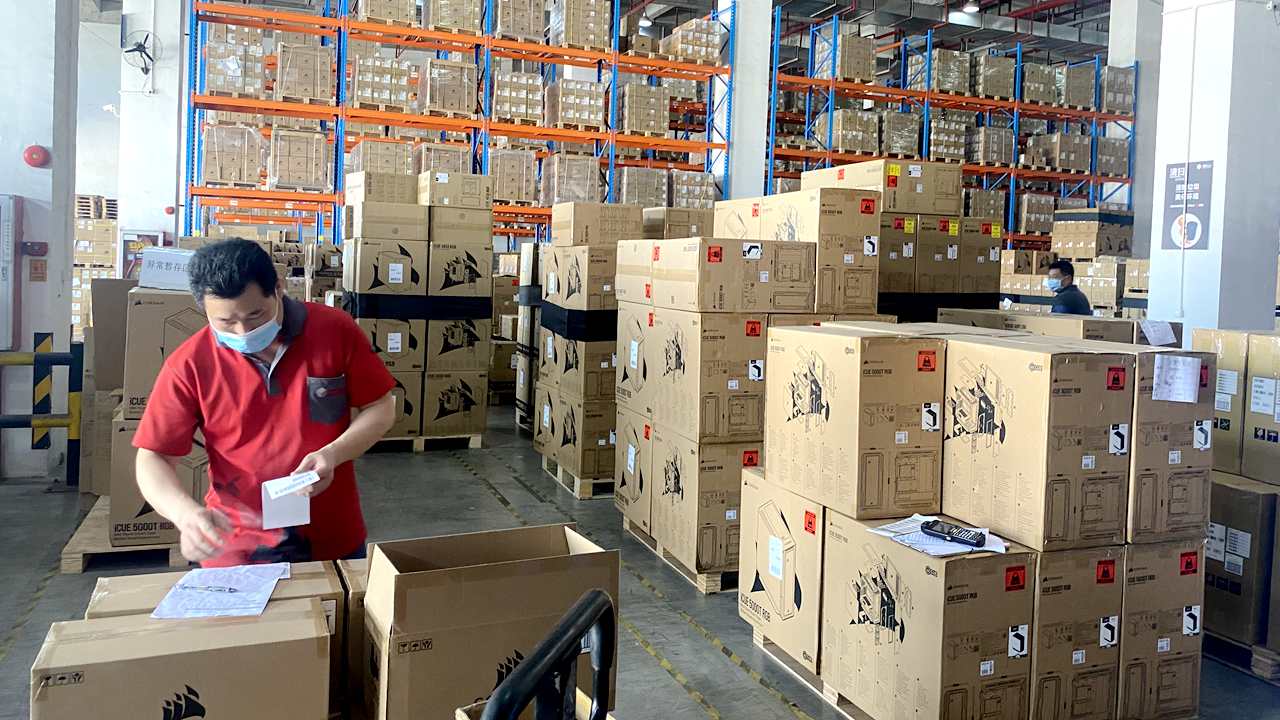 A scene at the warehouse of YH Global in Qianhai. Chang Zhipeng

"We have been investing in technology for a long time," said Huang Qianqian, director of YH Global's IT center. "YH Global has immersed itself in contract logistics since its inception over 20 years ago, and has accumulated some core competencies that have given us the edge to swiftly respond to changes during the pandemic and in this VUCA (volatile, uncertain, complex, ambiguous) era."
"一直以来,我们在科技上都是有所投入的,"越海全球供应链信息中心总监黄茜茜对记者说。"越海成立20多年来,一直在合同物流这个板块进行基本的探索,沉淀下来的核心竞争力其实是有很多的。就是因为这些核心竞争力,才让我们在面对疫情或者乌卡时代时,能够敏捷地响应(诸多变化)。"
YH Global's recent important technological breakthroughs include software, automation and applications of cloud technology, according to Huang, who singled out AGVs (automated guided vehicles) as an example. "AGVs can be thrice as efficient as manual picking," she said, a factor that she believes will safeguard the company's stable business growth in the future.

黄茜茜告诉记者,越海全球供应链近期的主要科技创新突破包括软件、自动化和云技术等方面的应用和升级。在谈到自动化时,她以无人搬运车为例,向记者展示了新科技带来的变化。"AGV(无人搬运车)拣选部分比人工拣选的部分效率是要高出两倍的,"她说。"如果未来再遭遇疫情给人工带来冲击,或者未来人力成本继续上升的话,我相信这应该是能够让业务保持更稳定增长的一个因素。"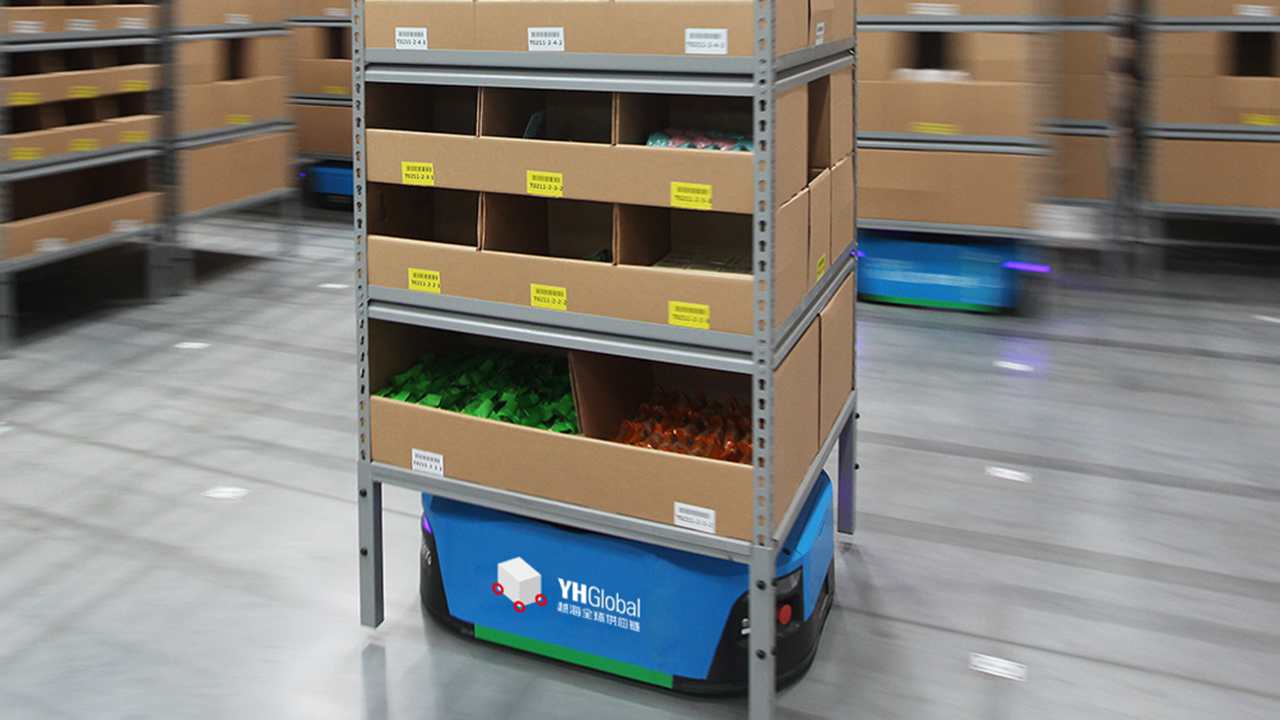 An AGV at the warehouse of YH Global. Courtesy of YH Global

Despite the pandemic and increasing complex global circumstances, YH Global's business bucked the trend and has continued to grow. From 2020 to 2021, YH Global's import and export volume exceeded US$10 billion for two consecutive years, making it the third Shenzhen enterprise after Foxconn and Huawei surpassing US$10 billion in foreign trade. In the first five months this year, YH Global's revenue increased 32% year on year, with total import and export amounting to US$3.9 billion, up 18% from a year ago.
面对疫情冲击以及全球复杂形势,越海全球供应链经营保持逆势增长趋势:2020-2021年,越海连续两年进出口额超百亿美元,是深圳继富士康、华为之后第三家外贸额超百亿美元的企业。今年1-5月,越海营收同比增长32%,进出口总额39亿美元,同比增长18%。
"What I've seen is a transition from quantitative changes [in technology applications] into qualitative changes. I think that's the main factor behind our uninterrupted growth," Huang said.
"我看到的是一个(在技术应用方面)量变到质变的过程,我觉得这是其中一个最主要的因素,"黄茜茜说道。
Prof. Wang Guowen, director of China Development Institute's research center for logistics and supply chain and a respected researcher in his field, mentioned to Shenzhen Daily an accepted view that the pandemic spurred technological applications in almost every sector. "If we talk about technological applications in [Shenzhen's logistics sector], there are so many stories to say," he said.
关于新科技的应用,中国(深圳)综合开发研究院物流与供应链管理研究所所长王国文教授向记者提到了当下流行的一个说法,即疫情促进了技术在几乎各个领域的落地。"具体到科技在深圳物流行业的应用,值得一提的就多了,"他说道。
When asked to give a few examples, Wang mentioned, among others, E6, a leading firm in the IoT (internet of things) application in logistics and transportation; SF Express, which he calls a real technology advancer in terms of automation, parcel tracing and big data; as well as Whale Warehouse, which invented condensed automatic warehouses that can boost space utilization by five to eight times. China Development Institute, based in Shenzhen, is one of China's leading think tanks.
在记者要求之下,王教授列举了几个相关案例,其中包括致力于构建供应链物流行业数字化(IoT)基础设施的深圳易流科技;走在自动化、包裹追踪和大数据应用前沿的顺丰速运;以及发明了密集智能仓储的鲸仓科技,据说这种智慧型仓储方案可以将空间利用率提高5到8倍。王教授所在的综合开发研究院是经国务院批准在深圳创办的国内第一家综合性、全国性的社会智库,并入选首批25家国家高端智库建设试点单位。
A bird's-eye view of the Yantian Port area. Lin Jianping

About 93% of logistics firms in Shenzhen have applied new technologies in their daily operations in the past year to save costs and improve efficiency, according to a survey from Shenzhen Logistics and Supply Chain Management Association.
深圳市物流与供应链管理协会的调研数据显示:过去一年,93%的深圳物流与供应链企业都在实际运营中积极运用了新技术,加快物流信息化、自动化、智能化发展,以节省物流成本,提高运输效率。
With changing situations, the new generation of supply chain unicorns like Flexport and YH Global are riding the tech wave, while logistics giants like FedEx have also begun to pick up their pace in adopting frontline technologies like artificial intelligence to upgrade their logistics network.
面临变局,不仅飞协博、越海物流等新生代供应链独角兽企业寻求利用科技基因化危为机,联邦快递等物流巨头也已开始加速应用人工智能等前沿技术,着力打造智能物流网络。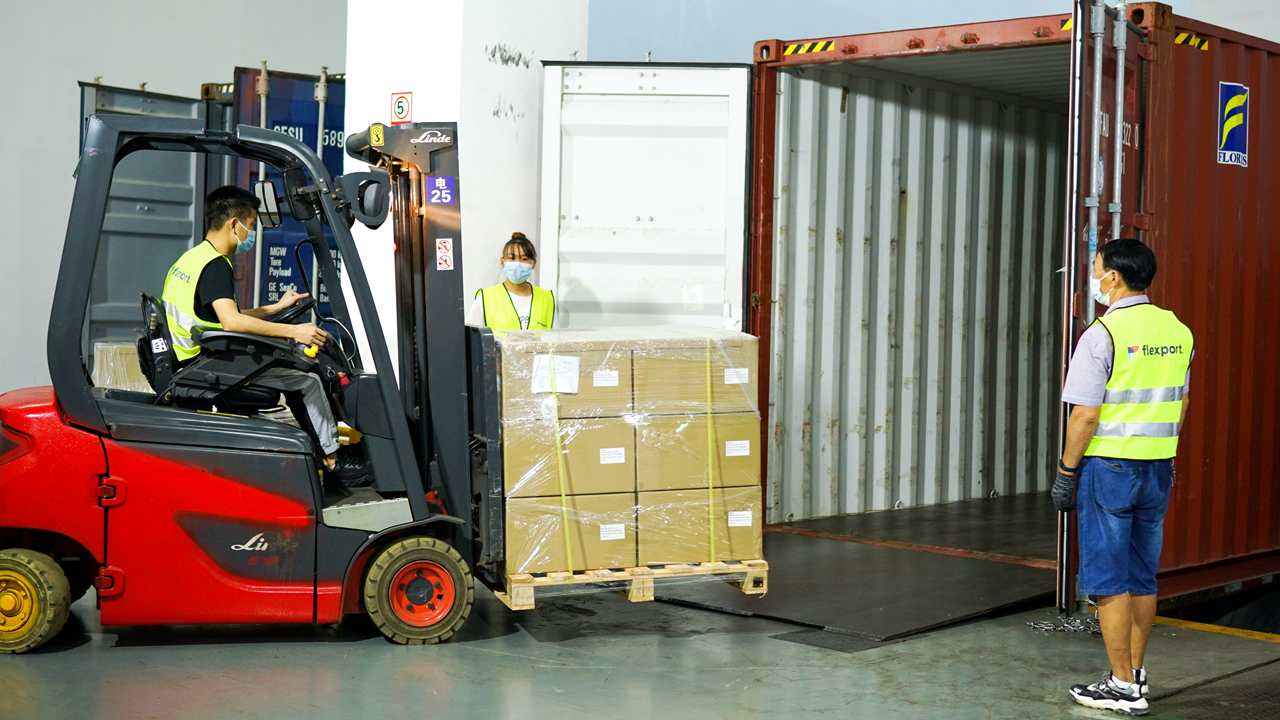 A lorry is being loaded outside Flexport's Yantian warehouse.

Earlier this year, FedEx put an intelligent sorting robot into use at its South China e-commerce shipment sorting center in Guangzhou. It is especially suitable for handling small import and export parcels from e-commerce traders, the company said.
今年年初,联邦快递在其位于广州的华南电子商务货件分拣中心投入使用了人工智能驱动的智能分拣机器人,用于处理来自华南地区跨境电子商务客户的进出口小型包裹。
"This is the first time FedEx has deployed and used an intelligent sorting robot in China," said Robert Chu, vice president of FedEx China. "This represents another endeavor we've made to use innovative technologies to promote smart logistics."
联邦快递中国区及亚太转运中心副总裁朱泰浩表示:"这是联邦快递首次在中国投入并使用智能分拣机器人,是我们利用创新科技来推动智能物流的又一创举。"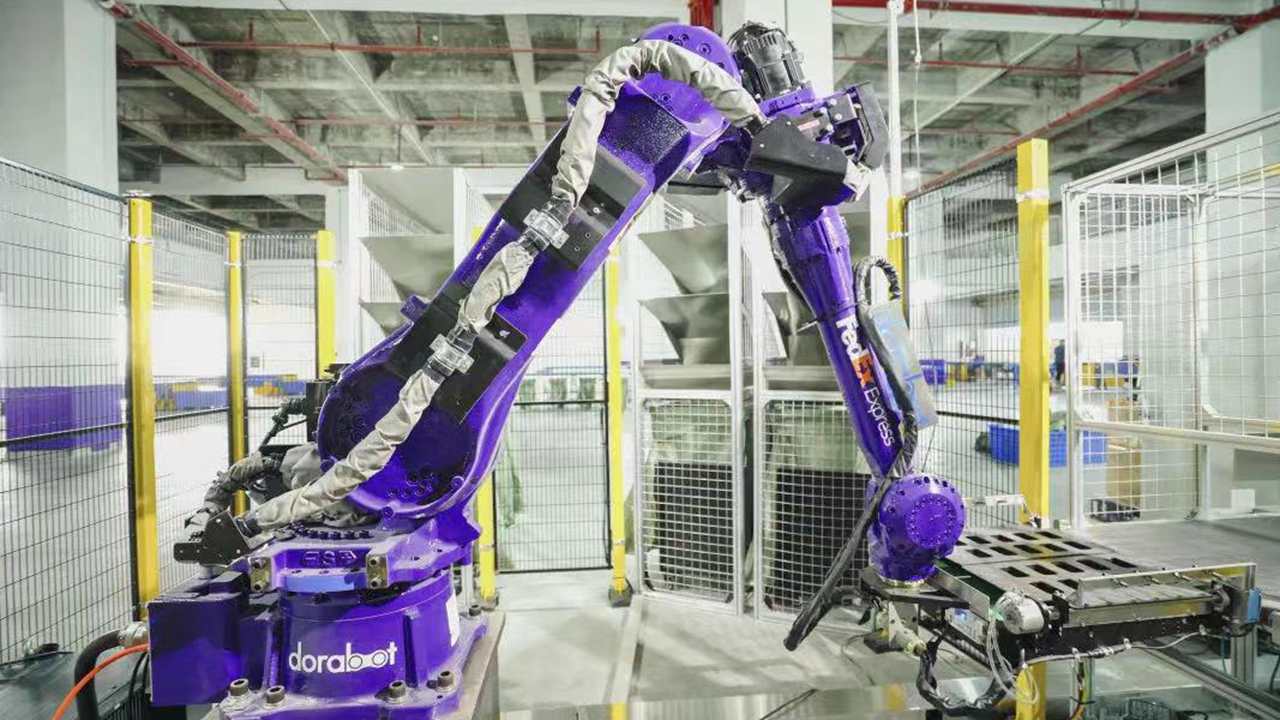 A smart sorting robot is put into operation at FedEx's South China e-commerce shipment sorting center in Guangzhou. Courtesy of FedEx

As China's largest export city, Shenzhen has ranked first among Chinese cities in terms of exports for 29 years in a row. With ocean shipping as the main transport mode for global trade, around 90% of the world's goods are transported by sea. Shenzhen's ports are also accelerating their digital and smart transformation. On July 1, Yantian Port signed an agreement with Huawei Technologies to speed up its digitalization, while on June 28, Mawan Port marked its first anniversary of being named the first 5G green and low-carbon smart terminal in the GBA. Shenzhen Port handled nearly 13.7 million TEUs (twenty-foot equivalent units) in the first half of the year, up by 6.4% year on year, data from Shenzhen Customs showed July 12.
港口货运是国际贸易稳步发展的"压舱石",九成以上的国际贸易货运量由海运承担。在外贸出口规模已连续29年居内地城市首位的深圳,各港口正加速数字化、智慧化转型。今年7月1日,盐田港与华为技术有限公司签署协议,加速推进综合型港口数字化转型。6月28日,粤港澳大湾区首个5G绿色低碳智慧码头妈湾港迎来正式开港一周年。深圳海关最新数据显示:今年上半年,深圳各海港进出口吞吐量近1370万标箱,同比增长6.4%。
"When we look at the [ocean] shipping, Shenzhen has the most advanced container terminals in the world," said Prof. Wang. "We have seen several fully automated container terminals, in Mawan and in somewhere else. The container crane can operate on itself by loading and discharging the vessels, and in the container yard, the trailer is also self-driving. The whole terminal is automatic. We also have a data system tracking all the ship movements along the route. In that sense, international shipping is a highly automatic and technology-intensive sector."
"单从海运来说,深圳拥有世界上最先进的集装箱码头,"王教授告诉记者。"妈湾港以及其他几个集装箱码头已经实现了完全自动化。集装箱起重机可以自动装卸来往的船舶;在集装箱堆场,拖车也是自动驾驶的……整个码头都是自动化的。同时,我们的数据系统可以追踪船只在海洋上的移动路线。从这个意义上来说,(深圳的)国际航运是高度自动化的技术密集型行业。"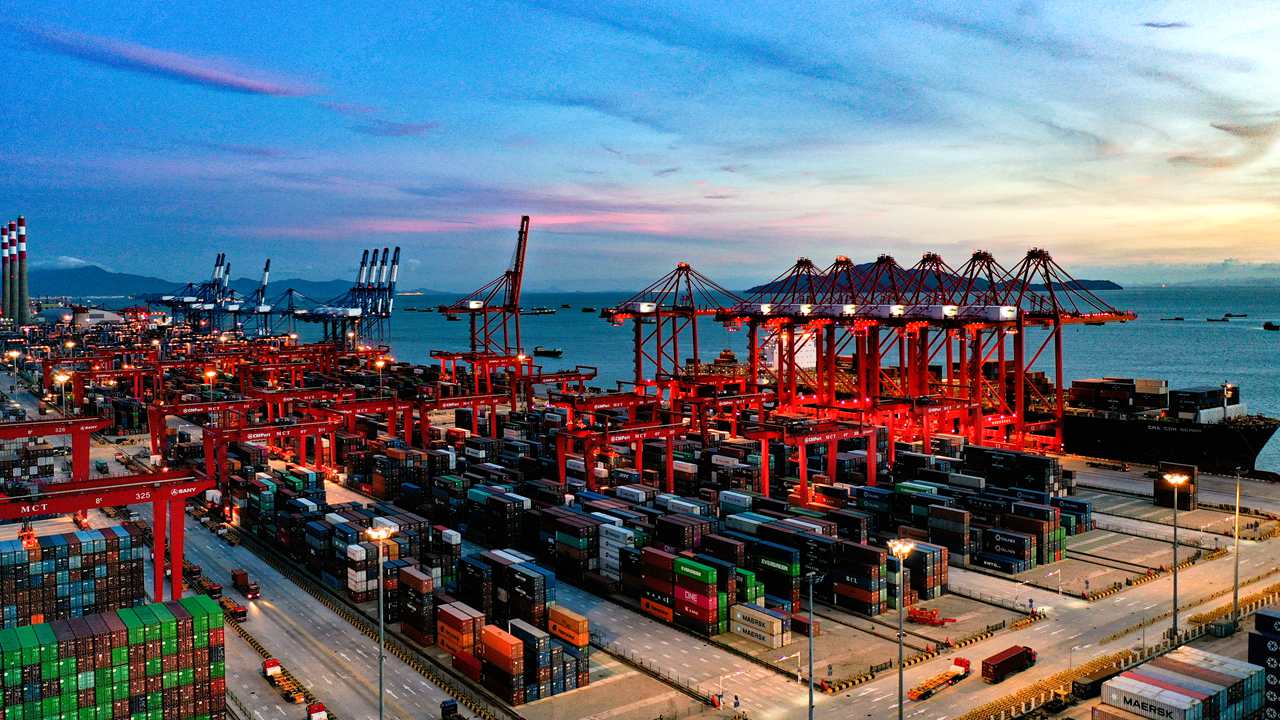 A bird's-eye view of Mawan Port in Nanshan. Liu Xudong

Shenzhen's air shipping is also supported by highly intelligent applications at the airport, Wang said. "There are quite some big data applications in the management of the airport, in the management of the flight loading, route planning and also in the air cargo warehousing system," he said.

王教授还指出,深圳机场也是智慧机场,为高效空运提供支持。"在机场管理、航空货物装载、路线规划以及航空货物仓储系统的管理中,也有相当多的大数据技术应用,"他说道。
Shenzhen's rising cross-border e-commerce sector is also spurring its logistics sector togo smarter. Customs statistics show Shenzhen's cross-border e-commerce has increased 35-fold in the last five years, newspapers including Economic Daily and Shanghai Securities News have reported. In April, the Ministry of Commerce ranked Shenzhen among the country's top 10 pilot zones for cross-border e-commerce.

自新冠疫情以来,跨境电商作为发展速度最快、带动作用最强的外贸新业态,也促进了智慧物流的发展。据《经济日报》及《上海证券报》报道,近5年深圳海关监管的跨境电商进出口货值增长了35倍。根据4月份商务部公布的评估结果显示,中国(深圳)跨境电子商务综合试验区在参评的105个试验区中"成效明显",与其他9个综试区共同位列第一档。
"We've all heard [a catchphrase] that China is a dominant player in cross-border e-commerce globally, while Shenzhen is dominating in this sector nationally," Flexport's Ko said. Unlike traditional exporters, cross-border e-commerce traders have data and technology in their genes, so they demand more technologically enabled logistics services or smart logistics, according to Ko.

"我们都听说:全球跨境(电商业务)看中国,中国跨境(电商业务)看深圳,"飞协博亚洲董事总经理高学亨说道。在他看来,跨境电商跟传统贸易商不同,从成立之初就带有数据和科技的基因,从而也决定了他们需要科技赋能的物流服务,也就是智慧物流服务。
"E-commerce highly relies on efficient logistics, but e-commerce logistics is different from the traditional way of logistics," Wang said, explaining that e-commerce trades are usually fragmented and in small volume, but demand quick delivery. "Consumers will expect overnight delivery, even for international orders," he said.
对于高学亨的观点,王教授也表示认同。"电子商务业务高度依赖高效物流服务,但电子商务物流与传统的物流有很多不同之处,"王教授告诉记者。"在电子商务业务中,大多数交易商品是非常零散的,交易数量小,但需要非常快速的交付。比方说,哪怕是跨境购物,消费者也会期望商品能够隔夜送达。"
Prof. Wang Guowen

Wang has previously carried out research on international e-commerce logistics in Shenzhen as well as the surrounding areas in the GBA, and found that, due to the fact of the area being a huge air shipping gateway with domestic as well as global express firms operating their technologically empowered regional hubs here, e-commerce commodities can reach all around the world quickly and efficiently.

王教授曾经就深圳及大湾区跨境电商物流做过调查研究,他发现,一些大型快递公司,如顺丰速运,以及敦豪航空货运公司、联邦快递等国际知名快递公司都在深圳建立了区域中心,同时深圳周边其他城市也具备成熟的机场设施,使大湾区成为一个庞大的航空枢纽,也就使得跨境电商商品能够非常快速高效地到达世界各地。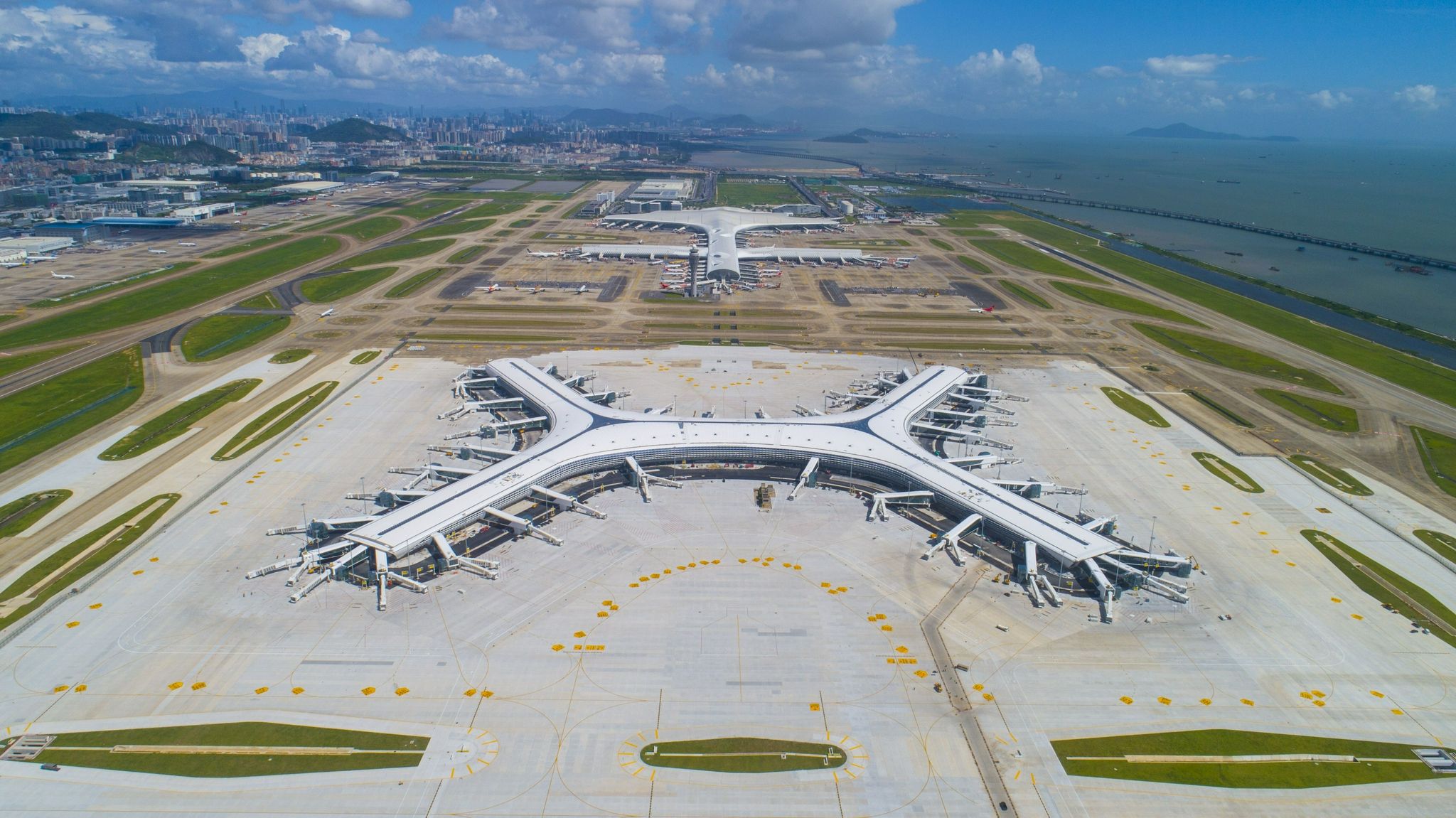 A bird's-eye view of the satellite hall of Shenzhen Bao'an International Airport. File photo

Warehousing facilities set up in GBA's bonded zones, which are used mainly to facilitate import businesses, as well as those established overseas for the sake of efficient international deliveries, are also a factor behind the smooth international flows of goods and resilient supply chains, according to Wang. In Shenzhen alone, eight of such bonded areas have been designated for cross-border e-commerce, while Shenzhen companies had set up over 230 overseas warehouses with a total construction area of more than 2.6 million square meters by the end of last year, official figures show.

王教授还指出,国内保税区内的仓储设施及中国企业在目标市场建立的海外仓也是保障进出口物流顺畅和供应链稳定的重要因素。截至目前,深圳综试区跨境电商全业态模式已全面落地,开展跨境电商业务的海关监管场所和保税区域已达8个。据不完全统计,截至2021年12月底,深圳企业建设运营的跨境电商海外仓超过230个,建设面积超过260万平方米。
"We will continue to work hard, instead of resting our laurels with the current level of technology applications," Flexport's Ko said. "We hope to continuously expand our R&D team in Shenzhen, to lend support to cross-border e-commerce and the wider foreign trade sector."
"我们会继续地努力,不止是停留在现在的可视化科技的水平,"高学亨表示。"更希望在深圳不断加大我们研发的团队,使跨境电商或者出口贸易做得更强大。"