Visually impaired couple carve out careers wit.mp4
Audiobook narrator, music arranger, piano tuner, exhibition tour guide, instructor...Though being both visually impaired, Li Chunmeng and Lin Miaoyan have continued to advance their careers in Shenzhen through hard work and a shared passion for spoken language and musical instruments.
Unlike traditional audiobook narrators who can see the book while dubbing, Li and Lin, both audiobook narrators, record while listening to books using a screen reading software that generates speech for them when the books' contents get uploaded.
Li Chunmeng (L) and Lin Miaoyan. Photos by Lin Jianping

"It was quite a challenge at first. We need to use the screen reading software on the computer. Furthermore, we cannot read it emotionlessly, but rather with personal understanding and touches," Li told Shenzhen Daily in an interview June 2. "Auditory sense is certainly not as direct as visual sense," Li explained. "So it would take a long time for us to practice."
According to Lin, she found that some of their friends had started narrating audiobooks about two years ago. "It was new to us, and we had no idea what would happen. But we found it interesting, and it could earn us some money, so it's worth a try."
Lin claimed that it is also an edge for them because she and her husband can work as partners.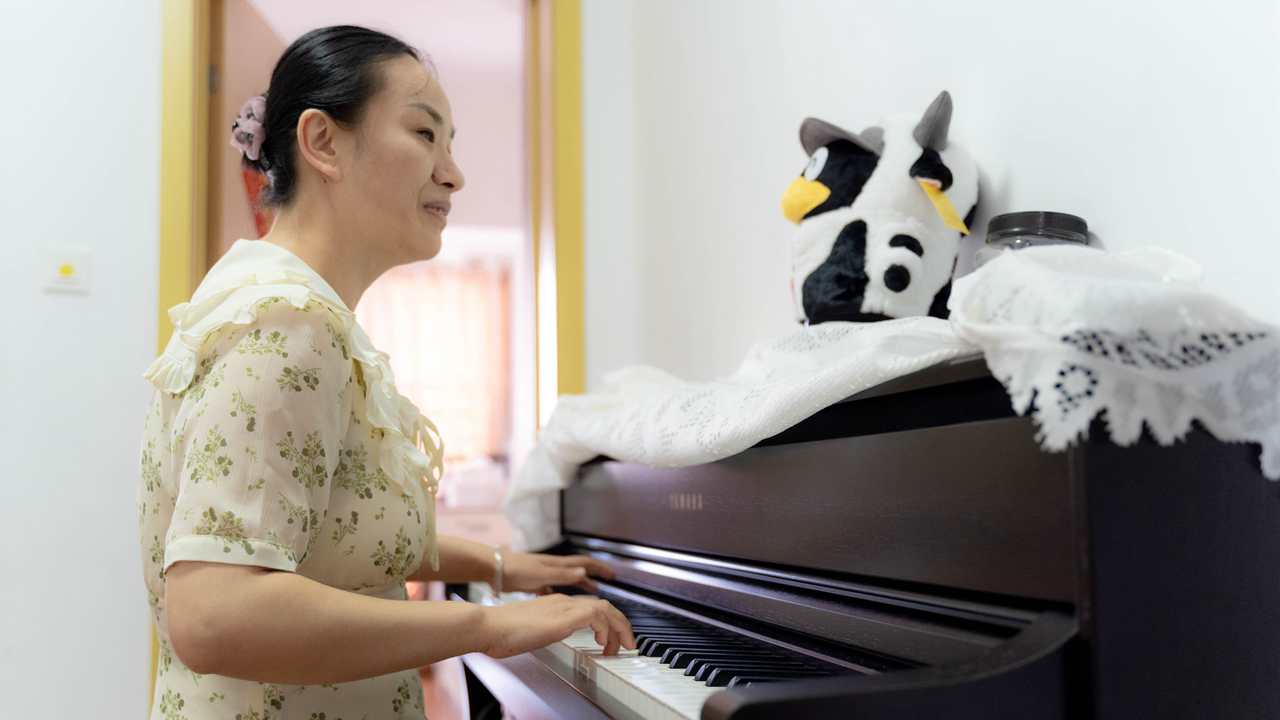 Lin Miaoyan plays the piano at home.

Li is also a part-time instructor at a company called Dialogue in the Dark, a music arranger, and does audio post production. His wife also works for the company in addition to being a piano tuner.
"I'm primarily responsible for enterprise training and guidance for personal experience in a dark environment as an instructor," Li said. "I can also assist with music arrangement if an original work has no accompaniment or requires any style, orchestration or effect."
Although Li didn't major in music arrangement, his keen interest in music has led him to foray into the music industry. He has opened an online store where customers can order audio recordings.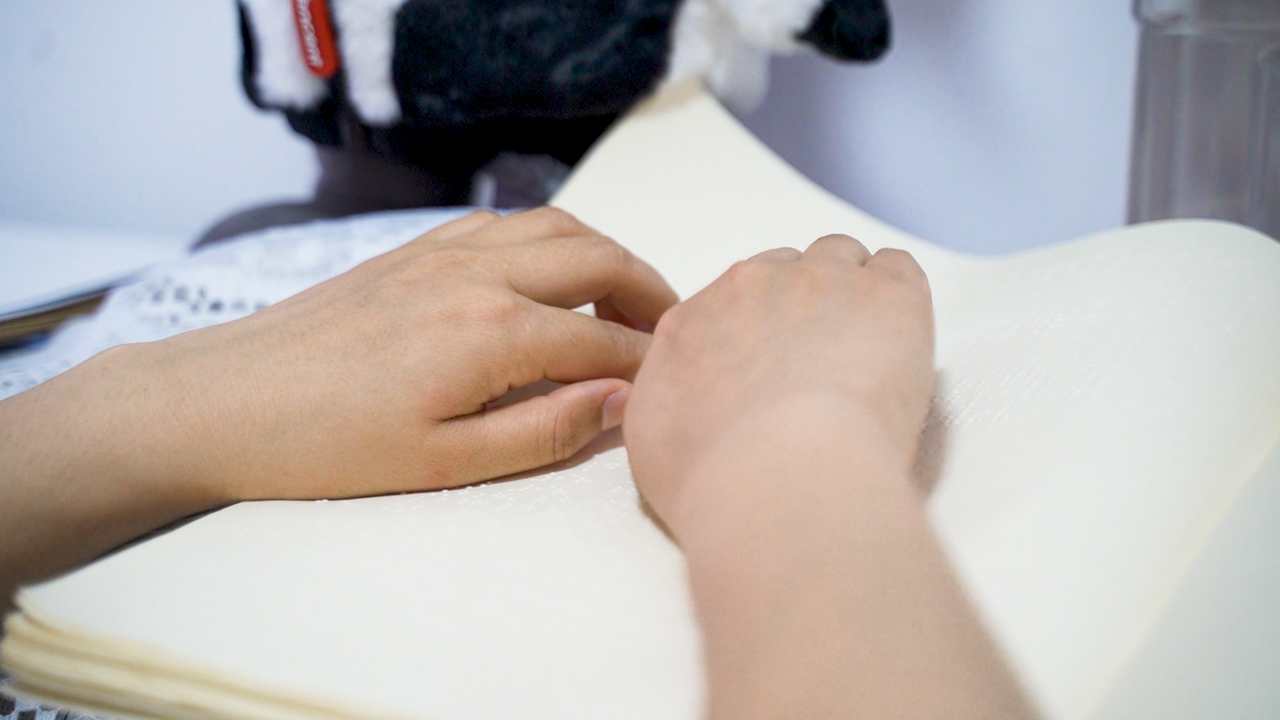 Lin Miaoyan reads a book specially for the visually impaired with her hands.

His wife also secured one of the 15 spots available nationwide for China Braille Library's audiobook narration training this year.
On April 23, World Book and Copyright Day, the couple won first prize in a municipal poetry and prose recitation contest for the blind, which ensured them a spot in a provincial competition. They also took first place in the provincial competition in May.
"It surprised me because we were just trying out some new styles in the competition. It could have something to do with the theme we chose, and the fact that we were more relaxed and didn't feel any pressure this time," Li explained.
Li Chunmeng plays the guitar.

The couple relocated to Shenzhen in 2019 after staying in Shanghai for a couple of years. "First-tier cities have relatively complete barrier-free facilities, and residents in these cities are more tolerant towards visually impaired people," Lin said.
Li Chenmeng narrates an audiobook.

Li echoes his wife's idea and believes that Shenzhen is very inclusive and friendly to people from different backgrounds. "Shenzhen can offer you a lot of opportunities as long as you are capable. The city is also more tolerant towards people with disabilities."
"I once shared this message with my clients: No matter how complete the barrier-free facilities are, they still have limitations, but what is truly unlimited is people's tolerance, that is, the tolerance of the mainstream groups towards the disabled groups," Lin said.