Baking lover and her silent bakery
Some people may open a bakery to turn their passion into their profession. Some may open a bakery to make their childhood dream come true. For Zheng Xiaoyan, founder of Silent Bread Tree, the main reason she chose to do so is a less common one: she wants to provide job opportunities for the silent people, for people who are hearing and speech-impaired.
The idea to help emerged when Zheng first learned from a silent friend she met in a baking course about the difficulties that silent people face in job hunting. She began to wonder what she could do for them, until she got her inspiration frommedia coverage of a bakery in Changsha, Hunan Province run by a German couple that hires silent people.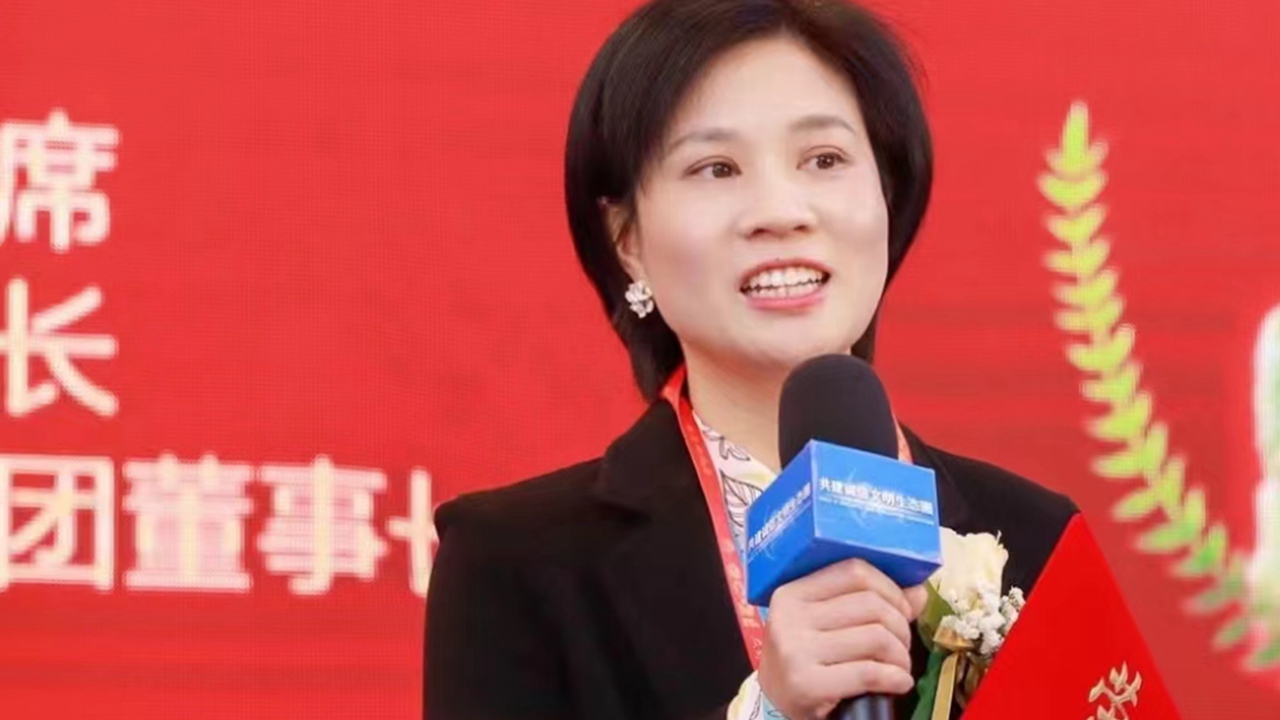 Zheng Xiaoyan gives a speech. Courtesy of the interviewee
"Personally, I'm quite fond of baking," Zheng told Shenzhen Daily. "But more importantly, the success of the German couple's bakery proves that it is feasible to keep a business running while helping the silent people by providing them with jobs. The opportunities do help to make their lives better. So I decided that I would also open a bakery like theirs to help some silent people in need, and that's why I named this bakery 'Silent Bread Tree'– hopefully the jobs provided here can help the silent people feed themselves, just like bread trees feed people in need with their bread-like fruit."
The bakery, located in Hongshan 6979 shopping mall in Longhua District, now has a total of 16 full-time and part-time employees. Among them, six are hearing and speech-impaired. Some of these silent staff members work in the storefront, and some work in the kitchen. The principle here is to treat all staff members in the same way wherever possible- as evidenced by the same salary scale for all employees regardless of their having or not having hearing difficulties, and the deliberate avoidance of signs to indicate which staff members are different. Zheng said the latter practice unavoidably causes inconvenience from time to time, but explained that she insists doing so out of consideration of the silent staff members' feelings.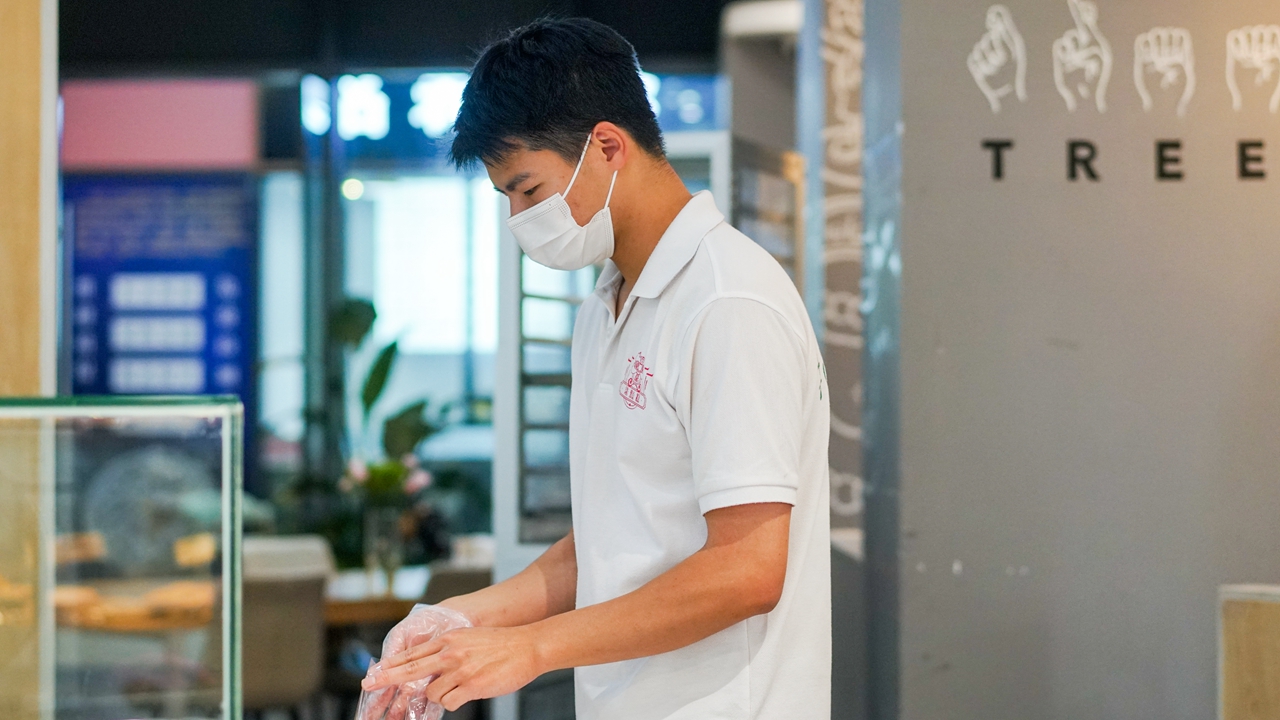 A Silent Bread Tree staff member works in the storefront. Photos by Wang Haolan
"We did consider designing a badge or something else for them so that our customers would know they can't hear," she recalled. "But when we were designing our uniform and we asked our staff members' opinions about whether we should put the words 'Pat me if you need help' on the back of the uniform, most staff members that are not hearing and speech-impaired thought it was OK to have the words, while our silent staff members didn't want them – that was when I realized that they just don't want others to know they're different."
She said that although some customers may feel unhappy at the beginning because their questions are not answered or the help they need is not addressed immediately, most of them will express understanding after learning that there are some special staff members in the bakery. In terms of the silent staff members'performance, she thinks they are doing a good job.
"As long as we tell them what they need to do and how to do it, they can do the job as well as their peers."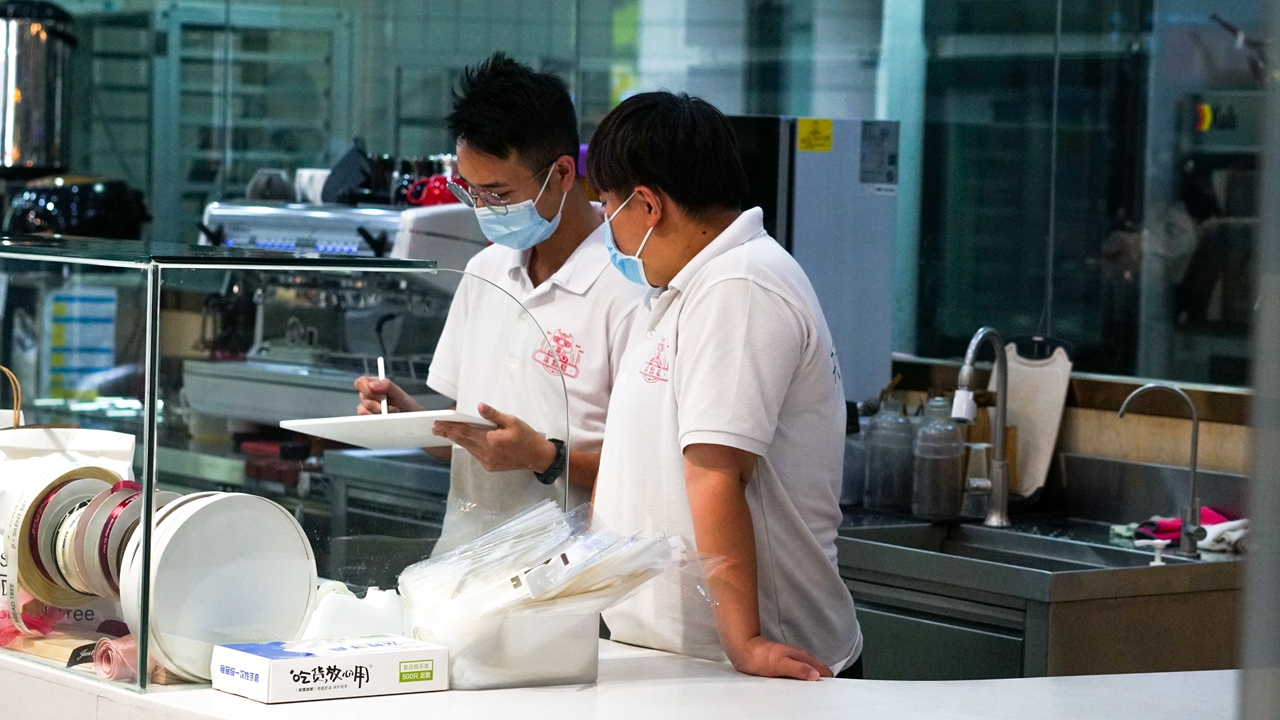 Two Silent Bread Tree staff members communicate using a writing board.

If you search for Silent Bread Tree on the rating app Dazhong Dianping, you will see that in addition to praises of the bakery's attempts in helping silent people, most customers also speak highly of their products, and many are returning after their first purchase. When asked about how the bakery wins the heart of customers and can still survive in such a highly competitive market two years after its opening, Zheng said the most important thing is to use fine ingredients and fine recipes.
"We only use fine ingredients, and our recipes are designed by award-winning bakers. Our dessert recipes are designed by MOF (Meilleur Ouvrier de France) bakers who regularly come up with new recipes for us to choose from," Zheng explained. "And as a mom of two, I want to make foods that moms would feel happy about giving to their kids."
A wooden tree hung with notes left by customers is seen in the bakery.

Formally opening its doors to customers in June 2020, the bakery managed to make its ends meet in late 2021, after one and a half years of joint efforts by Zheng and all her colleagues. The growing momentum of the bakery, however, suffered a hard blow due to the sporadic flares-up of COVID-19 cases in the city in early 2022. In the face of decreasing customers to the shopping mall and to the bakery, Zheng and her colleagues turned their eyes to potential customers outside the shopping mall; one approach they have launched is community group buying.
"Starting in April, we've been recruiting people who are interested in earning a commission by organizing group buying in communities in Futian, Nanshan and other districts to sell our products there, in a bid to increase our revenue," she said. "And it works. Currently, our revenue from community group buying orders have far exceeded sales in the store."
She thanked the support many institutions such as Shenzhen University and the Longhua District Government have provided.
"The Longhua District Government, for example, has provided substantial support to us by purchasing birthday cake coupons here for their staff members, which has to some degree helped ease our financial pressure."
Zheng revealed that the bakery's next plan is to promote their products via the Douyin short video platform. As one of their silent staff members has experience in livestreaming playing video games on Kuaishou (another mainstream short video platform), they will train him to become their main live streamer.
"We encourage our staff members to explore beyond what their current posts require them to do," said Zheng. "We try to figure out what they like and what they're good at, and encourage them to use those skills in their job, so as to further boost their confidence."
Although knowing what she could do for the silent community is very limited, Zheng said the efforts the silent staff members have made to keep the bakery running keeps inspires her to do even more for the silent community. For every Silent Bread Tree product sold, the bakery now donates one cent to the IHEARU Charity Fund, a public welfare fund providing support to the hearing and speech-impaired, to subsidize artificial cochlea implants for hearing-impaired children in the country's rural areas.
"If hearing-impaired children could have artificial cochleae implanted at an early age, their lives could be completed changed. They would be able to live like people with no difficulties in hearing," said Zheng. "Shenzhen has very good supporting policies for hearing-impaired children in the city. For example, the fees for artificial cochlea implants and language therapies are covered by the government. So we decide to provide help to kids living in rural areas. Hopefully, what we're doing can help some of them change their lives."