Senior volunteers craft afterglow of life
"Never feel pity for the setting sun. Look, the afterglow is even more beautiful." The verse from Liu Yuxi (772-842)'s poem, in which he called for the hale and youthful spirit in seniors, has been chosen as the slogan for 88-year-old Zhang Wenshu and her Wanxia Handicraft Volunteer Team in Shekou's Haichang Community.

Officially established in September 2016 under the approval of Shekou Subdistrict Social Organization Service Center, the volunteer team has 30 members, who are all senior women with an average age of around 67 years old.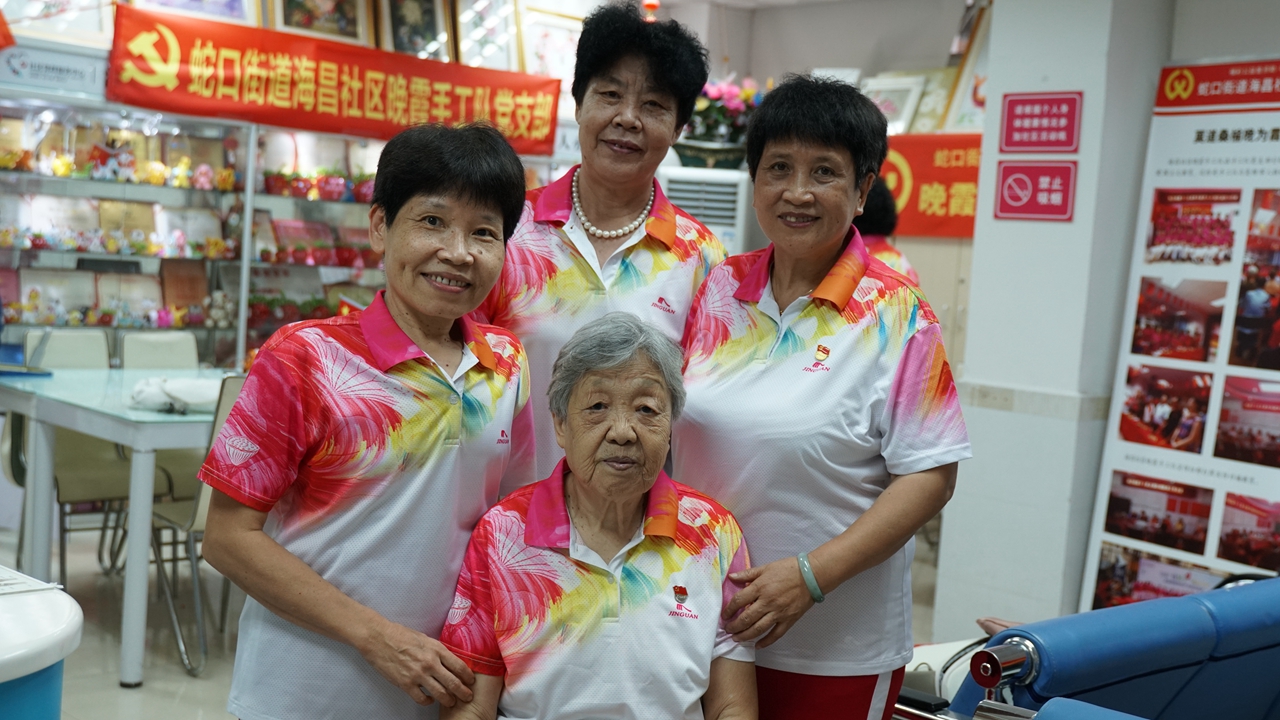 Zhang Wenshu (1st on the front) together with (from L) Chen Shumin, Huang Xiulan and Zhang Liuying, who are members leadership group of Wanxia Handicraft Volunteer Team, pose for a photo. Wang Haolan

Setting foot into the activity room of the team at Haichang Community Party and Mass Activity Center in the Nanshui residential compound, a huge glass cabinet displaying hand-made bead figurines, wire flowers as well as trophies and certificates in commencement of their volunteer work will definitely draw every visitor's attention.
"We do handicrafts every Tuesday. The figurines are made by the younger members of our team," introduced Zhang. "While the wire flowers are made by the older ones, who are all in their 70s or 80s. We will sell those handicrafts for charity and donate all the money we raise to students in poverty-stricken areasin Guangdong, Guangxi, Hunan, Guizhou and Fujian."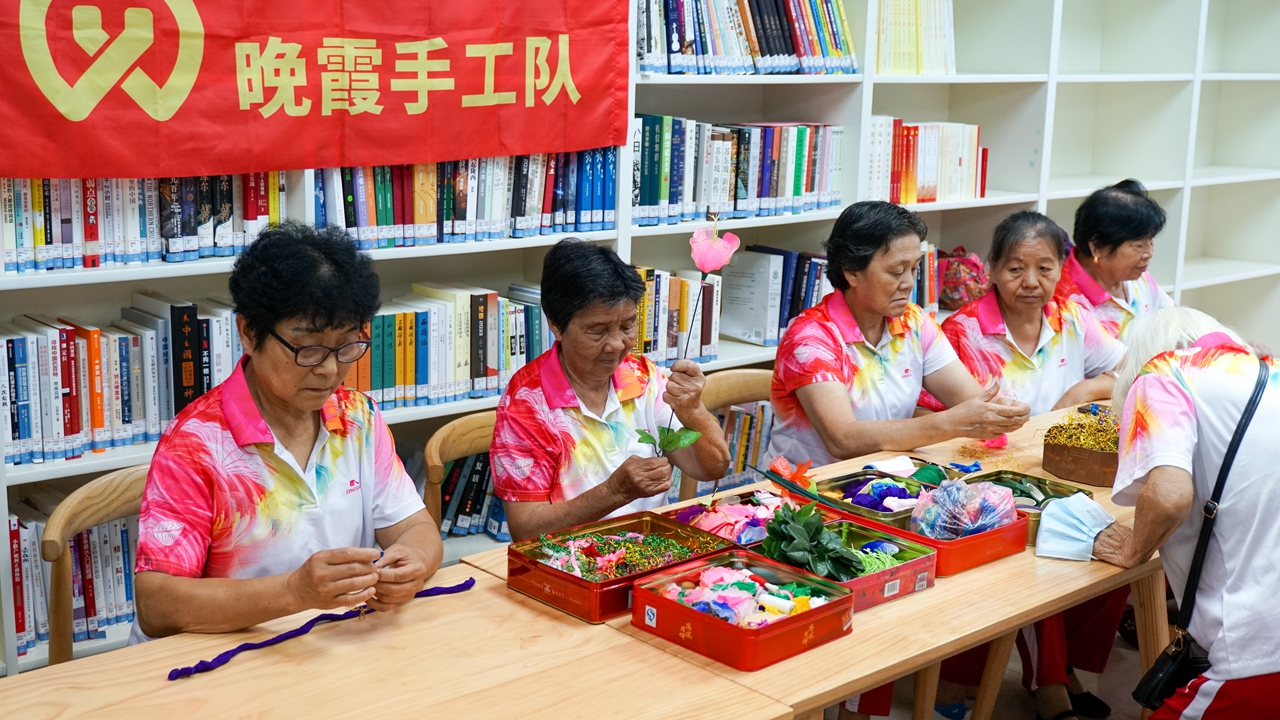 Members of Wanxia Handicraft Volunteer Team make bead figurines June 7. Lin Lin
"Besides, we also do voluntary mending work for residents in the subdistrict; introduce Chinese culture to expatriate residents; learn to sing revolution-themed songs every Thursday; and assist the community in grassroots-level governance such as promoting garbage classification and organizing nucleic acid tests ," said Zhang.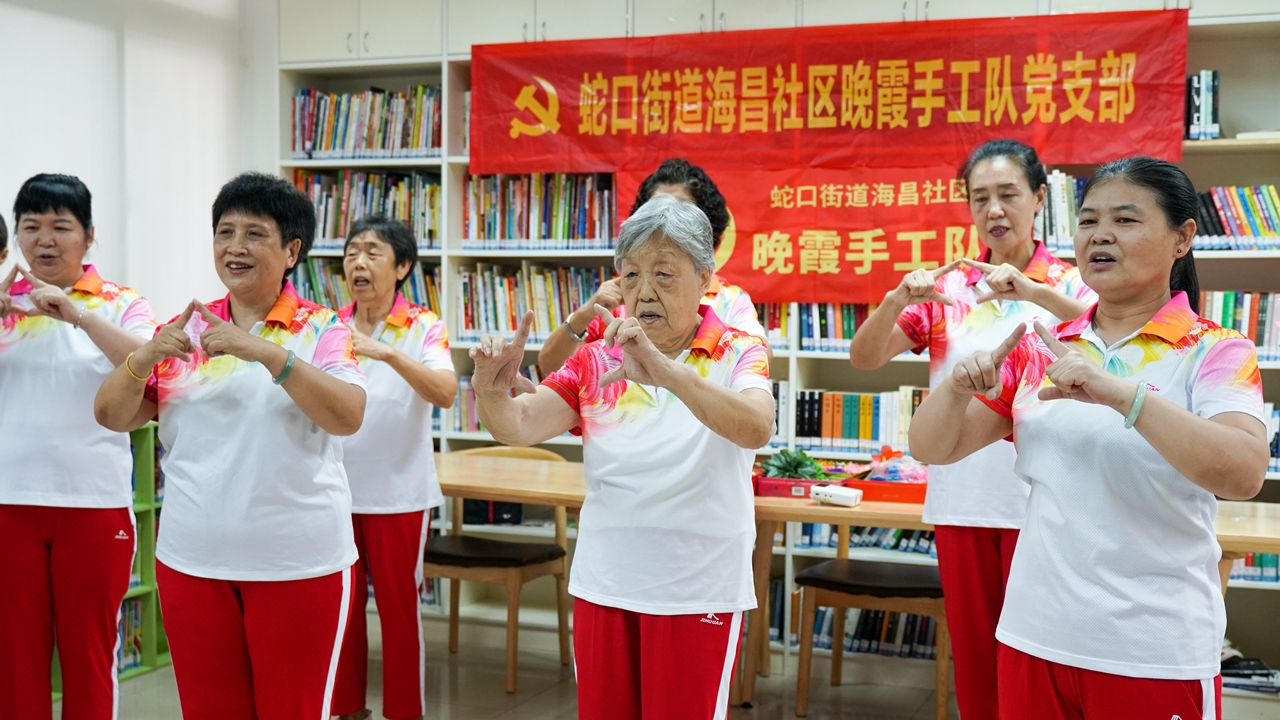 Members of Wanxia Handicraft Volunteer sings a revolution-themed song while performing sing language dance June 7. Wang Haolan

Zhang graduated from Chinese University of Mining and Technology and thereafter worked as a faculty member of the school. She came to Shenzhen following her daughter in 2012 and has been serving as a local volunteer since 2013.
To better serve the people and carry out their activities more efficiently, the team was approved by the authority as a branch of the Communist Party of China (CPC) in 2018, and Zhang, who has been a Party member for about 70 years, was elected as secretary of the branch.
Zhang Wenshu (L) is ready to perform a sign language dance. Wang Haolan

While being asked about the highlights of the team's volunteer work, Zhang didn't hesitate to recall their experience of mending clothes for shipbuilders on the offshore Neilingding Island in 2019.
"We sentfour membersto the Youlian shipyard on the Nelingding Island in June 2019 and mended a total of 43 pieces of clothes for shipbuilders there," she said. "Realizing that they have a lot of clothes to be mended, we sent eight members and two sewing machines to the shipyard again in December, mending a total of 83 pieces of clothes," said Zhang.
As the former director of the foreign affairs department of Chinese University of Mining and Technology, Zhang felt that Shekou is home to the largest population of expats in Shenzhen and she is obliged to introduce to them the Chinese culture as a local. The team has been cooperating with Shekou International School (SIS) to teach the students to do Chinese handicrafts and to hold charity sales at the school's culture events.
"In 2017, we invited over 500 students and teachers from kindergarten to grade six at the school to celebrate the Chinese New Year with us in our activity rooms," said Zhang. "We taught them to make greeting cards, wire flowers and Chinese fans and encouraged them to bring the handicraft they made home as Spring Festival gifts for their parents."
The close connections between the team and school were not affected by the pandemic.
The team was invited by the school last year to teach students to make ornaments featuring scenes depicted in traditional Chinese poems. They also received over 1,200 foreign languages books donated by the school this May and thereafter donated them to the library at the Shuixiewan residential community in Huidong, Guangdong's Huizhou City.
The team has been recognized as an outstanding example for grassroots-level social governance in Nanshan District. It won a second prize at the district's civil affairs competition and a first prize at an innovation contest for outstanding social organizations in the district in 2017.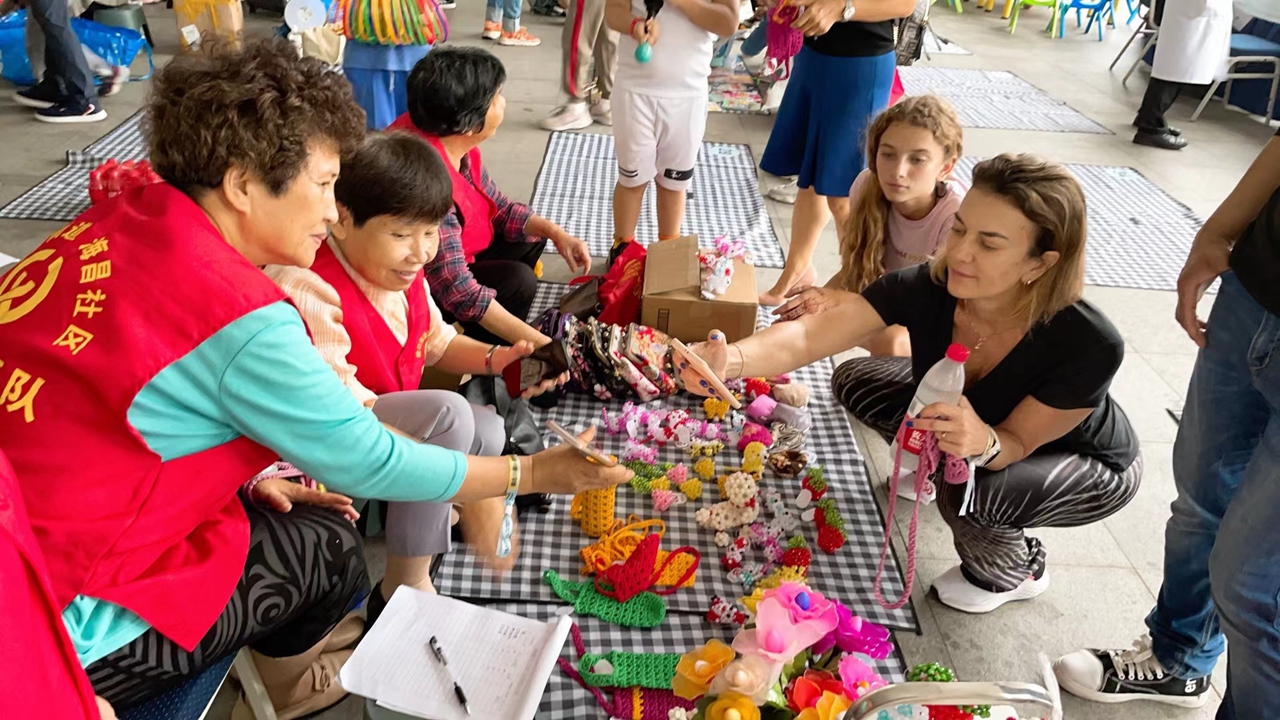 An expat buys a shoulder bag made by Wanxia Handicraft Volunteer Team at a charity sale event. Courtesy of the interviewee

"Most of our members were born in the old society and witnessed the establishment of the People's Republic of China," said Zhang. "We are the beneficiaries of social development and the current elderly care policies. So despite our old age, we are still willing to learn, to work and to make our own contributions to give back to the society."