Volunteer dedicates all her love, passion to cats
At the reporter's first sight of Gan Nianrong, she was still concentrating on polishing her paintings. The space around her was full of various types of cats vivid enough to jump out of the frames.
However, if you simply consider her as a painter, then you're wrong. Gan has an extensive volunteer experience and she wholeheartedly puts much passion into cat-related affairs.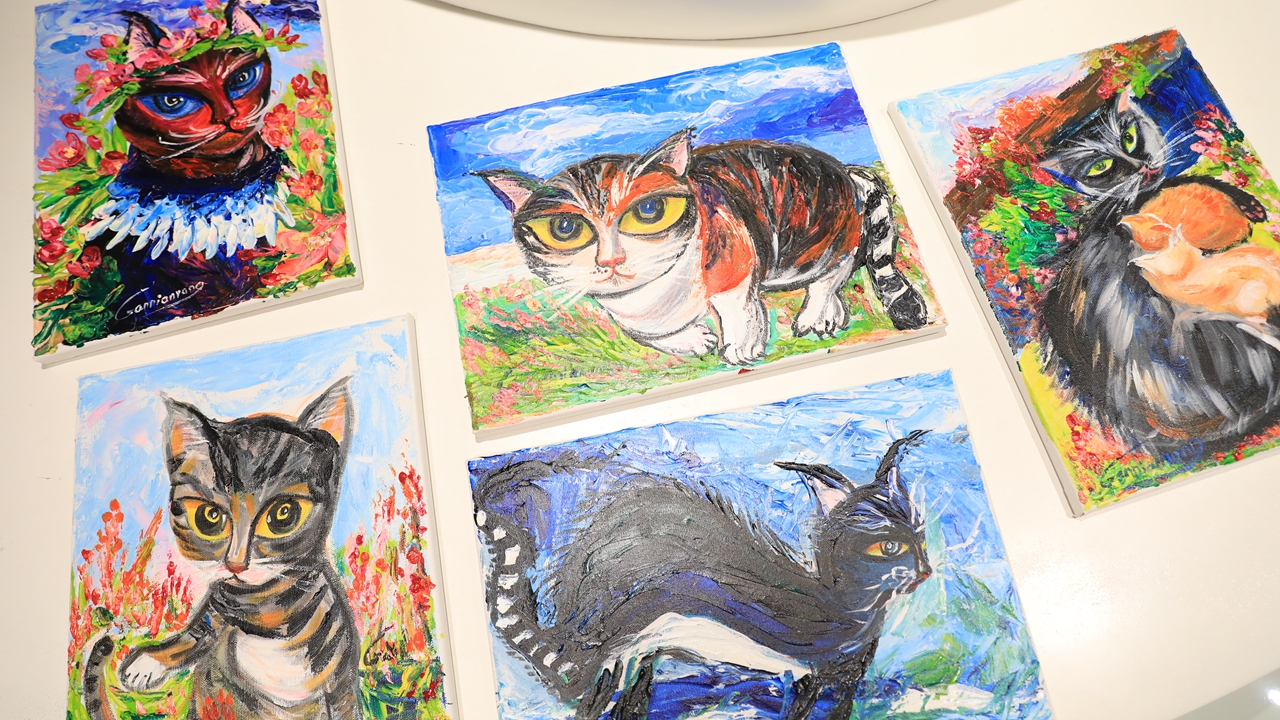 Cat paintings by Gan Nianrong. Photos by Lin Songtao

Gan's volunteer role can be traced back to her first cat "Huang Ermao," which died this May and accompanied Gan for 19 years, the longest among the cats she raised. She first searched for information on raising cats at szcats.org, a public benefit platform with an association behind it. "I found it also organizes many volunteer activities to care for cats and I joined some of them."
"I took part in the 'Act Asia' campaign organized by szcats.org to promote the concept of sterilization," Gan said. "Also, we helped cats with serious injuries, and conducted events to temporarily adopt cats that have difficulties surviving in the wild and arrange for them to be adopted."
Gan said during the first campaign, foreign experts were invited to introduce the significance of sterilization. "The meetings lasted for three days, and I attended all of them. I think the idea of sterilization is pretty good, because if cats are free to breed, complaints will follow."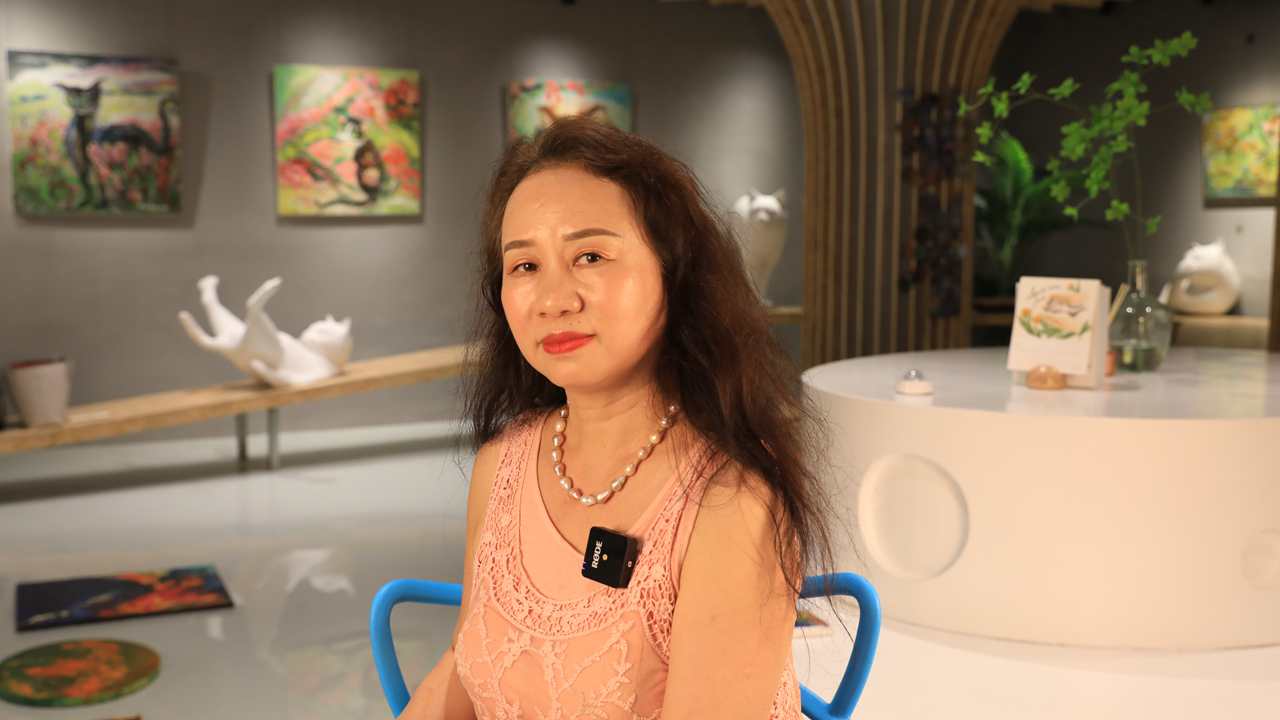 Gan Nianrong

Shenzhen became the first city in China to prohibit eating cats and dogs in 2020. Gan said education plays a significant role in driving the legislation. "I think by changing people's minds we will be able to help save more stray cats and dogs, which is very important," she said.
Established in 2002, szcats.org provides online medical consultation services and health knowledge livestreaming via its WeChat account "szcats" and cooperates with pet hospitals to rescue stray cats. Except for adoption events, it also organizes Trap Neuter Return (TNR) activities in communities.
Gan Nianrong and one of her paintings.

Since raising "Huang Ermao," Gan had began to adopt cats through szcats.org, with her one-time highest record of 19 cats adopted.
Gan, who used to be a teacher, arrived in Shenzhen in 2000. She opened a studio at Dafen Oil Painting Village before the pandemic, but later closed it due to difficulties. Nevertheless, Gan helped with the sterilization of dogs and cats when she was in the village. "I think the best I can do for cats are far more than just to feed them but to sterilize them, especially for the females. A stray cat's lifespan is only about two years, closely related to its frequent fertility," she said.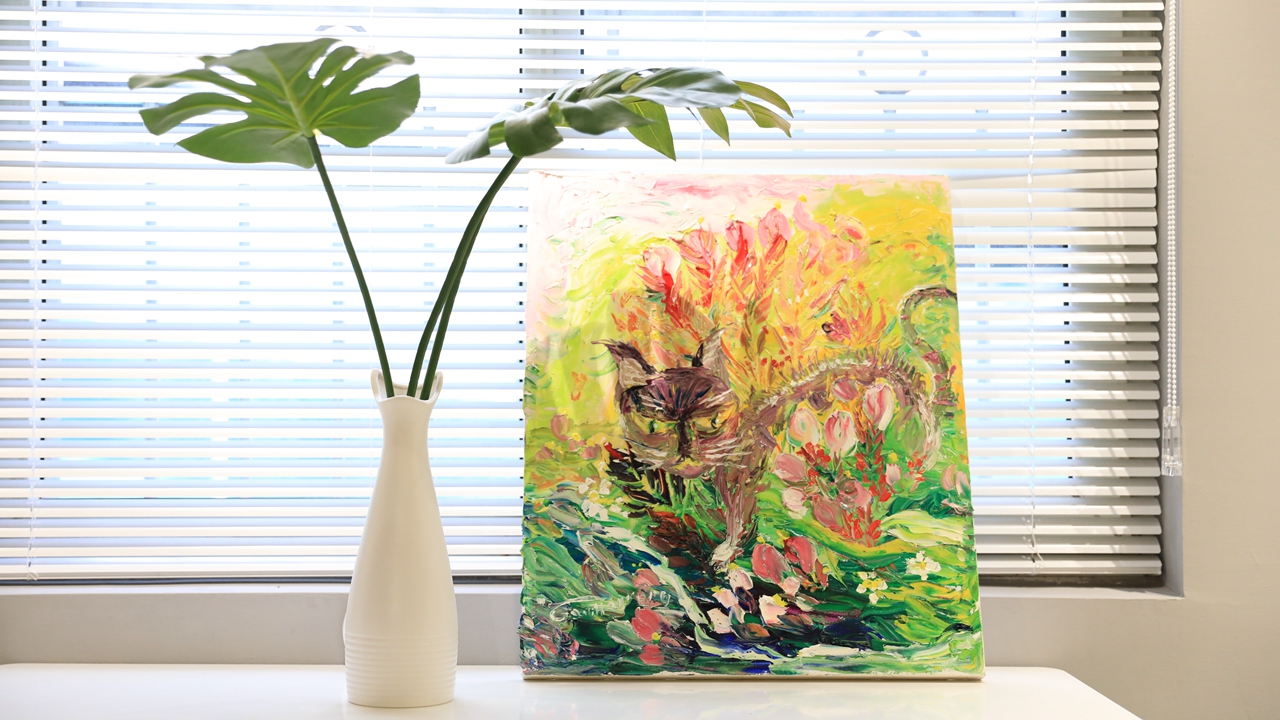 A cat painting by Gan Nianrong is on display.

When talking about the cat-themed paintings, Gan's eyes shine. "Now I don't need to look at the cats to draw. I know all my cats in my mind. Many cat movements can touch you, you have much to paint." In previous anniversary events of szcats.org, she took cat-themed paintings for auction.
In Gan's view, cats teach humans a lot. "At first, many people think that the cats need us to feed and take care of them. However, after some time being together, we will discover that it is us who really need the cats. They can express love to their owners. We need to learn from them to enjoy the love given by others and also try to love."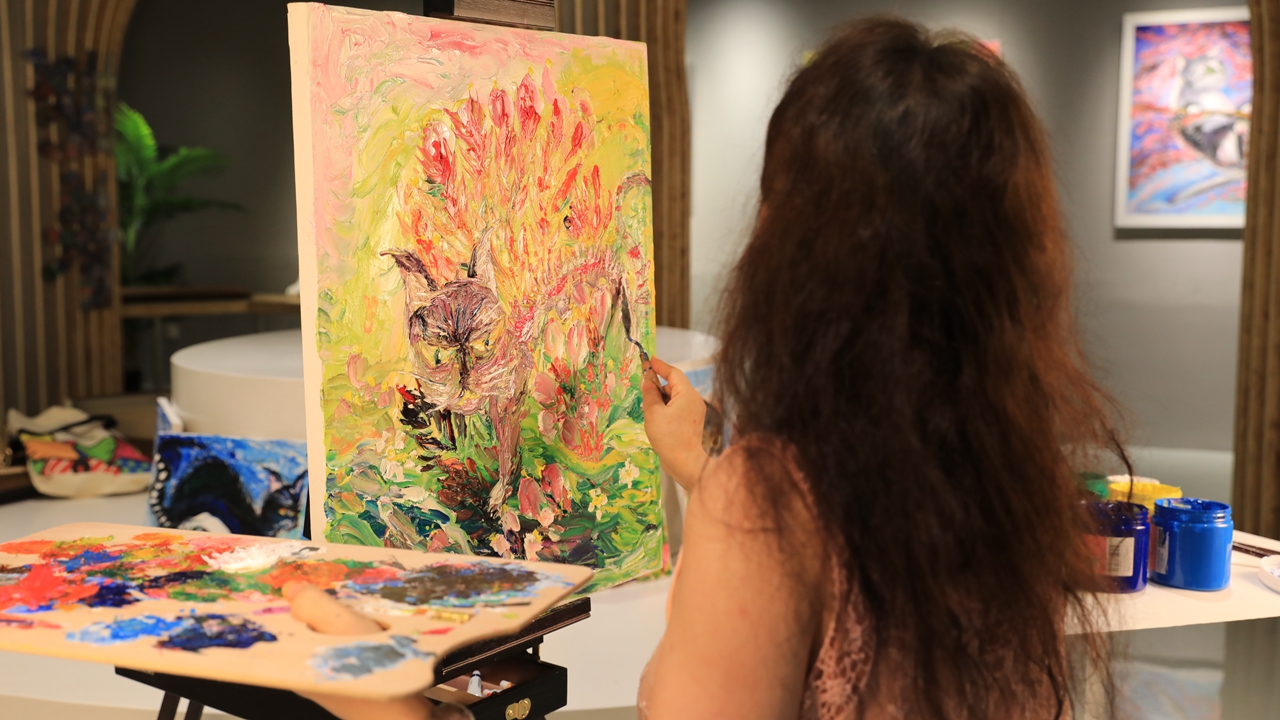 Gan Nianrong paints at Boopucat Art Space.

Gan is working at Boopucat Art Space, a place gathering cat lovers through colorful activities. "We can exchange our cat-raising experience with each other and obtain feelings of healing and inspiration here. I will continue to do my best to attract more cat lovers," she said.