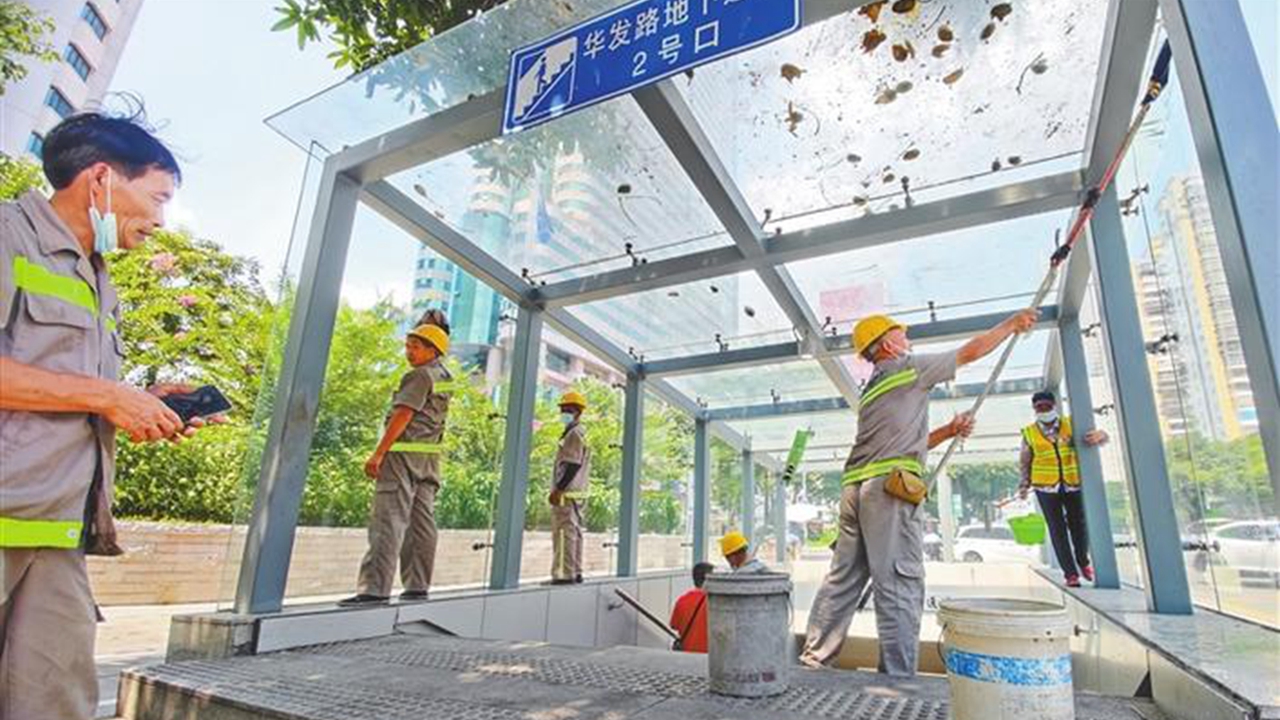 Shenzhen Road Engineering Co. Ltd. workers clean the entrance of an underground passage in Futian District under the scorching sun. Sun Yuchen
Shenzhen Meteorological Observatory issued an orange alert for high temperatures Saturday morning, warning scorching temperatures will continue in the city until August, when there is a chance of a typhoon.

This is the first orange alert for high temperatures the observatory has issued this year. An orange alert signals that the maximum temperature will rise to above 37 degrees Celsius within 24 hours or has already risen to more than 37 degrees Celsius.
Since July 10, the city had been on a yellow alert for high temperatures for 14 days. As of 4 p.m. Saturday, most automatic weather stations across the city recorded temperatures of over 35 degrees Celsius, 72 of which recorded temperatures of over 37 degrees Celsius, the observatory said Saturday.
Recent sweltering hot days are closely related to subtropical anticyclone and will last through July. From yesterday to tomorrow, the city's highest temperature will stand between 36 and 37 degrees Celsius on average.
Citizens are advised to avoid outdoor activities during high-temperature periods in the afternoon and watch out for food safety, while outdoor workers must stop working or shorten working hours, as appropriate, with necessary protective measures.
Given high road surface temperature, citizens are also advised to check on vehicles in case of spontaneous combustion and flat tires.
China has a four-tier, color-coded weather warning system, with red representing the most severe warning, followed by orange, yellow and blue.