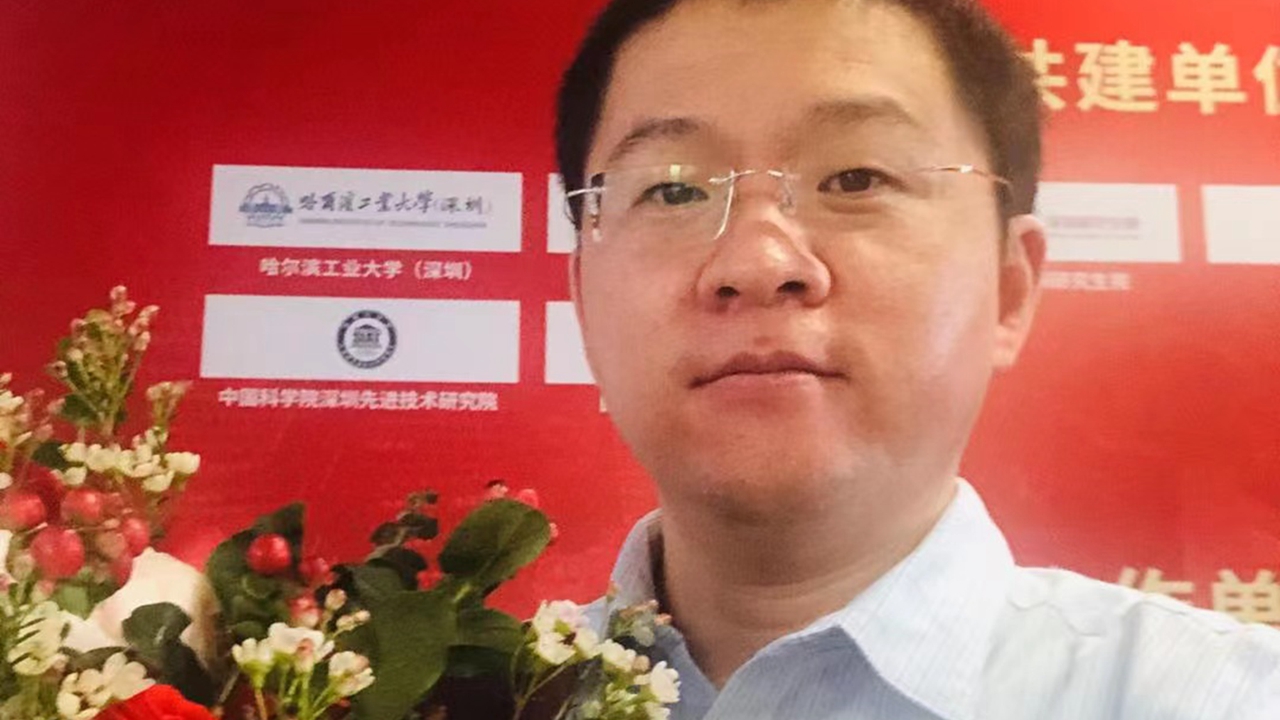 Jin Zhihu demonstrates how the second generation of his smart masks work. Photo courtesy of the interviewee
Jin Zhihu, who suffered hearing loss due to a high fever caused by mycoplasma pneumonia when he was 10, gradually resumed his normal life from a lot of unexpected help and he is now seeking to return the favor to society by developing a smart mask that stands a chance to help China break foreign monopoly in the field.

In the 1980s, mycoplasma pneumonia used to be a severe disease with high fatality and mutilation rates. Many people who suffered this like Jin died, and the doctor suggested his mother give up on his medical treatment. She refused and Jin said he felt grateful to his mom and all the kind people he met afterward.
"After I fully recovered, my previous school didn't want to accept me, as they believed a deaf student cannot keep up with the lessons and will affect the school's enrollment rate to a higher grade. Luckily, my head teacher, Zhang Yonghong, insisted I return and arranged for me to sit in the middle of the front of the class so I can hear better with the help of hearing aids and lipreading skills I developed," Jin recalled.
During his high school years, all of Jin's teachers let him sit at the front of the class and paid more and extra attention to his studies. They cared for Jin and helped him enroll in Qiqihar University in Northeast China's Heilongjiang Province as an automation major.
"I was disappointed by the courses' content because it wasn't what I expcted. As a result, I left the university and enrolled as a business computer automation major at Nagoya Sangyo University in Japan after passing two years of Japanese language studies and relevant tests," he said.
Jin Zhihu gives a speech at his master graduation ceremony.

Upon graduation, Jin returned to China and started his own business in Sanya, Hainan Province. The business failed and he came to Shenzhen to look for a job to support himself.
Jin said he was deeply impressed by a poster he saw at a bus station in Xili, which reads "Once you come, you are naturally a Shenzhener." He added, "It turns out that Shenzhen is a place where the level playing field is much better than other cities. I can get recognition because of my abilities and strengths even if I am disabled."
Jin successfully became a Shenzhen permanent resident through the city's point-based household registration policy, and then he finally landed a job at Shenzhen Gongjin Electronics Co. Ltd. He resumed work there after completing his studies at Tsinghua University. Later on, the company wanted Jin to move to its new R&D center in Shanghai, but Jin decided to stay in Shenzhen and start another business venture.
"I was focusing on industrial automation and computational vision. In 2020, the COVID-19 pandemic broke out and my family and I saw on TV that many medical workers fainted from exhaustion. Seeing that, my son cried sadly, and I thought I might be able to do something. Then, I decided to invent a smart mask," Jin told Shenzhen Daily.
"As of June this year, our country's production of N95 masks was about 680,000 daily. The number of frontline doctors and nurses, however, was about 5.2 million, which means nearly 90% of the medical workers were not well-protected. Most importantly, almost 90% of such masks were imported from foreign countries and dozens of them imposed mask embargo against China, which infuriated me," Jin said.
"The embargo forced many medical workers to dispose of their masks after eight to 12 hours' use, which was supposed to be after four hours. We also found that there is a gap in the mask where part of the carbon dioxide exhaled is being stored and inhaled over and over again, which easily makes people feel exhausted. In addition, doctors need to perform surgeries for hours in a sterile environment. They cannot eat or drink to fuel themselves up.
"All these pain points spurred me to invent a mask that can provide high-level protection, be reused after ultrahigh-temperature sterilization and reduce burdens on the human body. My original intention is to bring more happiness and convenience to society and medical workers. I believe this product is also promising in terms of helping our country break foreign monopoly on high-end masks.
"I have always benefited from society since I was a child, and I learned an important lesson from society and Tsinghua University that if I can make more people live a better life, then my life can be truly called meaningful. That's why I want to make this smart mask a reality," Jin said.