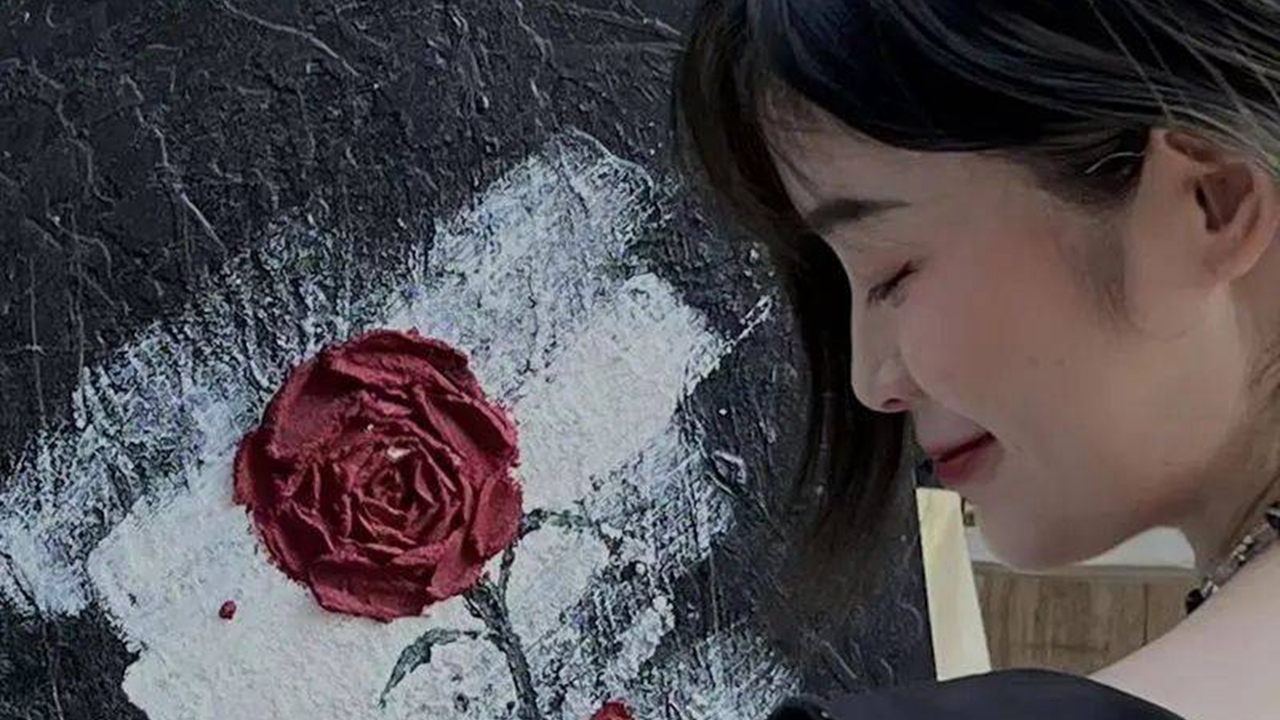 Deng Zhenlian paints in her studio. Photos courtesy of the interviewee
How do hearing-impaired people wake up with an alarm clock? How do they use sign language to express love in a relationship?

Deng Zhenlian's short videos posted on Douyin, or the Chinese version of TikTok, have garnered hundreds of thousands of likes.
Deng, who is hearing-impaired, is showing people her struggles in Shenzhen and how she has managed to enjoy life in a world without sound, Shenzhen Evening News reported.
On the top of Deng's Douyin page is a short video titled "Freehug." In this video, Deng covered her face with a mask and opened her arms while standing on a street in Shenzhen.
"I was a little nervous when I tried this for the first time, because I couldn't hear what strangers said and I couldn't speak. But I still mustered up courage to open my arms to people." In the video, subtitles helped convey Deng's message: everything can be solved by a hug.
Time slipped by minute by minute. At the beginning, although passers-by stopped occasionally, no one came forward. A girl in a long dress came over first. She held Deng tightly, and gently touched her head with her hand.
"I felt her movements were very gentle and it's a warm hug," Deng was quoted as saying. Afterwards, another girl in pants and a floral print blouse merrily came forward and gave Deng a hug. Gradually, more people came forward and hugged Deng.
"These hugs gave me a lot of strength although I couldn't hear these people. Shenzhen is a very loving city," Deng told the News. "I hope to tell everyone who watched the video that if you encounter unhappiness, hold on and warmth awaits you."
After graduation from Changchun University in 2018, Deng came to Shenzhen with her dreams. She started to operate her social media accounts while engaged in graphic design.
"Shenzhen is a very young city with many enterprising people. When I came here, I was full of curiosity and hopes. I believe I can become a capable person here," Deng said.
In addition to recording daily life, Deng also released videos that aim to show the real world of hearing-impaired people to the public for more understanding and tolerance. She also likes to teach her followers some simple sign language in videos and livestreams.
Deng Zhenlian in her studio in Bao'an District.
On July 17, Deng opened her own studio in Bao'an District, which provides a place for people to draw and make handicrafts. She would livestream for nearly 10 hours every day to record her art creation and the studio's operation.
"I want to try my best to run the studio well. In the future, I also want to hold my own painting exhibition to tell the world that a silent world is also wonderful," Deng said.