Eight light installations in the shapes of rare animals and plants are on display on a bridge that stretches across Xinzhou River in Futian District, attracting many children and parents to stop by during evening walks.
The bridge is near Quanhai Primary School (全海小学) or Yitian Metro Station (益田站).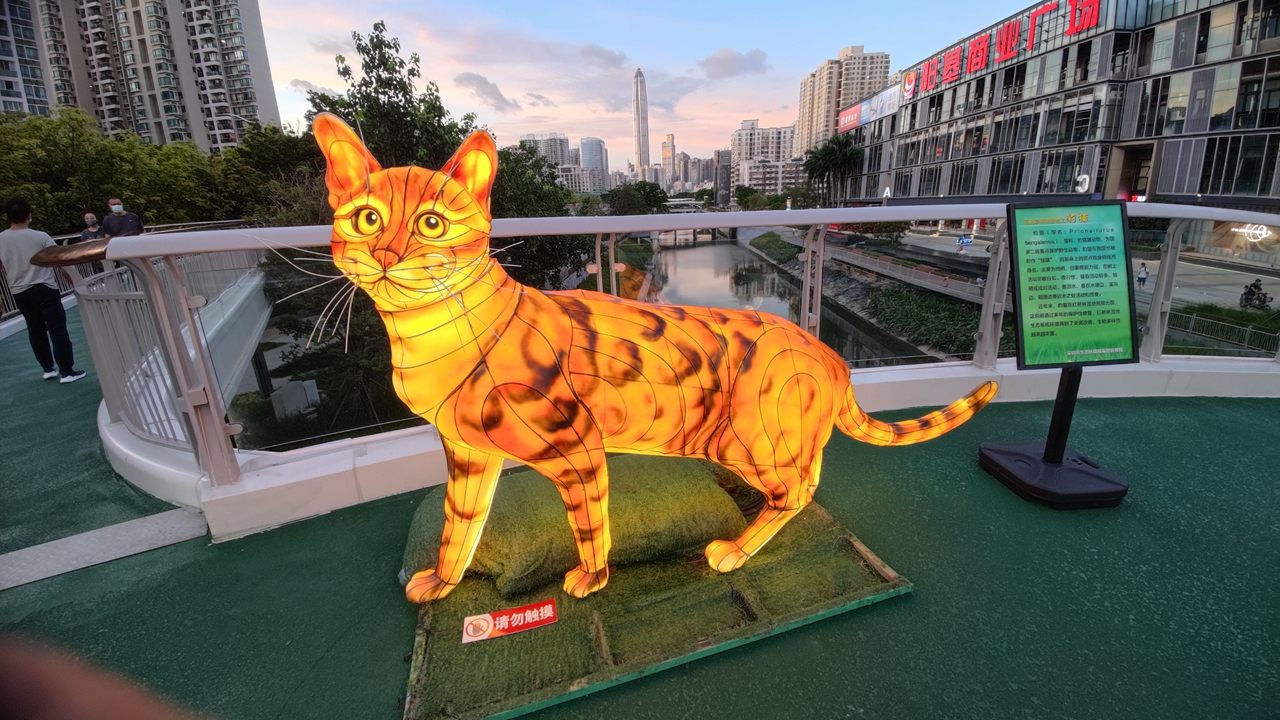 Leopard cat Photos by Sun Yuchen

The animals include a black-faced spoonbill (黑脸琵鹭), a Eurasian otter (欧亚水獭), a black stork (黑鹳) and a leopard cat (豹猫), while the plants include a cycas fairylakea (仙湖苏铁), a bruguiera gymnorhiza (木榄), a kandelia candel (秋茄) and a Chinese banyan (榕树).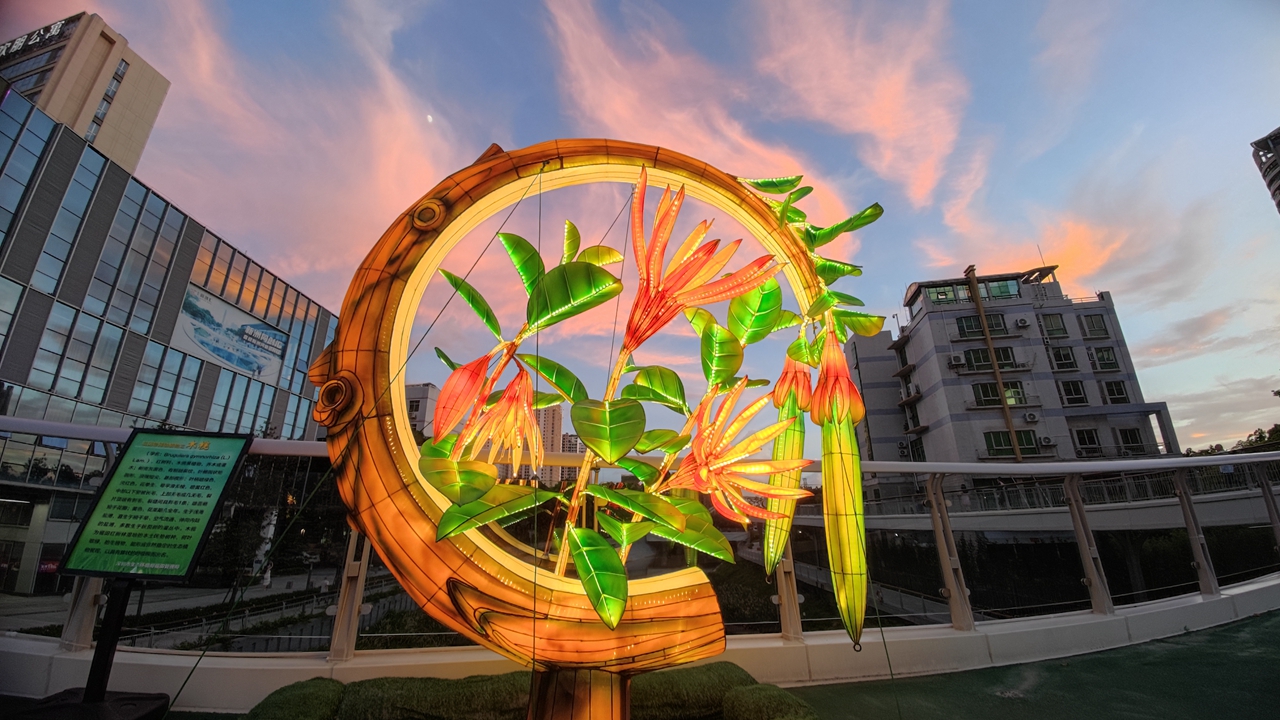 Bruguiera gymnorhiza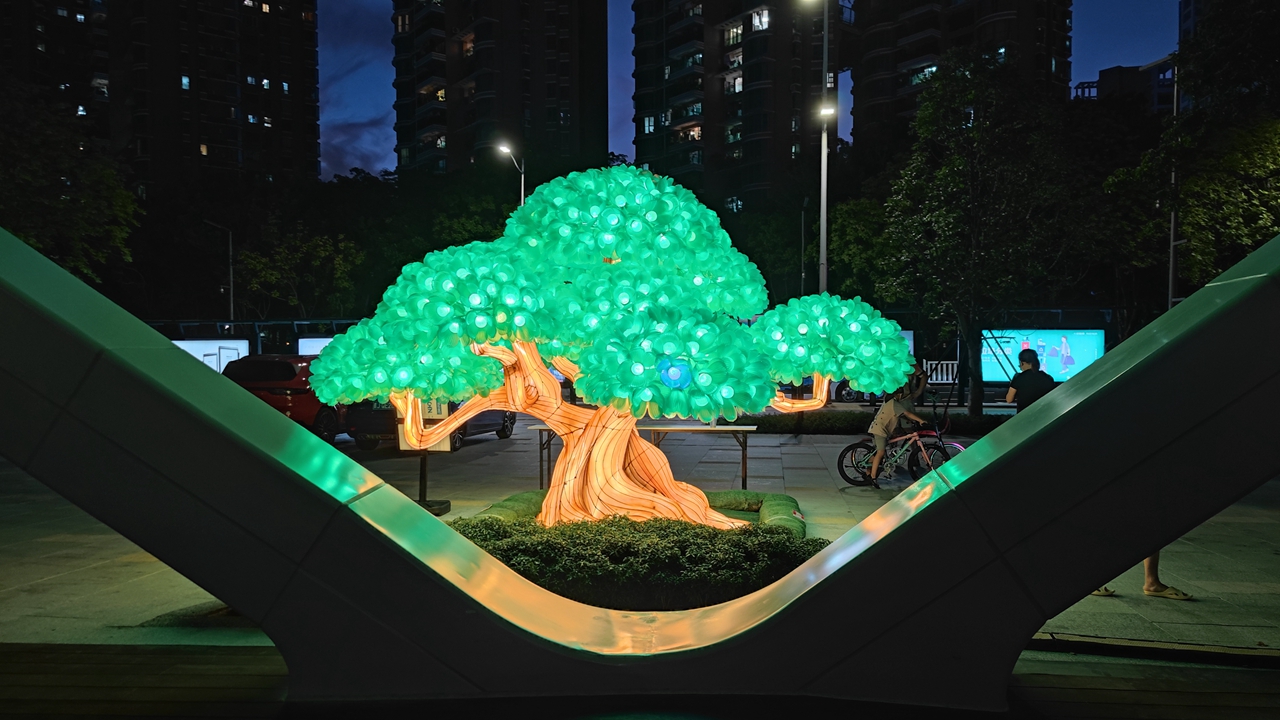 Chinese banyan

The installations are intended to promote awareness of the biodiversity in Futian, as all of them are based on rare species inhabiting protected areas in the district, including the Futian Mangrove Nature Reserve and the Meilin Reservoir Source Water Protection Area (SWPA).
The Eurasian otter, a second-class State-protected wild animal in China, was also included in 2015 on the Red List of Near Threatened Species by the International Union for Conservation of Nature. Thanks to the improved ecological environment of the mangroves in Futian, the Eurasian otter, which had disappeared for a decade, was once again spotted in the Futian Mangrove Ecological Park in October 2020.
Black-faced spoonspill

Statistics show around 400 black-faced spoonspills visit Shenzhen Bay to spend winter every year. The Shenzhen Bay mangrove ecosystem, consisting of the Futian Mangrove Nature Reserve and the Hong Kong Mai Po Nature Reserve, has become the world's third-largest habitat for the migrant bird and is considered a major interchange station for migrant birds in the Eastern Hemisphere.
The cycas fairylakea is a first-class State-protected plant. The light installation is based on the plant in the cycas fairylakea nature reserve in Meilin Reservoir SWPA. The reserve is the first mini nature reserve set up in Shenzhen. In China, a nature reserve no greater than 10 square kilometers is considered a mini nature reserve.
Through years of fundamental research and practices such as measures to improve the ecological environment, the endangered cycas fairylakea species has been restored and protected. By 2021, the number of wild cycas fairylakeas in the nature reserve had surpassed 4,800, accounting for more than 70% of the global population of the plant.
In recent years, the Futian Mangrove Nature Reserve has applied technologies, such as drones and security cameras, to further control marine debris and improve beach cleanup. In addition, Futian has been conducting projects to restore the aquatic ecology of lakes and rivers, including the building of greenways, river-constructed wetlands and wetland parks.