Practicing forward rolls, one of the core movements in Brazilian jiu-jitsu (BJJ), Michael Fang did the warm-up drills under the instructor's guidance in a kids' class with other students. Though being visually impaired, the 8-year-old didn't just go through the motions. Instead, he buckled down to the exercises.
"I've been practicing it [BJJ] since last year. I found it interesting, and I like the feeling of an actual combat," Michael told Shenzhen Daily in a recent interview.
Michael Fang (in blue) practices BJJ with teacher Karen Bakural at a class in Checkmat Shenzhen in Futian District on Aug. 6.
Photos by Lin Jianping

Michael hadn't heard of BJJ before he started taking classes but had nevertheless heard of Judo, another kind of martial art. He usually attends the kids' class on weekends. "I like the teachers here. They are very nice," he said.
At present, Michael has learned over 40 BJJ techniques. He believes that practicing BJJ has helped him build up his body and willpower, and he relishes the sense of achievement that he gained from a victory at a BJJ match not long ago.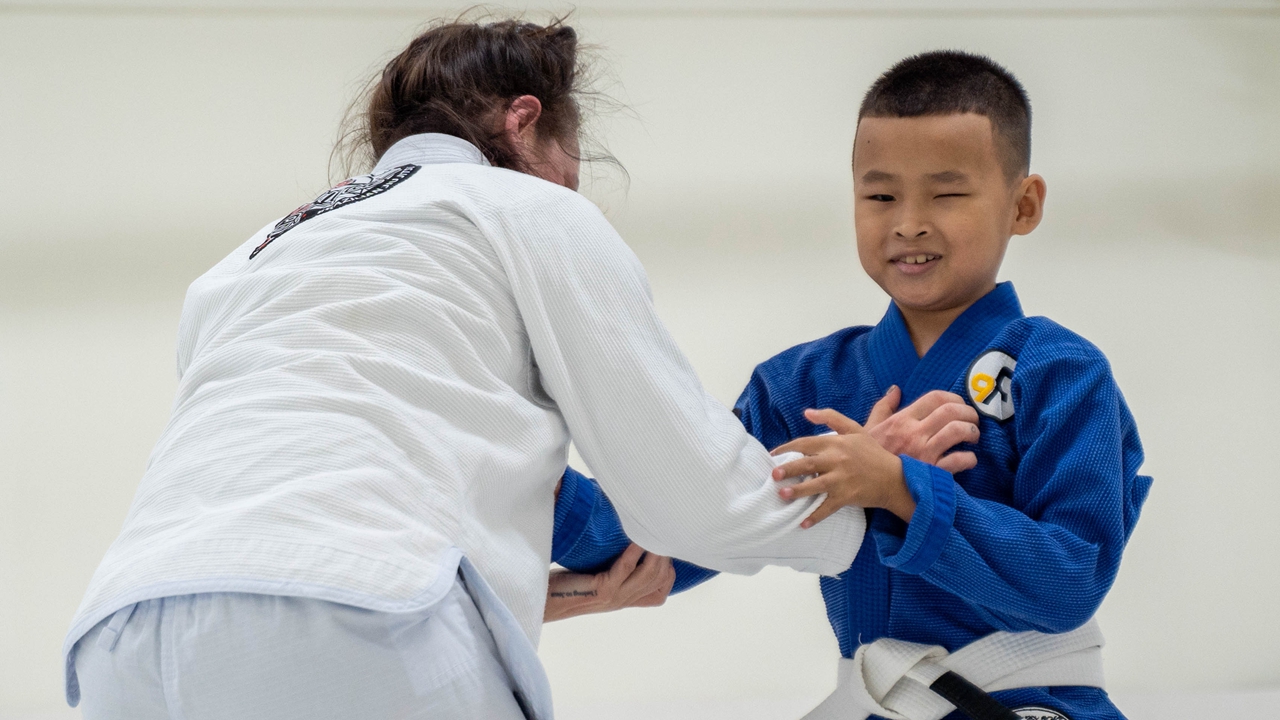 Michael Fang (R) learns a BJJ technique from teacher Karen Bakural in Checkmat Shenzhen in Futian District on Aug. 6.

"Some onlookers said with disdain that I would definitely lose. I was the underdog at the beginning of the match, and I tried my best not to let my opponent turn over. Suddenly I thought of a way to allow the turnover and I did a choke. Finally, I won," the jolly little boy recalled.
"Otherwise, I would not be able to defeat my opponent by brute force," he added, agreeing that the ability to slow down and think is important in plotting the next move.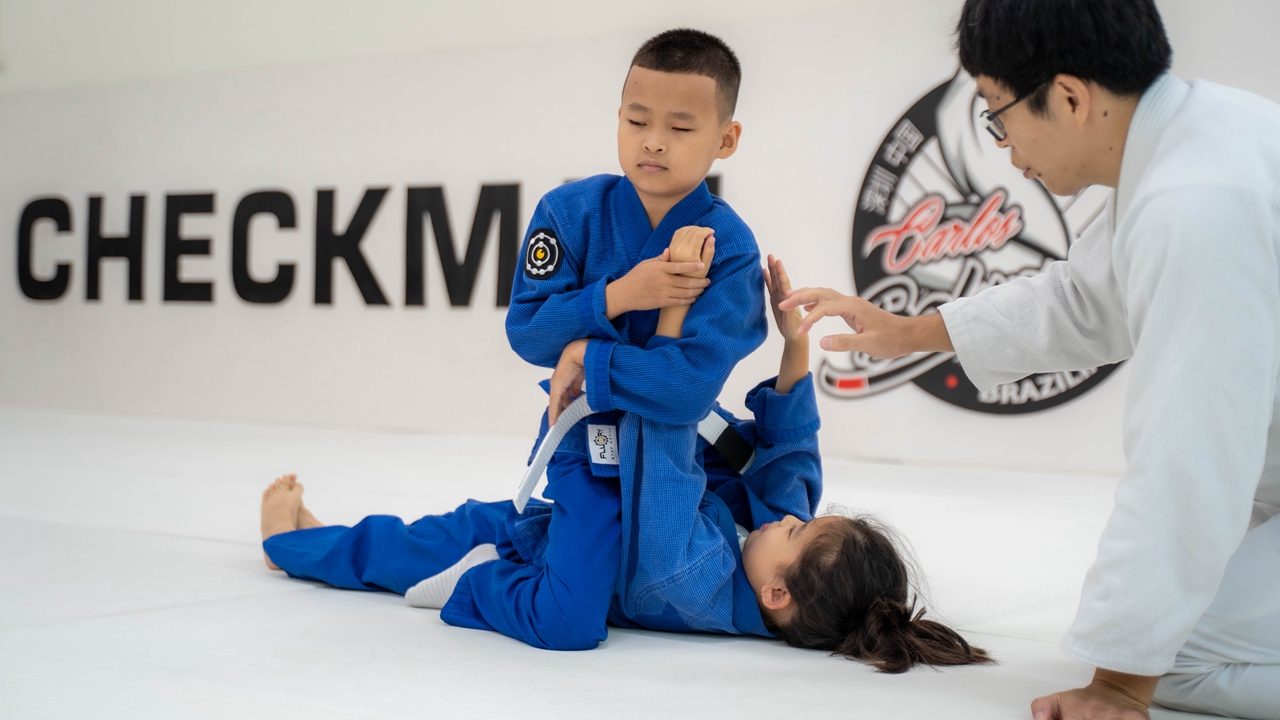 Michael Fang (L) in action in a combat with a fellow student at Checkmat in Futian District on Aug. 6.

According to Michael's mother, although he is visually impaired, he likes body movements very much so she thinks that Michael can give BJJ a try.
"I feel like he is bolder and more powerful now. I think the things that he has learned will certainly be handy for use someday," the mother said, who has noticed a change in Michael's movements, strength and resilience after he began practicing BJJ.
Michael Fang (L) in action in a BJJ class Aug. 6.

Speaking of Michael's performance in class, Karen Bakural, the manager of Checkmat Shenzhen and a teacher at the gym's kids' class, said with modesty that it's more like the boy teaches her than she teaches him.
"I think it's not easy for him to come here at the beginning. But after a few classes, he felt he's in, like we were in his class, his family and his team, so he felt very comfortable," Bakural said.
According to Bakural, Michael is doing a very nice job in learning BJJ his way. "He improved a lot. He understands how to keep the distance and how to do some techniques," she said.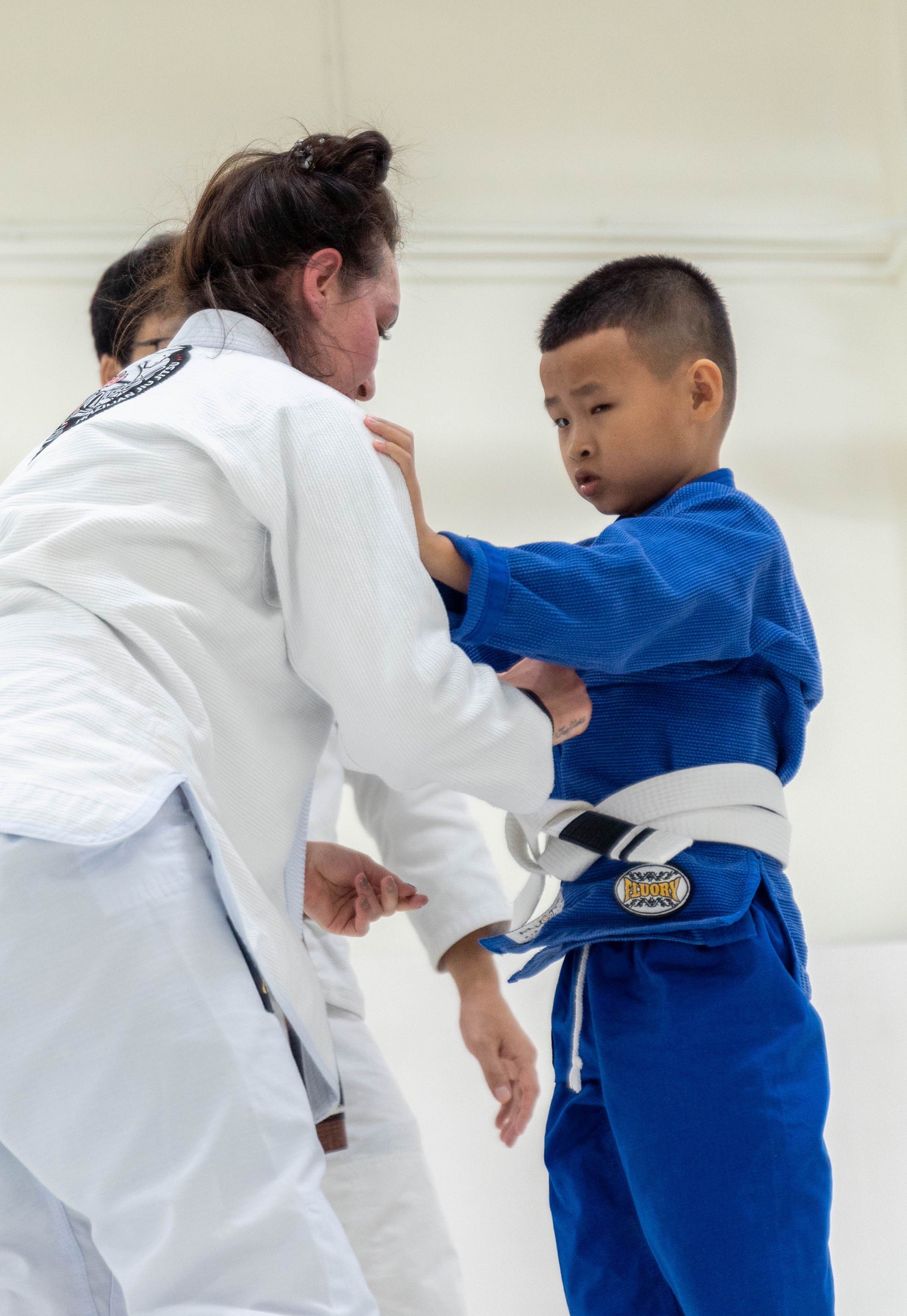 Michael Fang (R) practices BJJ with teacher Karen Bakural at a class Aug. 6.
Bakural also remembered that when Michael first came to the gym, he was shy and never raised his hand when she asked the kids who wanted to fight first. "Now he would raise his hand very high. For me, I'm really proud of the kids. They feel confident enough in the gym," she said.
Wang Lei, a BJJ brown belt and a Chinese teaching assistant at the gym, recounted that there was much confusion when teaching Michael at the beginning. "After two or three classes, we were gradually in tune and learnt how to use language better to help him in the training," he said.
Wang said that in some foreign countries, BJJ has been used as an intervention strategy to help kids with special needs to enhance their confidence and communication abilities.