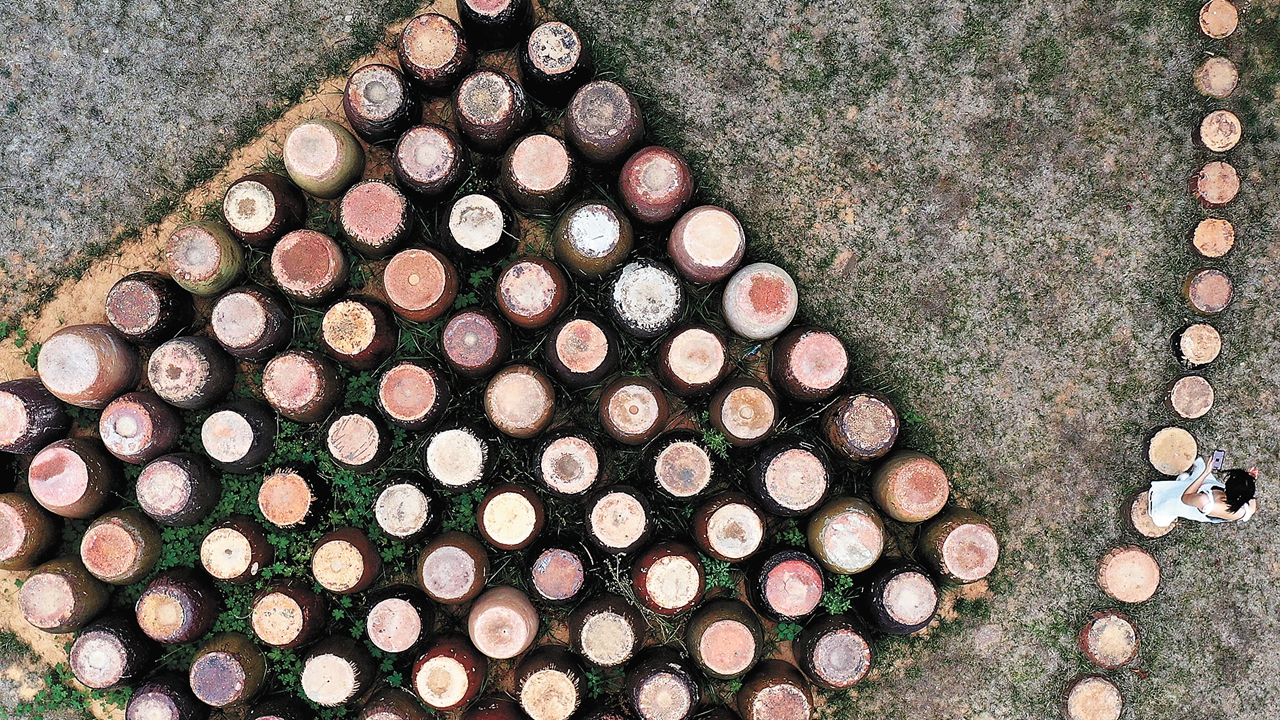 A bird's-eye view of pottery artworks displayed at Qianhe Village, Luoling Township, Luoning County, Central China's Henan Province on July 12. In the past, this remote village was silent because of its rugged roads and poor living standards, lacking water and electricity and other living needs. Now it has been revitalized thanks to pottery art brought by Guo Aihe in 2015. The artist designed and converted an area into a 200-hectare tricolor-glazed pottery theme park. The village now attracts tourists with its natural landscape of mountains and rivers, dotted with several folk houses and pottery caves. Visitors can view pottery artworks almost everywhere in the village.
Photos by Xinhua
Since the 18th CPC National Congress in 2012, China has witnessed fundamental changes over the past 10 years and the country has always put agriculture and rural areas high on the agenda of its economic work.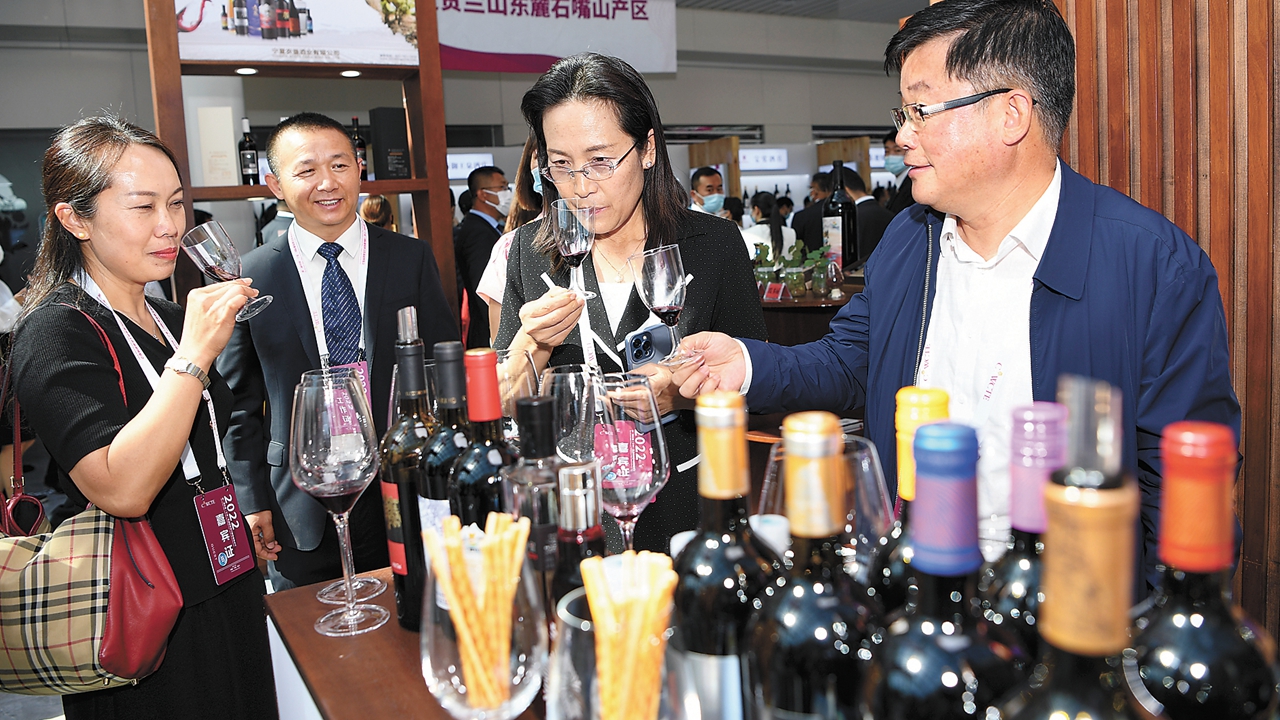 Guests taste wine at a wine expo in Minning Township of Yongning County, Northwest China's Ningxia Hui Autonomous Region on Sept. 7. In 1997, East China's coastal Fujian Province and Ningxia agreed to build a new village near Ningxia's capital Yinchuan to relocate villagers living in arid mountains to habitable areas near the Yellow River. Minning, named after the abbreviations of Fujian and Ningxia, was developed into a township in 2003, with a population of over 60,000 who are earning a living mainly by growing wine grapes, mushrooms and goji berries and raising cattle. Now, farmers' annual per capita disposable income in Minning has surpassed those in Ningxia's other rural areas. More than 160 new villages like Minning have been built in Ningxia.

After eradicating absolute poverty in 2020, China is on the path of realizing rural revitalization. Advanced technologies have ensured increased grain production, specialty tourism has brought villagers tangible benefits, the well-being of rural residents is consistently improving and the overall ecology has been remarkably improved. Rural vitalization, proposed in 2017 as a key move to develop a modernized economy, has breathed new life into China's villages.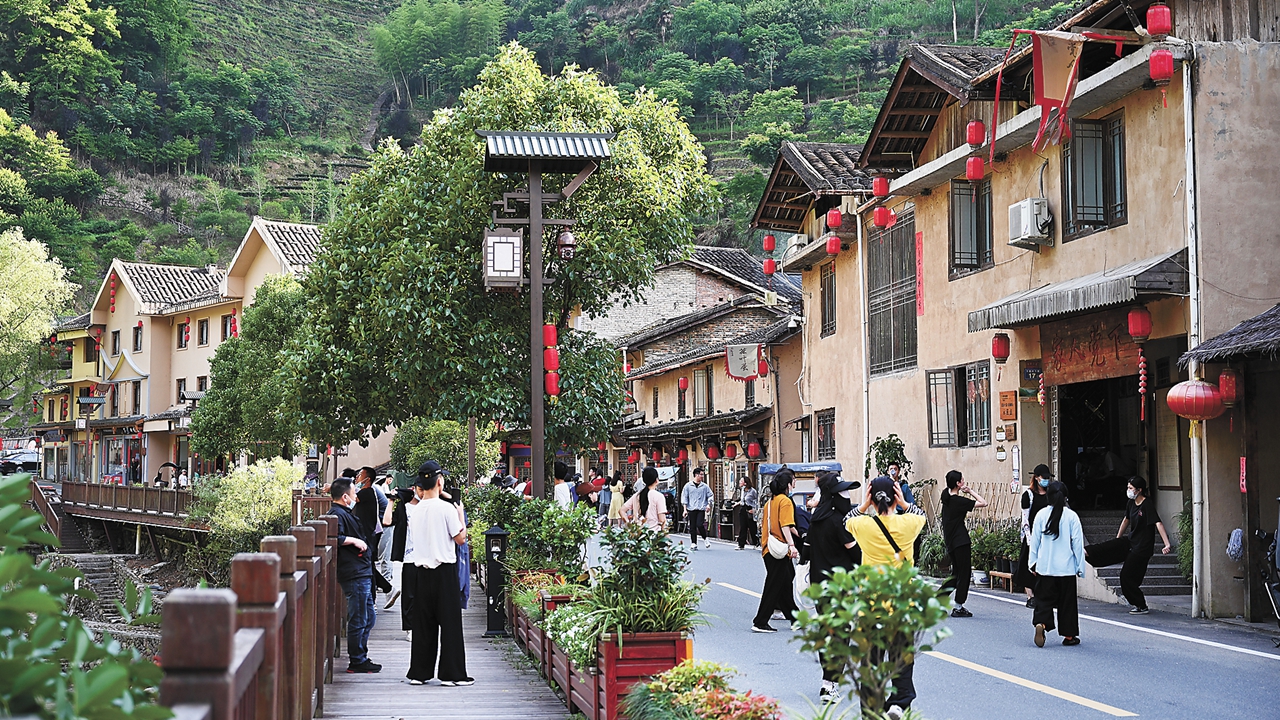 Tourists take photos at Xiadang Village in Shouning County, Ningde City in Fujian Province on June 22.

Artist Guo Aihe (R) instructs primary students to paint from life at Qianhe Village, Luoling Township, Luoning County, Central China's Henan Province on July 12.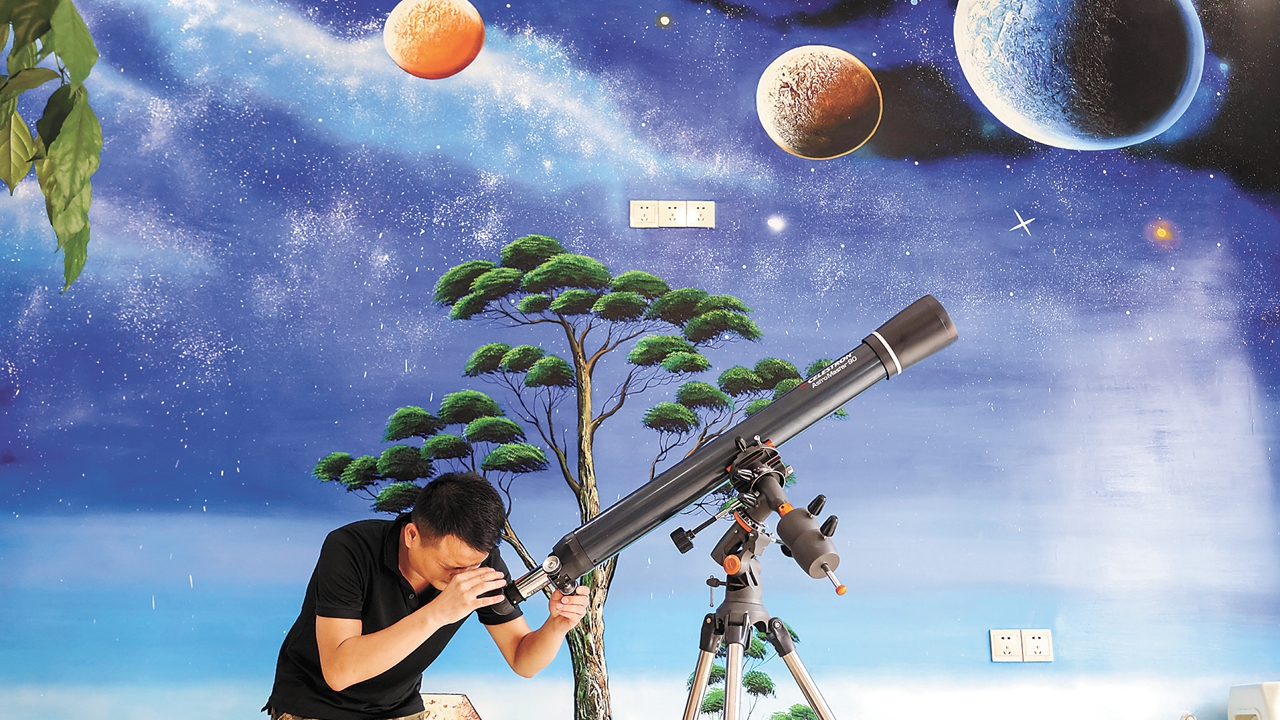 Liu Chengliang tests a telescope at his homestay in Kedu Township of Pingtang County, Southwest China's Guizhou Province on July 19. In 2015, Kedu started a plan to transform itself into an astronomy-themed town, taking advantage of its proximity to the FAST. Kedu has since built more than 20 projects to promote astronomical science. Liu is one of the 6,653 rural residents from the Kedu and Tangbian townships involved in a relocation program in 2007 for the construction of the FAST. Many relocated rural residents have since found jobs or started their own businesses.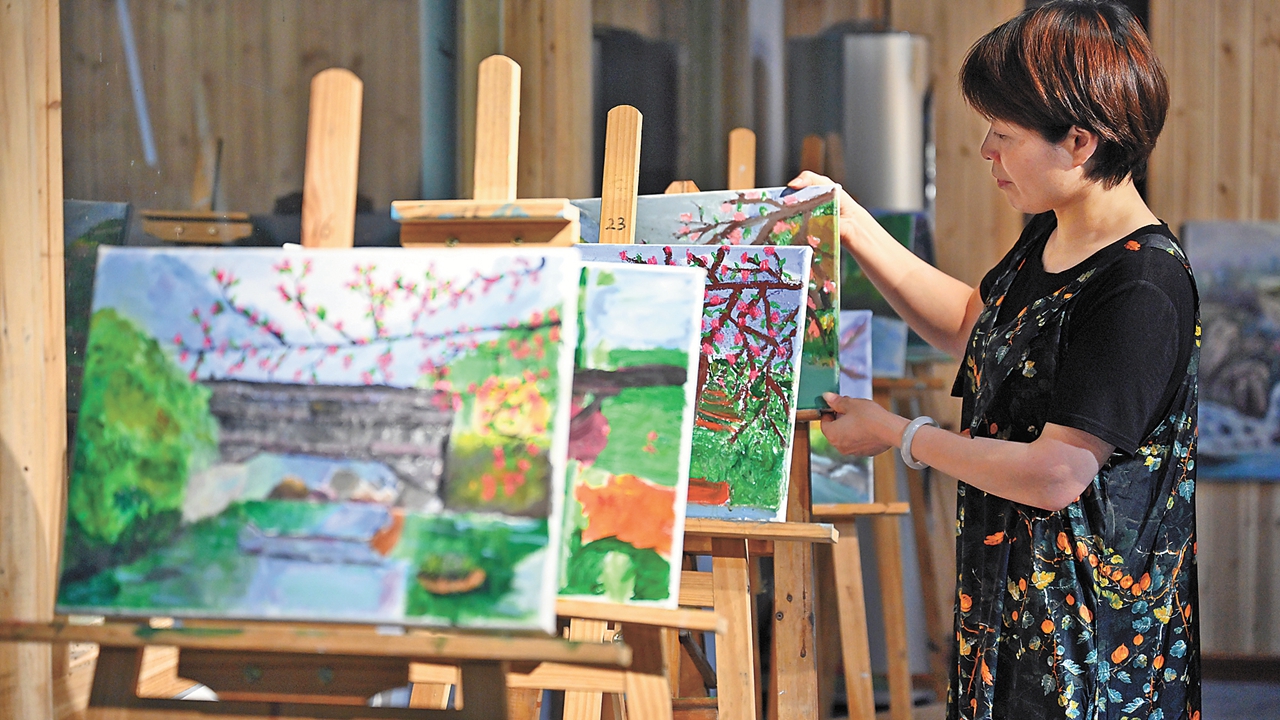 Wu Xiangfang displays her paintings depicting changes in Xiadang Village at her studio in the village located in Shouning County, Ningde City in Fujian Province on June 23. In the 1980s, Xiadang was known as "the Siberia in Shouning," because there was no tap water and electricity in the village, nor outside road access. Now Xiadang is best known for its tea and since 2012, in a tireless effort to shed poverty, Xiadang has adopted a business model that integrates farmers, cooperatives and tea companies to help tea sales in the national and international markets. Riding the wave of 5G technology, farmers now sell their products on smartphones. The village is seeing speedy progress through offering a variety of farm produce, which has made its residents' lives prosperous.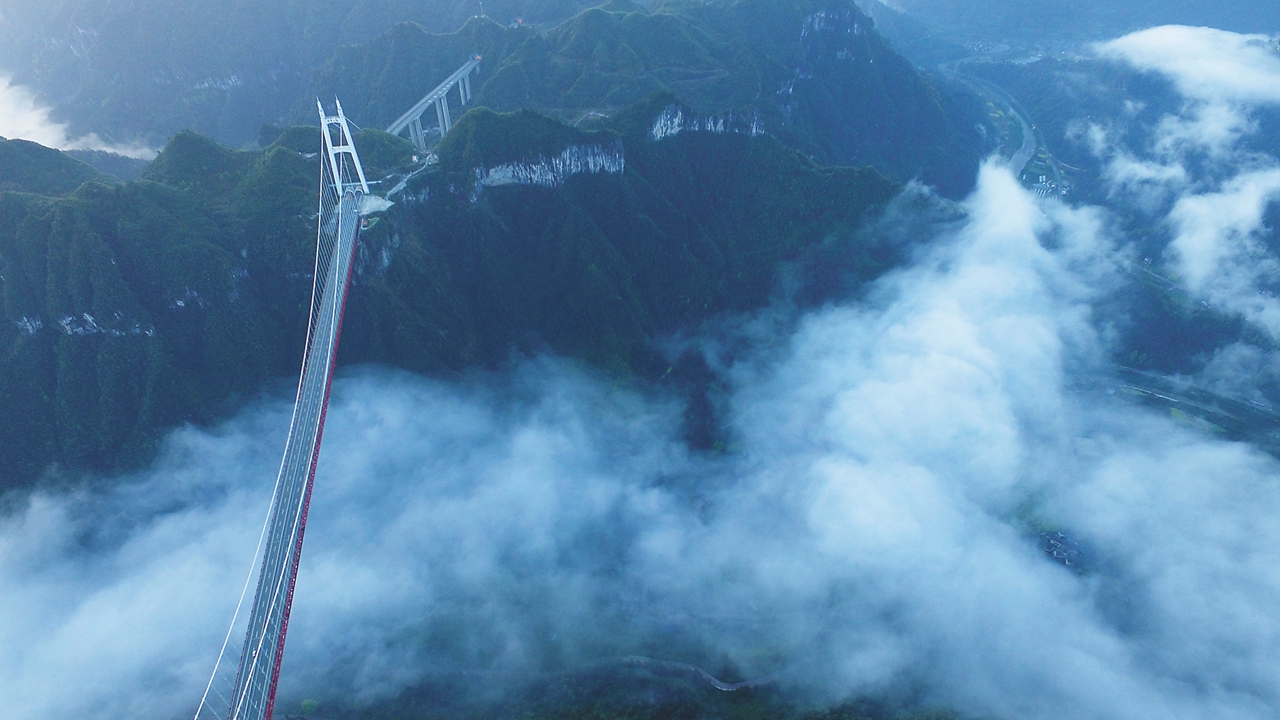 With a span of 1,779 meters and built at an elevation of 355 meters from the valley floor, the Aizhai Bridge that opened to traffic 10 years ago in Central China's Hunan Province has boosted local tourism and seen income increases for local villagers. Located in Jishou City of Xiangxi Tujia and Miao Autonomous Prefecture, the bridge, spanning over the Dehang Canyon, was built as part of the expressway from Southwest China's Chongqing Municipality to Changsha, capital of Hunan. In the past 10 years, local residents in surrounding villages of ethnic minority groups have enjoyed the convenient transportation and tourism benefits brought by the bridge.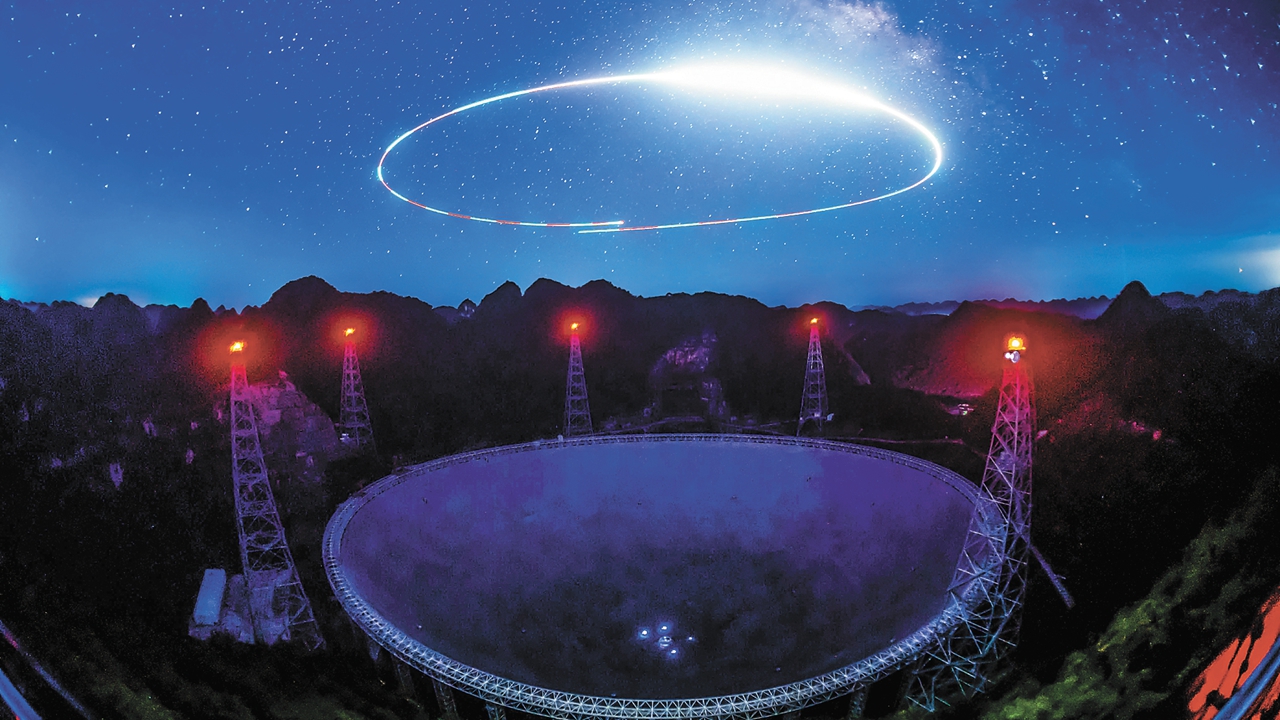 The Five-hundred-meter Aperture Spherical Radio Telescope (FAST), also known as "China's Sky Eye," is a radio telescope located in Dawodang, a natural basin in Pingtang County, Southwest China's Guizhou Province.