On Aug. 24, at the "Pandaversary Night" party in Washington, jointly hosted by the Chinese embassy in the U.S. and the Smithsonian's National Zoo to mark the 50th anniversary of the arrival of giant pandas in the country, the Chinese Ambassador to the U.S. Qin Gang delivered a speech, praising the unique role the giant pandas have played in promoting the friendship and mutual appreciation between the two peoples.
Qin noted that with great preserving efforts, the number of pandas in the wild in China has increased from several hundred 50 years ago to more than 1,800, thus having removed the species from the "endangered" list.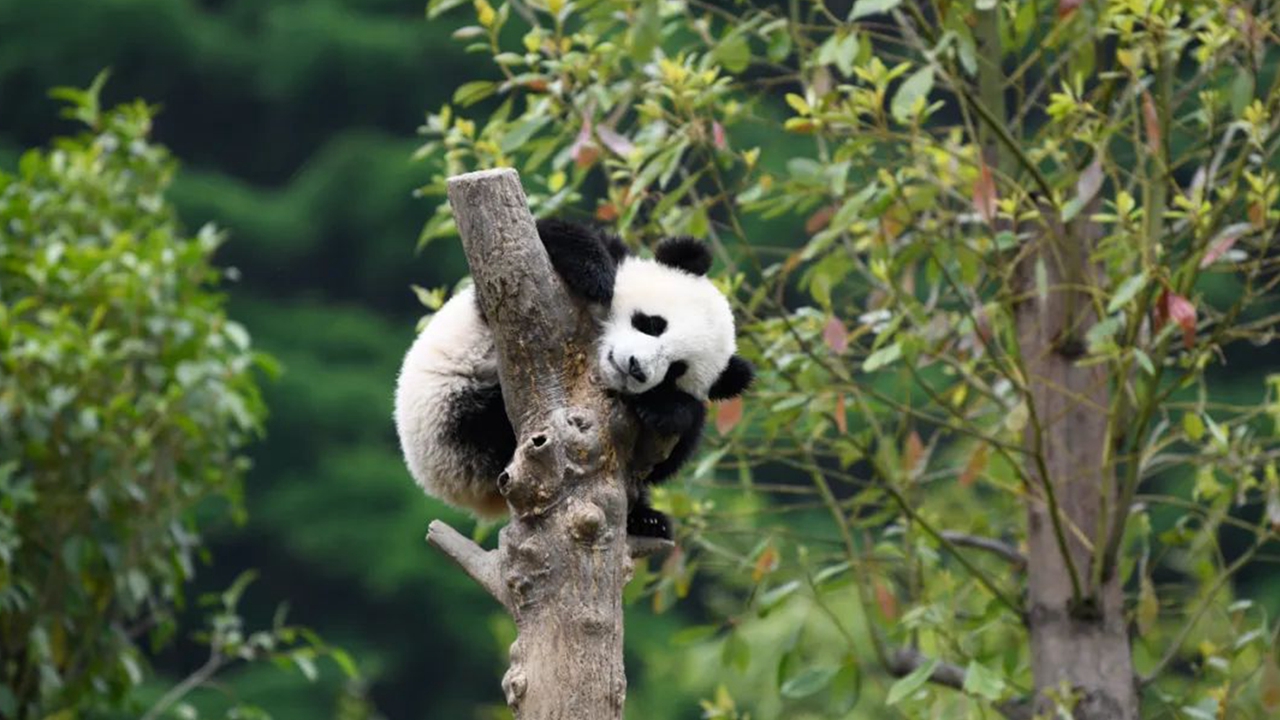 A giant panda is seen resting on a tree in Wolong, Sichuan Province, in this April 24 photo. Xinhua

"But sadly, 'panda-huggers' are endangered. Now they need protection and conservation," he said, apparently referring to the increasingly deteriorating China-U.S. relations, with lunatic U.S. politicians competing to play hardball on China at the expense of the interests of both countries and the world's stability and security.
Giant pandas are adored by people around the world for their distinctive black and white and plump appearance, and therefore have become an emblem of China.
The U.S. media uses the term panda-huggers to refer to pro-China politicians, scholars and professionals. In my understanding, they are not necessarily China advocates, who unconditionally support everything China does or says; but they are impartial China observers, who acknowledge China's achievements and judge everything related to China on its merits. In this sense, any foreigner who is against the attempt to demonize China can be called a panda-hugger.
The term might have something to do with the fact that Robert B. Zoellick, U.S. trade representative and deputy Secretary of State between 2001 and 2005, visited China several times, and, in 2005, he visited a panda preservation center and posed for photos hugging a lovely panda. The image was seen as a reflection of improving China-U.S. relations.
Panda-huggers have played a vital role in introducing China to the world and promoting mutually beneficial relationships between China and foreign countries.
During the 1700s and 1800s, when round-the world traveling was difficult, legends about the mysterious Oriental nation fascinated Westerners, and Marco Polo's travelogue lured thousands of Western travelers to China.
In 1938, American journalist Edgar Snow's book "Red Star Over China" revealed the arduous and unremitting cause of the Communist Party of China (CPC) in fighting against the Japanese invasion and occupation and liberating China from foreign aggression as well as the rule of the corrupt Kuomintang government. This book enabled the outside world to gain a better perception of the revolution led by CPC.
Nowadays, thousands of expat vloggers and authors residing in China are posting tens of thousands of videos and articles to convey what they see and hear in China, hoping to present a friendly, flourishing and dynamic China to the outside world.
Most of their works are just snippets of their daily lives in China. One of my favorite vloggers is Katherine from America. She has been traveling around China for years and she loves exploring less-known spots on her bicycle. Through her lens, audiences can feel the hospitality of common folks around China and the vitality of Chinese society. She has a huge number of followers on YouTube, Douyin and other social media.
Other expat vloggers or authors in China also fight to tell the truth, refuting shameless rumors and vilification of China with powerful evidence. One of them is Cyrus Janssen, an American who used to work and live in China and now lives in Canada.
Thanks to these panda-huggers, more and more people overseas have access to the real China. For example, when dozens of expat vloggers visited Xinjiang and demonstrated a peaceful and vigorous Xinjiang, all the lies about ethnic genocide or persecution were shattered.
Yet, as Ambassador Qin pointed out, panda-huggers are endangered, as they are outnumbered by dragon-slayers, who despise China and see China as their arch enemy.
With these people dominating the Western media, anti-China narratives will exist for a long time. Hopefully more panda-huggers will appear and a true China story will prevail over lies.
(The author is an English tutor and freelance writer)