Award-winning architectural designer to tap talent
Lured by the amazing talent pool Shenzhen has to offer, Singaporean architectural designer Chester Goh Wei Loong, who has raked in numerous international architecture awards, is planning to set up a design studio in Shenzhen this year.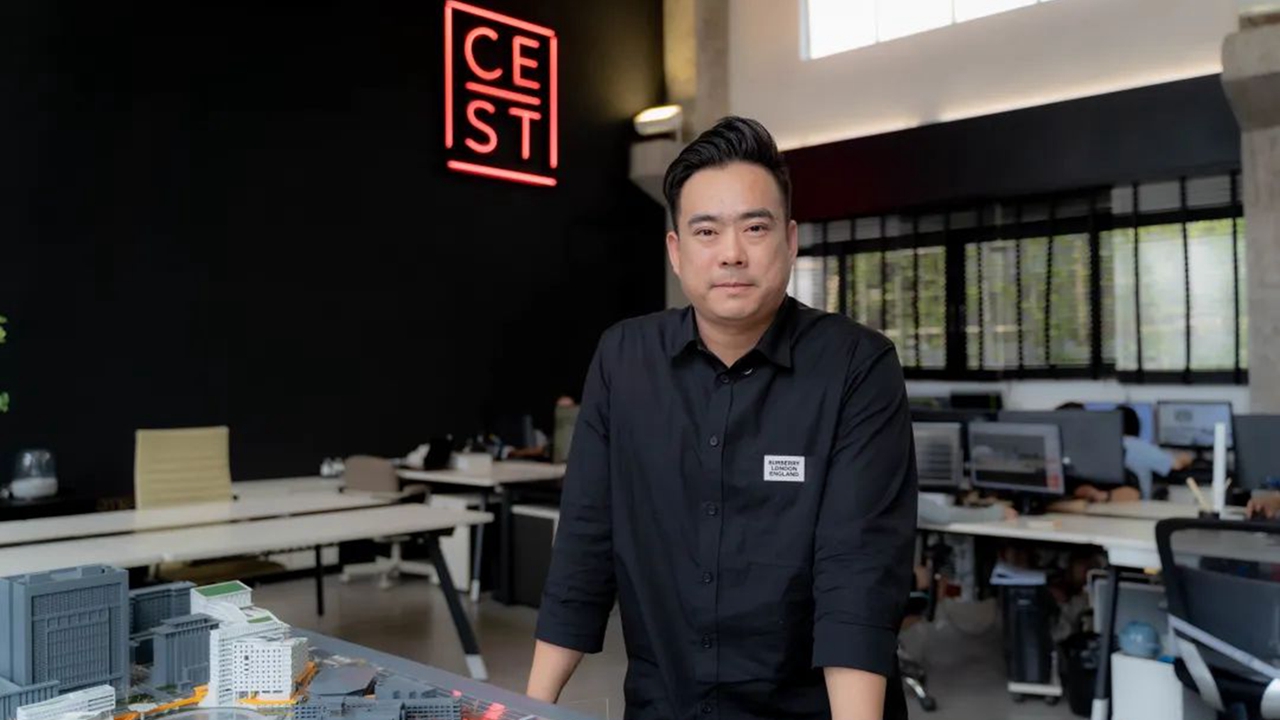 Chester Goh Wei Loong in his office of CE-ST Design Studio in Zhongshan. Photos by Lin Jianping, except otherwise stated

Goh, currently pursuing a master's degree program in architecture at the Institute of Future Human Habitats in Tsinghua Shenzhen International Graduate School, is a co-founder of CE-ST Design Studio in Zhongshan.
Since he was a little kid, Goh loves drawing and designing. Architecture, which marries art with technicalities, gradually become his passion. "I was also interested in space and would often think of ways to remodel my room for the best lighting and spatial organization. Therefore, choosing to study architecture was almost an instinctive decision for me as it is one of the only courses which combine arts and sciences through creativity," Goh said during an exclusive interview with Shenzhen Daily.
Goh started his architectural design journey in Singapore Polytechnic at the age of 17. The three-year diploma program, which placed important emphasis on practical design and building technology, gave him a good grounding. Through the program, he also got a chance to have an overseas internship in Shenzhen in 2007.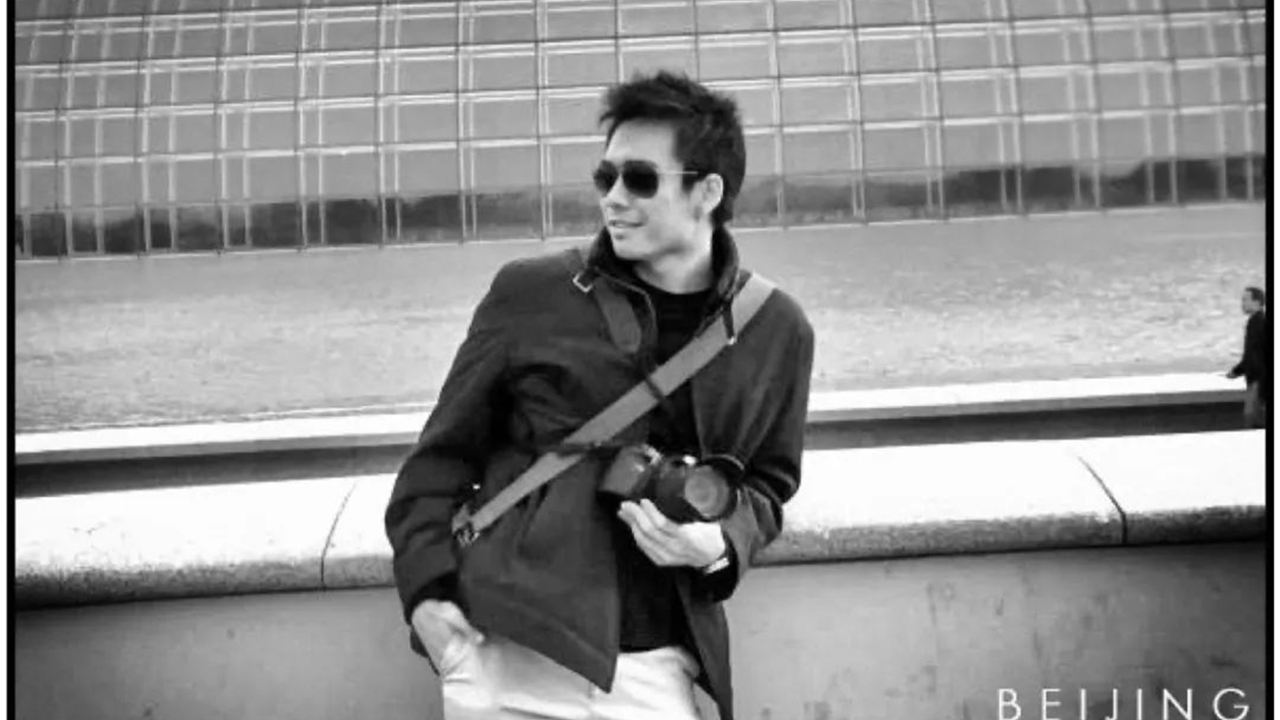 Chester Goh Wei Loong in Beijing in 2008. Courtesy of the interviewee.

"It was a very interesting experience. I was almost alone by myself, and I have learned a lot of things architecturally and a lot about the culture in Shenzhen, in China. So, that was when I fell in love with the city. And I told myself: 'Once I finish my school, my bachelor's degree, I will come back to somehow find a job, to work in Shenzhen,'" Goh said.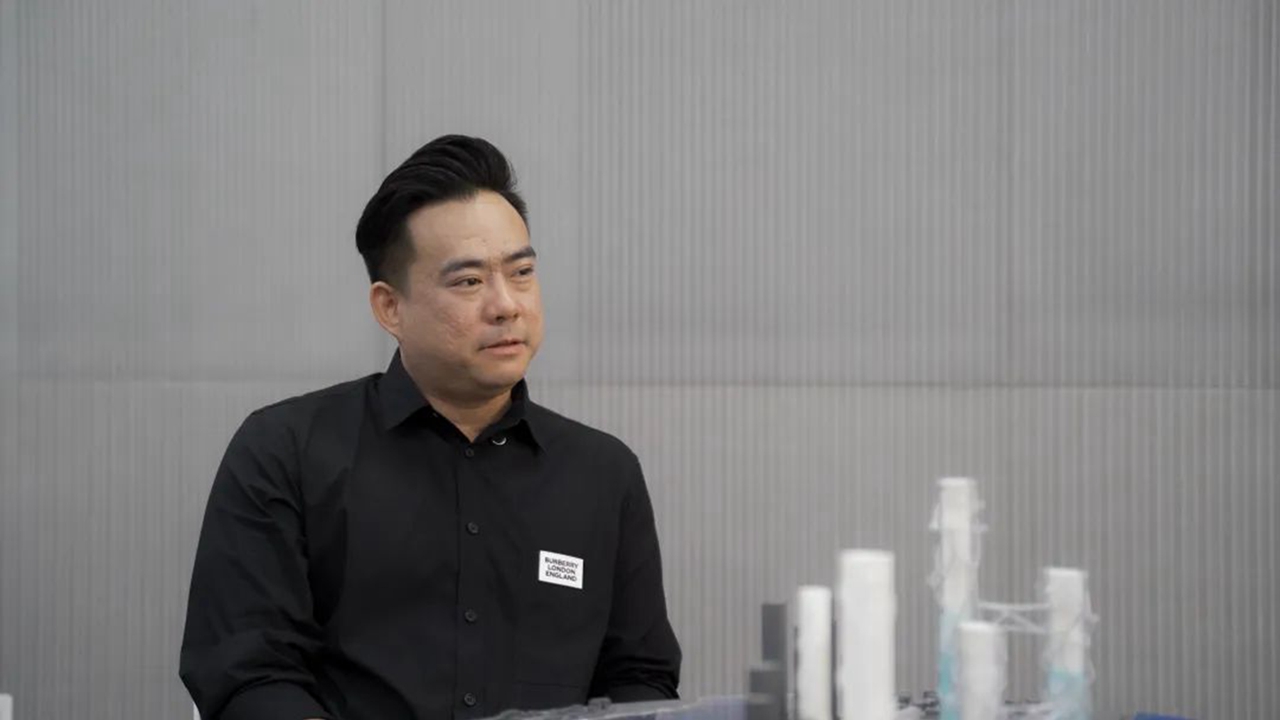 Chester Goh Wei Loong has an exclusive interview with Shenzhen Daily at Tsinghua Shenzhen International Graduate School.

During his first visit to Shenzhen, Goh was deeply impressed by the city's developing speed. "Back in 2007, things were all in full speed, in progress. A year later, when I returned to Shenzhen I almost couldn't remember the whole place because it just transformed too much. I was amazed by how this transformation was taking place in the city. So, I had a very good feeling about being in Shenzhen," he recalled.
Setting up studio in Zhongshan
In 2012, Goh obtained a bachelor's degree in architecture from the Royal Melbourne Institute of Technology. After graduation, he returned to Singapore with his wife and worked there. However, a vacation trip to Zhongshan, his wife's hometown, totally changed his life trajectory.
Chester Goh Wei Loong and his wife in their office of CE-ST Design Studio in Zhongshan.

"My wife Esther is from the city of Zhongshan. We were working in Singapore for a local design firm, and she decided to take a break and brought me to Zhongshan. During the vacation, a family friend wanted to build a house and invited us to propose a design scheme. We managed to rush out a design proposal within three days and three nights, and the client immediately liked it and hired us to complete the project," Goh said.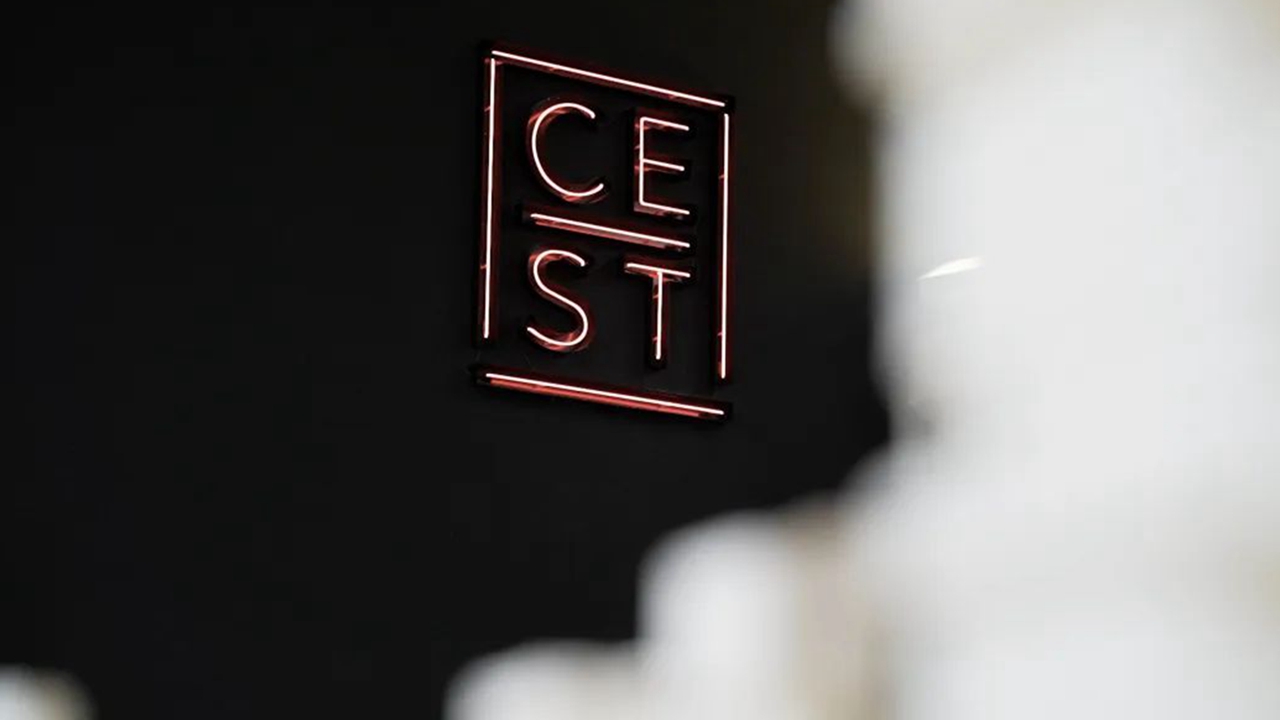 A scene of CE-ST Design Studio in Zhongshan.

What was supposed to be a vacation trip turned into a permanent move for them. Subsequently, they set up CE-ST Design Studio in Zhongshan in 2014, which started off as a small two-man office and has grown into a studio with 20 people. The studio focuses on architecture and interior design projects throughout the Greater Bay Area as well as in Singapore.
Team members of CE-ST Design Studio work in the office in Zhongshan.

Though architecture and design can be quite stressful at times, Goh and his team keep moving forward day in and out thanks to their deep passion for their crafts. They work around two basic philosophies – to design without boundaries and it's never too old to learn.
"Design is a non-linear process. It can be very exhausting at times to create innovative solutions within a very short time. Therefore, it is vital to have the passion to move forward, to persevere and design without boundaries," Goh said.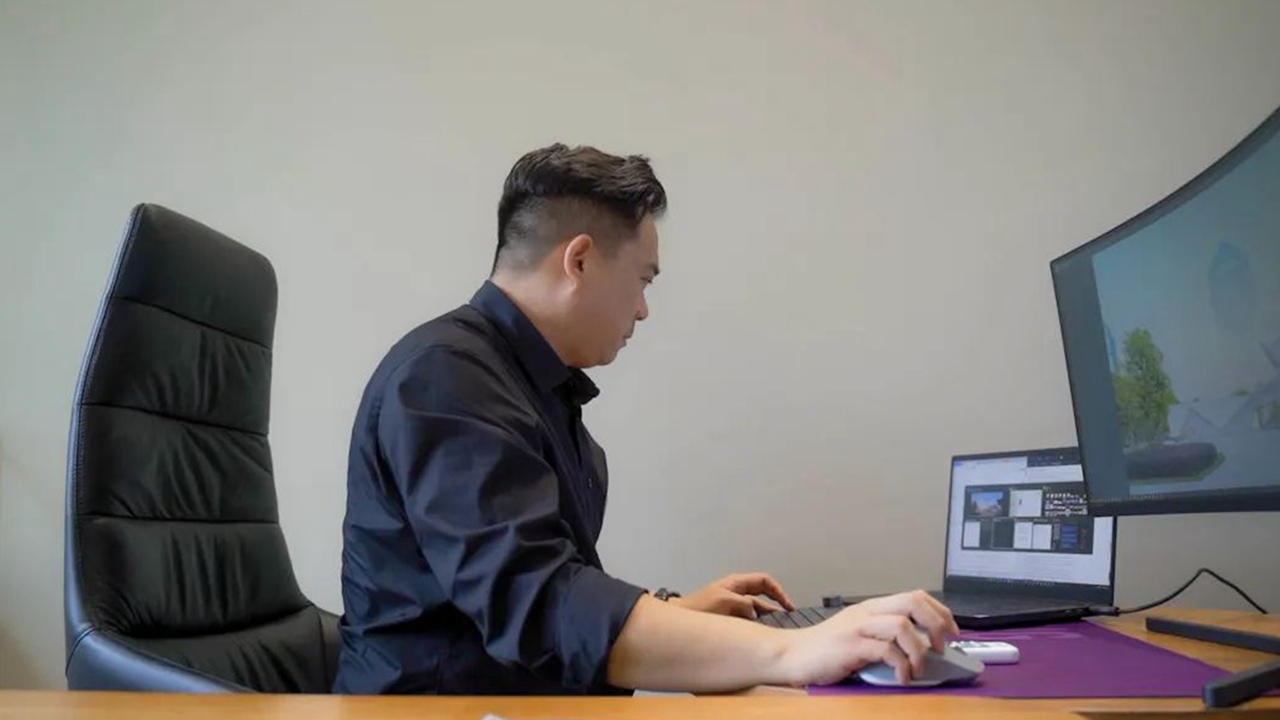 Chester Goh Wei Loong works in his office.

As architecture work is project-driven, many architects work overtime or even overnight. The same is true for Goh and his team. "When we are rushing to meet a project deadline, most of our staff would come in with different bags of clothes so that they can sleep here," he said.
Hard work pays off
Years of hard work pay off. Goh, though only 34, has accumulated rich experiences through many architectural projects. He has also won many international architecture awards such as the 2021 Perspective Asia Top 40 Young Professionals in Architecture & Design Industry, the 2021 Gold Winner of Architecture Mobile Homes of the IDA Design Awards, the 2022 Gold Winner of Architecture of the Asia Design Prize, and the 2021 Platinum Winner of Commercial Building of Architecture of the MUSE Design Awards, to name just a few.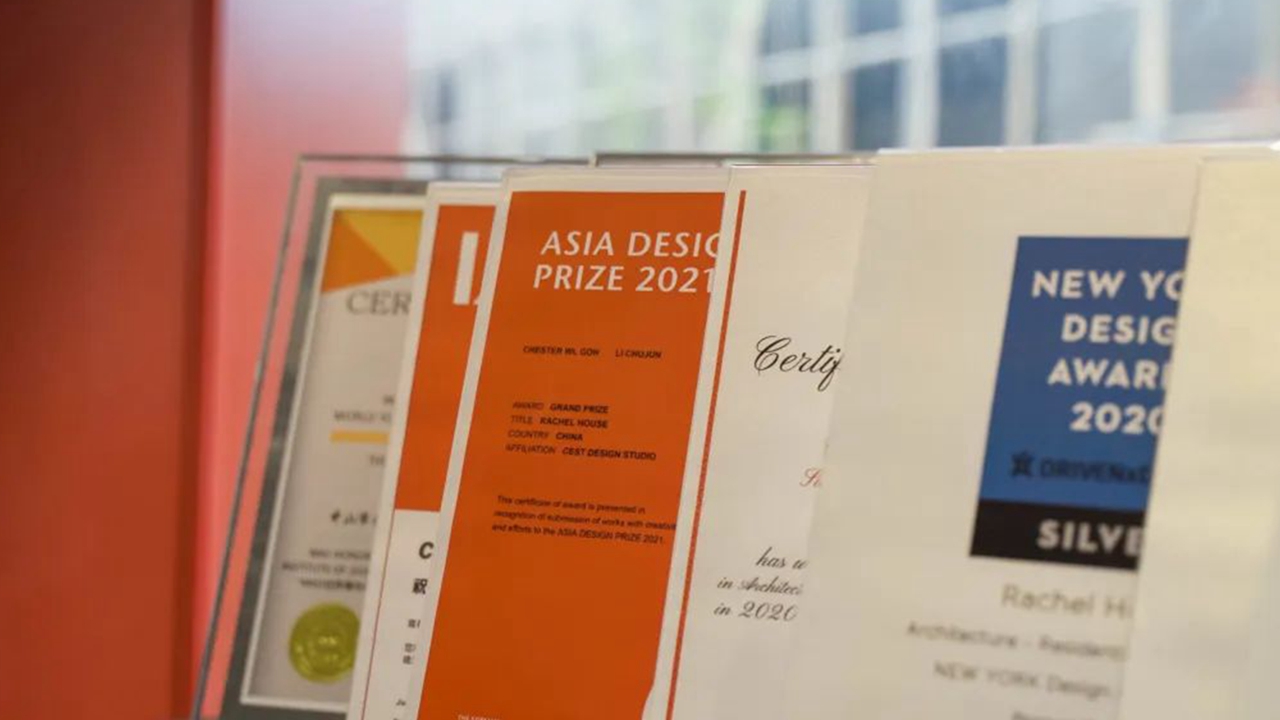 Some of the awards Chester Goh Wei Loong has received.

One of his recent awards is for the project "Super-Hydro-City!" in cooperation with his two teammates Shukwan Tung and Hong Yuhan at Tsinghua University, which has won the Student Award of the World Architecture Community Awards this year.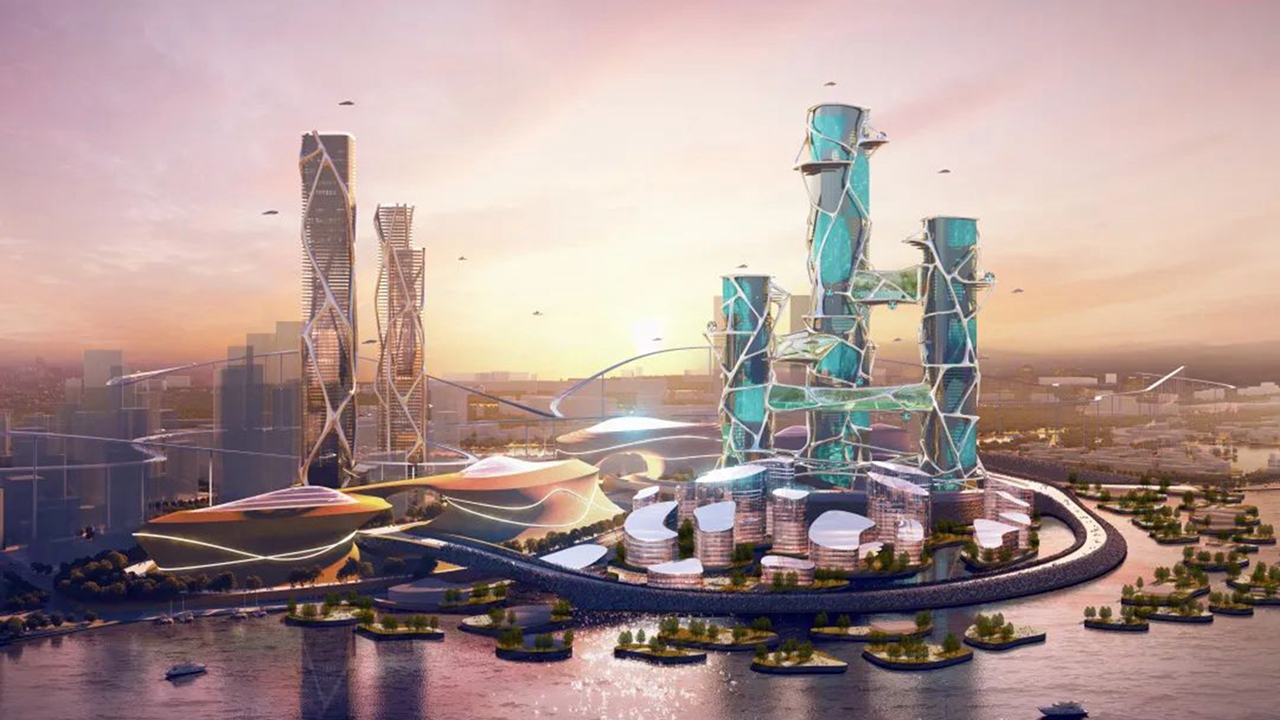 A computer-generated image of "Super-Hydro-City!" Courtesy of the interviewee.

"This project is mainly about how sea level rise will affect Shenzhen's bay line. It proposes hydro architecture that pumps water into these buildings and how the water in the buildings can be converted into usable positive energy and also to give back to the city. These are proposed and explored through the exoskeletal framework structure design," Goh introduced.
They also have more and more projects in the Greater Bay Area, including the Wellness Dojo in Shenzhen and the Serrangel Pavilion in Shunde, Foshan, which has won a special mention award in the adaptive reuse category of the Architizer A+ Award.
The Wellness Dojo is an exclusive wellness club situated next to Lake Pinghu in Longgang District. Its design revolves around three simple philosophies: simplicity, artistry and lightness.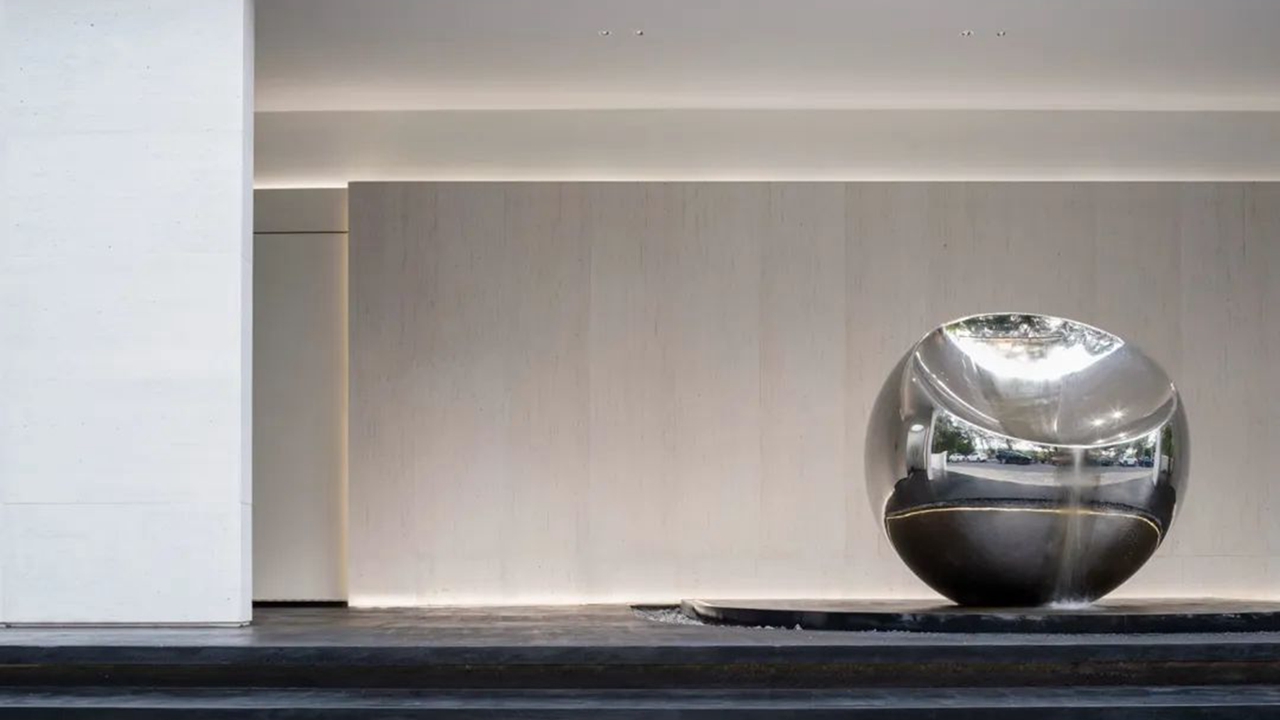 Scroll to the left to see the photos of Wellness Dojo. Photos courtesy of the interviewee.

"The Wellness Dojo is a new project concept created by our client," Goh said. "When one steps into the space itself, one would be greeted with extreme calmness. Matching client's criteria, the design shuts off everything around the business of the outside world, the extra stress and pressure, and provides a very calm and meditative state and sense," Goh said.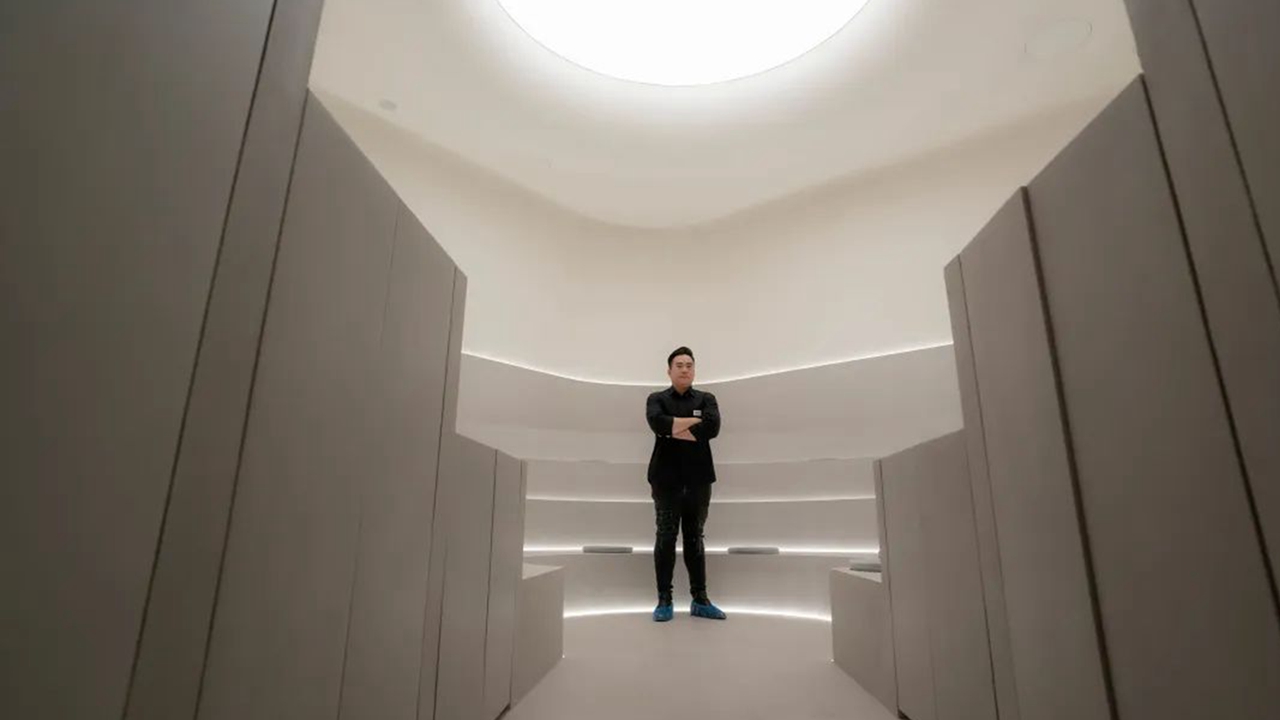 Chester Goh Wei Loong at Wellness Dojo.

Serrangel Pavilion, located along the banks of Desheng River at Shunde's Golden Phoenix Plaza in the city of Foshan, is an adaptive reuse and restoration project that once used to be an abandoned public toilet for the plaza. It's now comprised of a cafe, a community art gallery exhibition space and a hands-on workshop.
Scroll to the left to see the photos of Serrangel Pavilion. Photos courtesy of the interviewee.

The project encourages art and environmental awareness by incorporating recycled mosaics and materials into paintings and sculptures. The combination of the subtle pink recycled glass mosaic walls, white prefabricated concrete panels and full height glass creates a unique rhythm throughout the surface of the facade, giving the transformed building a new image for the city of Shunde.
"This is an interesting project because it used to be a toilet in the park, but it has been revamped and renovated into an art pavilion," Goh commented.
Design talents in SZ a great magnet
With their business continuing to grow, Goh and his partners are planning to open an office in Shenzhen this year, as the city is home to a rich talent pool.
"We are planning to set up another studio in Shenzhen for business development opportunities, but more importantly we hope to strengthen our current team by inviting more talents in architecture in Shenzhen to join us. Shenzhen is full of talented designers. The design industry and the design environment are very rich in Shenzhen. So that's what drew me to this area as well," he said.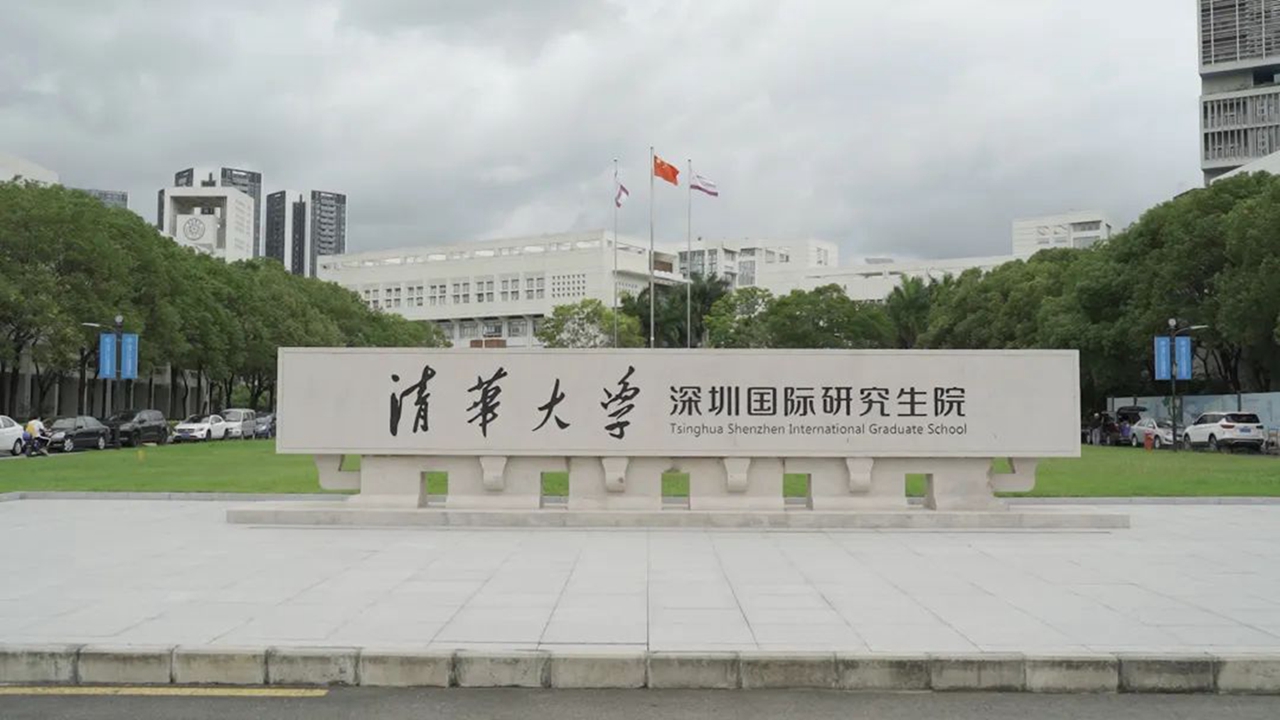 A scene of Tsinghua Shenzhen International Graduate School.

According to Goh, it's important to have good projects, but it's even more important to have a good team. "Architecture and design projects are not done by just one person individually, but as a team. So, our main goal is to actually find a very good and highly bonded team so that it prepares us for future projects that will come in," he said.
Having been in Guangdong for almost eight years, Goh felt that Shenzhen is a very vibrant and global city, which gives designers plenty of opportunities and options to explore.
"We hope to touch on this very vibrant environment in Shenzhen to expand and explore where our studio is going to go. I think there are also a lot of opportunities for foreigners like us to shine and expand. Shenzhen is a very metropolitan city. It's more about the entire environment that we are looking at," he said.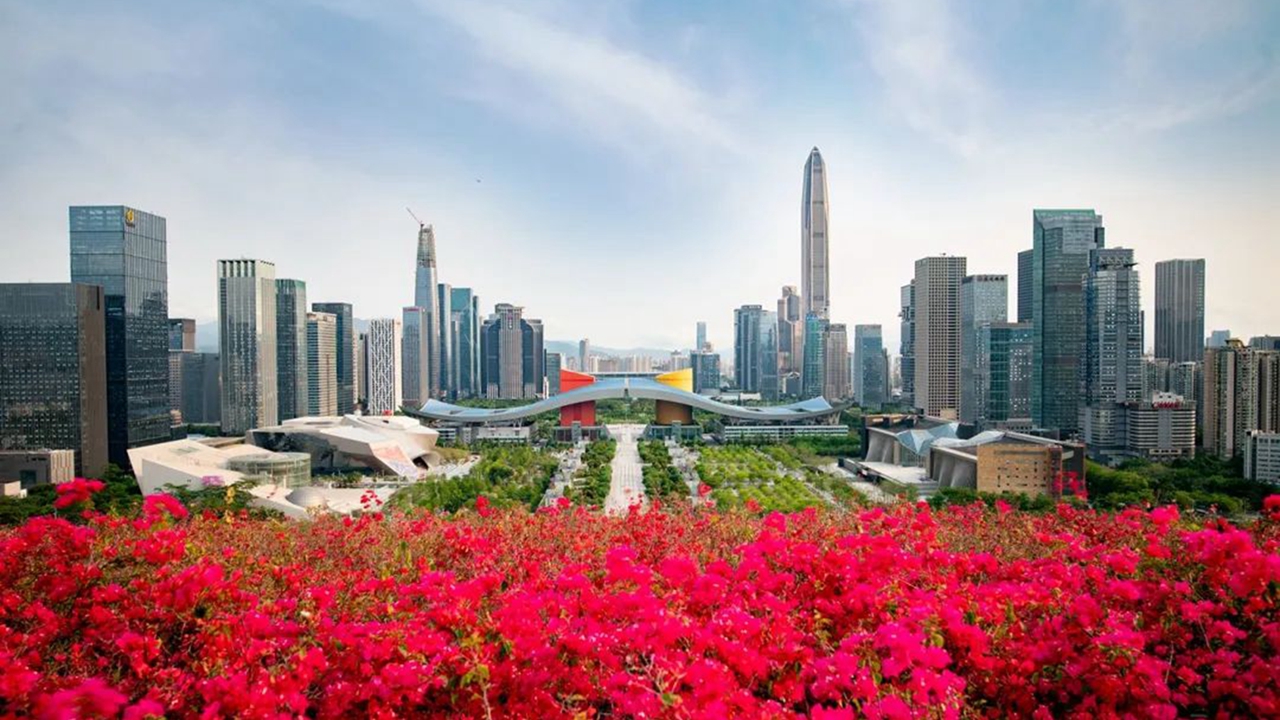 A scene of Civic Center from the top of Lianhua Hill. Liu Xudong

Another reason that lures Goh to Shenzhen is the friendly environment and the favorable policies the city provides for foreign talents. "The Shenzhen government really encourages foreign talents to come and develop here. It has provided many supporting policies such as reduction on rent and tax, as well as many funds for startup companies. So, I think it's a really good opportunity," Goh said.
Additionally, the city has created a very convenient living environment for expats. "For example, in this special period of pandemic, the city's response to the problems expats encounter is very fast and efficient. Compared with other cities, Shenzhen is doing a really good job," he remarked.
GBA, a competitive place with many opportunities
Though the Guangdong-Hong Kong-Macao Greater Bay Area (GBA) is a very competitive market, Goh thinks that there are still plenty of opportunities for architects and designers to be in the area as the market is very open.
Chester Goh Wei Loong talks about the opportunities the GBA offers to architects and designers in his office during interview.

"We have been working on many projects on hand and we have finished them as well. Recently, we have been working on quite a bit of educational projects like public schools. We feel that for us it is a very strategic place, especially in Shenzhen which is right in the crux of the Greater Bay Area and there will definitely be a lot of better chances for us to find good jobs and opportunities in the area," he said.
For Goh, there is a lot of demand and space for growth in architecture in the GBA. "Architecture is somehow kind of traditional in a sense. So, we are all working towards how we could digitize and automate architecture. We are still at a very early age of automation. We hope that being in Shenzhen, in the Greater Bay Area, there will be plenty of chances and opportunities to actually advance the field of architecture in terms of automation and smart architecture."