Ambitious goals have been set for future humanoid robots since their creation; they are expected to serve humans as companions and assistants in daily life.
In Nanshan District, there is a high-tech enterprise that started from the R&D of servo actuators and in a decade, has developed into a world-leading AI and robotics company.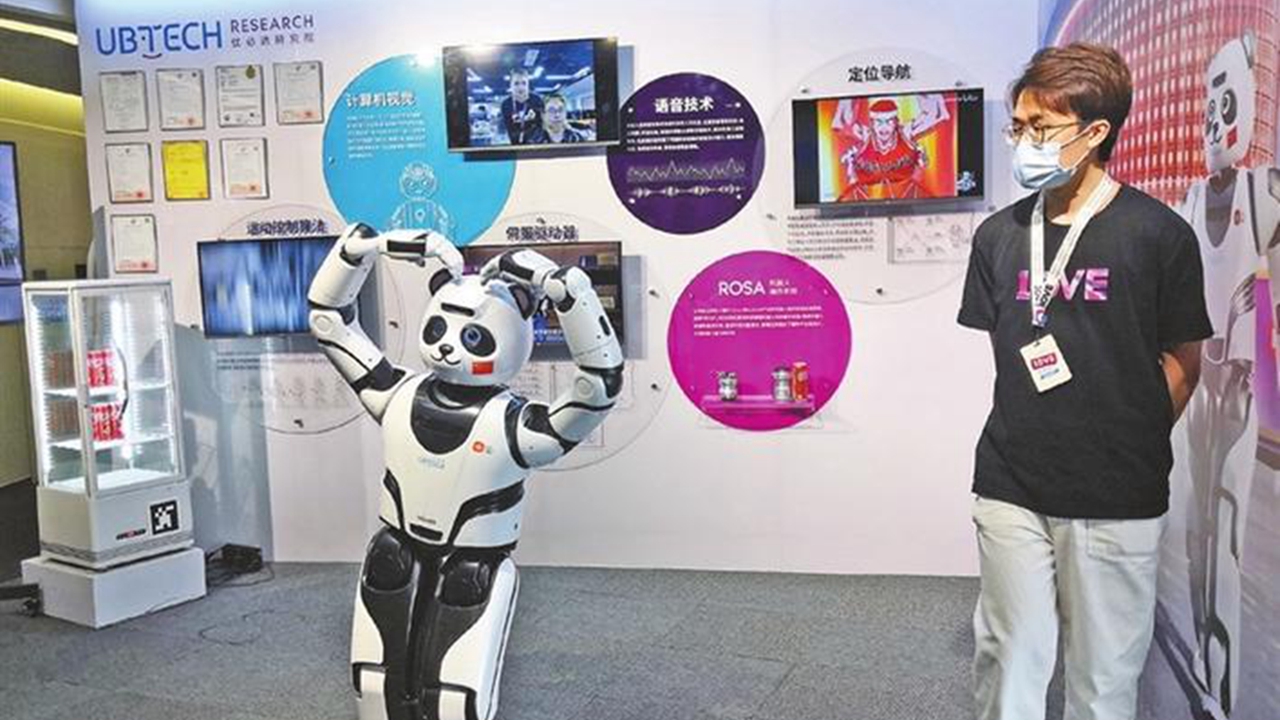 UBTECH's panda robot makes a heart over its head as it poses for a photo at the company's office in Nanshan District. Zhang Yu

Since UBTECH Robotics Corp. Ltd. was established in 2012, it has focused on R&D of humanoid robots and completed the technical verification of a small humanoid robot named Alpha the same year. Currently, UBTECH's footprints span humanoid robot research, manufacturing and marketing.
A large panda robot instantly became the center of attention when visitors walked into the company's office at Nanshan I Park. The robot, named Youyou, was the superstar at the China Pavilion in Expo 2020 Dubai, winning the hearts of many with its good looks and intelligence.
Youyou, developed based on another UBTECH humanoid robot named Walker X, was customized for the Chinese Pavilion of the Dubai expo. Youyou's 41 "joints" enable it to shake hands, perform tai chi and demonstrate its Chinese calligraphy skills, as well as other traditional Chinese arts and crafts.
According to statistics, UBTECH's humanoid robots worked for 182 days and over 1,200 hours accumulatively at the Dubai expo, receiving 165 visiting groups from 45 countries and regions, and serving tourists from all over the world.
How do these robots hear, see and perceive like humans? The key lies in a series of self-developed core technologies.
"A large service robot includes two parts: machine control and human-machine interaction. The more core technical component is the servo actuator," Michael Tam, chief brand officer at UBTECH, told reporters during a media research tour Sept. 17.
For UBTECH, if the servo actuator is imported from Japan, South Korea or Switzerland, a robot needs to sell for at least 30,000 yuan (US$4,239) to make a profit. Therefore, from the very beginning, the company chose to independently develop servo actuators, which can not only reduce the cost, but also have core technology.
So far, the company has developed key technologies covering high-performance servo actuators, mechanical transmissions, motion planning and controls, computer vision and perception, intelligent speech interaction, SLAM and navigation, human-machine interaction, eye-hand coordination and robotic operating system application framework ROSA.
"We focus on AI technology and robotics advanced development, application and commercialization with a profound mission to bring intelligent robots to every family and make everyday life more intelligent and convenient," Tam said.
With AI technologies as the core and intelligent robots as the carrier, UBTECH is committed to providing diversified one-stop solutions to clients in various industries and aims to build an intelligent service ecosystem integrating hardware, software, service and content.
James Zhou, founder, chairman and CEO of UBTECH, has emphasized the company's kernel is RaaS, or Robot as a Service. "If a robot does not possess interactive functions, then there is only automation," he said, adding that robots are not cold machines, and there is a touch of tenderness in them.
"Shenzhen is a young city with a large cohort of young people, strong supply chains and a sound industrial ecosystem. In addition, the government encourages innovation and entrepreneurship," Zhou said when he talked about why he chose Shenzhen.
Based on the company's advanced technologies, UBTECH has launched a series of service robots for commercial and personal/family use, respectively. The company also provides diversified solutions for various fields such as AI education, smart logistics, smart health care, business services, smart patrols and epidemic prevention.
According to UBTECH, so far, it has held nearly 3,000 patents at home and abroad, of which invention patents account for over 70%, covering the core technology fields of AI and humanoid robots. The company's number of humanoid robot patents is leading in China.