Shenzhen recently unveiled a draft of park regulations seeking public suggestions over the management of its parks.
The public can send their suggestions via email to ajb2@cgj.sz.gov.cn by Oct. 17, according to announcement from the Shenzhen Municipal Urban Administration and Law Enforcement Bureau.
As of the end of 2021, Shenzhen had had a total of 1,238 parks underpinning its rich biodiversity. So far, the city has recorded 585 wild animal species and 2,068 wild vascular plant species, with most of their habitats being in the city's parks and tourist attractions.
The draft regulations call for including park's green lands into ecological green lines and extending legal ecological protection to various types of parks.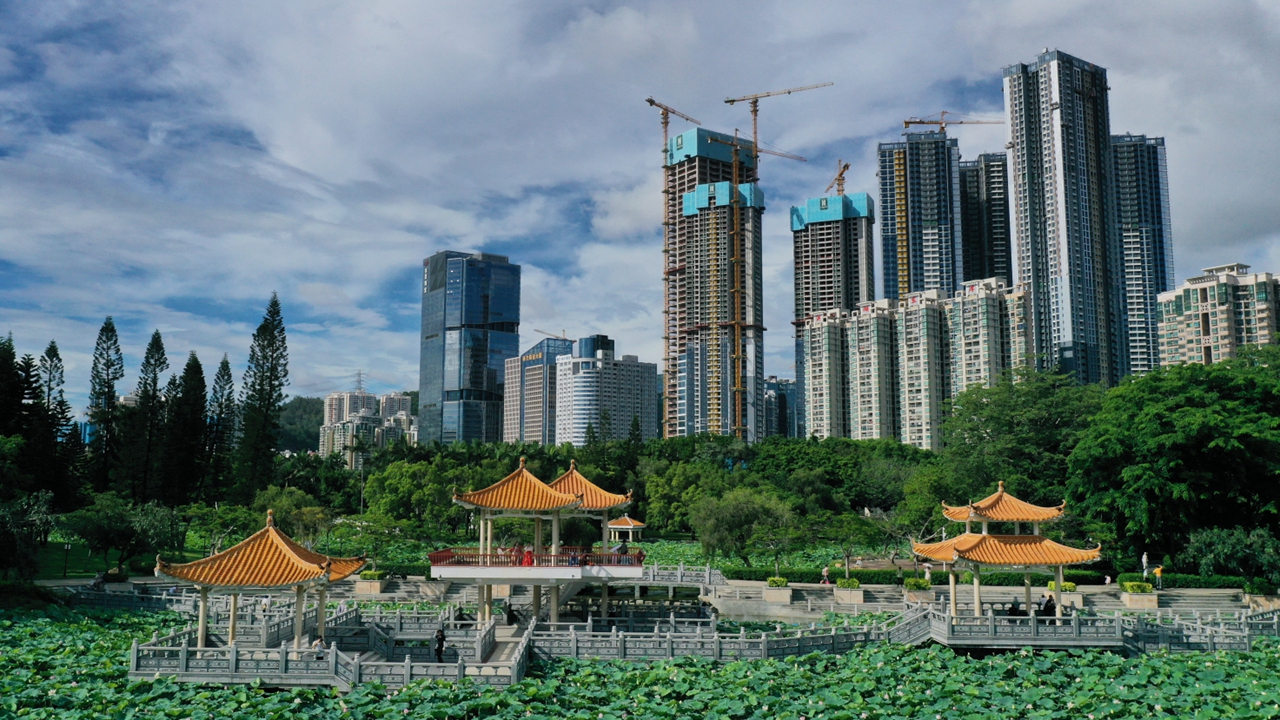 A view of Honghu Park in Luohu District. Sun Yuchen
At present, only forest and wetland parks have been included into ecological red lines, where ecological protection must be strictly ensured.
The draft regulations aim to improve the city's park management, protect its ecological environment, build an international first-level "city in parks," and build a beautiful park model with man and nature in harmony.
The draft regulations also specify fines for violations. Citizens will face a fine ranging from 500 to 5,000 yuan (US$71-718) if found releasing or feeding animals in undesignated park areas.
Additionally, citizens who refuse to rectify their behaviors after being found violating a ban prohibiting dogs or other pets from entering parks will face a penalty. Activities producing excessive noise will lead to a fine by the city's public security authority, as per the draft regulations.
Anyone who flies a drone in a park in violation of regulations will also face a fine between 1,000 and 5,000 yuan if he or she refuses to heed the warning of park management.
Moreover, new materials, technologies and machines are also urged to be used to make park smarter to improve service quality.
New regulations needed to guard City of Parks
Shenzhen, also known as a City of Parks, as of the end of 2021, had recorded a total of 1,238 parks of different sizes and types from community to country parks including Wutong Mountain National Forest Park.
Unlike many parks in other Chinese cities, Shenzhen's parks are free to the public, except for several commercial ones. Residents can enjoy going to public parks during weekends or even on their way to work.
In the city, a resident can reach a community park in five minutes' walk, a large park within 2 kilometers or a nature park such as a country, geological, wetland or ocean park within 5 kilometers, according to the park authority.
Parks have grown in recent years, both in number and types. However, current local park management rules do not fully meet the public's real demands. The city's parks have diversified types, have multifunctional services and have grown in number. Under the current rules, parks couldn't satisfy the public demand for science popularization, spreading civility and beautifying the city.
The legislation on city parks will improve park management and working system, delimit the rights and responsibilities of park managers and visitors. The draft regulations will include all park areas into "green lines" and crack down on unwanted behaviors such as releasing captive animals back to the wild and noisy activities such as dancing, which the public is widely concerned of.