The second well for extended drilling at Liuhua 11-1 Oil Field in South China Sea, about 310 meters underwater, was put into operation Monday, empowered with China's first domestically-developed subsea Christmas tree, also known as wet tree.
The oil field, developed and operated by Chinese oil and gas firm China National Offshore Oil Corp. (CNOOC), is located in the Pearl River Mouth Basin of the South China Sea, approximately 240 kilometers southeast of Shenzhen.
Engineers examine the first domestically developed subsea Christmas tree before its underwater installation. Courtesy of CNOOC

The subsea Christmas tree, or the subsea Christmas oil and gas extraction system, is a core piece of equipment used in subsea production systems in the petroleum industry. It is used to connect oil and gas from deep in the formation to external oil and gas transport pipelines. As an intelligent "faucet" at the wellhead, it controls the exploitation rate of oil and gas and monitors and adjusts the production situation in real time. It is a key piece of equipment for the development of deep-water oil and gas fields.
The self-built Christmas tree system used in the Liuhua oil field weighs 36.7 tons and is designed to be used in waters as deep as 500 meters and has an expected operating life of 15 years, according to a release from CNOOC's Shenzhen branch yesterday.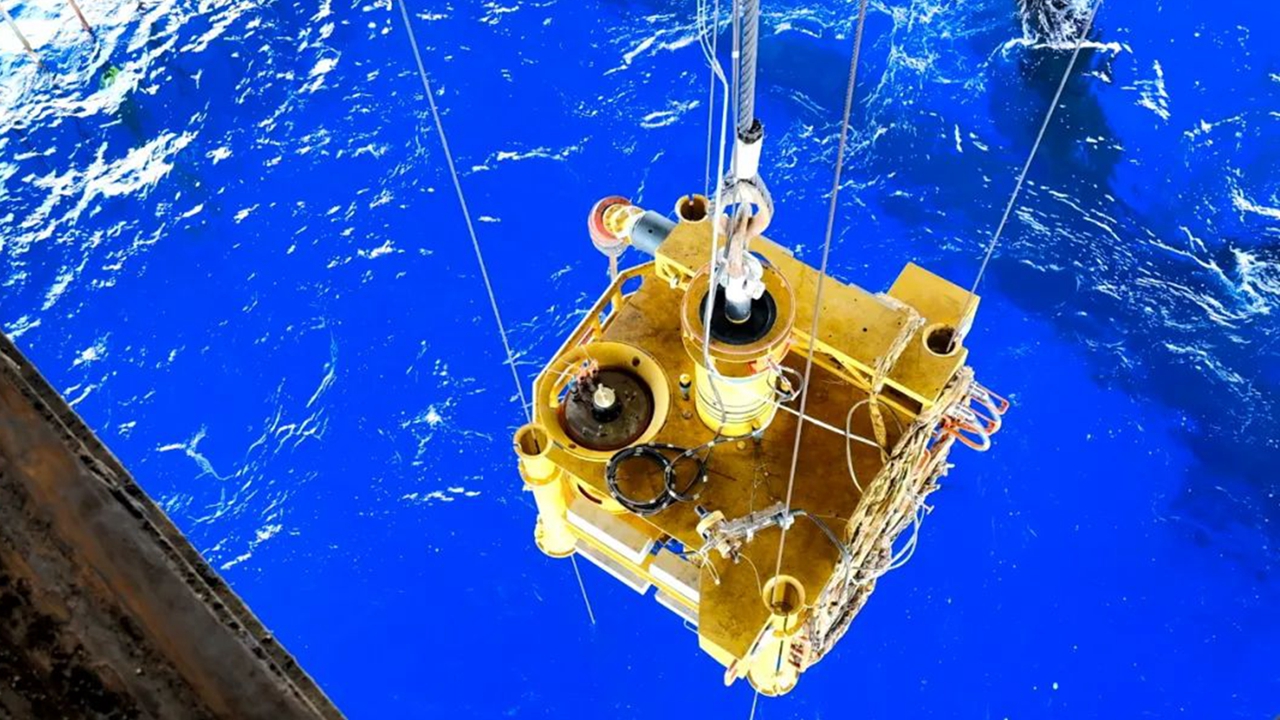 The subsea Christmas tree is being lowered into the Liuhua 11-1 Oil Field in the South China Sea.

The use of the home-made subsea Christmas tree in deep water indicates that China has successfully mastered the design, manufacturing and testing technology of this key piece of equipment.
Previously, subsea Christmas tree technology was monopolized by companies from European and American countries, holding about 90% of the market and leading a long acquisition cycle, high prices and difficult maintenance.
The Liuhua 11-1 Oil Field was put into operation in 1996, and is China's first deep water oil field. In 2021, the oil field along with the Liuhua 4-1 Oil Field was put under secondary redevelopment for extended drilling.
The first well for extended drilling was put into use in July this year, generating over 1,000 barrels of oil a day.
The Liuhua 11-1/4-1 secondary project involved the development of 32 horizontal wells including 24 new wells, sidetracks and existing wells at the two fields, with new drilling, production and subsea installations.