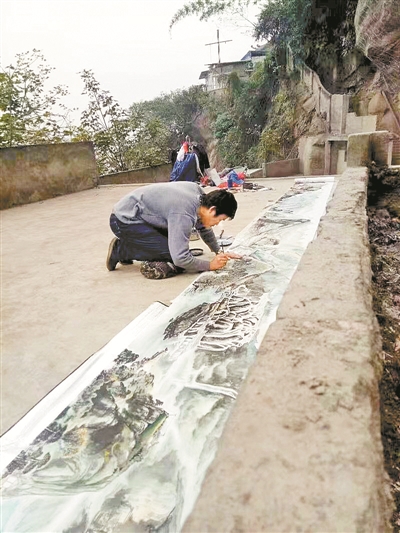 Zhai Yunchuan paints landscapes on a long strip rice paper on the ground. Courtesy of Zhai Yunchuan
"My dream is to travel all over China and draw all its landscapes," said Zhai Yunchuan, a 32-year-old artist who is on the road to chase his dreams.
Five years ago, he created the painting "Beautiful Chinese Roads," which measures 100 meters long, depicting the sceneries along his trek from Shenzhen to Sichuan Province.
Zhai, born in the city of Suining in Sichuan, once worked in Huizhou and Shenzhen in Guangdong Province. He learned painting from a young age, and the idea of painting landscapes along the way to his hometown inspired him to trek from Shenzhen to Sichuan. During his journey, he would go straight to local places of interest when he arrived in a new city. Zhai attracted curious tourists as soon as he rolled out rice paper to paint. As time passed, he met more and more warmhearted people – with some helping him get a tent and sleeping bag and some sponsoring him with a new mobile phone. He also met drivers who would give him a ride from time to time.
Zhai spent nearly a year walking thousands of miles spanning Guangdong, Guangxi and Guizhou before finally arriving in his hometown in Suining. "I have worn out seven pairs of shoes," he said.
While Zhai was collecting painting materials at a mountain in Guizhou, he fell off a cliff. Luckily, he survived by holding on to his backpack that was hung on a tree trunk.
A collector coveted one of Zhai's artworks depicting the Yellow River and offered 350,000 yuan (US$48,200) to buy it. However, a local museum was also interested to collect the painting. Despite the hefty price tag, Zhai chose to donate the painting to the local museum because he thought it was more meaningful to have his work collected and displayed in a cultural center.
Zhai continued another section of his tour this March, with a plan to draw the Yangtze River starting from Shanghai.
"It's never too late to chase your dream," Zhai said. In the next 10 years, Zhai plans to draw all the landscapes in China.