Ye Xiaogang

Born in September 1955, Ye Xiaogang is regarded as one of the leading contemporary Chinese composers. His diverse musical output spans genres including instrumental and opera, and even film music.
In August 2008, his piano concerto "Starry Sky" was premiered by Lang Lang during the opening ceremony of the Olympic Games in Beijing, making the composer a household name in China.
With aggressive orchestration, mixing Chinese musical language and instruments with Romanticism and Western techniques, and drawing inspiration from Chinese literature, Ye's works have been well received in China and overseas.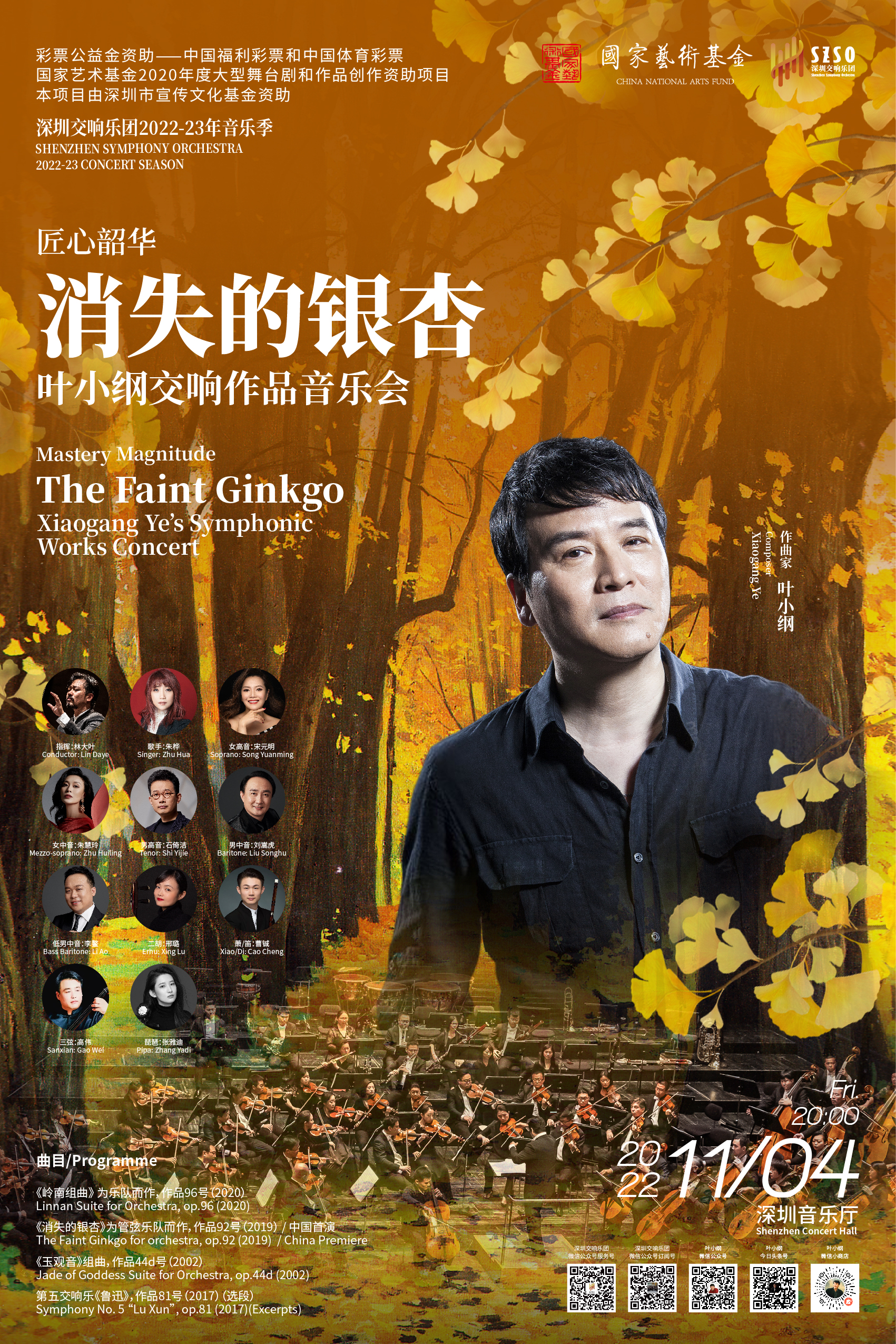 A post of "The Faint Gingko." File photo

The Shenzhen Symphony Orchestra (SZSO), planning to present the Chinese premiere performance of Ye's symphonic poem "The Faint Gingko" in the near future, invited the composer to share about his new work last Thursday. To be conducted by SZSO artistic director Lin Daye, the prospective concert's program will also include other gems from his oeuvre, including "Lingnan Suites" and his fifth symphony "Lu Xun," as well as "Jade Goddess Suites," a set of re-orchestrated scores he composed for the Chinese TV series "Yu Guan Yin," which is probably his most popular work.
The concert will also convene today's top performing musicians of China, SZSO president Nie Bing reassured. These will include soprano Song Yuanming, mezzo-soprano Zhu Huiling, tenor Shi Yijie, baritone Liu Songhu, bass-baritone Li Ao, and singer Zhu Hua. Erhu player Xing Lu, flutist Cao Chen, sanxian player Gao Wei and pipa player Zhang Yadi will collaborate.
"The Faint Gingko," a piece commissioned by Shanghai New Music Week and the China National Arts Fund, was premiered by the Melbourne Symphony Orchestra at its 2021 New Year's concert. The composer has rearranged the piece for the SZSO Chinese debut, as the Melbourne orchestra has different available instruments as compared with the local orchestra.
"Gingko is an ancient plant that has survived billions of years on our planet. I've often been impressed by its beauty and mystery," said the composer during a news briefing last Thursday. "People have become increasingly aware of climate change and the damage done to the natural environment these days. Sometimes I couldn't help wondering if the ancient species gingko would also disappear."
With delicate and minute music expressions, Ye said he meant this piece to invoke people's concern about the relationship between humans and nature and to raise awareness of the importance of species diversity.
"The audience may find this piece quite distinctive from my previous works that are romantic and lyrical, because this one has tried to invoke some philosophical discussion. People will hear changes in the mood. The work ends on a warm note, as I still have hope and faith in people making the right choices."
Consisting of four short movements, "Lingnan Suites" depicts with lyrical music the beautiful landscapes of Guangdong Province, singling out ocean waves, migratory birds, mountain covered in red flowers and serene creeks as the memorable images.
Using different themes to represent various characters in the 2003 TV series "Yu Guan Yin," "Jade Goddess Suites" based on the show's scores resonates with Chinese audiences by telling a dramatic, deeply emotional story about crime, love and redemption.
Ye named his fifth symphony after Lu Xun, a well-known late Chinese author who wrote many novels about the tragic lives of lower-class people and the social inequality of his times. "The audience may recognize the various characters from Lu's novels in this piece," Ye said, adding that composing a piece dedicated to the great author had been his aspiration for years. "Lu had a profound understanding of the nobility as well as the evils of the Chinese people, an understanding that I totally admire," he said.
Lin, who has frequently conducted Ye's works, including a program consisting solely of the composer's works several years ago during the local Belt and Road Music Festival, said he's looking forward to the concert. "I hope to be able to faithfully convey the composer's emotions and intentions to the audience and get them to relate to his works," he said.