Before coming to China, Sebastián Tosi from Argentina worked in investment banking in Spain. Now, he is the owner of the first Argentine beef and food processing plant in China, promoting Argentine beef and other healthy food in the country.
Tosi worked for one of the largest banks in the world, but when the financial crisis hit Europe, banks started to cut many jobs and he had to look for other opportunities. At that time, his father, who had been living in China since 2000, invited him to come here.
"He told me, 'Come and get to know the real economy, not the financial economy. It's important for you to get to know the real economy,'" the 40-year-old entrepreneur recalled.
So, he came and arrived in Guangzhou in August 2012 and has since been staying in China.
In the beginning, Tosi only worked in his father's trading company. However, one day in 2015, they came up with the idea of promoting Argentine products in China, because they knew the Chinese market's great potential.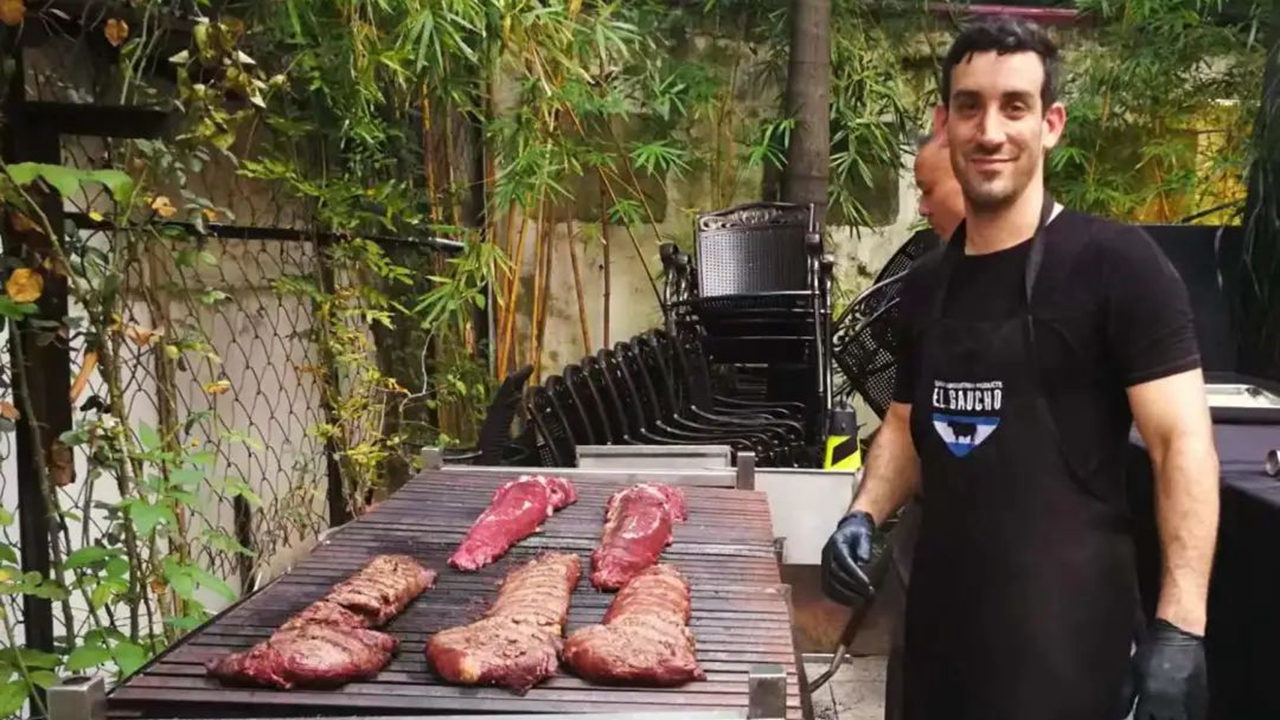 Sebastián Tosi and his team provide an Argentine experience for a toursim agency. Courtesy of the interviewee

"Always bearing in mind that one-fifth of the world's population lives inside China, we thought, well, that's an interesting target market. And we decided to start with beef, because if there's one thing that characterizes the Chinese, it's that they really like food, they really like to cook, they really like to exchange recipes and they really like to try new things," Tosi said.
The timing was right for them because there were many Chinese people traveling around the world, trying new food, returning to China with new ideas and opening new Western-style restaurants.
They started making chorizos at home for friends and then opened a small workshop. "We imported the first container of Argentine beef. Things were getting better and better. We started supplying many restaurants, caterings, some hotels and in 2019, we decided to set up the factory," said Tosi, co-founder of El Gaucho factory.
He established the factory together with his father and Frank Crestejo from Brazil. They import, process and distribute Argentine beef across China.
"We make Argentine empanadas; we process Argentine beef, cutting it into squares or thin layers; we make hamburgers; we make different kinds of chorizos – pork, beef and chicken; we also make ham," Tosi said.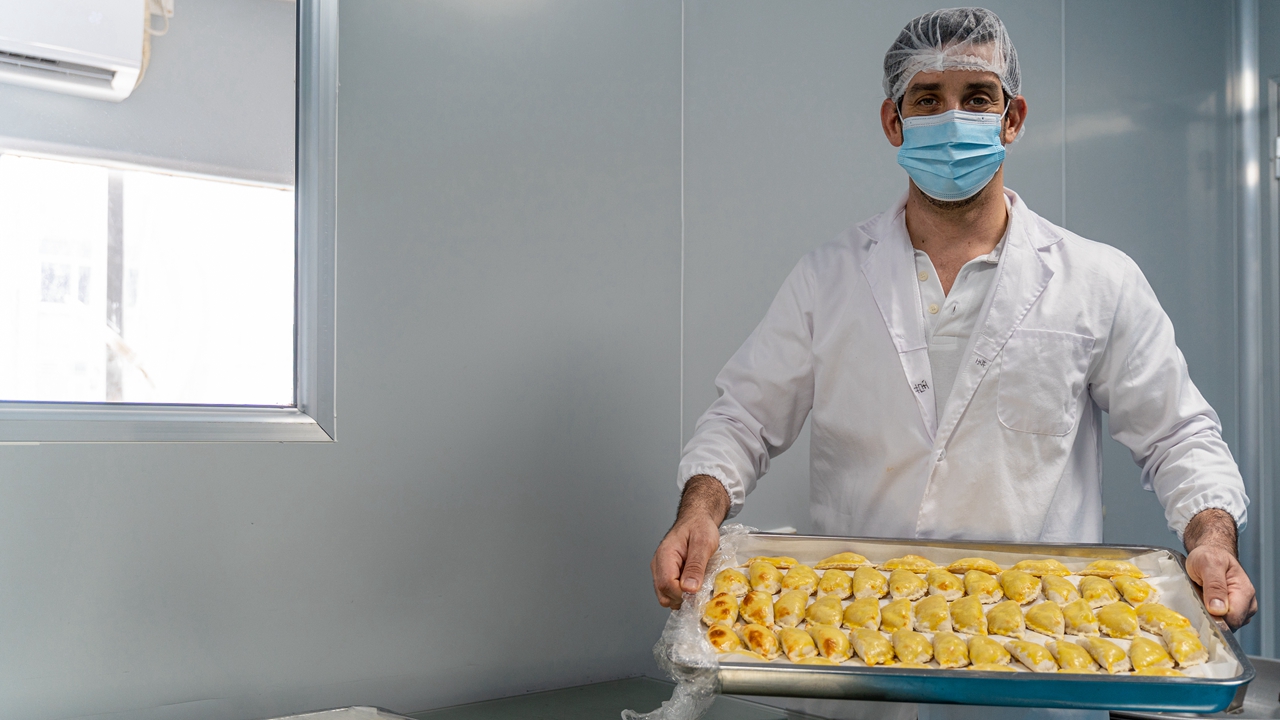 Sebastián Tosi shows empanadas to reporters with Shenzhen Daily. Lin Jianping

The factory aims to provide healthy food for the Chinese market. "We buy pork from Argentina and chicken is bought locally in China. We try to buy chicken from organic farms. Our brand's concept is natural food, without preservatives or additives, so children will have no problem eating it. Our strategy is not to compete on price, but on quality," Tosi explained.
According to Tosi, Argentine beef is healthier because it has less fat. "As the cow moves more to eat grass, its fat is rich in many nutrients like Omega 3 and 6. It's the good kind of fat people need to consume every day."
Initially, Argentine beef was not famous in China, but it gradually became popular as more and more people became aware of its value through Tosi and his team's efforts.
"It's a process that takes time, but when Chinese people really understand the advantages of healthier meat, we hope that our brand will be well-recognized in the market. Then we will be recognized as promoters of Argentine beef," Tosi said.
Tosi and his partners chose Guangzhou to establish their factory for several reasons. First of all, Tosi's father, who worked in the leather business, already lived there.
"Guangzhou's leather market was very famous. The city was big and full of life. When I arrived, Guangzhou was very cosmopolitan and there were many foreigners, as well as things to do. So, that seemed like a good starting point. From then on, we had opportunities to choose another city, but we preferred to stay in Guangzhou," Tosi said.
For them, Guangzhou's main advantage is that it's well-connected to other parts of China. "We are close to Hong Kong and all of South Asia. We also have good connectivity with the rest of the Chinese mainland, mainly with Xiamen, Shanghai and Chengdu – areas of influence where we sell the most," Tosi said.
Logistically, it's also better for them to stay in the south. "In terms of costs, it was better to live in Guangzhou than Shanghai, although the Shanghai market is better developed for what we do," he said.
According to Tosi, Guangzhou provides a good business environment. "The truth is that it (setting up the factory) was an interesting challenge because of its complexity, but luckily, the government has helped us a lot to get the licenses. We are very happy because although sometimes we encounter some problems commercially, with more competition or less competition, growing consumption or decreasing consumption ... Regarding the framework provided by the government to develop business, we are very content. They have given us all the tools to develop our business," he said.
When they started the Argentine food business in 2015, their main customers were foreigners; but since 2019, when they set up the factory, their target customers have been the local Chinese.
"Foreigners helped us get here, but now, the idea is to provide the Chinese market with a quality product catering to the local taste. So, we hired an Argentine chef who gave us his point of view on improving some flavors and food combinations to realize our goal to attract the locals," Tosi said.
Although they still have a lot of foreign customers, the proportion has changed as their products have become more popular among the Chinese. "Today among our customers, 40% are Chinese and 60% are foreigners. Before, 90% were foreigners. Our goal is that 90% of our customers will be Chinese by the end of 2023," Tosi said.
To date, their main market is the Guangdong-Hong Kong-Macao Greater Bay Area, mainly Shenzhen and Guangzhou, as well as Xiamen.
"Gradually we are starting to sell a lot in Shanghai. And we have some outlets in Beijing. We have a store in Jingzhou in Hubei Province. Well, because of COVID, business is a little bit at a standstill. But yes, around 80% of what we sell is in the south and we distribute the rest in central and northern China," Tosi said.
In 2012 and 2013, when Tosi first came to China, living and working in the country was an adventure for him. "It was about being unable to speak the language, not knowing the people, and not knowing anything. But after 10 years, you can feel the pulse of the market and you're more used to chatting with the locals," he said.
Sebastián Tosi gives a tour around their factory. Lin Jianping

Tosi has been living in China for 10 years and the country has become his second home. "The truth is that every time I take the plane back to China, I feel like coming back home. It's not like before. Now I feel more relaxed, more peaceful. China has been very good to me since the day I set foot on it and that's why I'm still here after 10 years," he said.
"In my country, it would be easier to talk about this, but in China it is constantly growing, constantly. For example, in Argentina we have five Metro lines, three of which we have had since 1900. From 1900 to 2020, we added only two more Metro lines in Buenos Aires. However, in Guangzhou, about five new Metro lines have been built over the past two years. The connectivity of Guangzhou is spectacular," he explained.
In terms of geographic changes, what impresses him a lot is that the places in the city change all the time. "You look up and there are cranes working all the time. There are new parks, new places, areas being developed, green areas, areas near rivers that were not used before and now are starting to be used, and green spaces where you can see people exercising that you didn't see before," he listed the changes enthusiastically.
Not only the city is changing, but the people are also changing too. Tosi said a lot more people are doing sports and enjoying outdoor nowadays. There are also more cultural events. "Now with the pandemic, it stopped a little bit, but since I arrived in 2012, I have seen that the city has been continuously evolving."
"So, it's hard to say this change or that change, because there is always change, always, every day, every month, every year. And that's what makes China, China!" he concluded.