The number of coffee-related companies in Shenzhen has reached 9,651, taking the lead among Chinese cities, the latest data showed. It has made Shenzhen a veritable "city of coffee."
Residents chill out at a community coffee shop. Wang Haolan

If Shenzhen's ubiquitous teahouses represent the innate quality of Cantonese culture, the "city of coffee" reputation thus comes from the city's internationalization.
Shenzhen added nearly 1,500 coffee-related companies last year, according to Tianyancha.com, a company information search platform. Coffee shops now can be seen in many of the city's old residential compounds. Some coffee shop owners including foreigners are chasing their dreams in Shenzhen.
At the same time, the first Shenzhen X9 Alliance of Universities and Institutes (X9 Alliance) Rowing League Around X-Lake Sciensity also witnessed Shenzhen's youthful, vigorous and open characteristics.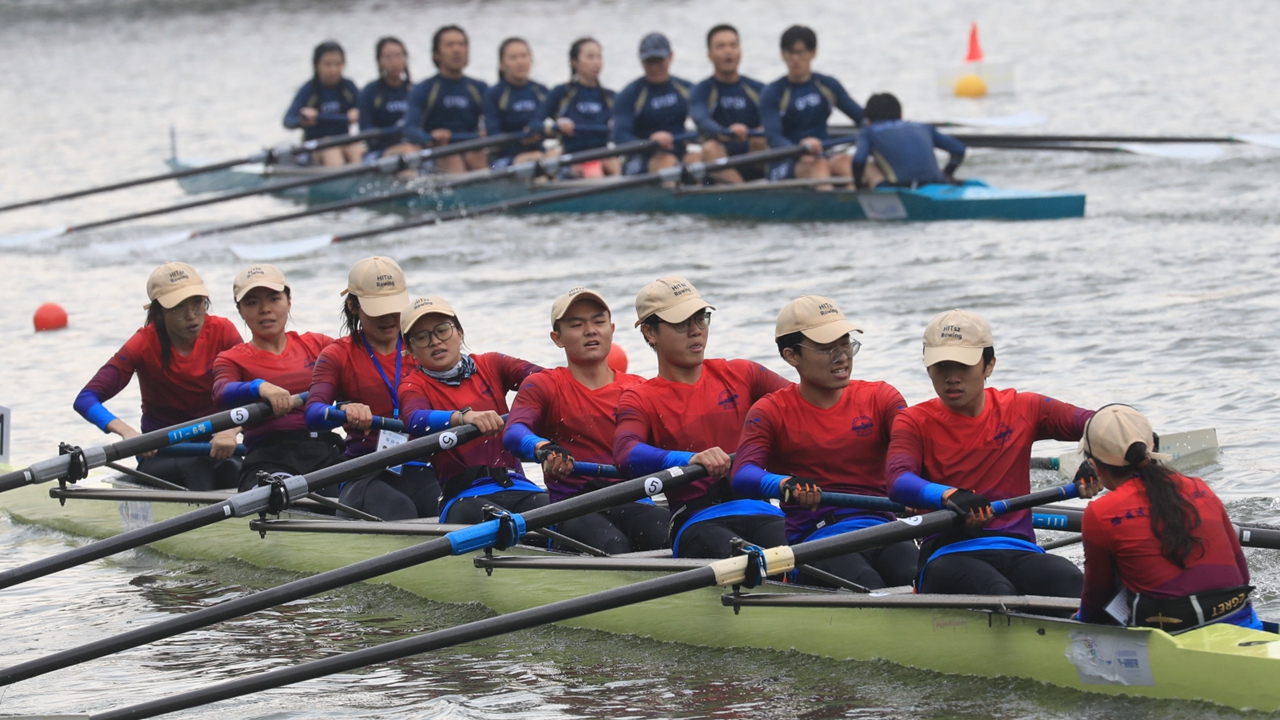 Local college students in action during a rowing race that kicked off along the Dasha River in Nanshan District yesterday. Sun Yuchen

The rowing race successfully kicked off yesterday along the Dasha River in Nanshan District during a ceremony where the establishment of the X9 Alliance was also announced.
A total of 24 teams composed of 360 academicians, teachers, researchers and students from local universities and research institutes will compete in the races.
Mao Junfa, president of Shenzhen University (SZU), the event's organizer, said at a pre-race preparation meeting that as a first-tier city with regional and water resource advantages, Shenzhen's preparation for the X9 Rowing League will help showcase the city's first-class scientific and educational resources and beautiful ecological environment, and reflect its young spirit and vitality.
From coffee to rowing, these imported products have been rapidly promoted in Shenzhen and quickly accepted and loved by people. This not only reflects Shenzhen's youth and vitality, but also shows the city's diversity and openness.
Rowing developed as a sport in England in the 1700s. In 1775, the U.K. mapped out the first rowing competition rules and established rowing clubs. The rowing match between Oxford and Cambridge universities, which was first held in 1829 over the River Thames, is regarded as the origin of modern rowing.
Rowing is a sport that involves using a wooden paddle, known as an oar, to propel a long boat through water at high speeds in order to win a race. It is one of the traditional Olympic sports. Rowing has a deep connection with campus culture and has been widely regarded as a sport that requires a lot of teamwork.
In recent years, Shenzhen has utilized its own resource advantages along with its young, open and international characteristics to push forward the development of water sports like rowing and has introduced high-level rowing competitions to promote water sports.
Shenzhen is on its way to become a "city of rowing" with its renowned speed and efficiency.