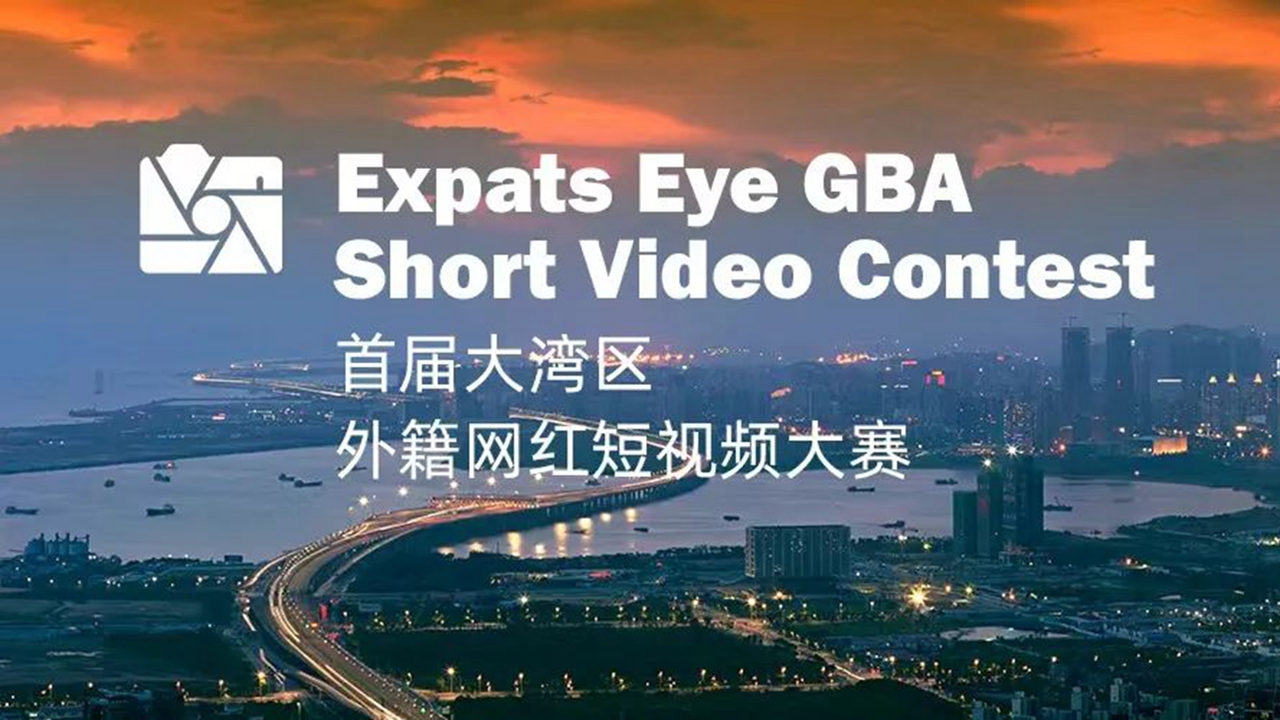 The Expats Eye GBA Short Video Contest is now calling for entries! If you meet the sign up qualifications, just grab your cameras and join us to win 8,000 yuan!

首届大湾区外籍网红短视频大赛即日起正式启动啦!如果你符合参赛资格的话,就赶快拿起手中的手机或相机,报名赢取8000元现金大奖吧!
The contest is held for expat content creators and teams to collect various short videos with the theme of the Guangdong-Hong Kong-Macao Greater Bay Area (GBA), through which the expats' exclusive views on and colorful life in the GBA are demonstrated. Mainland, Hong Kong, Macao and Taiwan residents can also sign up as long as they can invite a partner from foreign countries as the host/hostess of your video.
本次大赛旨在面向外籍内容创作者团队、外籍主播与个人,征集多形态的以粤港澳大湾区为主题的短视频,展现外国友人观察大湾区的独特视角,纪录外籍友人投身大湾区的精彩生活。中国内地和港澳台地区居民若能邀请到外籍小伙伴出镜,也可报名参赛!
01 Host and organizer
主办单位和支持单位
Host: Information Office of Shenzhen Municipal People's Government
主办单位:深圳市人民政府新闻办公室
Organizer: Shenzhen Daily
承办单位:英文《深圳日报》
Supported by: Special Fund to Promote Cultural Development of Shenzhen Municipality
支持单位:深圳市宣传文化事业发展专项基金
02 Submission deadline
征集期限
Until 23:59 December 15, 2022
征集时间:即日起至2022年12月15日23点59分
03 Awards
奖金设置
5 first prize winners: 8,000 yuan each
5 second prize winners: 5,000 yuan each
10 third prize winners: 2,000 yuan each
Several entry prize winners: 500 yuan each (All video entries submitted have the opportunity to be granted an entry prize)
There will also be 2 special organizer awards
一等奖5名: 奖金8000元
二等奖5名: 奖金5000元
三等名10名: 奖金2000元
入围奖若干名,凡提交作品的均有机会获入围奖,奖金500元
另设大赛特别组织奖2名
(All prizes are pre-tax amounts)
以上奖金金额均为税前金额。
04 Categories
征集内容
There are three categories in the competition and entrants can choose from the following three topics:
比赛将设置三个主题,参赛选手可根据主题内容自行选择进行视频拍摄和创作:
(1) Introducing and recommending the GBA
Introducing the 11 cities in the Guangdong-Hong Kong-Macao Greater Bay Area (Shenzhen, Guangzhou, Zhuhai, Foshan, Zhaoqing, Huizhou, Dongguan, Zhongshan, Jiangmen, Hong Kong, and Macao) from the perspective of an expat living in those cities, and show the cities' historical inheritance, economic development, technological innovation, tourism and culture, social life, etc.
推介湾区,外眼有我
以外籍友人的视角介绍你眼中的粤港澳大湾区11市(深圳、广州、珠海、佛山、肇庆、惠州、东莞、中山、江门、香港、澳门),通过视频展现外籍人士眼中关于该城市的历史传承、经济发展、科技创新、旅游文化、社会生活等内容。
(2) Recording your life in the GBA
Telling your stories as an expat living in the GBA. You can pick up your camera or mobile phone to record people or things around you, and tell your stories there, including but not limited to your unique experiences, favorite places, what you are doing or planning to do, etc. What you are interested in is what we want to see.
身在湾区,纪录你我
讲述外籍友人发生在大湾区的故事。无论你身处粤港澳大湾区的哪座城市,都可以拿起镜头(手机),拍拍你身边的人或事,讲讲你在那里的故事,包括独特的经历、爱去的地方、在做或想做的事情等。你所感兴趣的,就是我们想看到的。

(3) Colorful life in the inclusive GBA
Showing the colorful life of expats in the GBA, reflecting the achievements of the development and construction of the 11 GBA cities and their friendliness, inclusiveness and openness to international friends.
包容湾区,多彩生活
展现外籍友人在大湾区的缤纷生活,体现出大湾区各城市发展建设的成果以及其对国际友人的友好性、包容性和开放性。
05 Entry requirements
征稿要求
1. Your video's content should be in line with the theme of the competition, and should be filmed in the geographical scope of the Guangdong-Hong Kong-Macao Greater Bay Area.
作品内容应切合大赛主题,并在粤港澳大湾区地理范围内拍摄。
2. Video creators should use narration or subtitles to demonstrate the specific GBA city or locations that appear in the video
参赛者需在参赛作品中以叙述或字幕的形式说明拍摄内容是关于粤港澳大湾区的哪个城市或具体地点的。
3. There is no restriction for the form of your video. Flash mob, short documentary and Vlog are all acceptable forms. Your video can be filmed using cameras or mobile phones. Your video should involve rich scenes, videos only containing photos or only showing people speaking to the camera are not acceptable.
作品形态不限。快闪、短纪录片、Vlog等形式均可,使用专业摄像设备或手机拍摄均可。参赛视频中必须包含丰富的画面,若视频为简单的照片拼接或完全的人物讲述,则不符合参赛要求。
4. Your video should have smooth shots, clear audio and visual quality, complete content and structure with a self-consistent logic. The duration of each video should be 30 seconds to three minutes.
画面稳定,画质、声音清晰,时长需控制在30秒到3分钟之间,内容完整,结构清晰,逻辑自洽。
5. Videos can be submitted in the name of an institution, studio, or individual. Each participant can submit up to two video entries. Group entrants must have two or more members involved in video shooting and editing.
以团体或个人名义参赛均可,每个参赛主体报送作品不超过2件;为保证比赛公平性,团体报名者须由2名以上成员参与视频拍摄和剪辑。
6. MP4, MOV, AVI are acceptable formats; MP4 is preferred. Horizontal (landscape) and vertical (portrait) screen formats are acceptable. Videos should be in high-definition with a resolution of 1280 by 720 or greater.
作品格式可采用mp4, fiv, mov, avi均可,但建议使用MP4格式导出提交;支持横、竖屏多种格式,视频格式为高清MP4,分辨率为1280*720或以上(手机拍摄建议调至最高分辨率)。
7. There is no restriction on the languages spoken in your video. However, there should be bilingual subtitles in English and simplified Chinese or traditional Chinese subtitles for convenience of review.
作品语种不限,但必须添加英文+简体中文或繁体中文的双语字幕,以方便顺利参加评审。
8. All video entries must be in accord with Chinese laws and regulations, must not involve religious, racial or regional discrimination, pornography, violence, advertisement, product placement, watermarks or logos. Plagiarism of any kind will result in disqualification. All entries must conform with copyright laws.
参赛作品不得涉及色情、暴力、宗教与种族及地域歧视等内容,不能与中国法律法规相抵触。严禁剽窃、抄袭,不得植入广告,不能添加水印及logo,不存在知识产权争议。
9. No fees are required for entering the competition. The organizer respects and retains the authorship right of video creators, and does not pay otherwise. The organizer has the right to use the video entries in non-commercial promotions.
大赛不收取报名费,主办方尊重和保留创作者的署名权,不另付报酬,主办方对参赛作品拥有非商业用途的宣传使用权。
10. The final interpretation of the competition is at the sole discretion of the organizer.
主办方对本次比赛具有最终解释权。
06 Video submission
参赛办法
Send your video to gbavideocontest@126.com in the form of attachment enclosed with your information [nationality + name + phone number + video title] to sign up for the competition. Please also attach a brief description of your video in the email. A copy of your passport is required if your video is shortlisted.
请按以下方式提交作品:
将作品及报名表上传至电子邮箱:gbavideocontest@126.com,并注明"国籍+姓名+电话号码+视频作品名称"即视为参赛。同时,请在邮件中添加一段关于您个人作品的简单描述。作品入围后,需提供相应的个人护照以验证身份。
07 Contact
联系方式
Expats Eye GBA Short Video Contest organizing committee
Address: 6F, New Media Building, Shangbao Road, Lianhua Subdistrict, Futian District, Shenzhen
Tel: +86 18575579106
Email: gbavideocontest@126.com
Contact person: KC
大赛组委会地址:深圳市福田区莲花街道商报路新媒体大厦6楼
联系电话:18575579106
联系人:常志鹏