<
Technology aims to bring a better life, and among the overwhelmingly diversified products displayed at the 24th China Hi-Tech Fair, some pet-related products reveal high tech's soft side and show how technology can bring better companionship for both people and their pets.

Guliguli, a Nanshan-based tech firm, has brought a series of pet products to the high-tech fair. Among them is a robot named Rocki, which is designed to keep pets company while their owners are away from home.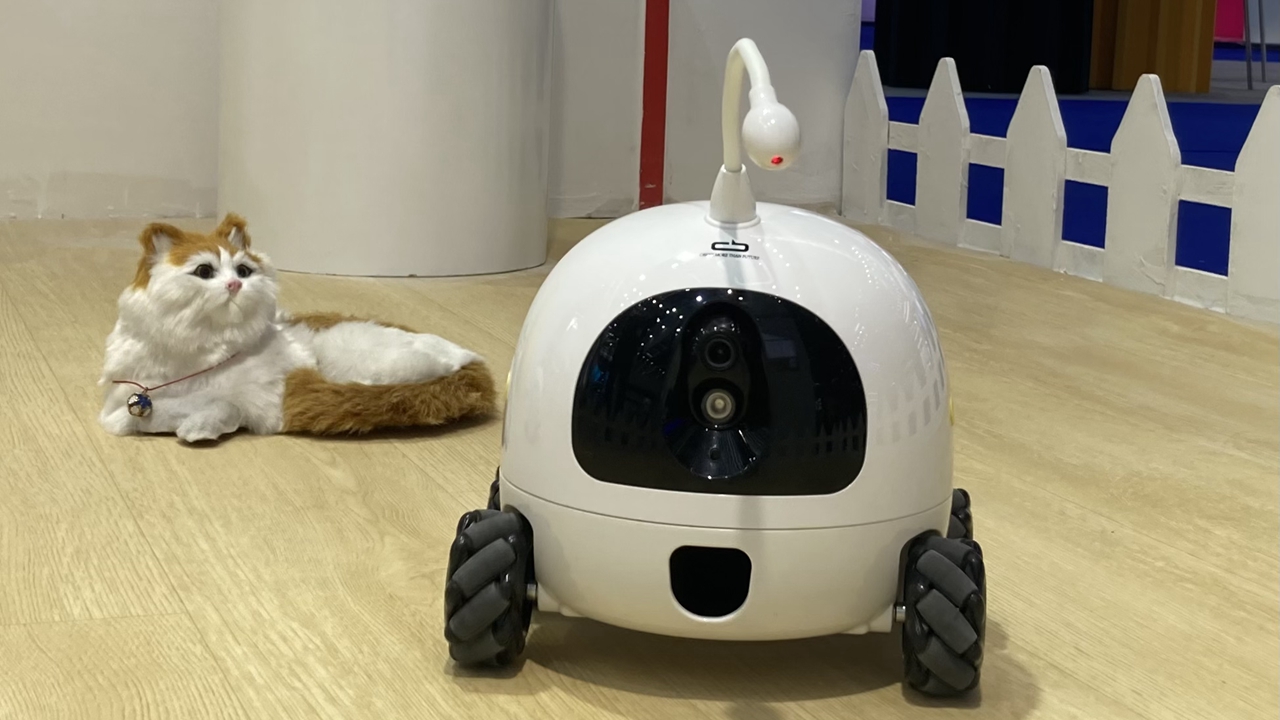 Rocki, a robot designed to keep a pet company, is seen beside a toy cat at the 24th China Hi-Tech Fair at the Shenzhen Convention and Exhibition Center in Futian District on Thursday. Photos by Lin Lin

The helmet-shaped white robot has four wheels, a camera, a microphone and an infrared light set on top of it. Pet owners can remotely control the robot on their phones using an app where they can move it around, talk to their pets in real time and even feed the pets with snacks or food placed inside the robot.
According to Wang Di, director of Guliguli's foreign trade department, they started thinking about developing the robot after detecting a lack of smart products in the huge pet supplies market. After conducting numerous surveys, they found that many pet owners wanted to know their pets' conditions when they were away from home.
"Most cameras help pet owners monitor their pets, but they can't help people interact with their little furry friends," Wang said. "That's why we came up with the robot. It helps people to entertain their pets and provide their pets company remotely."
Another company, Elephant Robotics, a collaborative robot developer based in Huaqiangbei in Futian District, is bringing two cute robot cats — MarsCat and MetaCat — to the fair.
MarsCat (R) and MetaCat at the fair.

MarsCat is fully autonomous and has sensitive interactions, which means it can move around, respond to touches and play with toys like a real cat.
MetaCat is a bionic ragdoll that meows when its fur is stroked. According to Yang Yuting, a marketing staffer from Elephant Robotics, MetaCat has been used at several nursing homes in Hefei, Anhui Province to provide seniors company.
"I think robot cats can be a future trend," Yang said. "Some cat lovers are allergic to cats, some don't like cleaning cat litterboxes and it can be heartbreaking when one's cat dies. But if you keep a robot cat, you won't need to feed it or pick up its poop. Technically, it will not die. So, for children and seniors, it can be good company."