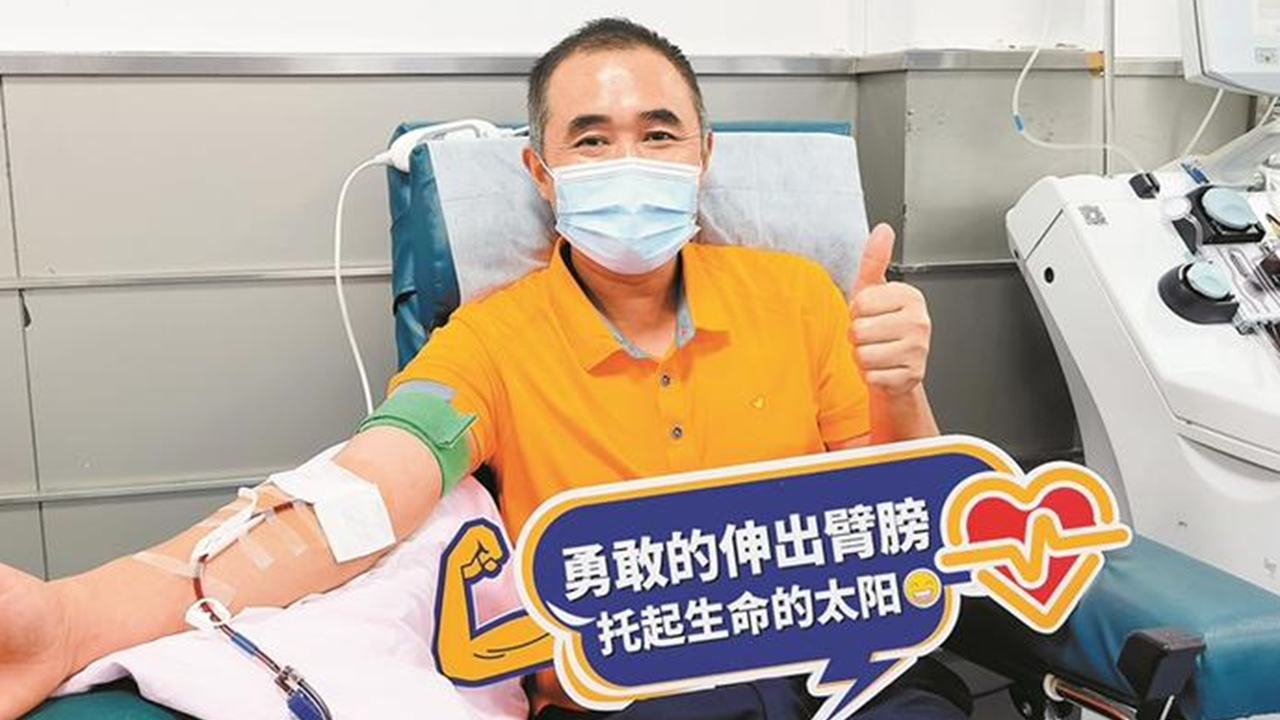 Zhang Ronghua donates blood. Courtesy of the interviewee

A regular blood donor has recently made it to the list of "Good Samaritan of Guangdong" for the second quarter of this year in recognition of his volunteer efforts.
Zhang Ronghua, a chef working at a toll station of Guangzhou-Shenzhen Expressway Co. Ltd. in Nanshan District, had donated blood 125 times in 21 years, Shenzhen Special Zone Daily reported yesterday. The total volume of blood he donated reached 25,000 milliliters, equivalent to the aggregate amount of blood in five adults' bodies, according to the report.
Before being bestowed with the "Good Samaritan of Guangdong" honor, Zhang also won provincial and national awards for voluntary blood donation.
The first time Zhang donated blood was when he was waiting for his wife to give birth to their twins in December 2001. A woman in the same ward as his wife suffered a postpartum hemorrhage and the blood bank was in short supply. At that critical moment, Zhang learned that his blood matched that of the patient, so he didn't hesitate to save her life.
Since then, Zhang has been donating his blood for free. "I don't have to sacrifice myself to save lives. As long as I can help others, I will keep doing it," he said. In 2008, Zhang came to work in Shenzhen and still continued to to donate blood. In 2018, he started to donate platelets.
To ensure the quality of the blood he donates, Zhang adjusted his lifestyle, insisting on sleeping and waking up early, as well as working out. He also changed his eating habits and even signed up for nutrition courses, where he eventually obtained a national senior nutritionist qualification certificate.
"What I learned about nutrition can not only help me adjust my diet structure to ensure the quality of my donated blood, but also allow me to make more nutritious meals for my colleagues," Zhang said. "I think that is meaningful."
Zhang has encouraged many of his relatives, friends and colleagues to join him in donating blood. So far, the number of his "team members" has grown to over 30 people. Among them, his wife has made whole blood and platelet donations over 20 times.
As a registered member of the team of volunteers organized by Guangzhou-Shenzhen Expressway Co. Ltd., Zhang spends most of his holidays and spare time volunteering, in addition to donating blood. Over the years, the scope of his services has expanded from Shenzhen to the regions along the Guangzhou-Shenzhen expressway, and his service scope has expanded from promoting voluntary blood donation to traffic guidance, helping the elderly and the disabled, and epidemic control. As of this June, Zhang had participated in over 300 volunteer activities.