Sipping a cup of milk or fruit tea with a delicate cake at a local tea shop nowadays has become a weekend routine and even a basic amenity for many young people.
The Shenzhen-based new-style tea chain Naixue, also known as Nayuki, is one of the widely known tea shops in the country that has won hearts of many consumers.
As of Nov. 11, the company had sold over 5 million tea bag packs at this year's Double 11 shopping festival period, with its online sales volume up 142% year on year, according to the company.
"My idea is that I want to offer a place for hardworking people in Shenzhen where they could laugh with friends while enjoying fresh and healthy tea products. So, I created the brand Naixue," said Peng Xin, founder of Naixue, during a recent media tour.
The first Naixue shop opened in Shenzhen in 2015, and now it has nearly 1,000 shops across the country, including 143 in Shenzhen, data showed.
"Tea has a consumer base in China. So what we need to do is to provide good tea products with good services," Peng said.
Customers buy tea products at a Naixue shop. Photos by courtesy of Naixue

Seven years since Naixue was established, it has kept improving its services and has recently turned to digital management.
Each type of drink in the menu can be made in various ways tailored to a customer's preference in terms of temperature and sweetness. The company has independently developed several automatic tea machines to help employees make each cup of tea correctly to ensure quality and freshness.
Customers are waiting in line to buy products at a Naixue's shop.

Naixue has formed its own operational model from raw materials to drink-making techniques, which also enabled the company to contribute to the country's rural revitalization strategy. One of Naixue's drinks, which uses Indian gooseberry (Phyllanthus emblica), have helped increase incomes of farmers in China.
Peng values brand building and regards it as equally important in rural revitalization. "It is not just about buying raw materials from rural farmers. More importantly, it is about building a world-renowned tea drink that we can form long-term cooperative relationships with farmers," Peng said.
Despite the pandemic, Peng discovered that there is always a need for people to interact with each other personally, which is why Naixue shops normally have a large space for customers to enjoy their time.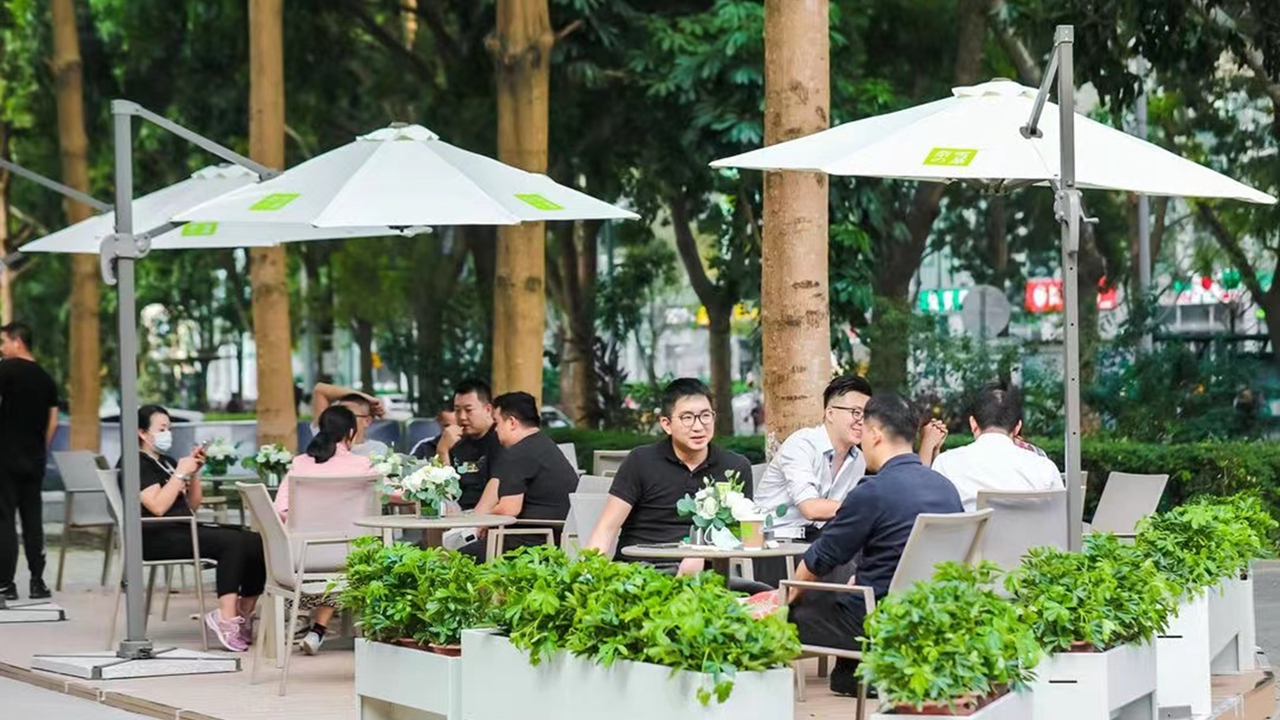 Customers enjoy outdoor tea time.

"The government also gave lots of support during the pandemic. I am glad that I chose Shenzhen to create the brand. What we are doing now is to consolidate our brand building and to make more people, especially the young ones, learn about Chinese tea culture," Peng said.
It is specified in Shenzhen's measures to step up the building of an international consumption center and its fashion industry development plan (2021-2025) that the city aims to cultivate its own brands to increase influence and form new high-end supply patterns.
"It is stated in Shenzhen's 14th Five-Year Plan (2021-2025) that we need to make full use of high-quality supplies to create and drive up demand. I think Naixue is doing its business this way, and they are aware of traditional Chinese tea culture, seizing consumption trend upgrades and offering good-quality products," said Zheng Yujie from the China Development Institute.