Two new Metro lines — Line 12 and the spur line of Line 6 — are scheduled to open at 10:58 a.m. today, Shenzhen Metro Group said on its official Weibo account yesterday.
The maximum fare for a one-way trip on the spur line of Line 6 is 3 yuan (US$0.42), while the maximum fare for a one-way trip on Line 12 is 8 yuan.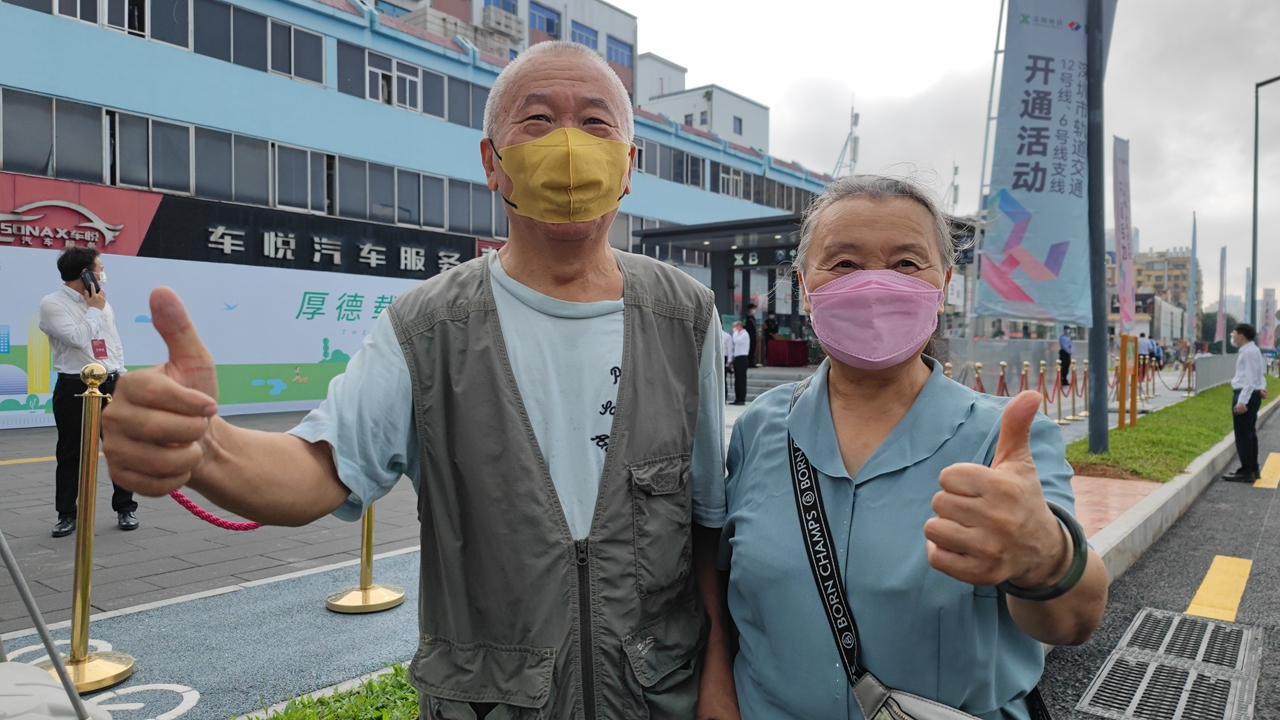 Two passengers who give the thumbs-up for Line 12 wait for the first train at Zhongshan Park Station. Photos by Sun Yuchen

The two lines' operation will bring the total length of the city's Metro network to 530 kilometers. The network's longest route spans 91.75 kilometers from Line 12's Waterlands Resort East Station to Line 14's Shatian Station, with a one-way trip costing 15 yuan.
The 6.13-kilometer spur line of Line 6, a fully automated line designed to run at 120 kilometers per hour, has four stations — Guangming, Zhenmei, Sun Yat-sen University and SIAT (Shenzhen Institute of Advanced Technology, Chinese Academy of Sciences) stations. It interchanges with Line 6 at Guangming Station and connects with Line 1 in Dongguan.
The first train on the spur line bound for SIAT Station departs from Guangming Station at 6:35 a.m., while the first train bound for Guangming Station departs at 6:27 a.m. The last trains in both directions depart at 11:30 p.m. During the rush hours between 7:30 a.m. and 8:45 p.m., the trains will operate at an interval of 6 minutes and 52 seconds.
The 40.54-kilometer fully automated Line 12 will travel between Zuopaotai East Station in Nanshan District and Waterlands Resort East Station in Bao'an, passing Nanshan and Bao'an CBDs, as well as the Shenzhen Bao'an International Airport and Shenzhen World Exhibition & Convention Center areas.
A staffer tests the automatic customer service at Zhongshan Park Station of Line 12 yesterday.
The line has 33 stations, including 20 transfer stations with existing Lines 1, 2, 5, 9, 11 and 20, as well as future lines under planning or construction. It is expected to relieve the traffic congestion in Songgang and Shajing areas.
The line's service hours are from 6:20 a.m. to 11 p.m. After 11 p.m., the line will operate half-way trains, with Huangtian Station as the destination for trains leaving Zuopaotai East Station and Sea World Station as the destination for trains departing from Waterlands Resort East Station. On weekends, Huangtian Station will be the final stop for half-way trains leaving Waterlands Resort East Station and the last train leaves at 11:32 p.m.
Passengers take videos in the first carriage of a fully automated train on Line 12 yesterday.
Trains will operate at 4-minute intervals during rush hours and 8-minute intervals during off-peak periods on workdays. At weekends, the interval will be 8 minutes for a whole day.