Pablo Laguarda first visited Shenzhen in 2002. Back then, exponential growth was already underway in the city. But as an architect, he also noticed some remnants of poorly coordinated planning and construction projects. Dating back to 20 years ago, Shenzhen was still a city "devoid of any urban character, cultural venues and public spaces," he said.
Pablo Laguarda

Laguarda's last visit to Shenzhen was in early 2020, right before the outbreak of the COVID-19 pandemic. He was in the city to observe final construction details for OH Bay in Bao'an District, one of the projects his company designed in Shenzhen.
"Eighteen years of unstoppable growth since my first visit to Shenzhen until my recent visit there, is in a word, 'mind-boggling,'" said Laguarda. "Unlike the previously unplanned explosive growth, the city has adopted a more thoughtful approach to urban planning with great emphasis on the environment and the quality of life for its residents."
Laguarda is the founder of Laguarda.Low Architects (LLA), an award-winning global architectural practice based in New York, the United States. Over the past 20 years, the firm has designed multiple projects in Shenzhen, including Yitian Holiday Plaza and OCT Harbor in Nanshan District, Hongshan 6979 in Longhua District, KK One and KK Mall in Futian District and OH Bay in Bao'an District.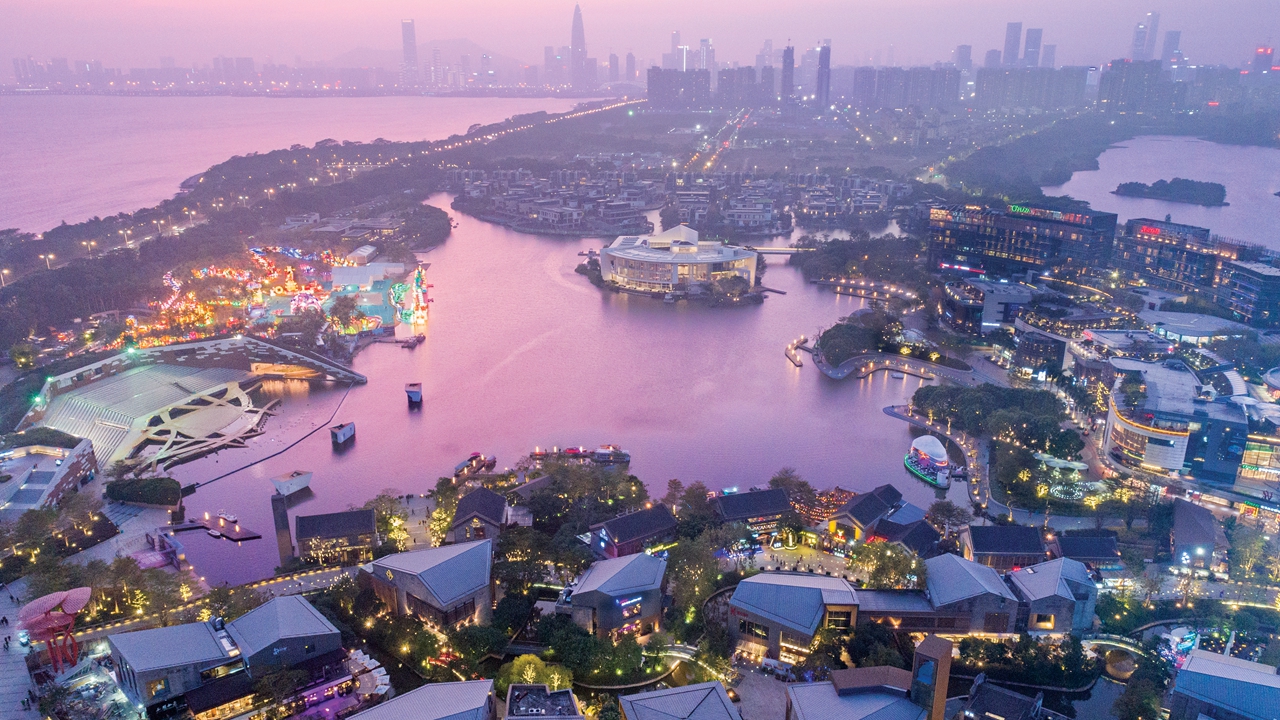 An aerial view of OCT Harbor in Nanshan District.

Recently, Shenzhen Daily had an interview with Laguarda and John Low, cofounders of the architectural firm, to have a glimpse into how they approached their projects in Shenzhen to interweave them into the urban context of the city.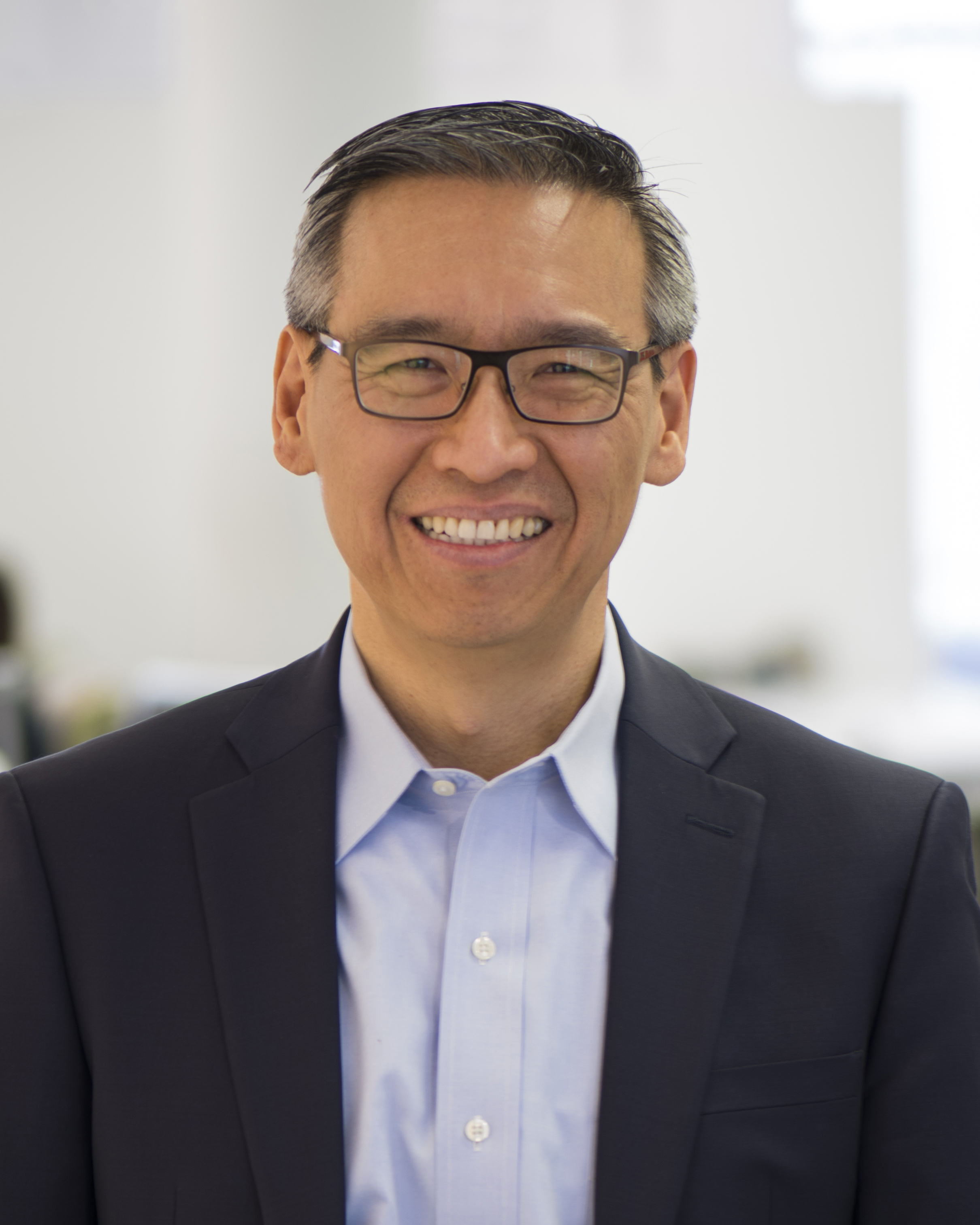 John Low

As the first special economic zone in China, Shenzhen has been known for its founding spirit of innovation and entrepreneurship, especially in the high-tech arena. In the eyes of the architects, Shenzhen's efforts to encourage "innovation and bold experimentation" is also reflected in the architecture and planning of the city.
We have heard much about how Shenzhen's high-rise developments and skyscrapers are amazing and how they contribute to the modern or even futuristic look of the city. For Laguarda and Low, what exemplifies Shenzhen's evolvement into a first-tier international city is its vision of promoting more public friendly and environmentally minded projects, as green corridors and sustainability projects are now given priority.
In 2002, LLA designed Yitian Holiday Plaza as their first project in Shenzhen. It was conceived as a typical mixed-use project with office, hotel and retail, served by an adjacent underground subway station. "The comparison to Hong Kong in the early days of our work there was inevitable, in terms of scope and quality of construction," the architects said.
In 2007, they started working on the design of OCT Harbor. We may have become used to making casual visits to the place, strolling along meandering paths by the streams, enjoying light installations illuminating the site during holidays, or watching kids playing with the fountains in the square. But back to 15 years ago, when the project was first conceived, it was "a new and bold idea" as Laguarda and Low called it.
"It was one of the first projects in China of that scale that combined a mixed-use development program that also serves for cultural and tourism purposes," the architects said. "The outdoor entertainment and cultural factors of OCT Harbor have opened new possibilities that were missing in typical mixed-use projects."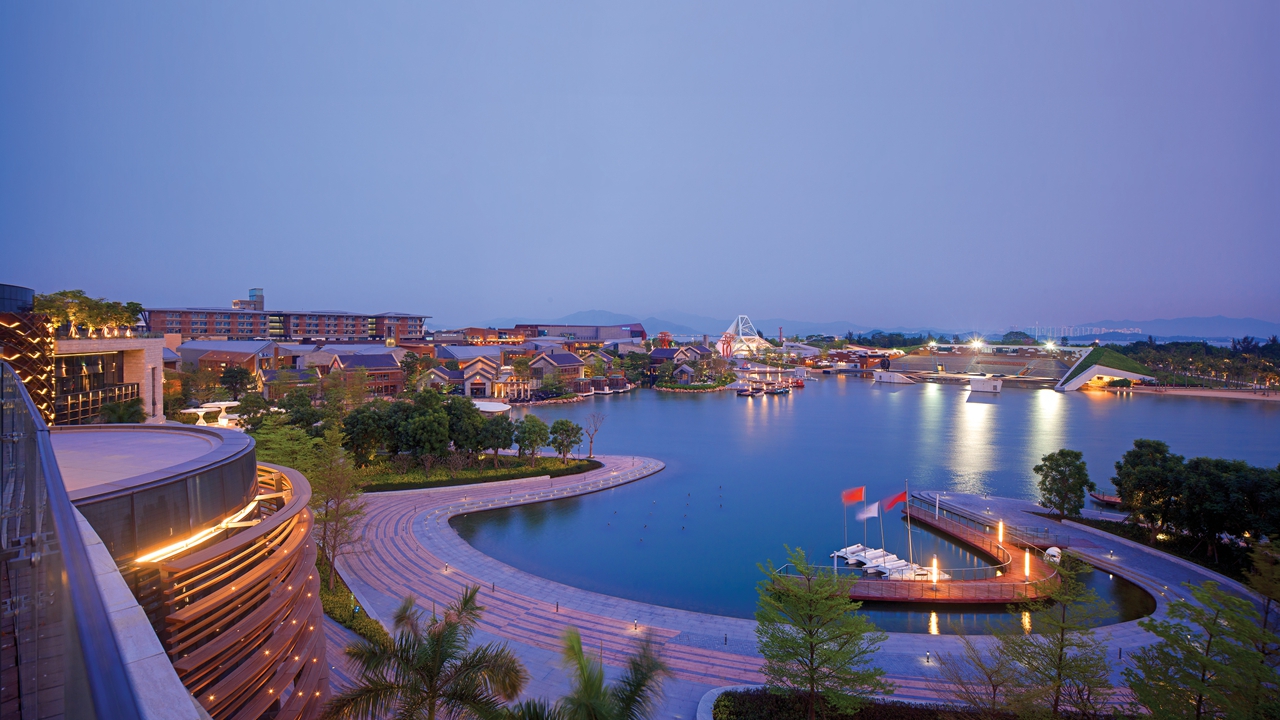 The O'Plaza shopping center at OCT Harbour in Nanshan District.

Another project that they consider to be an innovative urban planning idea is OH Bay, which instantly became a hit after it opened. According to the architects, it was the first large-scale public park in Shenzhen that featured fully integrated commercial and entertainment venues within a public park.
According to Laguarda, the biggest challenge of the project was to bring together the construction of a public park and the development of an urban mixed-use project because the design of a major waterfront park and that of a massive mixed-use project have their own special technical, landscape, and structural requirements as well as different circulation patterns.
In March, the project claimed the 2022 ArchDaily China Building of the Year Award by ArchDaily China, one of the most popular architectural media outlets in China. In April, it won the First Place EcotechGreen International Award in the Green Technology and Green Infrastructures category. In July, it was awarded the winner in both Green Architecture and Big Scale Building categories of the DNA Paris Design Awards.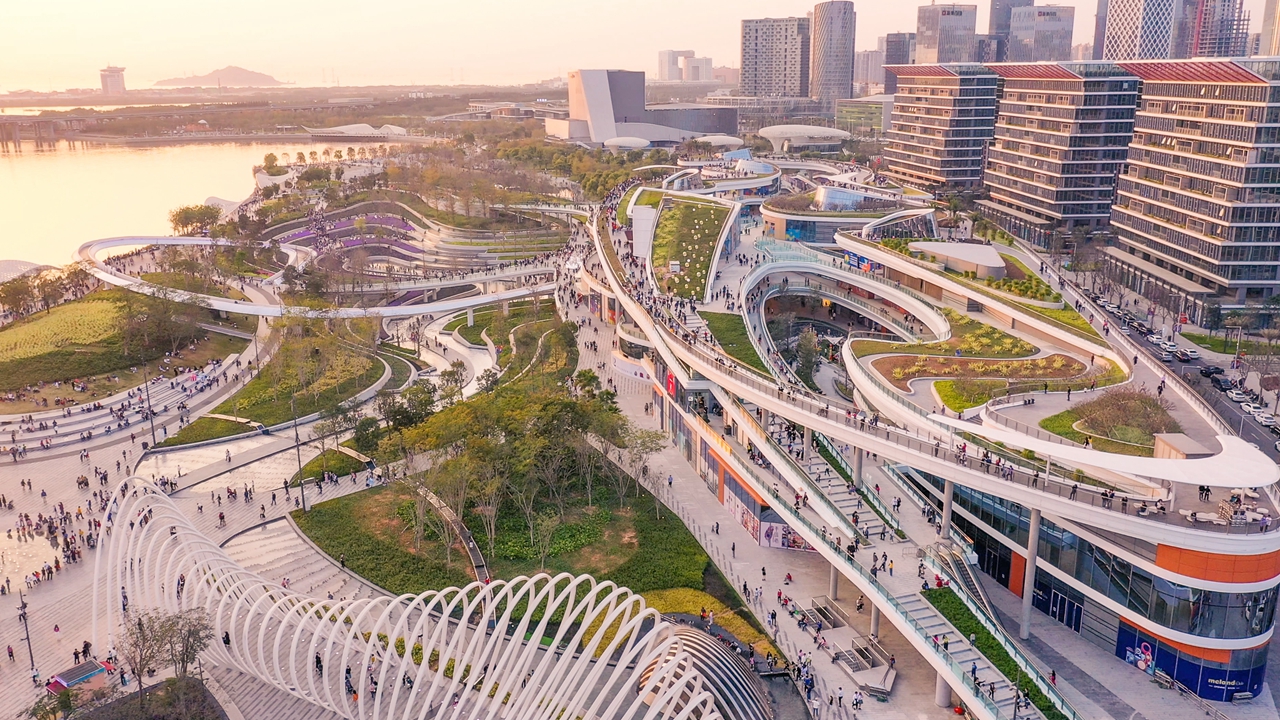 A bird's-eye view of the commercial venue and the waterfront park at OH Bay in Bao'an District. Photos by courtesy of LLA

With the iconic Bay Glory Ferris wheel, the waterfront park and its green corridors, OH Bay has become one of the most popular recreational destinations in Shenzhen. In Laguarda's opinion, the project is a good example of public policy designed to maximize citizens' quality of life through mandating public amenities, parks and cultural facilities, while simultaneously incentivizing developers to take on the task of realizing a collective vision.
To further explain, he said that Shenzhen Talent Park and the Qianhai area is an example of how strict and sensible planning combined with good public policies will ultimately benefit both developers and citizens.
"We are very grateful and proud to contribute to this process through several of our key built and ongoing projects in Shenzhen. I have no doubt Shenzhen will continue to prosper and grow into one of the most livable cities in the world," he said.