Editor's Note:

Dec. 3 marks the International Day of People with Disability (IDPWD). To celebrate this occasion, Shenzhen Daily presents a special report about Yu Jijing, a brave, strong woman who has been supporting people with disabilities despite her own wheelchair-bound condition for the last 14 years in Shenzhen. Through her story, we hope to increase more people's awareness of the situation of people with disabilities.

Video and photos by Liu Xudong unless otherwise stated

It was a midsummer evening in Shenzhen. A dozen people with disabilities chatted casually at the lobby of the office building of Shenzhen TV in Futian District, waiting for the beginning of a ceremony to award enterprises doing outstanding jobs in taking corporate social responsibility.
Yu Jijing (C) at a Shenzhen TV ceremony to award enterprises with outstanding jobs in corporate social responsibility.

A little girl in a white gauze dress was in the lobby with her parents who were both physically challenged. When a photographer proposed to take a family photo for them, the girl looked very happy. Then she walked up to a woman in a wheelchair, affectionately inviting her to join them.
The woman was Yu Jijing, a staffer of Shenzhen Kechaoda Technology, a mobile phone manufacturer in Longhua District that has been supporting people with disabilities and helping them find jobs. Yu joined the company in 2011, and since then has been taking care of the recruitment, training and management of their employees with disabilities.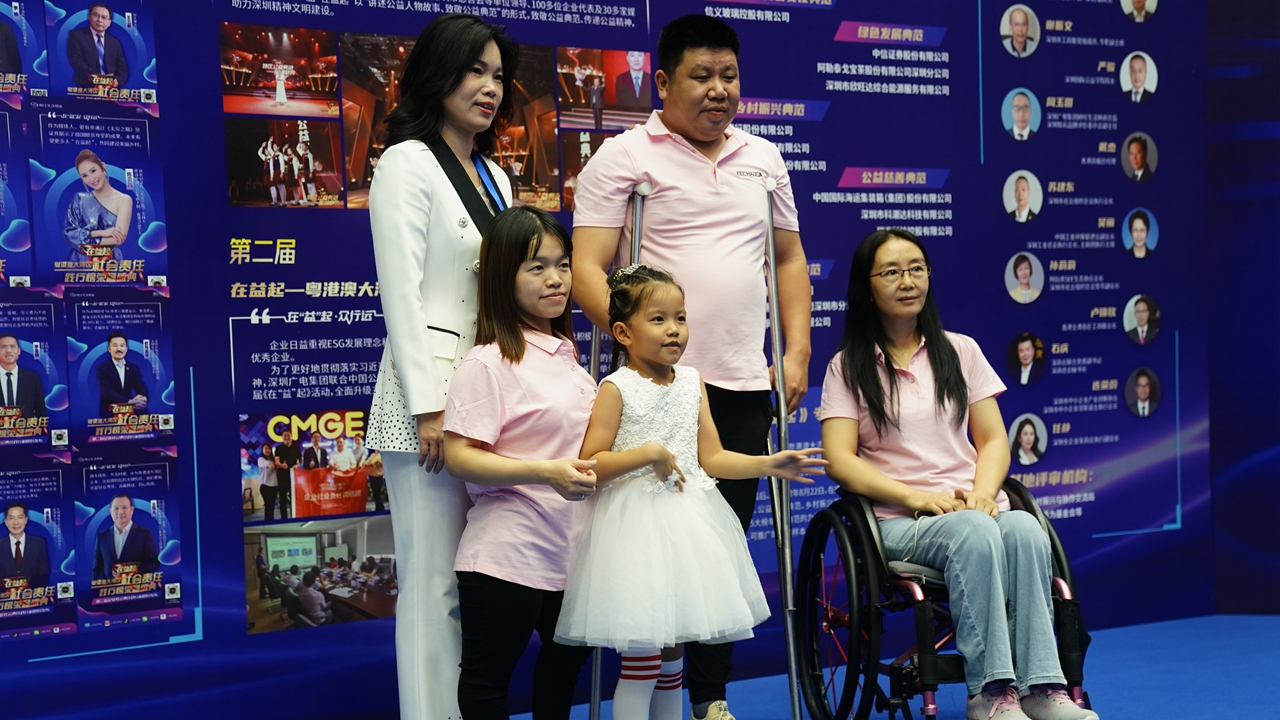 Yu Jijing (R) poses for a photo with other participants of the Shenzhen TV award ceremony.

Born in the 1970s, Yu grew up in Yumen, a city in Northwest China's Gansu Province that was once known for its oil fields. At the age of 18, Yu got a job at a power plant. Like many of her peers, she was looking forward to a future with a happy marriage, lovely kids and a satisfying job.
However, not long after she started working, a neurological disorder struck her suddenly and left her in a paralysis that has since confined her to a wheelchair. "Back then, I felt I was worthless," said Yu. "I couldn't do anything after I fell sick. I lost my job. I lost everything. I stayed at home every day."
Yu Jijing in Lianhua Hill Park.

Yu's illness also came as a blow to her family, especially to her father, a retired soldier who expected much from his children. Yu recalled that her father was very frustrated and often drowned his sorrows in alcohol. Sometimes when he lost his temper, Yu talked back.
"Do you think it's my choice to be like this? Do you think I don't want health? Do you think I don't want to work and support you and mom like other people do for their parents? But what can I do? Should I die?" She cried to her father.
Her flipping-out drove her father to silence, but didn't make her feel better. Deep down in her heart, she desired to work, gain independence and be a pride of her father. "But I didn't have the courage to leave home. I didn't know what I could do with my disability. Every day before I slept, I prayed to the gods, asking them to take my life in my sleep," Yu recalled.
Yu Jijing talks during an interview with Shenzhen Daily in Yantian District.

In 2006, Yu's family moved back to their hometown in Deyang, Sichuan Province. On May 12, 2008, when the Wenchuan earthquake happened, Yu was at home, lying on her bed. When everything in her room started to shake, she wanted to escape, but she couldn't move. All she could do was to wait for death. "Then many things occurred to me. I realized that I was too young to die. I was not married, I was never in love, and I didn't even have the chance to go to the seaside," she said.
The instinct to survive drove Yu to do everything to crawl out of the building. Her mom rushed to her when she found her. "It's okay, it's okay," Yu's mom told her, holding her in her arm while the young woman kept trembling.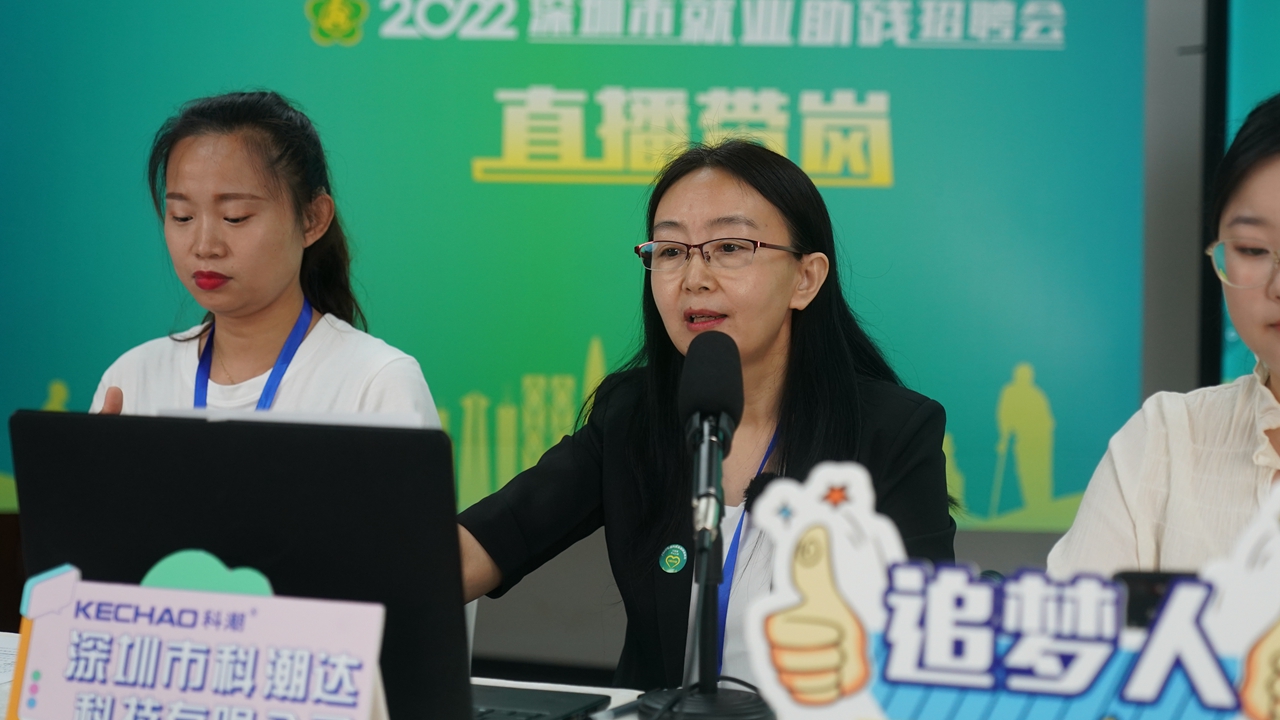 Yu Jijing (C) speaks during a recruitment livestreaming session.

"Then I looked up at the sky, and said to myself, 'it's good to be alive'," Yu recalled with tears in her eyes.
After the earthquake, Yu decided to pull herself together and live life to the fullest. She started job hunting on the internet and found a clerical position at a factory in Shenzhen. Growing up in Yumen, a city in the Gobi Desert, Yu had dreamed of going to the seaside since she was a child. "When I found the job, I was thinking this job could also take me to the seaside," she said.
Despite her family's disagreement, Yu came to Shenzhen alone. "I told them I would leave home even if I ended up begging," she told us.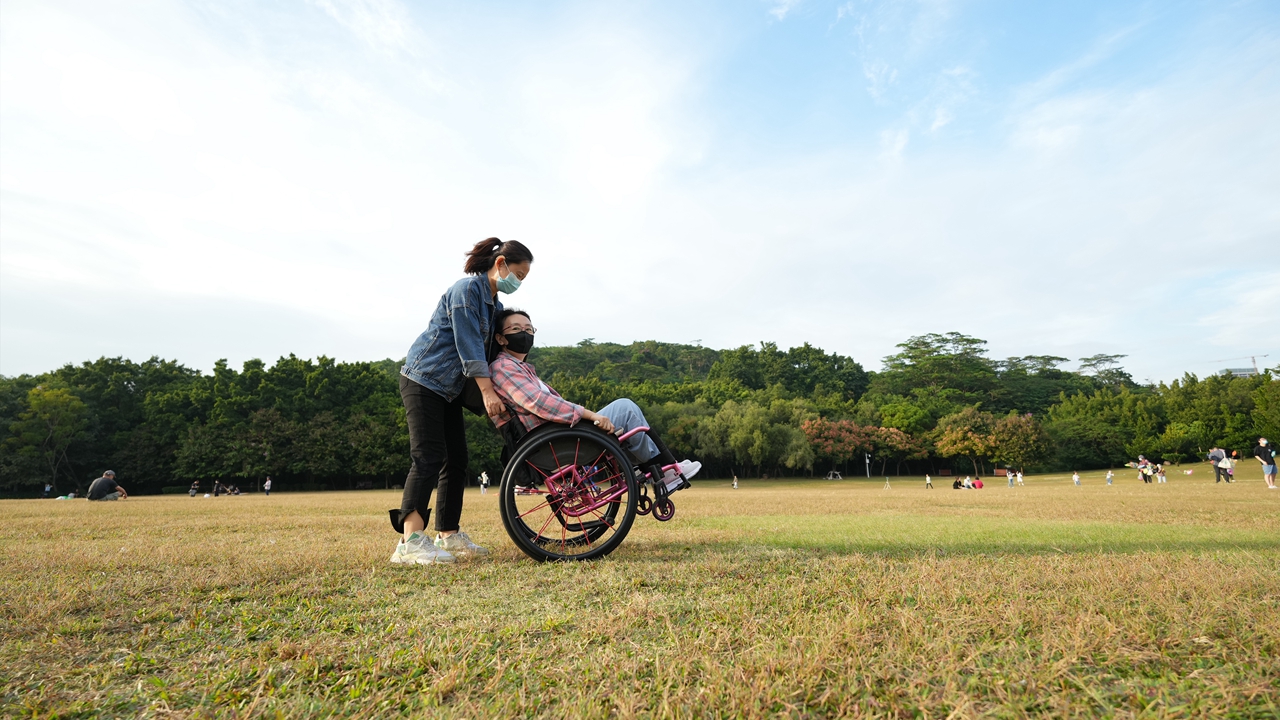 Yu Jijing in Lianhua Hill Park.

Since then, her 14-year adventure has taken her to a successful career and turned out to be a journey with love, one that lifted her out of her early struggles.
The first day she arrived at the factory, she was stunned. "In my hometown, I seldom saw people with disabilities. But in the factory, I found people with different kinds of disabilities. To be honest, I was intimidated at that moment. I never realized that there were so many people with disabilities in China," said Yu.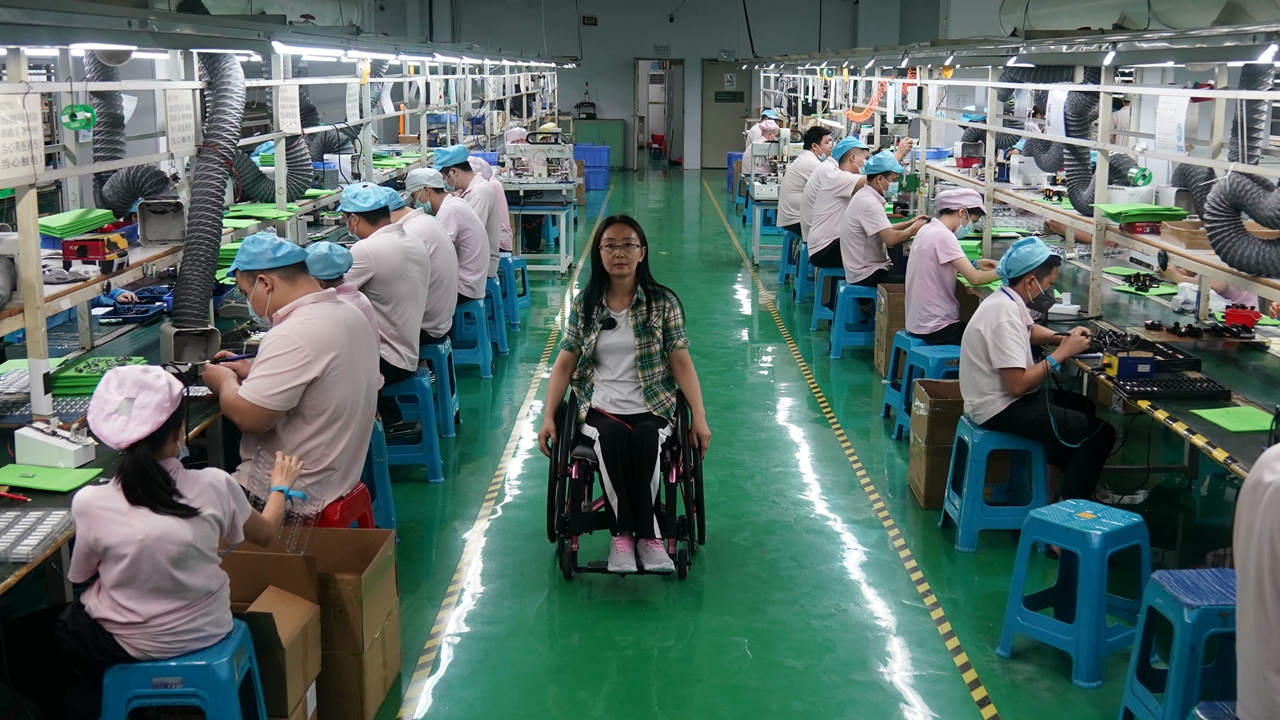 Yu Jijing passes through the assembly line of Kechaoda.

As she spent more time with her colleagues, she gradually found a sense of belonging. "We lived together. We worked together. After work, we often had Chinese barbecue together. We didn't earn much back then. But we were so happy," she said, a big smile on her face.
In retrospect, one of the most exciting things Yu has done with her friends was watching an Andy Lau concert at the Hong Kong Coliseum. As physically challenged people, Yu and her friends were allowed to check in earlier. She still remembered how people lining up for check-in looked at them with envy when they were pushed into the venue by the stadium's staffers.
"In the past, when I watched TV and saw people getting excited and crying at concerts, I thought they were faking their tears. But when we were at the concert and looking at our idol Andy Lau, we burst into tears and couldn't help screaming his name," Yu recalled.
Yu Jijing and other participants of a Shenzhen TV award ceremony gesture.

On the eve of the Spring Festival in 2009, not long after she came to Shenzhen, Yu broke her legs. Her colleagues sent her to the hospital, waited for her while she was in surgery, and took care of her through the holiday. "It was very heart-warming. I was far from home, but in Shenzhen, I felt love from my colleagues. They were with me through a very hard time in my life," she said.
Before the Spring Festival this year, Yu fell again when she was at home alone. The fall caused a comminuted fracture on her left leg. Despite unbearable pain that drove her to tears, she forced herself to get up to her wheelchair to call for help. The same people came to her and kept her company for another operation during another Spring Festival holiday.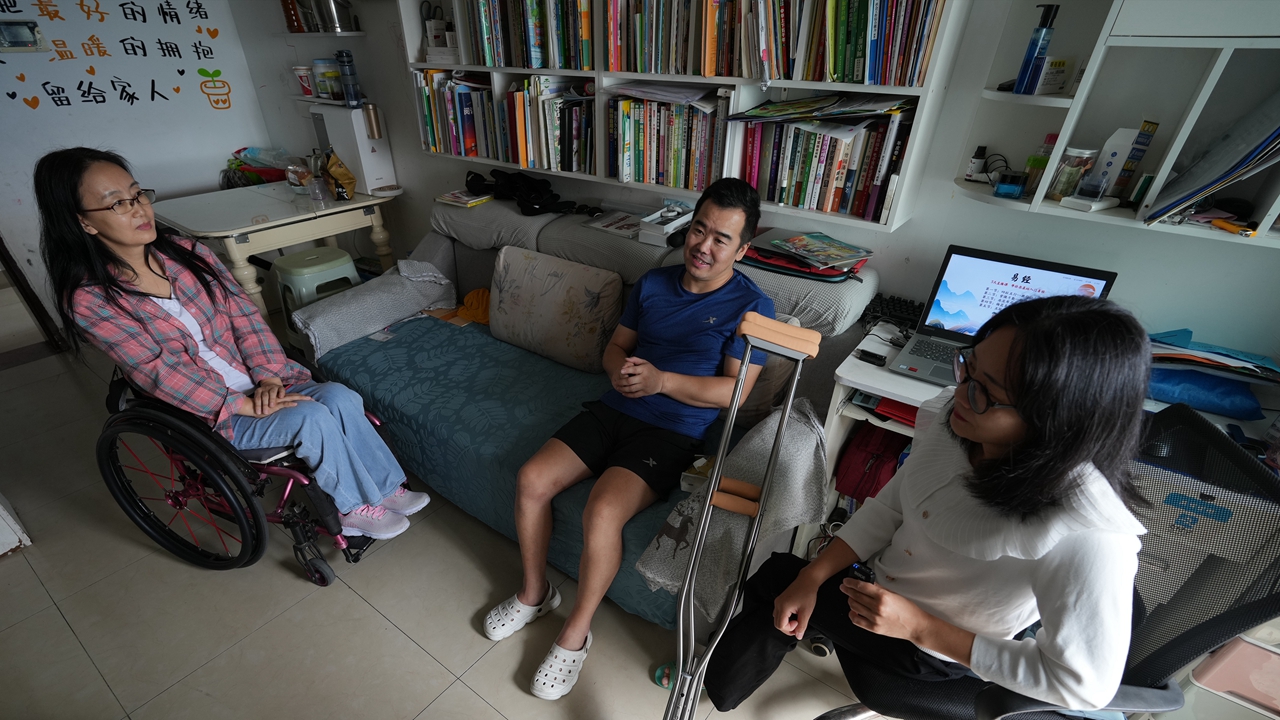 Yu Jijing (R) at the home of Li Ruifeng and Wu Qiuyun, a couple Yu had set up with.

Yu recalled when she first set foot in Shenzhen, a volunteer in a red vest was the one who first helped her. As she continued living in the city, she met more volunteers whose kindness gradually melted her heart and inspired her to carry on their work.
Not long after she came to Shenzhen, she signed up for college as a social work major. After five years of learning, she got her social worker's certificate and later a mental health counselor's certificate, hoping to provide better help to people with disabilities.
"Love is what sustains my stay in Shenzhen. Love from the volunteers, love from my colleagues, and love from some kind strangers whose blood is now running through my body. Shenzhen is a city of love. I've received so much love here, and I want to share it with others," Yu said.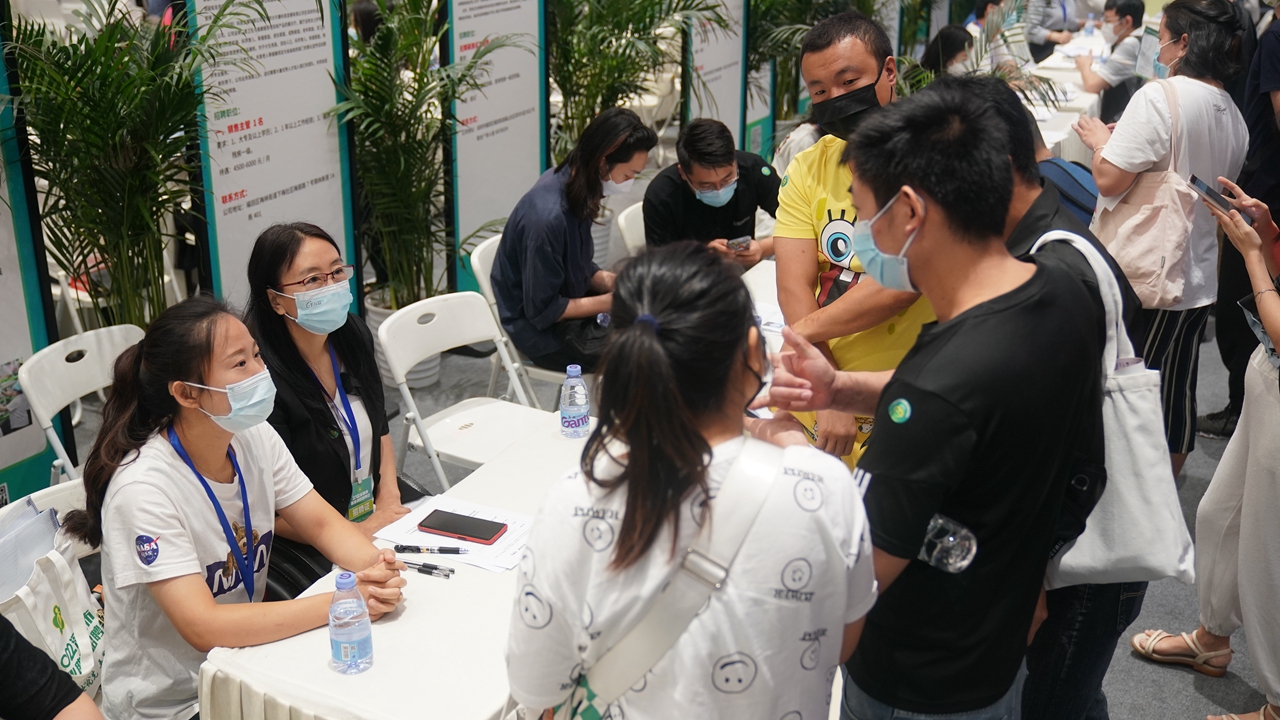 Yu Jijing (2nd L) talks to jobseekers.

Before joining Kechaoda, the company she now works for, Yu had been helping her physically challenged colleagues to solve problems in their daily lives and helped them resolve mental health issues that troubled them. But she admitted that communication with them could be exhausting at times. In 2011, she decided to go home and take a break.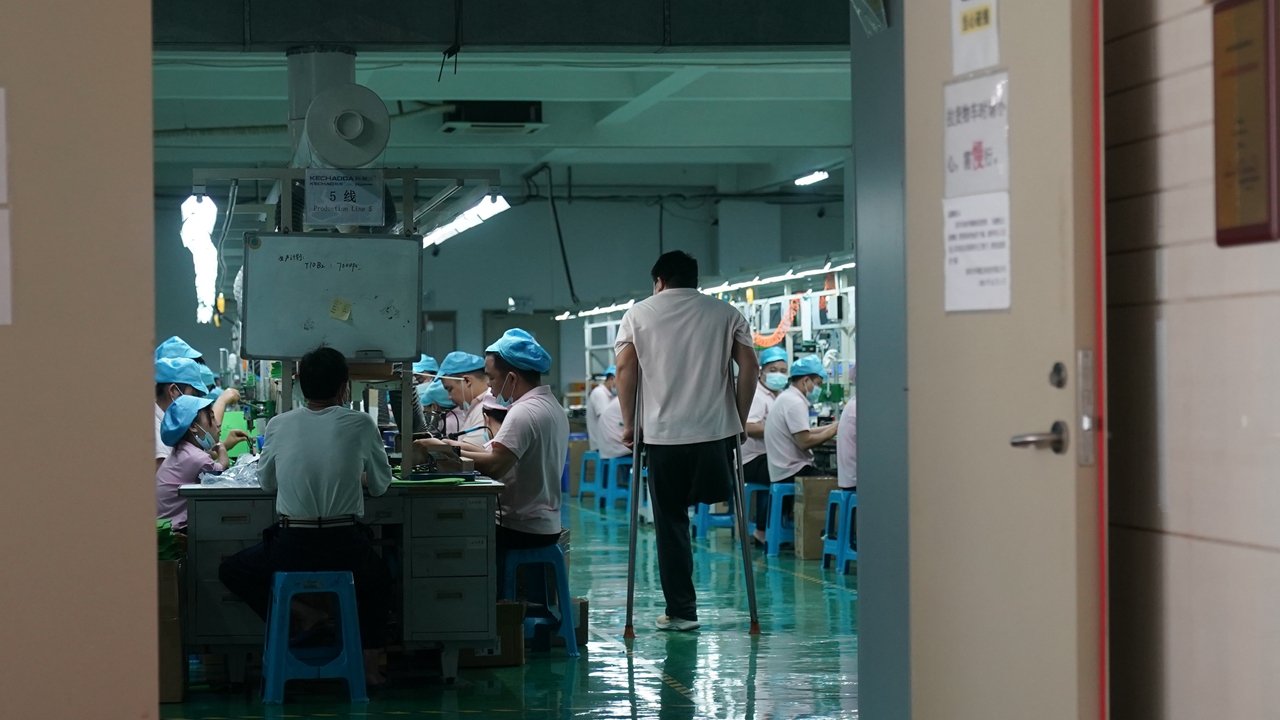 A view of people working at the assembly line of Kechaoda.

Coincidentally, the president of Kechaoda reached out to her and invited her to join his plan to help physically challenged people get work. Over the past decade, they have helped find employment for more than 3,000 people with disabilities.
Every year before the Mid-Autumn Festival, Yu's father would receive a box of mooncakes from Yu's boss. When the package is delivered to the gate house of the residential community where Yu's parents live, her father would proudly tell everyone around that "it's from my daughter's boss."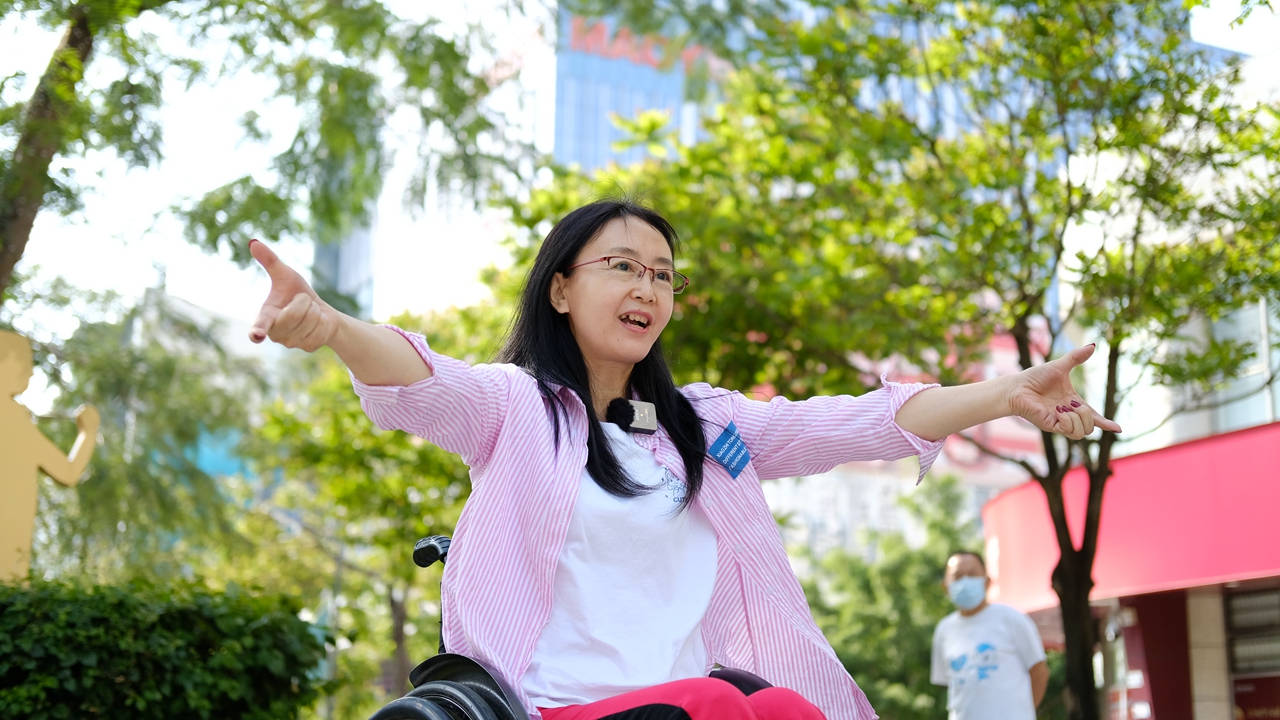 Yu Jijing gestures when talking to a Shenzhen Daily reporter near Shenzhen Book City Nanshan Store. Lin Lin