Dubbed as "China's Silicon Valley," Shenzhen has been devoted to the high-tech development since 1990s. China Hi-Tech Fair (CHTF) is the showcase of its achievements.
The five-day 24th CHTF, which concluded in Shenzhen last month, offered 400,000 square meters to exhibitors from home and abroad to display a total of 8,667 items for exhibition and trading.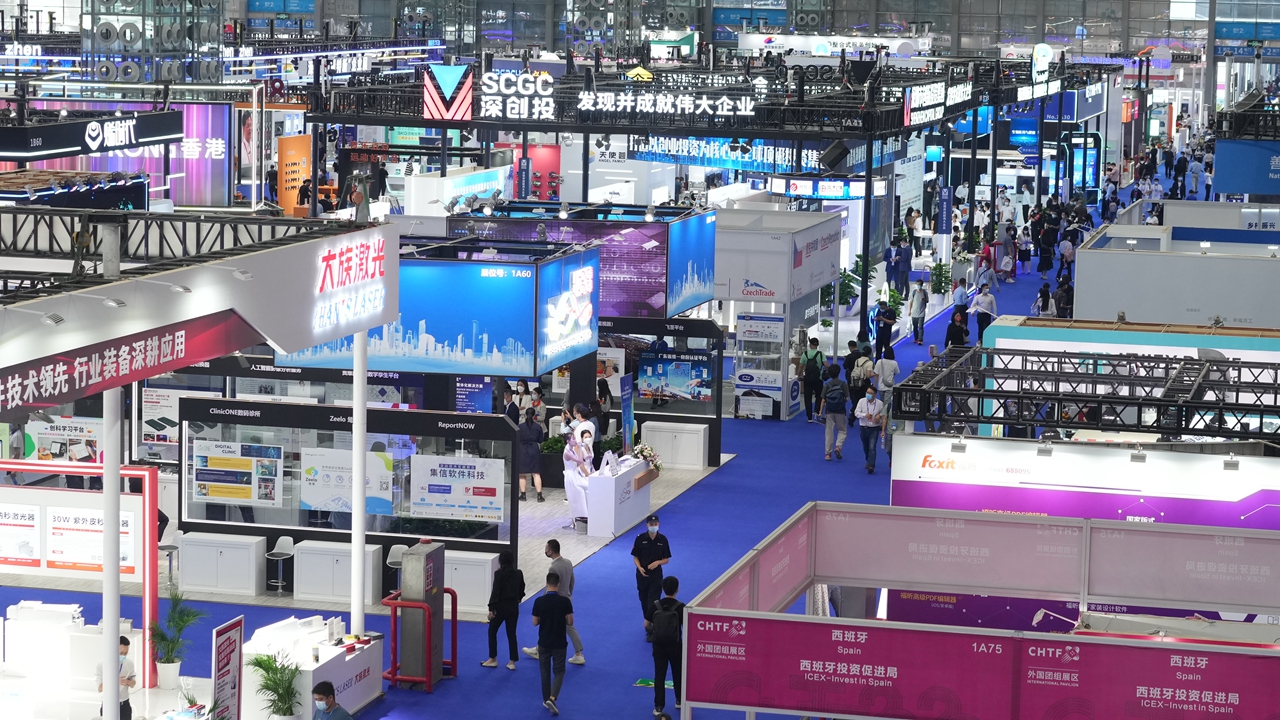 The 24th China Hi-Tech Fair offers 400,000 square meters to exhibitors from home and abroad to display a total of 8,667 items for exhibition and trading. Liu Xudong

The fair attracted 5,671 exhibitors from 41 countries and international organizations, a total of 1,700 new products and technologies debuted at the fair, showing world technology trends.
In 1998, to meet the demand for the development of high technologies, Shenzhen decided to prepare for organizing the CHTF and in October 1999, the first CHTF was held.
With over two decades' development, the fair has become China's No.1 tech fair and a platform for the world to know about the country's high-tech development.
Growing with the influence of CHTF, Shenzhen now is known as a tech hub, especially in the electronics industry, digital economic core industries and 5G.
It has 21,000 State-level high-tech enterprises, or 10 State-level high-tech enterprises per square kilometer.
In September, 25 projects of Shenzhen Bay Laboratory had passed approval of the National Natural Science Foundation of China and received direct subsides worth 10 million yuan (US$1.43 million).
Basic research is the source of science innovation. Sustained investments in basic research and construction of major science facilities and high-standard platforms like Guangming Science City, Pengcheng Laboratory, Hetao-Shenzhen-Hong Kong Science and Technology Innovation Cooperation Zone, and X-Lake Sciensity had created more original science achievements and contributed to the high-level self-reliant science innovations.
Guangming Science City, a world leading national comprehensive science center, is taking shape after three years of construction.
In November 2020, a new rule aimed to promote technological innovation took effect, encouraging enterprises to get involved in research of basic and applied sciences.
To encourage innovation, the city establishes an error-tolerance mechanism that will exempt the liability of project leaders at universities and institutes in making wrong decisions on the condition that they perform the duties strictly, implement decisions according to rules and have no intention to amass profits illegally.
Between 2016 and 2021, the expenditure on basic research in Shenzhen increased from 2.4 billion yuan to 12.2 billion yuan. Its weight in the city's total research funds increased from 2.89% to 7.25%.
"Over the decades, Shenzhen had explored its own way for science and innovation development by relying on the market mechanism," said Wang Yun-xing, head of the Public Economy Research Institute under China (Shenzhen) Development Institute.
"Shenzhen must strengthen the role of universities and research institutes in science innovation and speed up construction of world leading universities and world leading disciplines," Wang said.