The recently concluded China Marine Economy Expo not only ignited citizens' enthusiasm to learn about the ocean, but also aroused their interest in a topic of public concern: is it possible to build beaches in the western area of Shenzhen?
Currently, a total of 50 natural beaches are all located in Yantian District and Dapeng New Area in eastern Shenzhen, along the city's 260-kilometer coastline.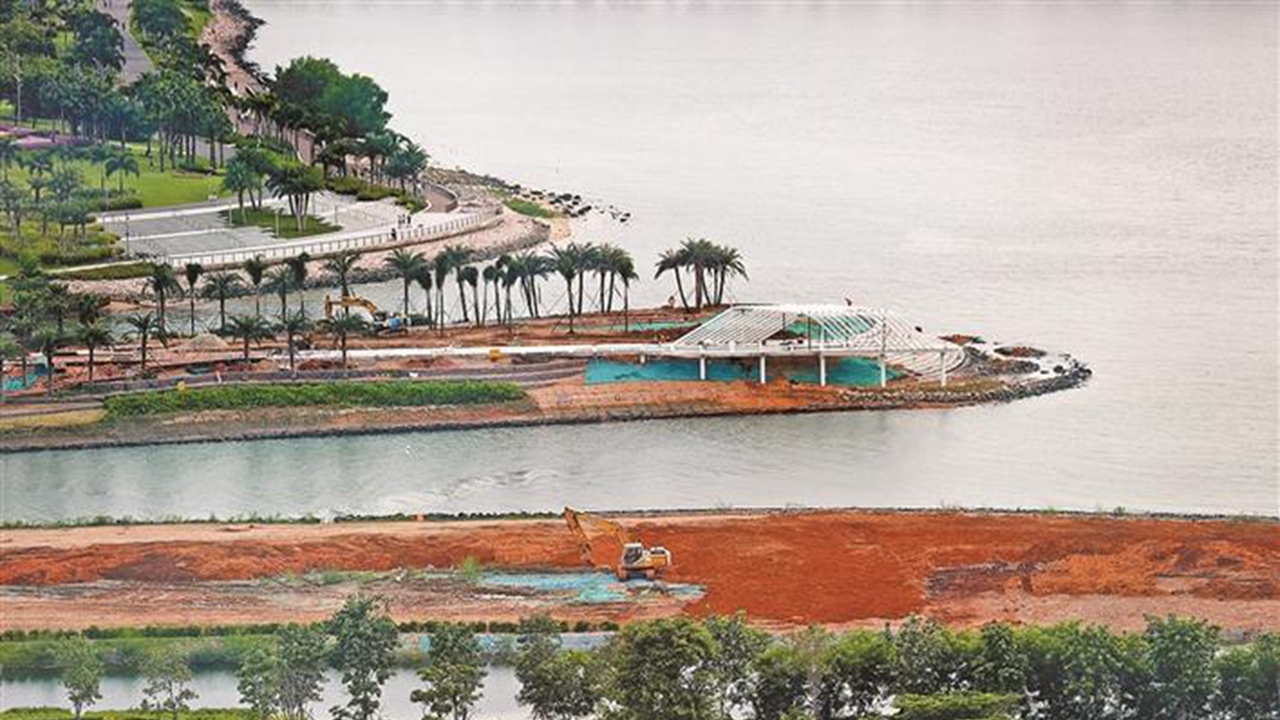 A view of the city's west coast. Liu Gang

Western Shenzhen, which gained prosperity from marine resources, used to have beaches, according to research from Liao Honglei, a local folklore scholar, and Peng Quanmin, a historic relic conservation expert.
Historically, Bao'an has been known for its salterns in the area. According to some ancient books and records as early as the Han Dynasty (202 B.C.-220 A.D.), people in Bao'an County viewed salt as treasures and believed if you get enough salt, you could live a secure life. This is how the county got its name "bao" for "treasure" and "an" for "safe and sound" in Chinese. In 1369, among the 12 salterns in Guangdong, four salterns were in the Bao'an area.
In Guangdong's list of intangible heritages, one ceremony which sprang up in the Ming Dynasty (1368-1644) is inherited by Tian Hou Gong (Chiwan's Goddess Temple). The ceremony involves worshipping Mazu (a Chinese ocean goddess) and is held by the shore. People who served as envoys abroad usually worshipped for three days to pray for a safe trip.
"Shenzhen's western coastline is long, and the meeting of fresh and salt waters at the mouths of the Maozhou and Bitou rivers brings rich plankton, which bred the famous Shajing oysters before industrialization here," said Cheng Jian, vice president of Bao'an Folk Literature and Art Association.
The business of salt and oysters helped form prosperous coastal villages and built a solid foundation for Bao'an's trade culture.
However, as time passed by, the beaches in western Shenzhen disappeared. Experts from the School of Marine Science at Sun Yat-sen University found differences in tidal and runoff dynamics in the Pearl River estuary. Due to the rotation of Earth, sediment is often deposited in an estuary's west side. The west coast of the Pearl River estuary is also in this situation. Therefore, western Shenzhen, which is on the eastern side of the estuary, is more suitable for the construction of a deep-water port.
Ma Haipeng, who won "Shenzhen's Most Admirable Nature Guardian" title, said that the city tried to transform an area at Shenzhen Bay into a beach in 2017. However, due to silt accumulation, poor hydrodynamic exchange conditions and other factors, a large amount of clean sea sand turned into smelly mud. Shenzhen's western coastline doesn't have the conditions to build a large artificial beach area. It can be more meaningful to explore marine culture and operate marine economy in that area.