The Ninth Bi-City Biennale of UrbanismArchitecture (UABB) will be officially open to the public in Shenzhen on Sunday, with its main exhibition venue located at what used to be Kingway Brewery in Luohu District. It will run until March 12, 2023.
Six subvenues have been set up in Qianhai, Nantou Ancient Town in Nanshan District, International Low Carbon City in Longgang District, Dalang Fashion Town in Longhua District, Dawan Ancestral Residence in Pingshan District and Shenshan Special Cooperation Zone.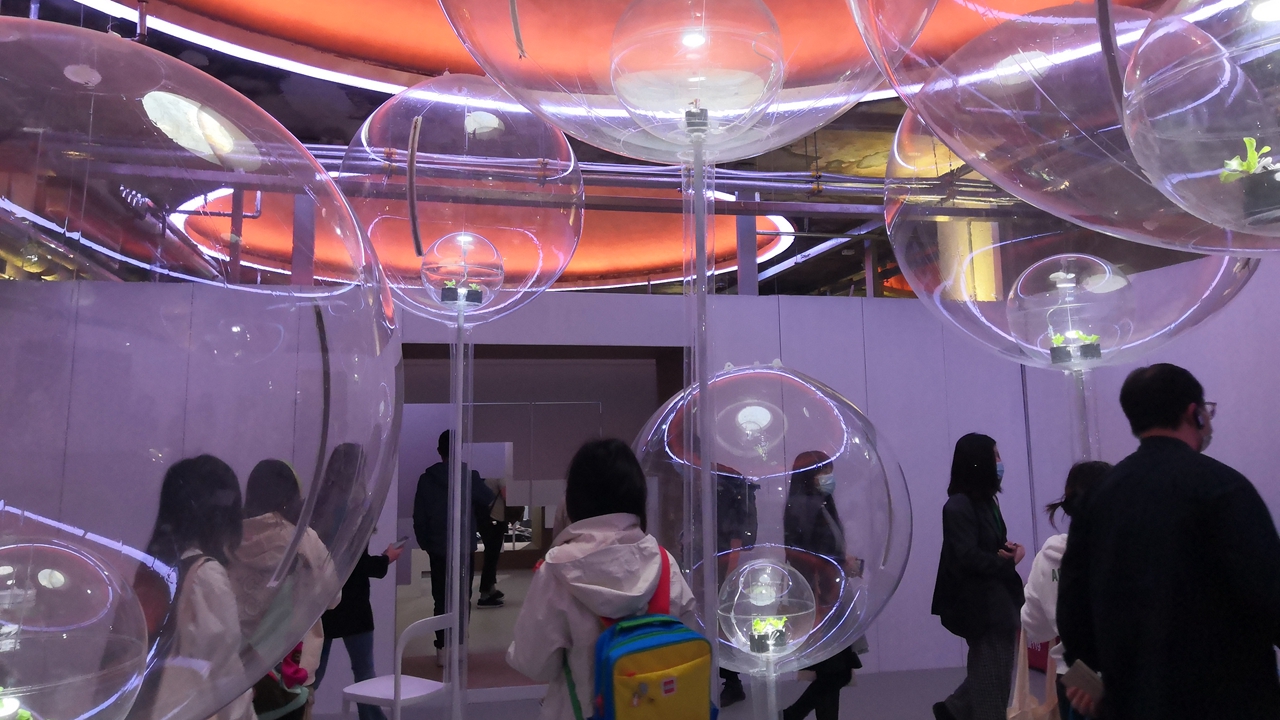 A group of reporters are invited to preview UABB's main exhibition venue at the GDH City•Jinpi Fang (Kingway Brewery Industrial Heritage) in Luohu District on Thursday. Zhang Yu

Themed "Urban Cosmologies," the three-month exhibition in Shenzhen is jointly curated by architecture and urban planning scholar Lu Andong, young architect Wang Zigeng and design curator Aric Chen.
It highlights the green and sustainable development of contemporary cities, cities' strategies to address climate change, and exploration of a path toward harmonious coexistence between human and nature.
Adhering to the principle of "cities are exhibition venues and exhibitions are practices," the exhibition has set up five main sections under the names "Urgent Question," "More-than-human Adventure," "Cosmologic Dialogue," "Co-Living Lab" and "Act Together."
The special section includes six units, which aims to further convey the concepts of carbon peaking and carbon neutrality, as well as a sustainable lifestyle through sound, books and clothing, among others.
UABB (Shenzhen) has also set up a permanent exhibition and three themed pavilions, namely UABB Pavilion, Hong Kong Pavilion and Luohu Pavilion.
Hundreds of international exhibitors from 15 countries have been invited, presenting their works that range from the close relationship between life and the environment, diverse ecological epistemology, interdisciplinary dialogue and experiment, to the continuous innovation and action of urban and architectural practitioners under the concept of environmental protection.
The exhibitors will also pay close attention to global issues such as urban climate and ecological changes, and topics such as current lifestyles and stray animals to discuss cities' new prospects in the future.
Additionally, a series of activities for academic exchanges and public activities will be held during the opening week and the exhibition period.
UABB (Shenzhen) is hosted by the Shenzhen Municipal Government and co-organized by the city's planning and natural resources bureau and the Luohu District Government.
The UABB is considered the world's only biennale to focus specifically on urbanism and urbanization. It was initiated by Shenzhen in 2005 and Hong Kong has joined since 2007.
This year's UABB (Hong Kong) took place between Aug. 27 and Nov. 26.