The city's governmental departments compiled an action plan urging citizens to increase their awareness on environmental protection earlier this year. The plan suggested primary and secondary schools adding courses in ecological conservation.
Shenzhen Cuibei Experimental Primary School is one of the outstanding schools in organizing educational programs featuring environmental protection.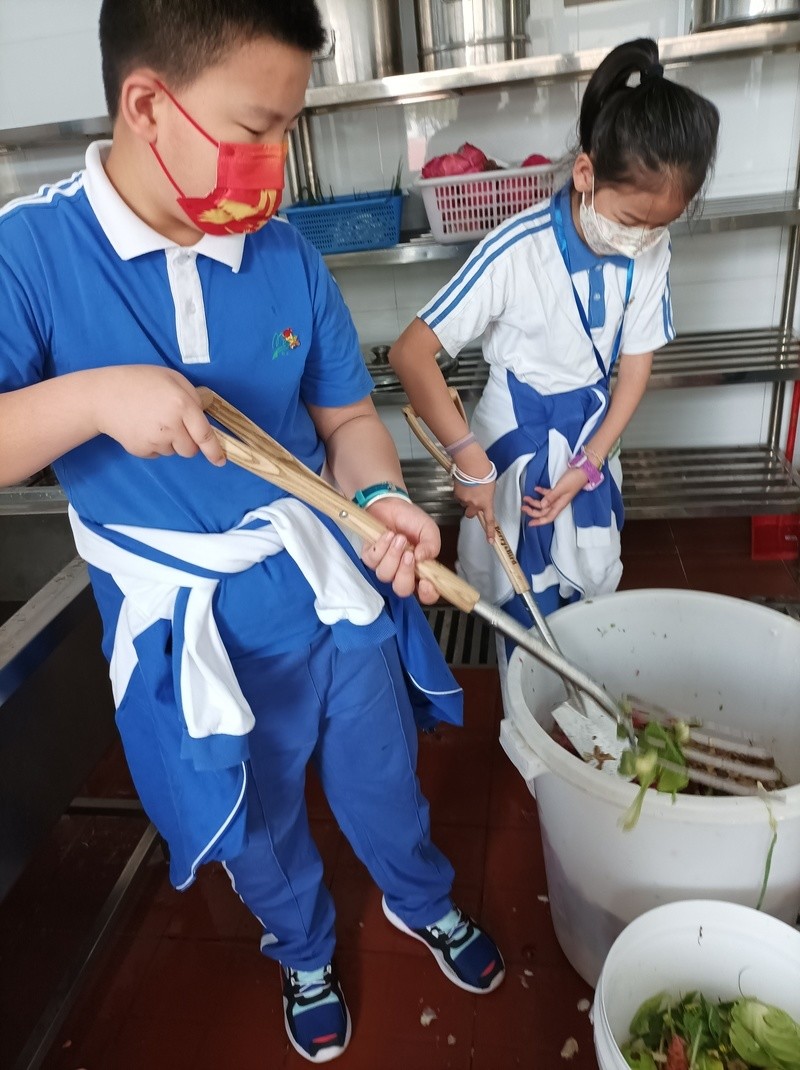 Students of Shenzhen Cuibei Experimental Primary School pile up kitchen waste. Photos by courtesy of the school

The school's garbage sorting program was listed among the national demonstration cases promoting resource conservation submitted by public institutions in the year 2021-2022, according to a list released by the National Government Offices Administration recently.
The school is regarded as a zero-waste campus where can recycle garbage weighing 1 tons in a school term. Under teachers' guidance, students can help turn the common wastes such as egg shells, fruit peels, leftover and dead leaves into nutritious soil.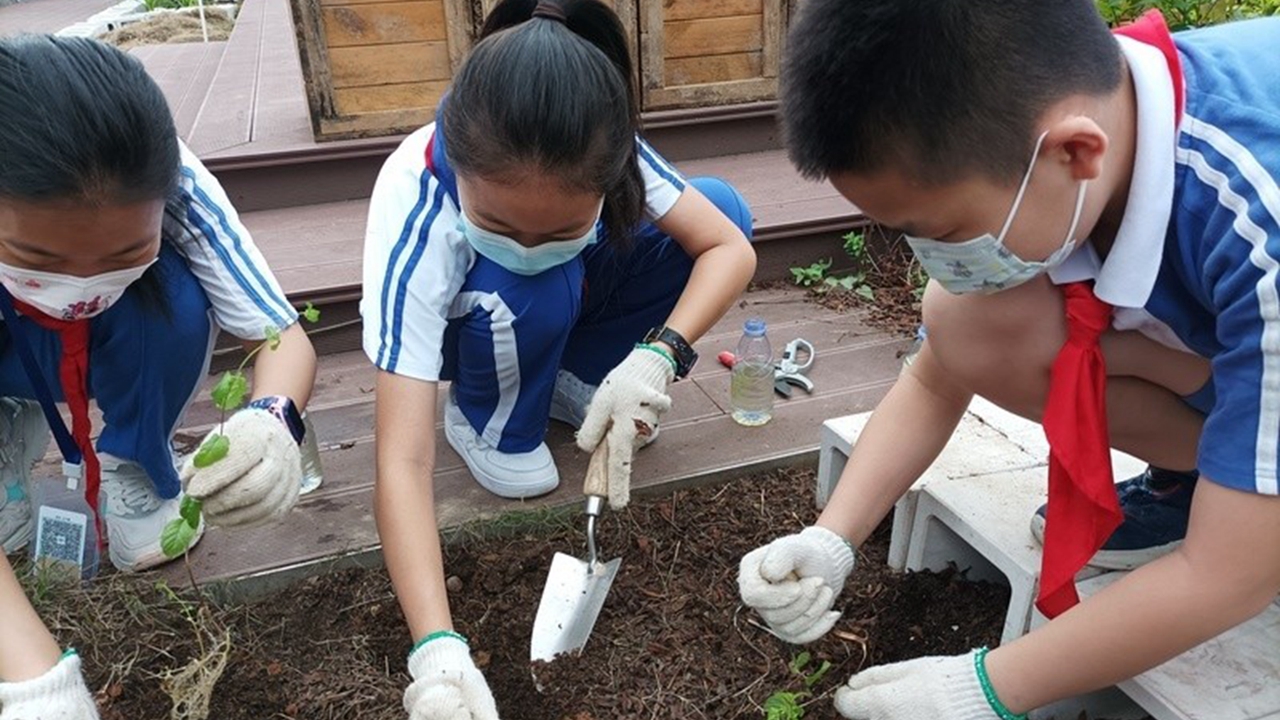 Students plant seedlings on soil at school. Courtesy of the school

A grade-5 student named Hu Yanrui and his team member would start their exploration every morning after carrying kitchen wastes to a designated area. These students would then pile up kitchen waste, scrap papers and dead leaves at the compost area. "There are five compost boxes at the compost corner. Every day we will use wastes to make 'sandwiches.' And we need to stir them occasionally. The ingredients will become fertilizer favored by the plants after they getting fully fermented," Hu told the News.
"The five compost boxes are able to handle kitchen waste as heavy as 140 kilograms monthly, totaling 600 kilograms in a semester," Zhang Lihui, the program's adviser, said.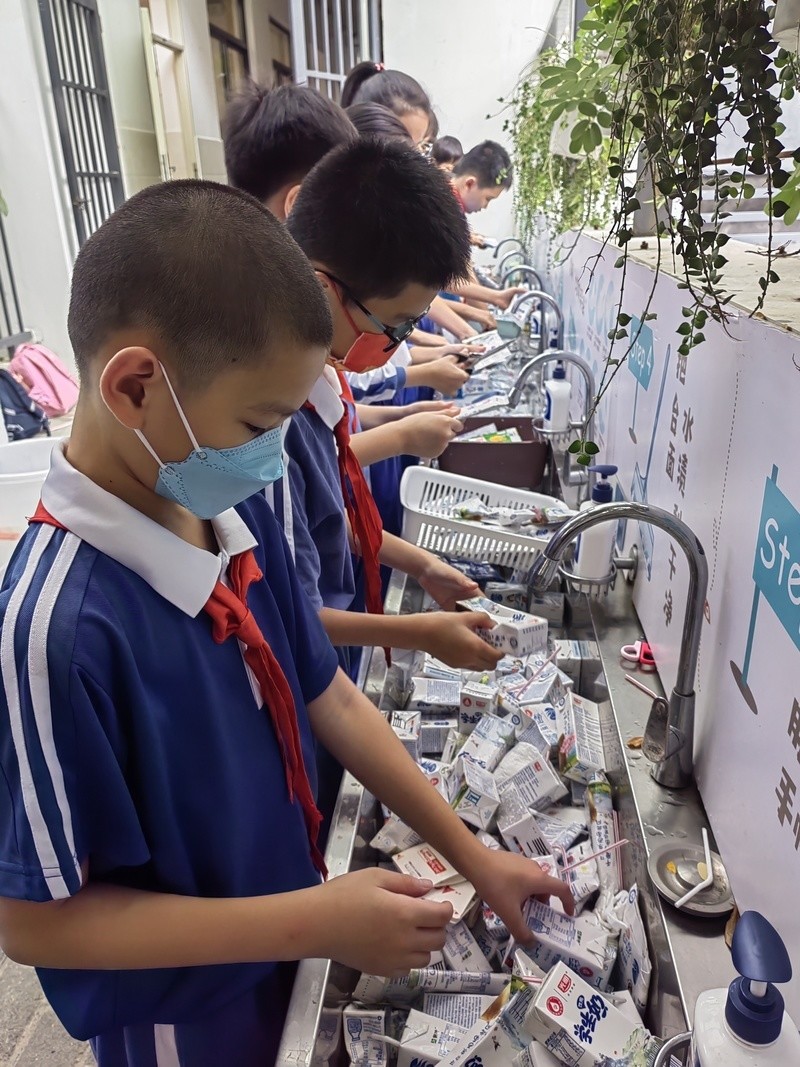 Students wash the recycled milk cartons.

The school also asks the students to recycle milk cartons. The recycled cartons will be used for making recycled paper, exercise books and desks. "The school will collect 20 kilograms of cartons a month," Feng Yuanshan, a teacher from the school, said.
"We hope to use vivid examples and courses to spark students' awareness on environmental protection and help them in garbage sorting behabior," Li Ying, vice president of the school, said.