Profile
个人简介
American Charles Stone loves classical Chinese poetry. He is a lawyer who in his spare time immerses himself in the study of classical Chinese literature. He also writes poetry in a medieval style.
来自美国的石明轩对中国传统诗词充满了热爱。闲暇时,这位法律从业者除了研究中国古典文学外,还钟爱写五言绝句。

Video and photos by Lin Jianping except otherwise stated 视频、摄影:林建平
A laowai who loves to write
ancient-style poems
一个"老外"爱写诗
Do you know how to write a 五言绝句 quatrain (a poetic form consisting of four lines of five syllables, with rhymes on the first, second and fourth lines)? You might not be able to believe that such beautiful verses can be the work of a "laowai."
你会写五言绝句吗?你可能不会相信,这样优美的诗句,竟然出自一个"老外"之手。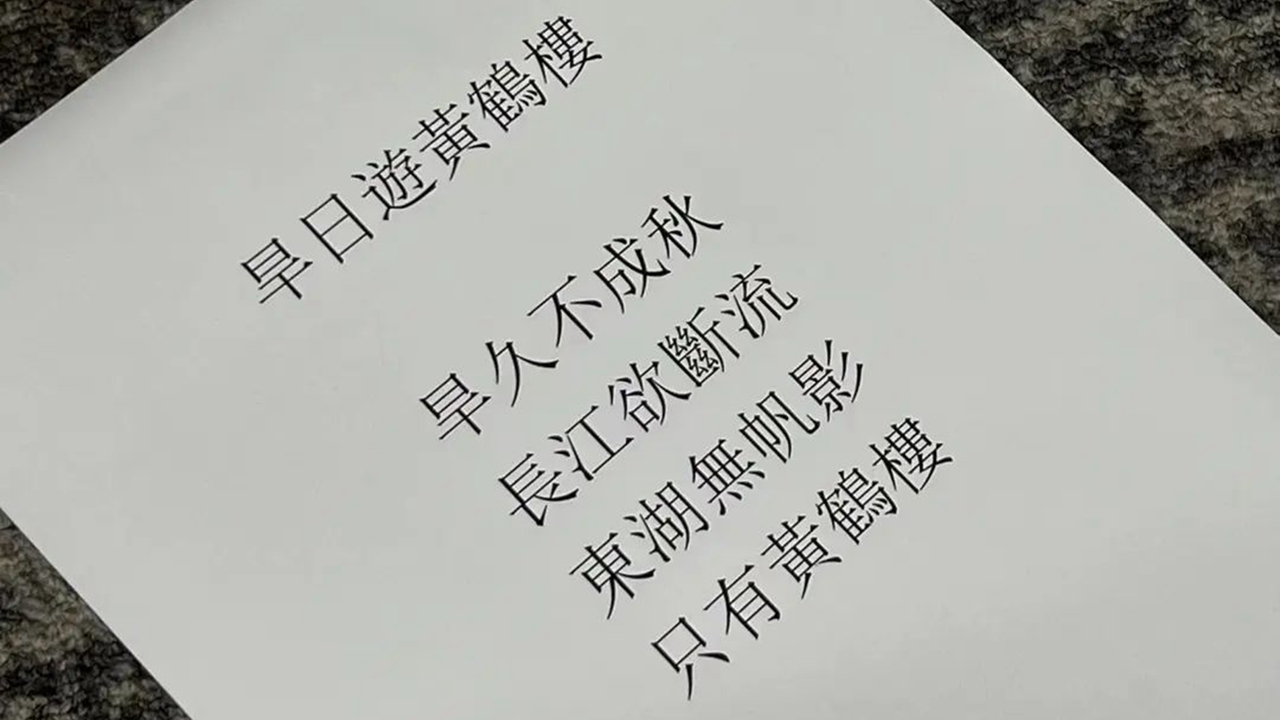 A 五言绝句 quatrain written by Charles Stone.

石明轩博士创作的一首五言绝句。
There is a "laowai" in Shenzhen who loves immersing himself in the study of classical Chinese literature, and can also write beautiful 五言绝句 quatrains.
深圳有位"老外",不仅潜心研究中国古典文学,而且能写出优美的五言绝句。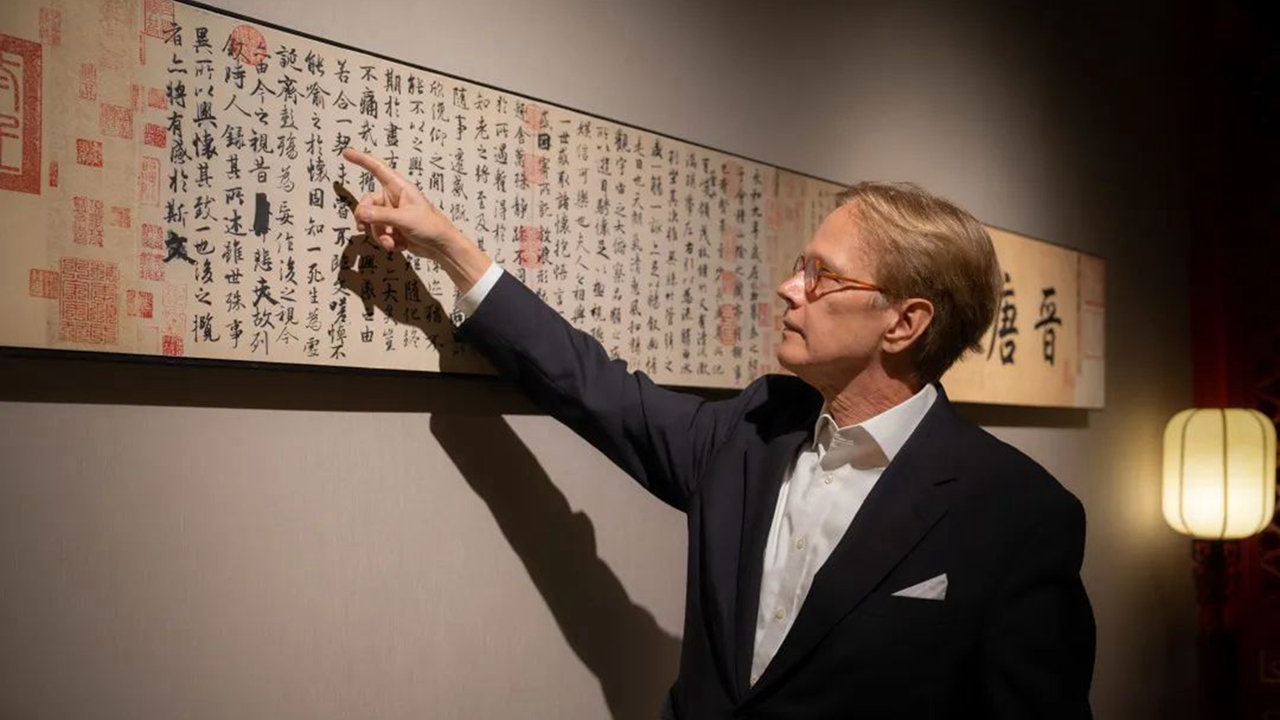 Charles Stone at an exhibition featuring works related to flowers in the Forbidden City.

石明轩博士参观"花时花事"故宫文化创意展。
Charles Stone's Chinese name is Shi Mingxuan. He spent five years in China's Taiwan studying Chinese, and later studied under David Roy, a prominent sinologist who spent 30 years translating "The Plum in the Golden Vase (Jin Ping Mei)," a classical Chinese novel, into English. Stone received his Ph.D. in Chinese language and literature at the University of Chicago and is affectionately known as "Dr. Shi" by his Chinese friends.
他的中文名叫"石明轩",曾在我国台湾学习过五年的中文,后来师从著名汉学家、《金瓶梅》的英译者芮效卫教授,并获得芝加哥大学中国古典文学博士学位,朋友们亲切地称他为"石博士"。
After graduating from the University of Chicago, he enrolled in one of the best law schools in the U.S. where he obtained his J.D., cum laude.
离开芝加哥大学后,石明轩选择攻读法学博士学位,成为一名美国执业律师。
Amazing changes on Chinese mainland
来中国大陆,看惊人变化
China's rapid development during the past decades has attracted the attention of the world and also aroused Stone's interest. With a love for the Chinese language and curiosity about the country's rapid growth, he chose to work on the Chinese mainland.
中国的高速发展,吸引了全世界的目光,同样引起了石博士的兴趣。他怀着对中文的热爱和对中国高速发展的好奇,选择来到中国大陆工作。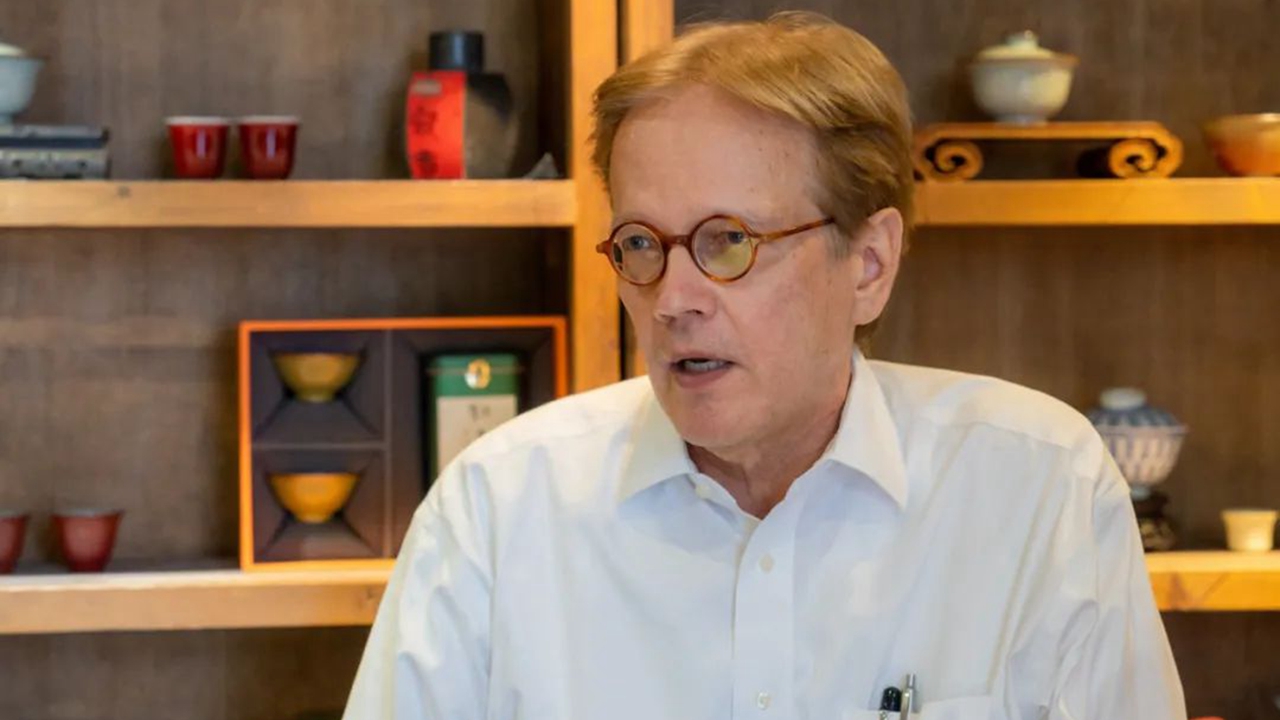 Charles Stone during an interview with Shenzhen Daily.

石明轩博士接受英文《深圳日报》采访。
Stone said, "Modern China has changed so much. It is amazing. None of the countries in the world has developed so rapidly in the past 2,000 years and I wanted to know for myself the reasons behind it."
他说:"现代中国的变化这么大,很惊人,过去的2000年里都没有这么快的发展,我要自己去了解一下。"
In eight years since he came to China, Stone has worked in law firms in Beijing, Shanghai and Shenzhen. He currently serves as a legal counsel for a law firm in Shenzhen.
来中国八年,石博士先后在北京、上海和深圳的律师事务所工作。目前,他在深圳一家律所担任法律顾问。
In Beijing, Shanghai and Shenzhen, Stone saw different sceneries and witnessed different ways of life and communication. He recorded what he saw, heard and thought in his own way. Every once in a while, his colleagues and friends can read his new verses posted on his WeChat Moments. Sometimes he posts his views on poetry creation on his Douyin (the Chinese version of the short videos platform TikTok) account.
行走京、沪、深之间,石明轩看到了不一样的风景和各具特色的生活、沟通方式。他用自己的方式记录所见所闻、所思所想。每隔一段时间,石博士的同事和朋友们就可以在他的微信朋友圈看到他晒出的五言绝句新作。有时他还会在抖音账号发布自己对诗词创作的看法。
Embracing traditional culture with an open mind
以开放态度拥抱传统文化
Studying Chinese culture and creating 五言绝句 quatrains made Stone feel content. He said that he particularly likes Wang Wei's poems and wrote a 五言绝句 quatrain by imitating Wang's poem "Bamboo-Midst Cottage."
研习中国文化、创作五言绝句让石博士感觉身心愉悦。他说他特别喜欢王维的诗,还模仿《竹里馆》写过一首五言绝句。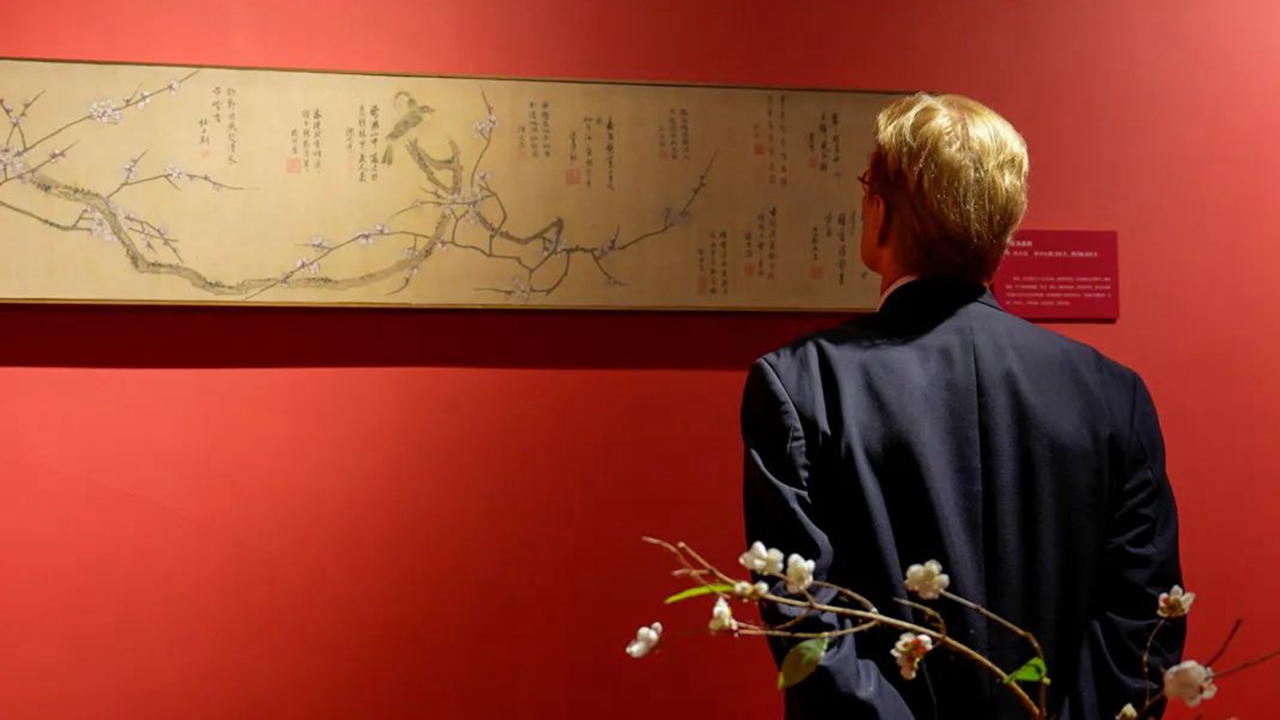 Charles Stone admires a painting with poems written on it at an exhibition featuring works related to flowers in the Forbidden City.

石明轩博士在"花时花事"故宫文化创意展欣赏一幅配有诗词的画作。
Stone always communicates with others openly and is not "stubborn." He said his mentor, Professor Roy, taught him to think independently and speak with evidence, rather than "following the crowd." He also adheres to this attitude when explaining Chinese classics such as "The Analects of Confucius" and "Zuo Zhuan," as well as Chinese poetry and novels to his students in the U.S. He told his students to try to draw their own conclusions based on the context.
石博士总以开放的态度同他人交流,不"倔强"。他说,他的导师芮效卫教授教会他独立思考,用证据说话,而非人云亦云。在美国学校讲解中国《论语》、《左传》、诗词曲赋、小说的时候,他也秉持着这样的态度。他告诉他的学生,尽量根据上下文,得出自己的结论。
In recent years, China-U.S. relations have faced new challenges, but people-to-people cultural exchanges between the two countries have continued, according to the American lawyer. Stone said that he has encountered no problems at all living and working in Shenzhen. "People-to-people communication is very important, more important than you think."
近年来,中美关系面临新的挑战,但两国民间的文化交流一直在继续。石博士说,他现在在深圳生活和工作,一点问题都没有,"民间交流非常重要,比你们想象的重要。"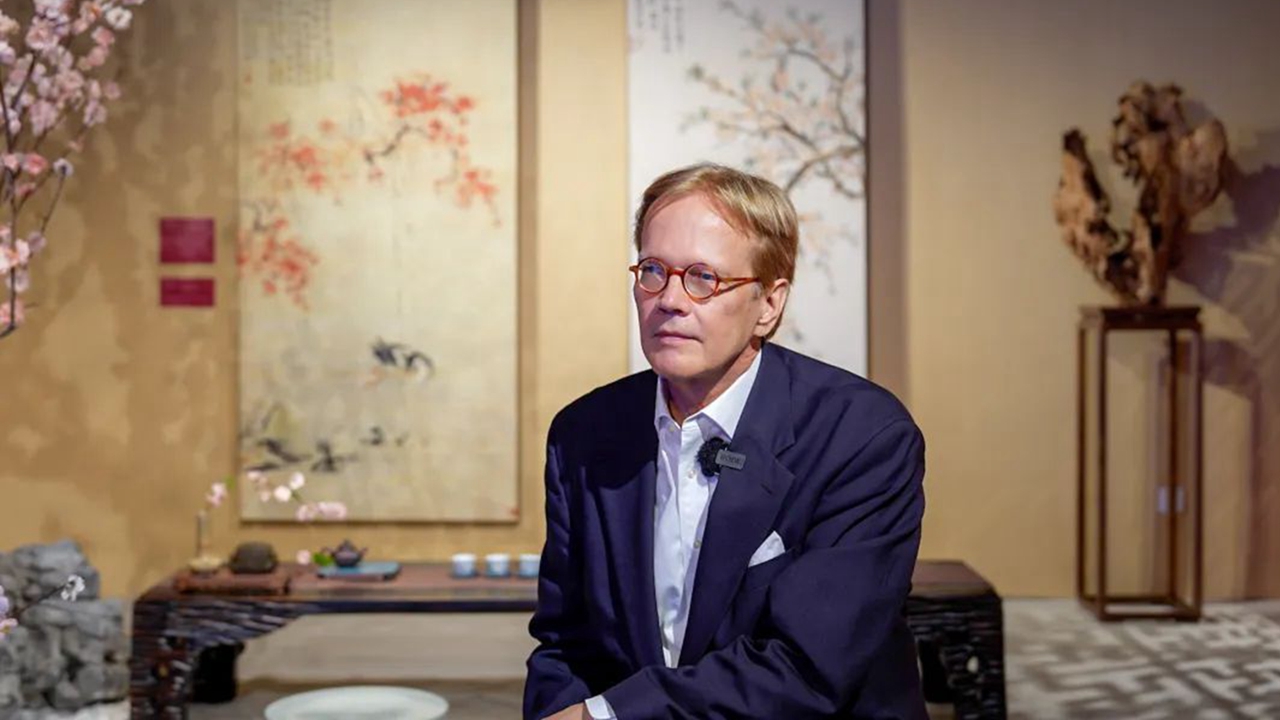 Charles Stone shares his views on classical Chinese poetry with Shenzhen Daily journalists.

石明轩博士和英文《深圳日报》记者分享他对传统中国诗词的看法。
When he discovers that his friends have different interpretations of classical Chinese works, he said he is interested in sharing his ideas with them. If he researches and finds out that he is wrong, he will be delighted because he "has learned something new."
当他发现他的朋友们对中国古典作品同他有不一样的解读时,他会很有兴趣同他们交流他的想法。如果他经过研究,发现自己错了,他会更高兴,因为"学到了一个新的东西"。
Like most people, Stone misses his pre-pandemic life, when he could go to a café, bar, or go to a friend's home for drinks and music as he liked. He would improvise a poem, and his friends helped him change it, asking him to change one word or another in the poem. He said that he was happy to occasionally "experience" the living situations of the ancient Chinese.
与大多数人一样,石博士也很怀念疫情前的生活。去咖啡厅、酒吧,或者去朋友家喝酒、听音乐。他即兴写诗,朋友帮他改,让他把诗里的某个字换一下。他说,偶尔"体验"一下古人的生活情境,感到很开心。