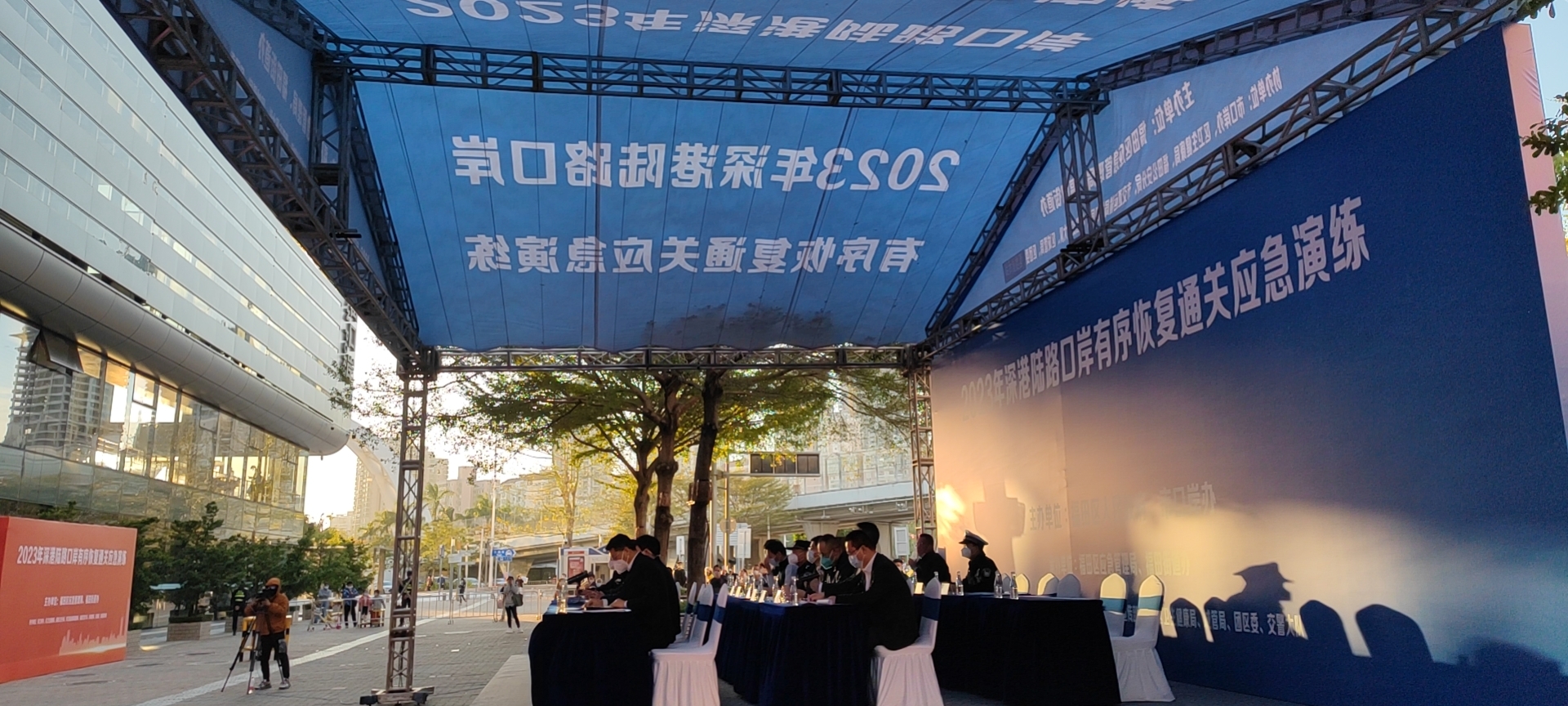 Staffers with Futian Checkpoint work to prepare for the reopening of the checkpoint in Futian District today. Sun Yuchen
The border between the Chinese mainland and Hong Kong will gradually reopen from Sunday, paving the way for a restoration of economic and social ties that have been disrupted for three years.
But recovery is likely to be slow, with Shenzhen setting a maximum limit of about 50,000 mainland residents allowed to travel into Hong Kong every day, according to an announcement by the city's exit and entry office.
In the initial stage, Shenzhen will reopen five checkpoints, namely the Shenzhen Bay Checkpoint, Futian Checkpoint, Wenjindu Checkpoint, Shekou Checkpoint and Shenzhen Airport Fuyong Terminal Checkpoint.
Staffers with Futian Checkpoint work to prepare for the reopening of the checkpoint in Futian District today. Sun Yuchen

Of the daily quota, 10,000 are expected to pass through Shenzhen Bay Checkpoint (6:30 a.m.-midnight), 5,000 through Wenjindu Checkpoint (7 a.m.-10 p.m.) and 35,000 through Futian Checkpoint (6:30 a.m.-10:30 p.m.), as per the announcement. Reservations are needed for the travelers.

The government will control quota limits by managing the number of tickets available at the Shekou Checkpoint (7 a.m.-10:30 p.m.) and Fuyong checkpoint (8 a.m.-9 p.m.), the announcement said.
Hong Kong will allow 60,000 Hong Kong citizens a day to enter the mainland starting Sunday, Chief Executive Lee Ka-chiu said at a media briefing Thursday afternoon.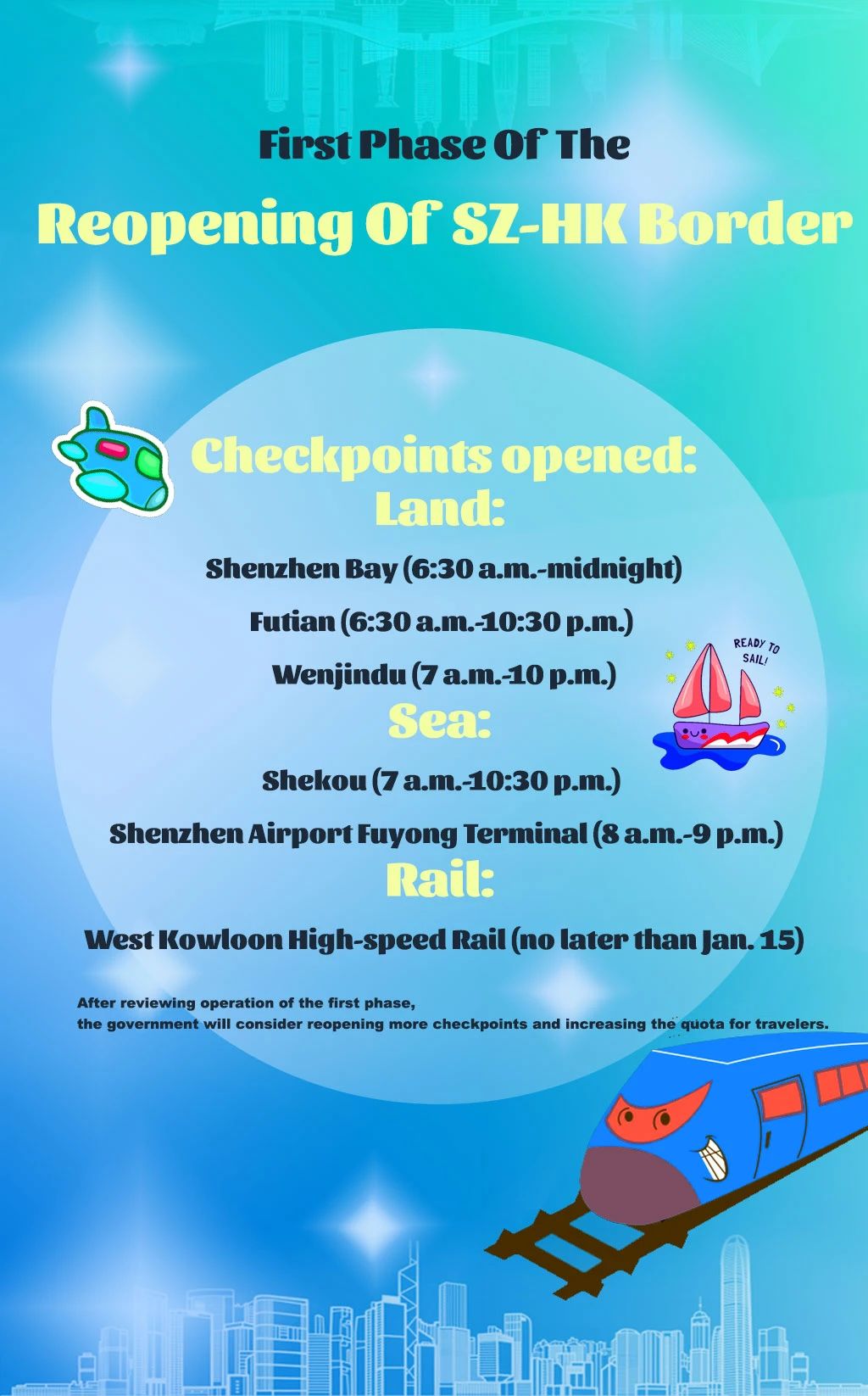 Among them, 50,000 are expected to pass through three crossings, including Shenzhen Bay Port, Lok Ma Chau (Futian Checkpoint), and Man Kam To (Wenjindu Checkpoint).
Lee estimated that a further 10,000 will pass through the four air, sea, and bridge ports, including Hong Kong International Airport, Hong Kong-Macao Ferry Terminal, and Hong Kong-Zhuhai-Macao Bridge. Those crossing via the four ports can depart Hong Kong to enter the mainland as long as they have valid bus, ship and air tickets.
According to Chief Secretary for Administration Chan Kwok-ki, specifically, a daily quota of 10,000 Hong Kong residents can pass through Shenzhen Bay to go north; another 35,000 Hong Kong residents can enter the mainland through the Lok Ma Chau checkpoint each day; and a daily limit of 5,000 people will be allowed to pass through Man Kam To border control point.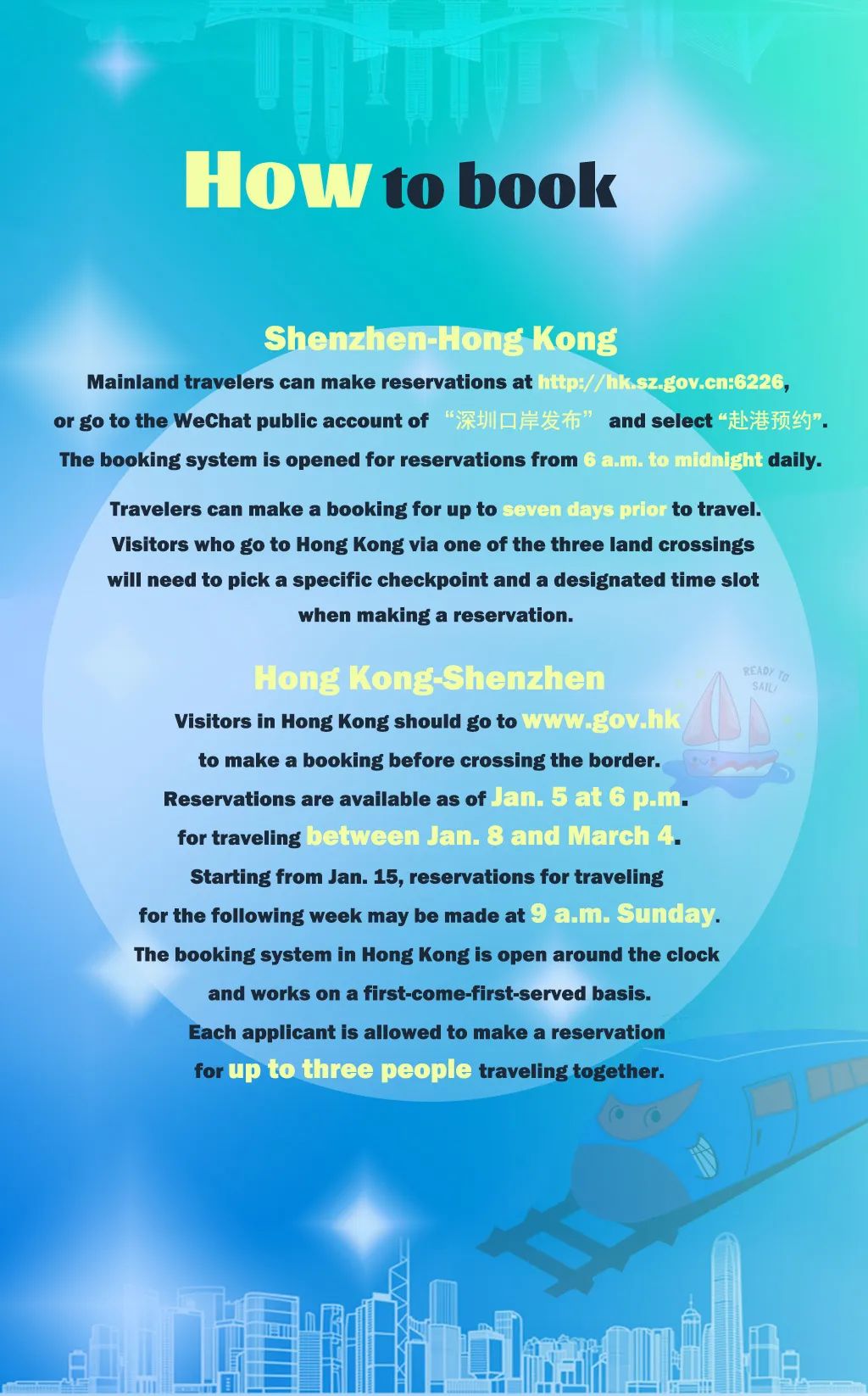 A booking system was rolled out at 6 p.m. Thursday. Visitors who enter the mainland via one of the three land crossings will need to pick a specific checkpoint and a designated time slot before traveling.
No ceiling has been set for the number of mainland residents in Hong Kong permitted to enter the mainland.
Similarly, Hong Kong residents on the mainland will not be subject to a quota limitation when returning to the city. Hence, no prior booking is necessary for such travelers.
To avoid cross-infections, Hong Kong travelers entering the mainland will need to present a negative COVID test result taken within 48 hours prior to traveling and make a health declaration.
After reviewing operation of the first phase, the government will consider reopening more checkpoints and increasing the quota for travelers.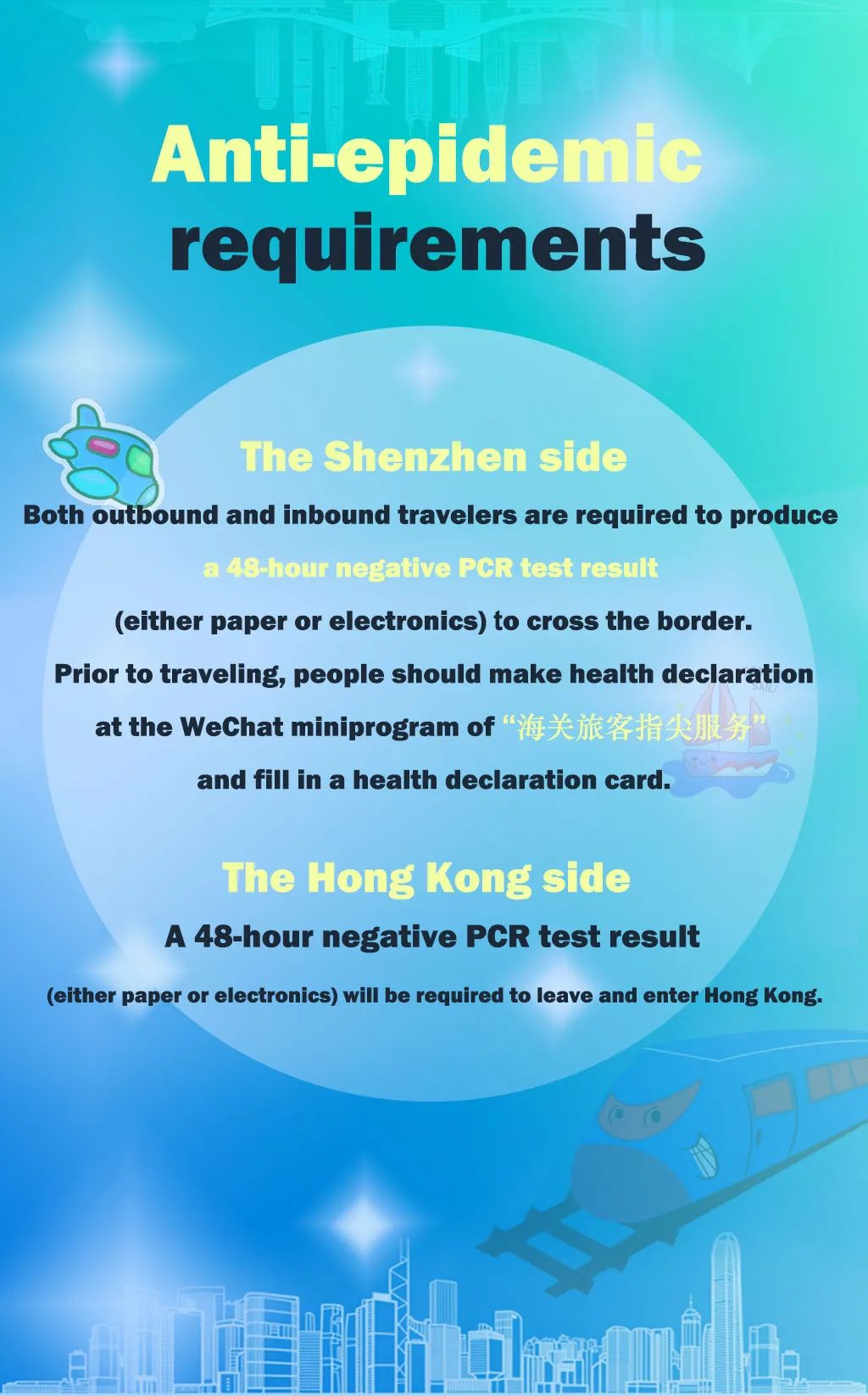 After the Chinese New Year, cross-boundary students can return to Hong Kong daily to resume face-to-face classes in Hong Kong. No prior booking is necessary for students, Chan revealed.
The Hong Kong section of the high-speed rail will resume service no later than Jan. 15, due to the extra time needed by the rail operator to prepare, and for staff to familiarize themselves with operations after a three-year suspension of services, said Secretary for Transport and Logistics Lam Sai-hung, who also attended the meeting.
Ferry services between Hong Kong and Macao, as well as Hong Kong and the mainland will restart. People will need to book their travel slot online.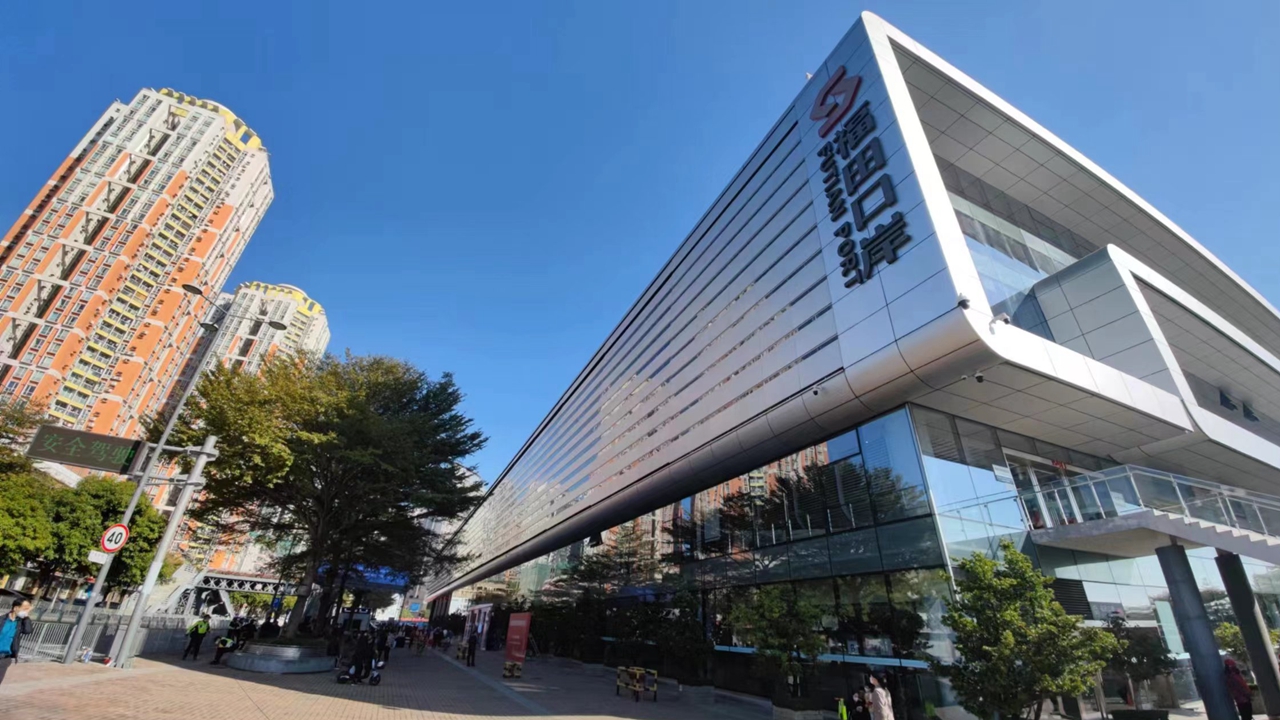 Futian Checkpoint seen today. Sun Yuchen
"We have taken a huge step toward resumption of normalcy," Lee said. "I will say that we're almost there."
In an earlier statement Thursday, the Hong Kong and Macao Affairs Office of the State Council said the mainland will cancel flight capacity limits from Hong Kong and Macao, and will resume flight transit to the mainland from the two cities. A 48-hour negative PCR test result will be required for arrivals from Hong Kong, it said.