Shenzhen's transport terminals saw a total of 230,400 travelers embark on their journeys Saturday, the first day of the 40-day Spring Festival transport season, up by 40,5% over the same period last year.
This marked a new record high since the outbreak of COVID-19.
Data from the city's transport bureau showed that the railways transported 162,000 passengers Saturday, up by 29.8% year on year, while the airport transported 50,700, up by 71.96% year on year.
The number of arrivals to Shenzhen reached 105,200 on the first day, up by 68.93%, data showed.
In Shenzhen, the 40-day Spring Festival travel season officially started with train D376 leaving Shenzhen North Railway Station to Lianyugang at 6:27 a.m. Saturday.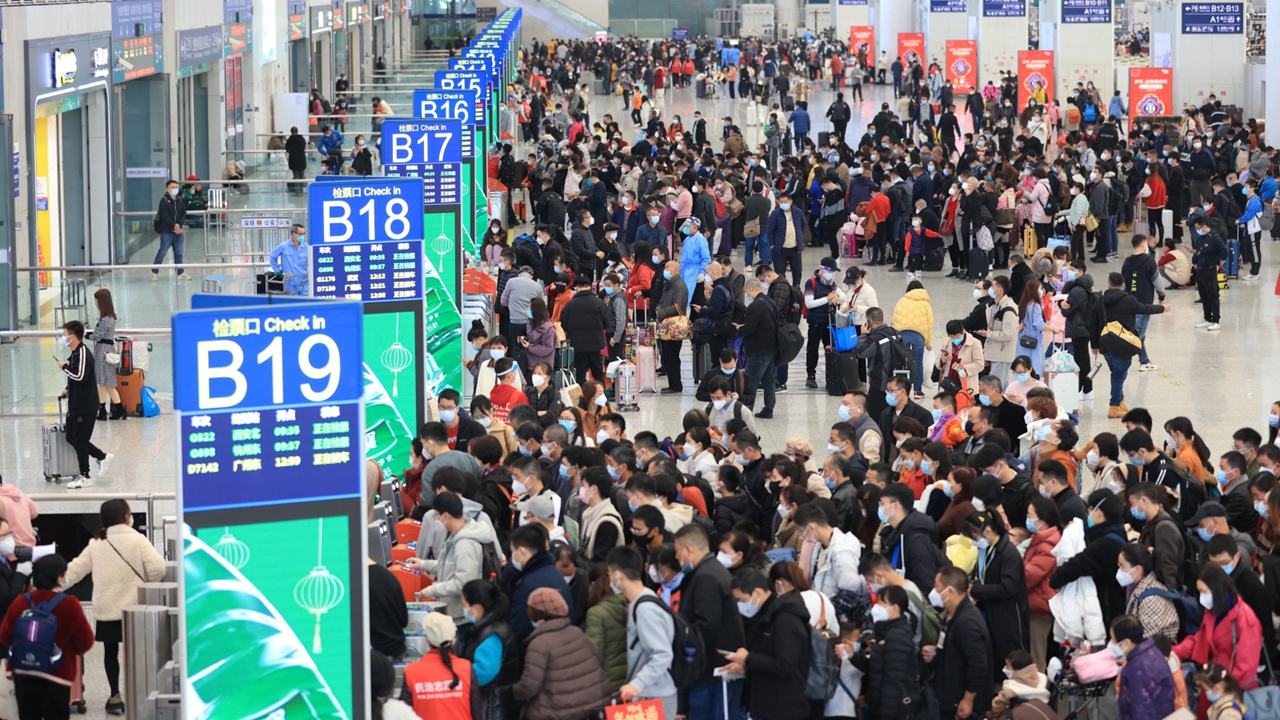 Travelers at Shenzhen North Railway Station on Saturday. Sun Yuchen

According to Wang Ke, chief on duty at Shenzhen North Railway Station, the travel rush is expected to arrive between Jan. 14 and 20.
Shenzhen's railway system will transport 8.7 million passengers during the season, or 217,000 passengers a day.
Among them, 4.37 million passengers will travel during the 15-day pre-festival period. The holiday travel rush peak is expected to arrive Jan. 18 and around 388,000 passengers will travel via railway that day. Shenzhen North Railway Station will transport 280,000 travelers Jan. 18, up by 11% over last year's Spring Festival travel rush peak.
The city's transport terminals are expected to handle 13.25 million passenger trips, up by 99.4% year on year, with the railways handling 10.5 million trips, up by 111.92% and the airport handling 2.37 million trips, up by 88.49%, data from Shenzhen transport bureau showed.