Dozens of bird-watching volunteers were organized to observe black-faced spoonbills from Friday to Sunday at areas at Shenzhen Bay by the Shenzhen Bird Watching Society and Shenzhen Mangrove Wetlands Conservation Foundation (MCF), Shenzhen Evening News reported.
The investigation was part of the international black-faced spoonbill census organized by the Hong Kong Bird Watching Society (HKBWS). The census was carried out simultaneously in over 100 cities worldwide.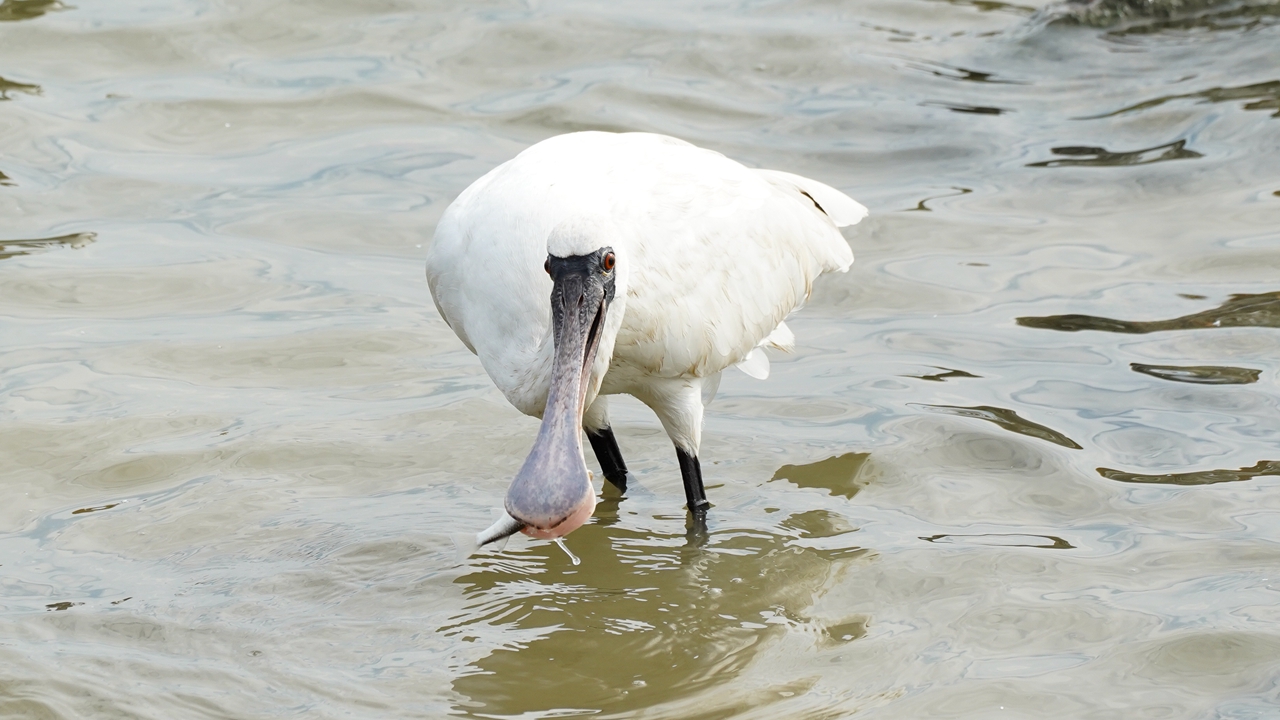 A juvenile black-faced spoonbill is seen catching a fish in the waters off Shenzhen Bay Park in Nanshan District on Saturday. Wang Haolan
HKBWS holds its annual census at the beginning of each year and has conducted it 20 times. This year's census results will be released by HKBWS in the near future.
Data suggested that in 1994, there were only 300 black-faced spoonbills recorded around the world. The bird was classified as critically endangered and was dubbed as the giant panda of birds, according to the report.
This year's census points in Shenzhen were distributed from east to west at the mouth of Xinzhou River, Fengtang estuary, fishponds in the Futian Mangrove Nature Reserve and Shenzhen Bay Park.
Tian Suixing, renowned bird expert, has participated in the census for over 10 years. According to Tian, thanks to protective measures and improvement in the observation tools, the number of black-faced spoonbills saw a steady growth over years.
Last year, the number of black-faced spoonbills worldwide exceeded 6,000 for the first time, up by 18% compared to 2021. The figure of these birds in Shenzhen stood between 300 and 400 in recent years.
The birds were also spotted in other cities such as Guangzhou, Dongguan, Zhongshan, Zhuhai, Huizhou, Shanwei, Shantou and Zhanjiang in Guangdong Province, indicating that Guangdong has achieved remarkable progress in biodiversity and environmental protection.