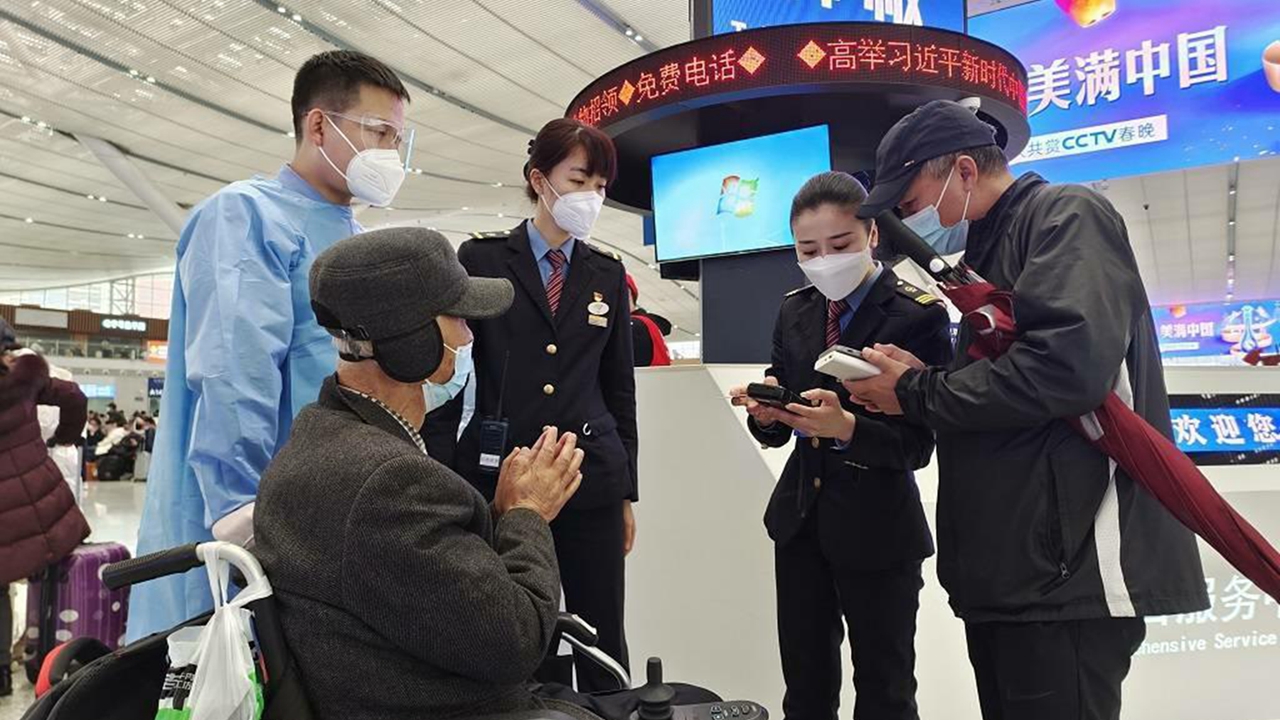 Jiang Wanni (2nd R) answers passengers' questions at Shenzhen North Railway Station's waiting hall. Photos by You Di

It was the second year for 28-year-old Jiang Wanni, head of on-duty staffers of Shenzhen North Railway Station, to serve passengers during the Spring Festival transport season.
Jiang works at the station's waiting hall.

At the station's waiting hall, Jiang, who is also a member of the Winter Jasmine Service Team of the Passenger Service Center of the station, is often seen busy answering travelers' questions, looking for items passengers lost and listening attentively to their needs.
Jiang, with a smile on her face, kept talking, listening, assisting and solving passengers' worries with ease.
"She makes us know that a smile is the best service possible. Her soft and gentle voice in handling emergencies helps passengers calm down," Li Wenhao, an employee from the Winter Jasmine Service Team, said.
Jiang (R) gives a hand to a visually impaired passenger at the railway station.

Jiang stood out from the training that the service team regularly organizes to better serve travelers. The training includes knowledge about Shenzhen and railway services. The team members are also required to be fluent in English and Cantonese. Although Jiang is a Hunan native, she is fluent in Cantonese. "Jiang often came on top of the tests and her fluent Cantonese is an example of her hard work," the team trainer surnamed Wang said.
"Jiang has been working in the railway system for nine years. She is never late for work and often works for extra time with tasks such as sorting out passenger service information or learning other service skills," Chen Xiaoyi, an employee from the station's passenger transport service, said.
Jiang helps travelers board a train at Shenzhen North Railway Station.
In a thank-you letter, a passenger wrote that while Jiang may have a small frame, she had large enough energy to solve passengers' urgent matters on their trips.