The cross-border express rail link between Futian High-speed Train Station in Shenzhen and Hong Kong West Kowloon Station will resume services Sunday, China Railway Guangzhou Group Co. Ltd. announced Thursday.
The cross-border trains have been halted for three years due to the pandemic.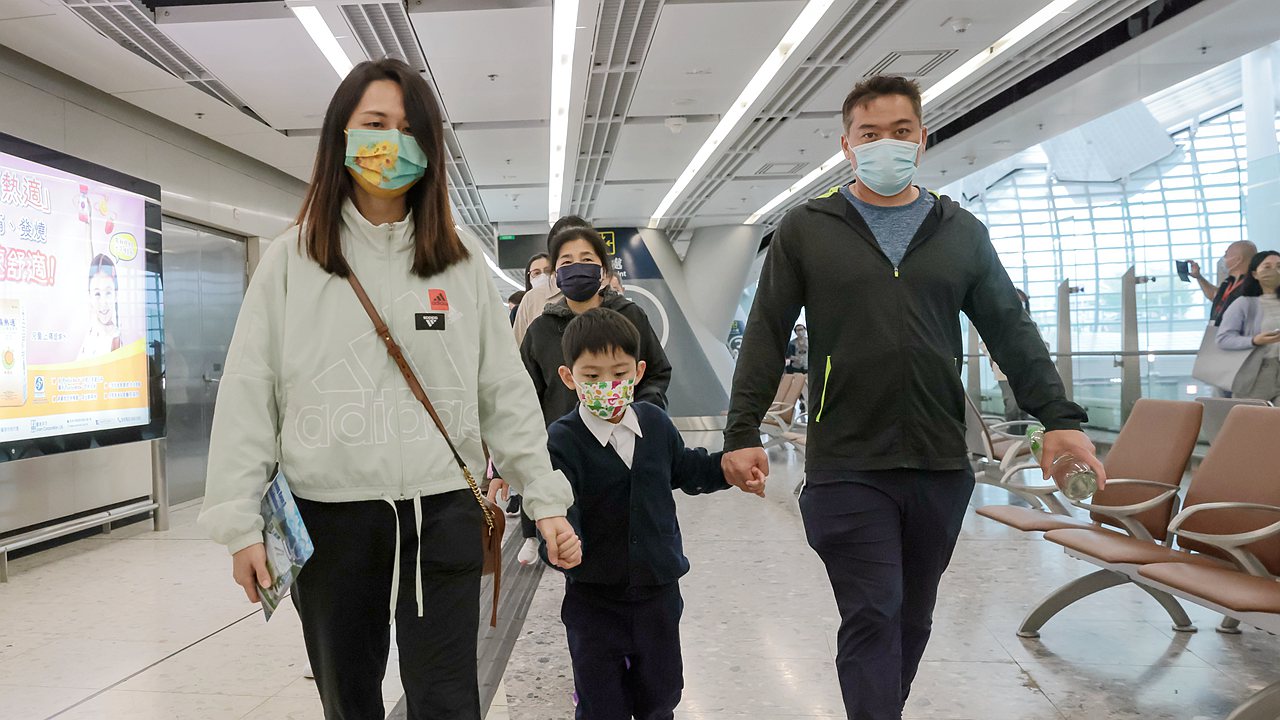 Ms. Lam and her husband and son enter Hong Kong West Kowloon Station to buy cross-border train tickets Thursday. They were the first people waiting in a long line when the station began selling tickets at 12 p.m. Thursday. China News Service

At the initial stage of the rail link's resumption, services between Hong Kong West Kowloon Station and Futian as well as Shenzhen North Railway Station and Guangzhou South Station will be resumed, while services to/from Guangzhou East Railway Station will be newly introduced. The trains will call at Guangmingcheng Railway Station in Shenzhen's Guangming District, Humen Railway Station in Dongguan City, Qingsheng Railway Station in Guangzhou, and the newly added Dongguan South and Dongguan stations in Dongguan.
According to the operator, 38.5 round-trip trains will shuttle between Shenzhen, Guangzhou and Hong Kong a day at the beginning of resumption of operation, including 14 between Futian and West Kowloon. West Kowloon will also see 10.5 round-trip trains with Shenzhen North Railway Station, eight with Guangzhou South Railway Station, and six with Guangzhou East Railway Station.
The number of trains will be increased in an orderly and gradual manner, the operator said.
Travelers can book tickets at www.12306.cn, ticket sales counters and self-service ticketing machines starting from 12 p.m. Thursday. Cross-border travelers must possess a negative result of a COVID-19 nucleic acid test conducted within 48 hours.
The opening hours of Hong Kong West Kowloon Control Point will be from 6:30 a.m. to 11:30 p.m.
According to Lam Sai-hung, Hong Kong's secretary for transport and logistics, there will be up to 5,000 train tickets per day from West Kowloon heading north to the four stations on the mainland, as well as 5,000 tickets in each day toward Hong Kong.
"We will review the operation flow and tourist demand to decide if we need to sell more tickets and resume the long-haul trains. There's no timetable for the resumption of long-haul trains and we are currently talking with the mainland's relevant departments," said Lam.
The resumption of high-speed rail service came a week after the border between the mainland and Hong Kong reopened Jan. 8 with the daily quota of up to 50,000 visitors able to travel in either direction without quarantine via three land crossings.
Travelers taking the cross-border train from West Kowloon Station are not subject to the 50,000 daily quota. "As long as they can buy a ticket, they are free to cross the border," Lam said.