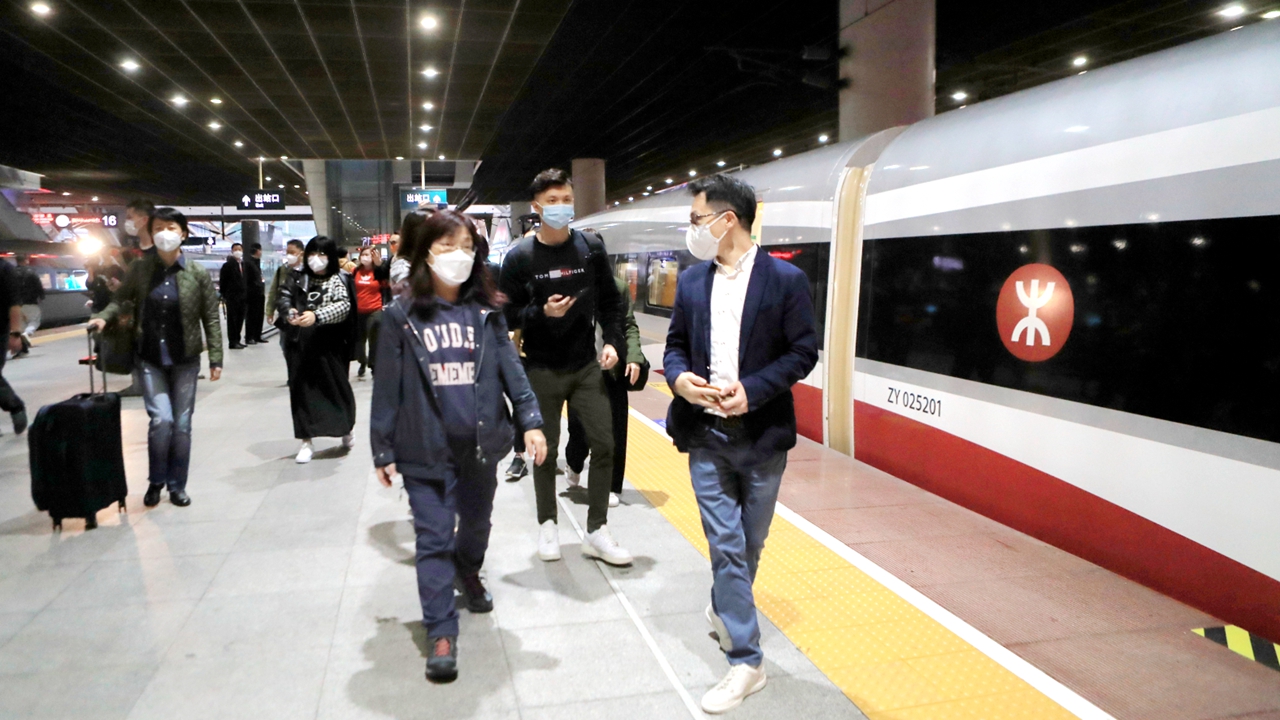 Passengers walk on the platform after arriving at Shenzhen North Railway Station by train G5820 from Hong Kong on Sunday. Sun Yuchen
Hong Kong announced that the daily quota for Hong Kong residents traveling to the mainland via land checkpoint­s will be increased to 65,000 from 50,000 to cope with the surge for the Spring Festival holiday travel between Jan. 18 and 21.

The announcement was made Saturday after the negotiation among the Hong Kong Special Administrative Region Government, Guangdong Provincial Government and Shenzhen Municipal Government.
The daily quota for outbound travelers from Hong Kong via Hong Kong-Zhuhai-Macao Bridge (for private cars and cross-border cabs and bus passengers), will be doubled from the current 1,000 to 2,000 during the four days.
Since the resumption of quarantine-free border crossings between Shenzhen and Hong Kong on Jan. 8 and high-speed rail service Sunday, the checkpoints have witnessed a surge of travelers from Hong Kong to the mainland to travel or spend the Spring Festival.
Data showed the Hong Kong government's booking system for travels to the mainland between Jan. 18 and 21 is almost fully booked. However, available time slots for reservations in the next eight weeks are still abundant.
A man surnamed Li and his family from Jiangmen, Guangdong Province have settled in Hong Kong for 20 years. For this Spring Festival, they planned to return to their hometown to see their parents and grandpa. They have reserved for the quotas and would cross the border to the mainland two days ahead of the Lunar New Year.
Taxis have been seen queuing at the Shenzhen Bay Checkpoint waiting for inbound travelers. The bus terminal at the checkpoint and parking lots nearby were almost fully occupied in the past week since the resumption of the quarantine-free travel between Hong Kong and the mainland.
As of Sunday, Shenzhen transport terminals had recorded around 2.92 million passengers in nine days since the start of the Spring Festival travel season, up by 63.56% year on year. Among the terminals, the city's railways and airport had transported 2.18 million and 569,000 passengers respectively. A total of 1.14 million people arrived in Shenzhen in the nine days, up by 119.37% year on year, data from Shenzhen transport bureau showed.