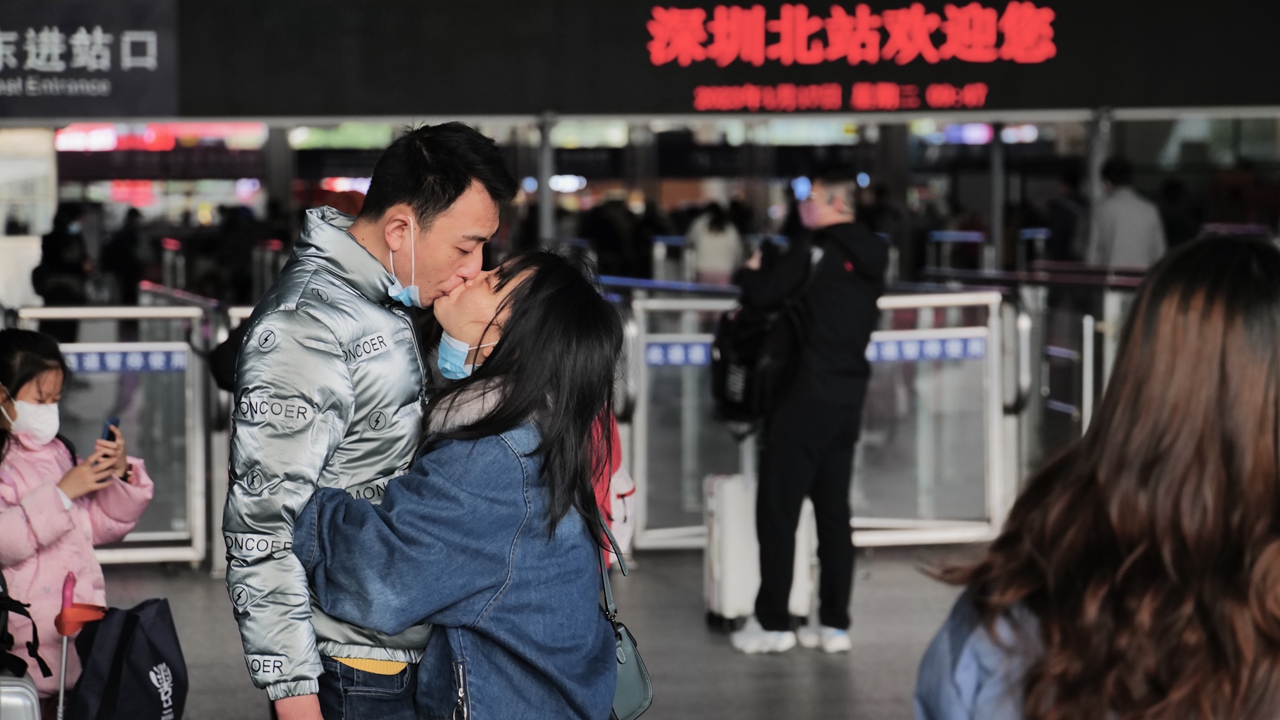 A couple gives goodbye kiss at Shenzhen North Railway Station yesterday. The station saw off 268,000 passengers on the day, setting a new daily record. Since the 40-day Spring Festival travel season kicked off Jan. 7, over 3.39 million travelers had left the city, up by 61.32% over the same period last year. Hong Kong China News Agency
Ninety minutes ahead of departure for their hometown in Changsha, capital of Hunan Province, on Monday, Li and her husband surnamed Hu, arrived at Shenzhen North Railway Station, waiting for the start of their 800-kilometer trip for their Spring Festival family reunion.
Back in Changsha, their two children, one in high school and the other in university, were waiting for them at home.
The couple didn't hesitate to choose to return to their hometown even if they didn't earn much in 2022. Li and Hu made a living for their family running an eatery in Shenzhen, earning around 10,000 yuan (US$1,478) monthly and is the sole income for the whole family.
"We will spend around 10,000 to 20,000 yuan during this Spring Festival, including red packets, tuition fees for the children and our parents' living expenses. However, it is worthy for the family reunion," Li said.
Among other travelers, a woman surnamed Jiao carried a lamp in her luggage. "The lamp is bright and can be used by my parents at night," she said. Jiao came to Shenzhen in November and worked as a cleaner at a construction site with her husband. She was satisfied with her earnings because it was higher than those in her hometown in the city of Chenzhou, Hunan Province.
"I got 1,000 to 2,000 yuan monthly as living expenses and had an annual payment based on 180 yuan a day," Jiao said, adding that she would return after the Spring Festival and hoped to find a job as a housemaid or cleaner.
The city's transport terminals have entered the peak of the Spring Festival travel rush since Monday, with the numbers of air and rail travelers reaching new record highs.
On Monday, the city saw a total of 478,000 travelers leaving the city, up by 48.92% year on year. The railway system transported 384,600 travelers, while Shenzhen Bao'an International Airport recorded 72,300 passengers, up by 50.4%, data from Shenzhen transport bureau showed.
By Monday, the 10th day since the Spring Festival transport season began Jan. 7, a total of 3.39 million travelers had left the city, up by 61.32% year on year, data showed.