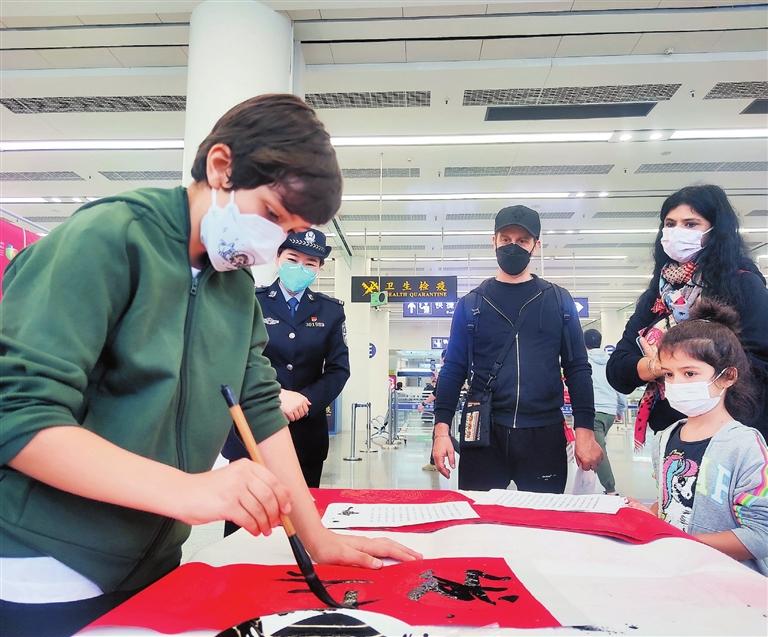 An Italian boy writes a Chinese couplet at Futian Checkpoint on Sunday. Ye Yangte
An Italian boy was seen writing Chinese couplets at Futian Checkpoint during a couplets writing activity Sunday. The Italian boy said he would bring the couplets back to Italy, Shenzhen Evening News reported.
The Italian boy attends school in Shenzhen and will go back to Italy during the winter holiday, according to the report.
"The Chinese New Year is lively, and the Chinese culture is great. I will bring the couplets I wrote to my friends and relatives in Italy," the boy told the News.
Some calligraphers were at the site writing Chinese couplets for passengers.
A passenger surnamed Wang, who was about to visit Thailand to spend the Spring Festival holiday, also said she would bring couplets for her foreign friends in Thailand.
Over 2,000 Chinese couplets were sent out during the activity Sunday.
"I felt especially warm to receive New Year wishes as soon as I returned to the mainland and it is meaningful to bring couplets to family," said a Hong Kong citizen surnamed Lee who came to Shenzhen to visit his relatives.
According to a calligrapher attending the activity, this is the first time for him to write a lot of couplets for foreigners. "It is not only about writing down wishes, but also about spreading Chinese culture, which makes me feel very proud," the calligrapher said.