Ma Bingchun (R) helps passengers on Train G80. Gao Lingling
At 10:30 a.m. Monday, at Futian Railway Station, Ma Bingchun, a train policeman of the Shenzhen Railway Train Police Detachment, arrived at the platform early and waited for the arrival of Train G80.
The train, departing from Futian Railway Station and heading to Beijingxi Railway Station, passes through the cities of Guangzhou, Changsha, Wuhan, Zhengzhou and Shijiazhuang. It is one of the high-speed railway routes carrying the highest numbers of passengers from Shenzhen during the Spring Festival travel season.
What Ma and his colleagues do is to help passengers have safe trips home, according to Shenzhen Evening News.
"There is a senior citizen running away from home on the train. We need to find him," Ma suddenly received a call for help when Train G80 was running at high speed.
It turned out that an 87-year-old man from Hubei Province secretly took the train to Beijing to visit "a famous doctor" without telling his family after watching a TV advertisement. According to the identity information provided by the man's son, the police found that he was on Train G80.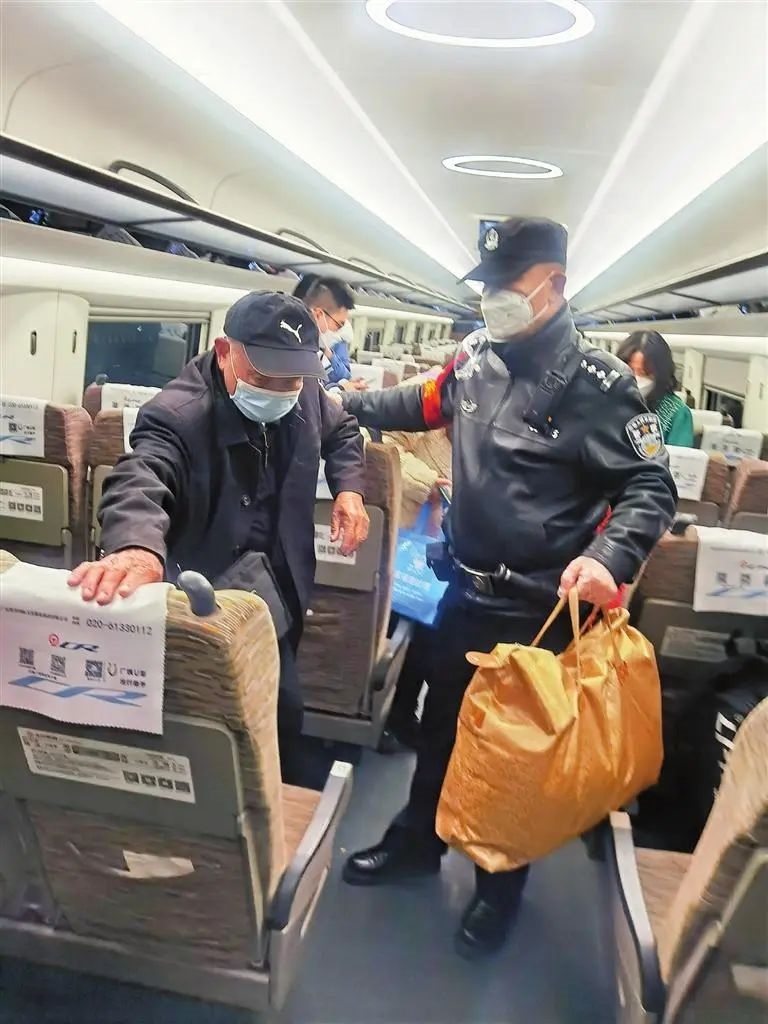 Ma Bingchun (R) finds a senior citizen running away from home on Train G80. Gao Lingling
After receiving the report, Ma immediately searched for the man carriage by carriage and found him in carriage 13. He called the man's son and told him to meet his father in Beijing while chatting with the man.
In a friendly conversation, the man told Ma the reason for his trip. The man, through a TV program, learned that there was a "famous doctor" in Beijing who could "cure all kinds of diseases" and he wanted to go to hospital for treatment.
However, his family thought he did not need treatment and did not agree with him to go to see a doctor. The man therefore secretly bought a train ticket to Beijing alone.
Ma patiently persuaded the old man, who finally gave up the idea of finding the so-called "famous doctor" after an hour of conversation. At the same time, the man's son said that he had bought a ticket to Beijing and would arrive at the station in advance to pick up his father.
In Ma's 24-year career as a train policeman, he has encountered such emergencies many times. For him, it is a train policeman's greatest wish to safeguard passengers to their destinations.
In addition to dealing with emergencies, train policemen are also required to patrol many times, find problems in a timely manner, give reminders and help passengers.
Train G80 has a total of 16 carriages. At each station, Ma needs to get off and patrol from one end of the train to the other. Because the train has a short stop at each station, he has to jog all the way on the platform most of the time. He would walk tens of thousands of steps a day simply by patrolling on the train.
Since the beginning of this year's Spring Festival travel season, 110 policemen from 48 police teams have been dispatched by the Shenzhen Railway Train Police Detachment, the News reported.