The Shenzhen Qianhai Shekou Free Trade Zone Hospital recently announced that it has started offering reservation services for the inoculation of the Omicron BA.4/BA.5-adapted bivalent mRNA COVID-19 vaccine in Hong Kong.
The mRNA-based vaccine doses, which are administered as booster shots, are developed by German company BioNTech and Shanghai Fosun Pharmaceutical (Group) Co. Ltd.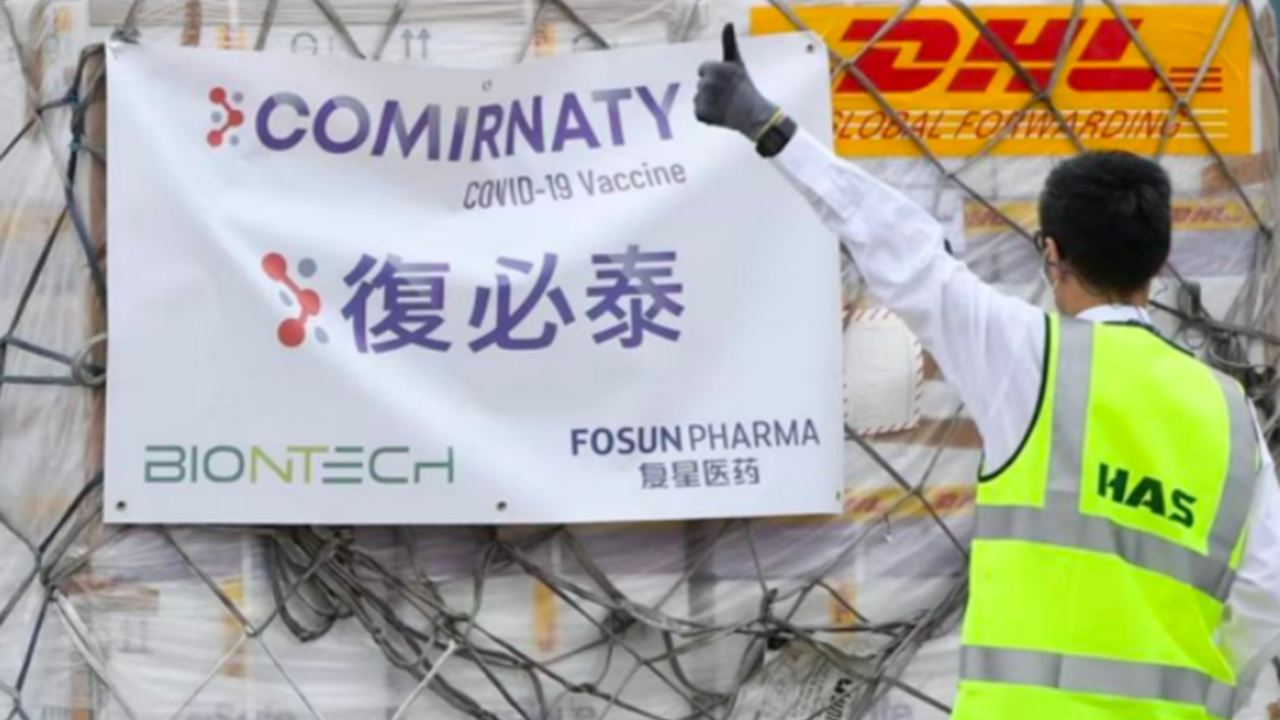 A logistics employee gestures for the arrival of a cargo of the Omicron BA.4/BA.5-adapted bivalent mRNA COVID-19 vaccine in Hong Kong. File photo

Interested residents can make an appointment via the hospital's official WeChat account "深圳市前海蛇口自贸区医院" (NSQSKRMYYHZFW), or go directly to the hospital's international specialists center for consultation.
The Shenzhen hospital is in charge of relevant consultation and reservation services, while UMP Healthcare Holdings Ltd. is responsible for the vaccination and other follow-up services in Hong Kong.
The bivalent mRNA COVID-19 vaccine is applicable to individuals 12 years old and above, either at least three months after completing the primary vaccination with any authorized inactivated COVID vaccines, or half a year after recovery from a recent COVID infection, according to the hospital's reservation instructions.
People under the age of 12, pregnant women and breastfeeding mothers are temporarily unable to make an appointment to receive the vaccine, the hospital said.
The bivalent mRNA COVID vaccine was authorized for use as a single booster dose in Hong Kong on Dec. 20, 2022. Currently, mRNA COVID vaccines are not available on the Chinese mainland.
Some mainland travelers went to Hong Kong and paid out of their own pockets to receive the BioNTech bivalent COVID vaccine doses at Hong Kong health institutions since the resumption of quarantine-free travel between the mainland and Hong Kong on Jan. 8, according to media reports.
A spike in demand for the bivalent vaccine is likely as the mainland and Hong Kong are set to fully resume cross-border travel starting today.
Fosun Health, the official reservation platform of the Fosun-BioNTech bivalent mRNA vaccine, said Thursday that it had launched a series of measures to facilitate mainland residents receiving the vaccine doses in Hong Kong.
At present, it has cooperated with over 10 vaccination institutions in Hong Kong, which are distributed in various regions such as Sha Tin, Tsuen Wan, Yau Tsim Mong and Wan Chai, covering nearly 100 vaccination sites, according to Fosun Health.
On Fosun Health's reservation platform, the all inclusive price for reservation and a vaccine dose stands at 1,675 yuan (US$247.23).