PROFILE
人物介绍
Terry Given of New Zealand, an electronics specialist who has been living in Shenzhen since 2013, finds Huaqiangbei as fascinating as it was when he first visited it in 2003. He calls the place his "candy land," where he'd dreamed of having grown up.
Terry Given是一位来自新西兰的电子专家,自2013年以来一直居住在深圳。他说这些年来他一直被华强北深深吸引,感觉就和他2003年第一次逛华强北时一样。他称华强北为他的"糖果园",梦想自己能在这样的地方长大。
Video and photos by Lin Jianping
视频制作及摄影:林建平
"Were I not about to get married I wouldn't have gone home [in New Zealand]!"
当年要不是我要回国结婚,我就留在深圳了。"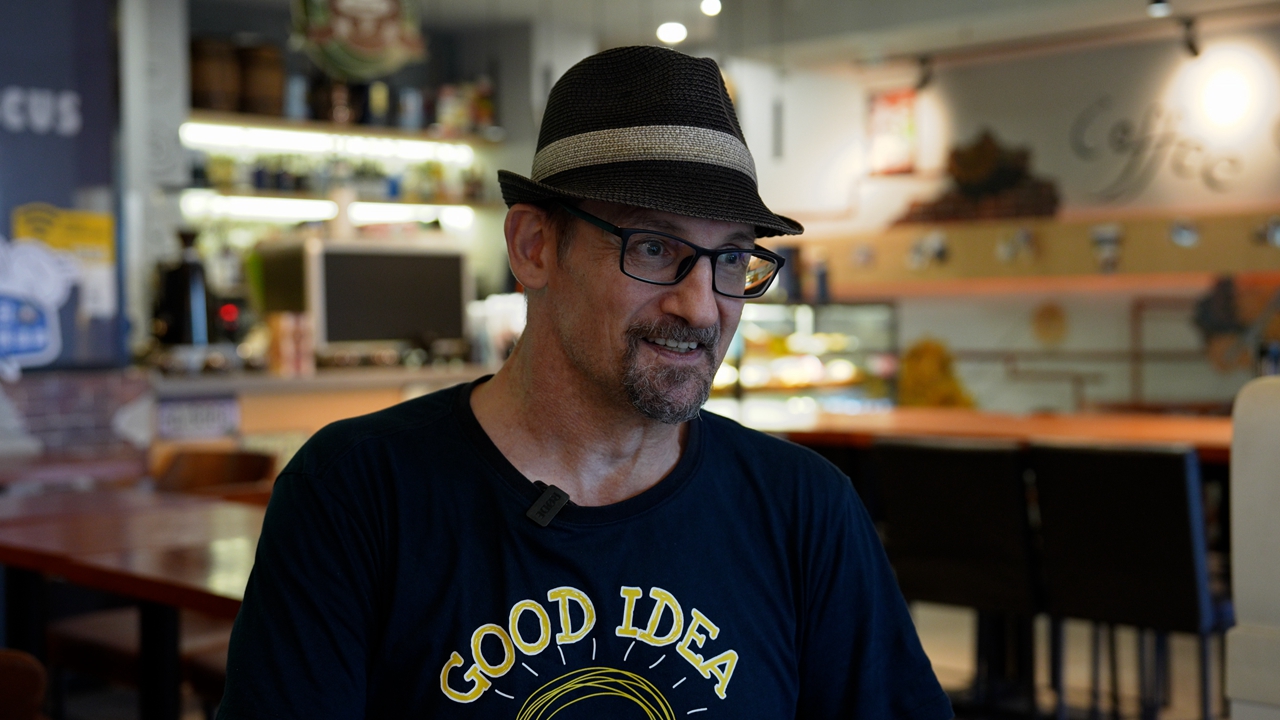 Terry Given during an interview with Shenzhen Daily.

Terry Given接受英文《深圳日报》记者采访。
Terry Given, an electronics specialist from New Zealand, said so as he recalled his first visit to Shenzhen in October 2003. "I fell in love with the place when I first came here."
来自新西兰的电子工程师Terry Given在回忆自己2003年10月第一次到深圳的情景时说道。"我第一次来深圳就爱上了这里。"
During that Shenzhen visit, Given's childhood friend who had lived in the city for years took him to Huaqiangbei. Given said that the place was somewhere he'd dreamed of growing up.
当时,Given一位在深圳居住多年的儿时好友带他逛了华强北。他说他曾梦想在华强北那样的地方长大。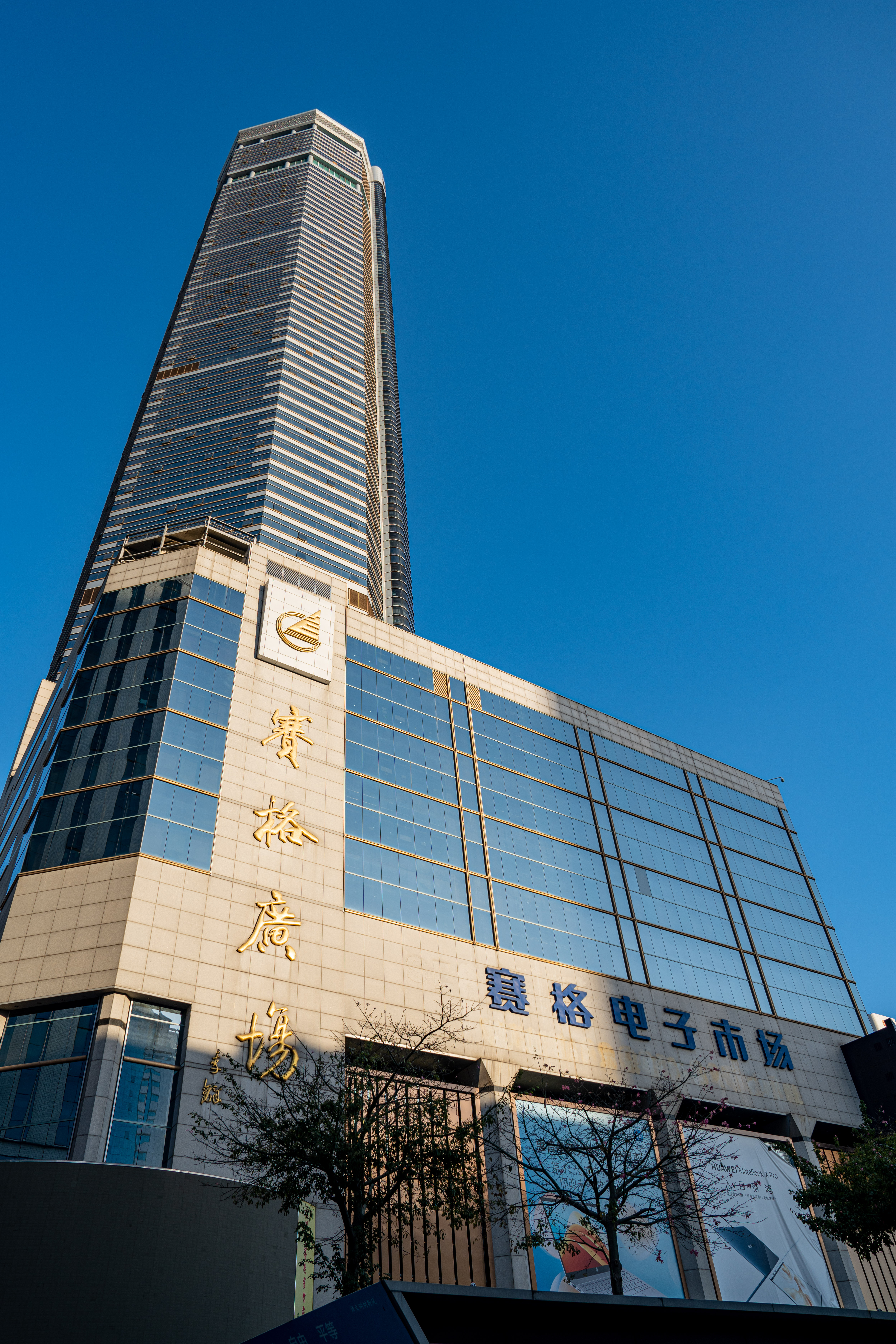 The SEG Building in Huaqiangbei, Futian District, where the famous SEG E-Market is located.

位于福田华强北的赛格大厦,是著名的赛格电子广场的所在地。
"I was like a kid in the candy ground," he excitedly said as he talked about Huaqiangbei, dubbed as the No. 1 electronics street in China. "My friend Paul knows I'm an electronics engineer, and he knew I'd love it, which I did," he added.
"我[在华强北]就像一个在糖果园里的孩子一样。"在谈到被称为"中国电子第一街"的华强北时,他仍难掩兴奋之情。
Given poses for a photo in front of the Digital Technology Building in Huaqiangbei, where his lab is located.

Given在位于华强北的电子科技大厦前。
After that trip, Given took home about 30 kilograms of various electronic components he bought at Huaqiangbei.
Given那次在华强北买了近30公斤的各种电子零部件回国。
"My briefcase was an aluminum toolbox only about this big, and it was filled with ferrites, oscilloscope probes, lots of big capacitors and things like that," he said. Ferrites is "pretty much iron, that's why my briefcase weighed 30 kilograms."
"当时我的行李箱就是一个铝制工具箱,只有这么大,但里面装满了铁氧体[用于制作天线等电气设备]、示波器探头、大电容等这类东西。"他说,铁氧体基本上就是铁,所以他的小小的行李箱重达30公斤。
Ferrites make up the material used to form the core of magnetic devices such as transformers and inductors. He said he carried a briefcase full of ferrites back to New Zealand because he "couldn't really get ferrites in my home country."
铁氧体是制作变压器和电感器等磁性设备的核心材料。Given说他在新西兰很难买到这种东西,所以就在华强北买了一箱的铁氧体。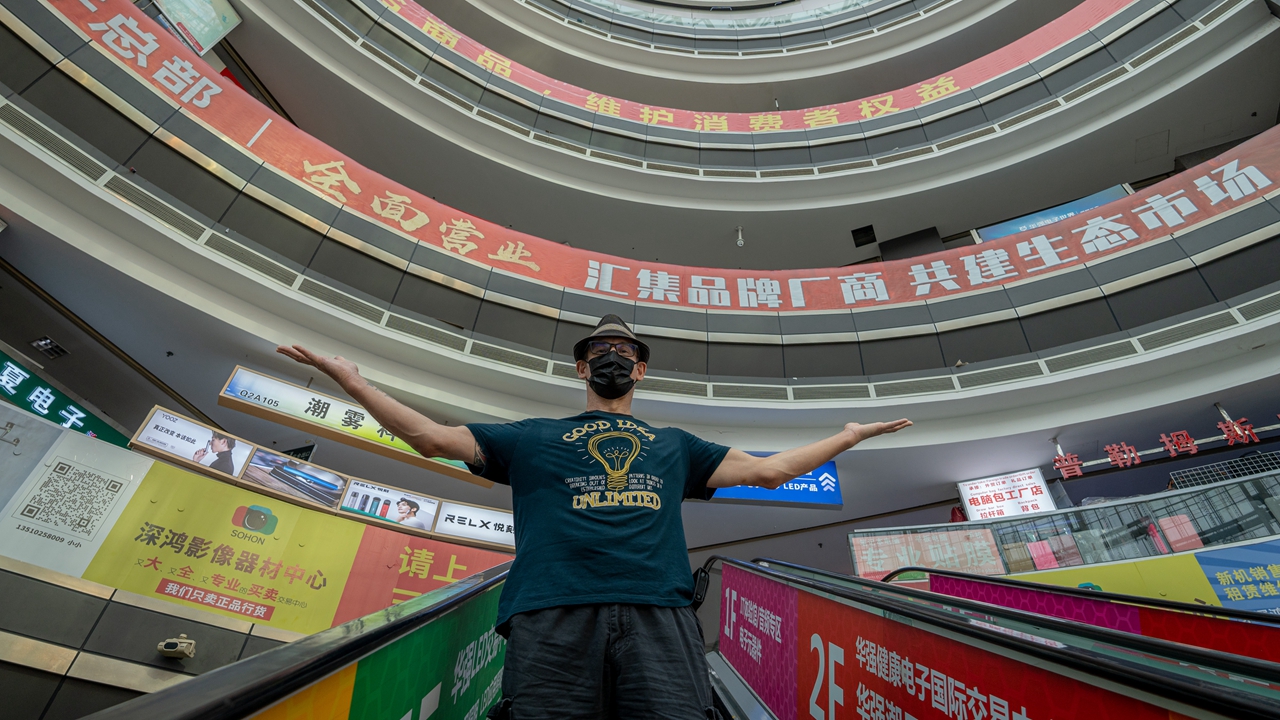 Given poses for a photo at HQ Mart in Huaqiangbei.

Given在华强电子世界。
He said after that trip he "couldn't wait to come back" to visit Huaqiangbei again.
他说那以后,他"迫不及待地想回来"再好好逛逛华强北。
Since that trip until 2013, when he settled down in Shenzhen, Given had spent about four to five months a year visiting various factories in the Pearl River Delta area developing electronic products for his clients in the U.S., Singapore and China. Every time he came to China for work, he would make sure he spent at least a weekend in Shenzhen to hang out with Paul in Huaqiangbei and buy more components to stock up his laboratory back home. "We don't have anything even vaguely like Huaqiangbei in New Zealand," he said.
从那时起,直到2013年他在深圳定居,Given每年大约有四五个月的时间在中国工作。他和珠三角的很多工厂合作,为他在美国、新加坡和中国的客户开发制作新电子产品。那段时间,每次来中国工作他都会确保至少有一个周末的时间在深圳,和他的老朋友Paul一起逛华强北,为他在新西兰的实验室购买更多电子元件。他说,"我在新西兰找不到像华强北这样的地方,哪怕有一点点相似的都没有。"
In 2013, when Given and his employer, an ODM/OEM audio equipment manufacturer in Danshui, Huizhou, relocated to Shenzhen, his wish to be based in the city came true, and he had the chance to rediscover his "candy land."
2013年Given随公司一起从惠州淡水搬来深圳。他常驻深圳的愿望成真,他又可以重新发掘他的"糖果园"。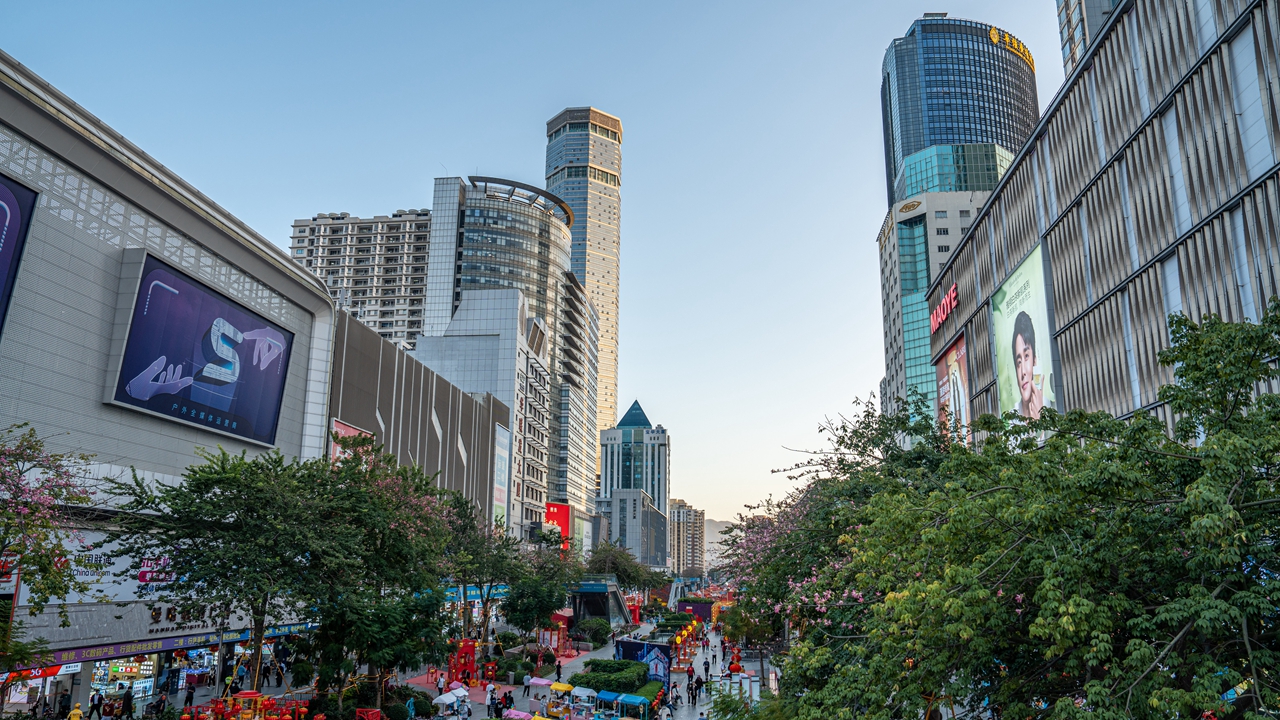 A look of Huaqiangbei.

华强北一景。
Given found Huaqiangbei as exciting as it had always been even if the place has become substantially bigger and nicer after undergoing renovations. "There's just basically more stuff for me to look at and more fun things to buy [for his lab]."
虽然多年过去了,Given发现华强北仍是一个让人兴奋的地方,一如往年,并且现在的华强北在改造后更大更漂亮了。
After years of development, Huaqiangbei has become more than just an electronics market. It now features many industrial functions such as tech introduction and exchange, product development and release, logistics warehousing and distribution, and talent exchange.
经过多年的发展,华强北已不再仅仅是一个电子市场了。现在的华强北具有许多其他产业功能,如新技术引进和交流、产品开发和发布、物流仓储和配送,以及人才交流等等。
"I know there's a big maker community here, too," Given said, although he personally has not been involved in any of the makerspaces as he mainly focuses on work like doing engineering calculations, magnetic design and feasibility study for the electronic products his clients want to develop.
Given说他知道华强北有个很大的创客社区,虽然他本人因工作性质的不同并没参与任何创客团体。他的工作主要涉及为客户想要开发的新电子产品进行工程计算、磁性涉及和相关的可行性研究等。

A billboard of Huaiqiangbei International Makers' Center, which reads "Help your business take off, help your dreams come true."

华强北国际创客中心广告牌。
According to Given, back in 2003, the maker community barely existed in Huaqiangbei. Now, it has become huge and gained fame internationally, and he said, "I've got a bunch of friends who are involved in the maker community making amazing things. I'm aware of it. Literally, next door, places like Hax." The place has attracted makers from around the world as Huaqiangbei has basically everything makers would need to develop a novel product to offer, as well as a sound industrial chain to help them commercialize their new inventions.
在2003年时,华强北没有任何创客社区,但现在有很多来自世界各地的创客都汇集在华强北,其影响力越来越大。
The entrepreneurial-minded people in Huaqiangbei also helped make this happen. "They [in Huaqiangbei] will supply whatever customers ask for," Given said.
华强北创客社区的形成少不了那些在此做生意的极具创业头脑的商家。"他们会给客户供应任何需要的东西。"Given说。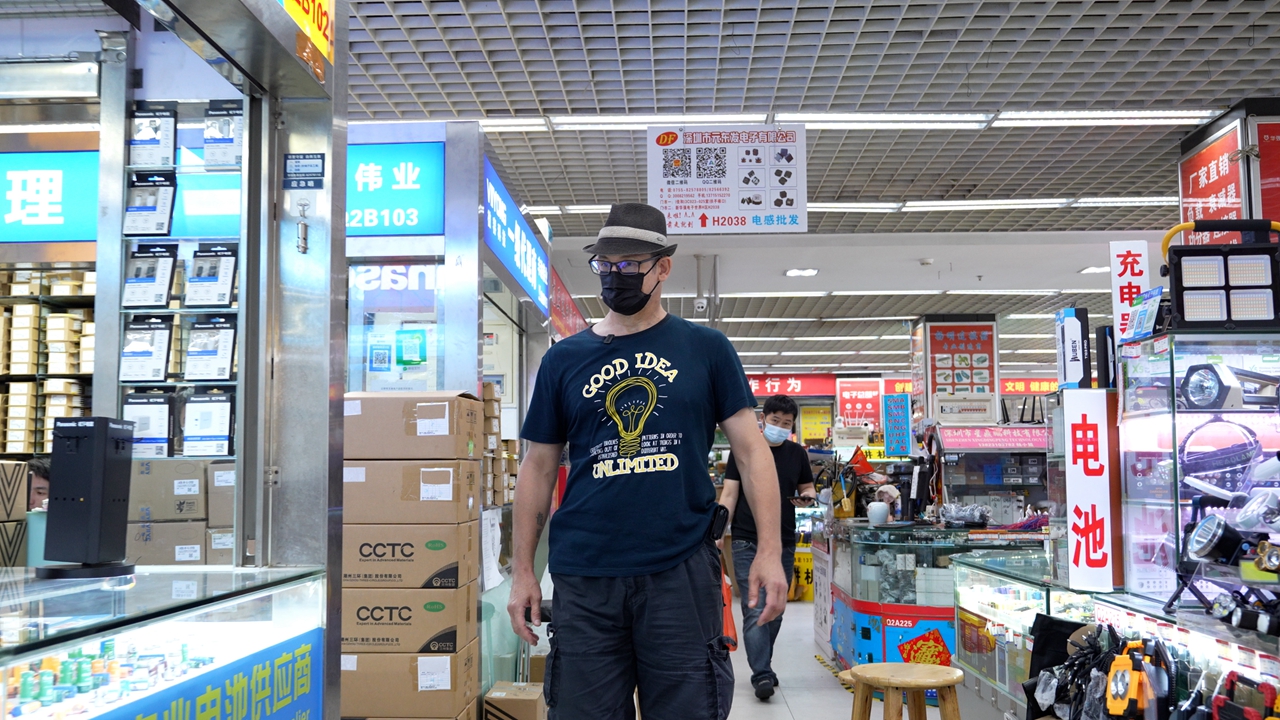 Given shops at an electronics market in Huaqiangbei.

Given在华强北某电子市场。
People quite often complain about cheap knockoffs sold in Huaqiangbei, but the real problem is, Given said, that "people want to pay almost nothing for something that looks like a good thing."
虽然很多人都抱怨华强北有很多便宜的山寨电子产品,但在Given看来,真正的问题是"很多人在华强北不愿花钱却想买到一些看起来很好的东西"。
"For example, you can go to a store that makes battery drills and you can get them to make you a 12-volt lithium ion battery drill for, like 40 yuan (US$5.56), and they will make one for you for that price. What do you expect you're gonna get for 40 yuan?"
"例如,你可以走进华强北任何一家生产电池钻头的商店,出价40元(5.56美元)让他们给你做一个12伏的锂离子电池钻头。他们会接受这个价格给你做一个。但你花40元人民币还指望得到多好的东西?"
Given said he had been through a period of buying cheap knockoffs in Huaqiangbei. "A fair amount at the beginning was inadvertent. It's my fault," he said, adding that he started changing his purchasing behavior after realizing that cheap is not cost-effective. And since then, he bought a lot of great stuff, and "now about two-thirds of the equipment in my lab are of extremely high quality. They are more expensive, but still every cost-effective."
Given说自己以前也在华强北买了一堆很便宜的低质货品。"一开始买了相当数量的[便宜货]是无心之失,这是我的问题。"当他意识到便宜没好货之后,他改变了自己的购买行为,不再因为便宜而买东西。他说自此之后他在华强北买到很多高性价比的东西。
For example, Given said, his company has turned to a Chinese oscilloscope brand, which costs only one-third of a foreign oscilloscope brand, but functions equally well.
Given说某国内品牌的示波器上市后,他们公司已转而使用该品牌的产品,价格只有原来使用的国外品牌的三分之一,但功能同样出色。
"I just love this place. This is the kind of place that a kid like me would wish to have grown up in," the electronics specialist said.
"我太爱这个地方了!这是一个像我这样的孩子梦想能成长的地方。"